Denver Broncos at New England Patriots +2.5 Total: 54
Sunday, November 24th, 2013 TV: NBC 8:30 EDT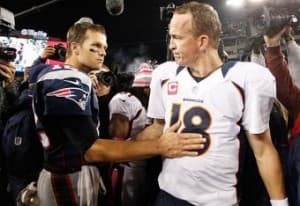 This week's Sunday Night Football edition has perhaps their most anticipated matchup of the season, a showdown between the Broncos and the Patriots. Old rivals Tom Brady and Peyton Manning will meet once again in primetime.
Denver is coming off a monster win against divisional rival and previously undefeated Kansas City Chiefs last week. The Broncos improved their record to 9-1 on the season in the 27-17 win and took control of first place in the AFC West on a tiebreaker with the Chiefs. Peyton threw for 300+ yards and a touchdown in the victory.
Defensively, the Broncos looked stout. Von Miller continues to play better each week, and Denver's linebackers as a whole did an excellent job bottling up Jamaal Charles. They also hurried Smith quite a bit and got several sacks.
Denver does have several injuries issues coming into this contest. Wes Welker has practiced this week but has not passed his concussion protocols as of Friday. He is still likely to suit up in this revenge game against his former team. Tight end Julius Thomas is questionable and looks to be a game time decision. Cornerback Champ Bailey is also questionable and has practiced on a limited basis this week, even if he returns; he likely won't be near 100 percent.
New England is coming off a rough Monday Night loss against Carolina, where the final play ended in controversy. After calling for pass interference on an end zone pass intended for Gronkowski, the officials conference and picked up the flag after they determined it was uncatchable. The game ended soon after dropping New England to 7-3 on the season after the 24-20 loss.
Still, New England is finally healthy offensively, and Brady has all of his weapons. Running back Shane Vereen returned from injury last week and made an immediate impact, catching 8 balls for 65 yards. Danny Amendola and Rob Gronkowski are both 100 percent, a situation that only happened for the past few weeks.
Defensively, it is the exact opposite, and the timing couldn't be any worse with Denver's high powered offense coming to town. The Patriots have four defensive backs questionable, including cornerbacks Aqib Talib, Kyle Arrington, Alfonzo Dennard and strong safety Steven Gregory. Dennard will almost certainly be in active with the rest being questionable to play. All will be battling injuries if they do suit up.
The Line
The line opened at +2.5 for New England and has stay at that number for the most part. I doubt there will be much movement on it up until game time. I don't think it moves +3. The total opened at 53.5, a number that is still available at some books. Overall, it has moved upward with most shops having a number between 53.5 and 54.5.
The Play
I'm slightly partial to New England via the point spread, but I am much more interested in playing the total in this projected high scoring matchup. The over has been widely bet by the public this week and will probably be hit even harder before the game kicks off. While I am not usually excited about taking primetime game overs, especially on an inflated line like this one, this game should be a shootout.
New England's defense is banged up, but their offense is fully healthy, giving them a nice boost of scoring punch while leaving them vulnerable defensively. This may be the best matchup the Patriots have had all season with their core players healthy. Gronkowski is in for a huge day against a team that is terrible covering the tight end. Likewise, New England's banged up secondary won't be able to stop Denver's trio of Welker, Decker and Thomas. NE's runs defense has also been horrible since they lost Vince Wilfork for the season.
I can't see either team jumping out to a massive lead due to injuries on the defensive sides of the ball. The game could truly turn into a track meet in the second half if Brady and Manning start matching touchdown for touchdown as the game draws to a conclusion.
Take the Over 54 with BetOnline.