Kansas City Chiefs at Denver Broncos -8 Total:
Sunday, November 17th, 2013 TV: NBC 8:30 EDT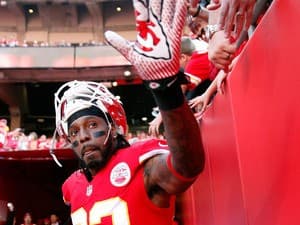 NFL fans are in for a treat on Sunday Night with a game that could be the most hotly anticipated regular season game of the year. The undefeated Kansas City Chiefs head into Mile High Stadium to take on the Denver Broncos in a critical AFC West matchup.
Kansas City is fresh off their bye week with their last game coming two weeks ago at the Buffalo Bills. The Chiefs faced rookie quarterback Jeff Tuel in that contest, his first career start. After trailing early, the Chiefs defense came through with two defensive touchdowns for KC to win comfortably, 23-13. Kansas City had a season low 210 yards of offense and Alex Smith completed 19 of 29 passes for 124, also a season-low in yardage for Smith.
Kansas City's defense has been the key to their undefeated run. The unit is a top ten defense in every defensive category, has one of the best pass rushes in the league and leads the NFL in sacks. However, their schedule has been relatively easy. Many of the quarterbacks they have faced this year have been rookies, some making their first start and many journeyman quarterbacks. There is no doubt their defense is talented, but it is tough to say how talented they truly are based on their easy schedule.
There was a bit of controversy within the past week dealing with wide receiver Dwayne Bowe who was arrested for marijuana possession. He won't be suspended and will be active this week. Bowe has been underutilized in this offense after signing a large $50 million dollar contract in the offense. He had his best week of the year against Buffalo, grabbing seven receptions for 67 yards in the victory. Bowe is on pace for his worst season as a pro. Other than Bowe's legal troubles the Chiefs are mostly healthy coming off their bye week.
Denver is having one hell of a season as their offense is on pace to be one of the best in NFL history. Even with these historic numbers, the Broncos are still in second place by one game in the AFC West with an 8-1 record. They would vault into first place with a win against KC in this game with an upcoming rematch at Arrowhead coming in two weeks.
The Broncos won a close game at San Diego last week, winning 28-20. Peyton Manning was clinical as usual, throwing for four touchdowns and 330 yards against the Chargers. He remains on pace to break the record for touchdowns thrown and yardage in a single season.
Denver's defense has struggled this year, but a lot of that has to do with teams being forced to throw to keep up with the Broncos' offense. They have been much better against the run rather than the pass which will be crucial for this matchup against Jamal Charles.
Champ Bailey, the Broncos top cornerback, if he is healthy, is almost certain to not play this week with a foot injury. He is still currently listed as doubtful, but I would be shocked if he was active in this game. Receiver Wes Welker and tight end Julius Thomas were both limited in practice this week, but both should be near 100 percent on Sunday.
The biggest injury news surrounds Peyton Manning and his sore ankle that he aggravated in last week's win over San Diego. According to Denver, Manning will start Sun
day, and there is no severe damage done to the ankle. He may be less mobile, but he is one of the best pocket-passers of all time, so I doubt this injury effects him much or limits his effectiveness.
The Line
It is almost crazy to see an undefeated team as eight point underdogs, but I will get into why I think it is justified in the next paragraph. The game opened at -8 and is still at the number at most shops. However, there has been some movement towards -7.5 as of Saturday. The total opened at 51 and has come down two full points to 49, a number that is being used across the board.
The Play
I have been waiting several weeks for this game on the schedule, and the Broncos -8 are one of my favorite plays of the year. First and foremost, I believe this Kansas City team to be the worst 9-0 team in NFL history and their undefeated run will end this Sunday.
Kansas City's schedule features just two teams with a .500 record, the Eagles and the Cowboys. The rest of their wins have come against some of the worst teams in the league, all franchises with losing records. As I mentioned above, they hit the lottery even more so with matchups against rookie signal callers and generally poor cast-off type quarterbacks. Kansas City's defense is above average for sure, but one must question how good this squad truly is.
They have not faced anything like Peyton Manning and this historic offense, and they are in for a rude awakening. Manning will not be bothered by his ankle and won't have any issues shredding this defense.
Defensively, Jamal Charles may be hard to stop for Denver, but as I mentioned above their run defense has been much better than their pass defense. If the Broncos storm out to a sizeable lead early – which I think is likely – Charles will still be a threat in the short passing game, but his effectiveness will be severely limited.
That brings us to Alex Smith, the ultimate "game manager" this season at the quarterback position. Reid has kept the strings tight on Smith, despite him being a longtime veteran in this league. The Chiefs literally never throw the ball downfield, and Week 11 is a hell of a time to start experimenting. We know little about Kansas City's receivers because none of them are used in the offense, except for Dwayne Bowe occasionally. This offense and Alex Smith have never had rally to win a game through the air, and I don't think this offense is built to do so.
All in all, I think this a huge mismatch despite KC's undefeated record. I look for Denver to win big on Sunday Night and take over first place in the AFC West.
Lay the points with the Broncos -8 at home with TopBet.