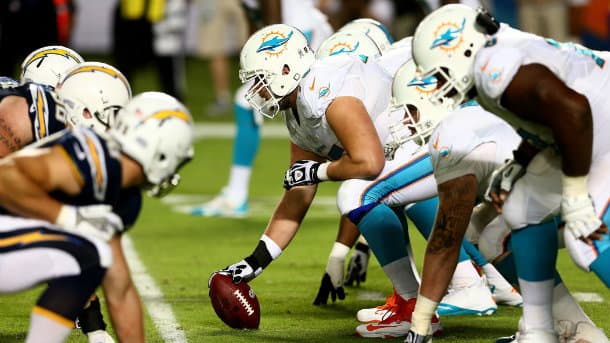 I went 1-1 last week, as I hit the Patriots, but lost with the Texans (+0.45U). That almost brings me in to the black (-0.30U) for the season. The pickings are going to be slim again this week.
I've bet on two underdogs again this week, as I really don't see many other options. I like some of the big underdogs against the point spread, but I don't see many winning SU this weekend in the NFL.
Sign-up to TopBet and bet on week 10 NFL action with a $250 bonus (50%). Every active player this season will also receive a $10 free bet that could win you up to $100 on Monday Night Football.
Miami Dolphins vs. Detroit Lions Picks
Miami (5-3) is in the playoff race this season and they're on a 3-game winning streak. Detroit (6-2) is in 1st place in the NFC North and they're coming off a bye week after playing in London in week 8.
The Dolphins have gone 3-1 on the road and I think they can catch the Lions by surprise. However, in order to win Ryan Tannehill has to have a good game where he doesn't make any costly mistakes.
Last week Tannehill played great along with the rest of the team in a 37-0 win over SD. Miami ranks in the T10 in scoring (26.4 PPG – 9th) and in points allowed (18.9 PPG – 3rd) this season.
Detroit has a great record, but they've barely won most of those games and I expect them to regress as the season winds down. The Lions have been relying too heavily on their #1 defense.
The Lions are only allowing 15.8 PPG (1st), 216.4 PYPG (5th) and 74.0 RYPG (2nd). The offense has been another story, as Detroit is only scoring 20.2 PPG (24th), 259.1 PYPG (9th) and 79.6 RYPG (31st).
Miami ranks 2nd against the pass (201.1 PYPG), so if they can shutdown the Lions pass game they can leave Ford Field with a victory. This will be a great game and one I'm looking forward to watching.
Atlanta Falcons vs. Tampa Bay Buccaneers Picks
Bet the Buccaneers +125 (Best Odds: TopBet)
Atlanta (2-6) has been terrible and after the last few weeks you have to question the coaching. In W8 in London the Falcons were up 21-0 early, but they ended up losing the game 22-21 somehow.
I hate betting on the Buccaneers (1-7) to win on the money line, but this is a winnable game against an ATL team that is terrible on the road. Atlanta is still winless when playing on the road.
This really is a game that Atlanta should win on paper. The Falcons offense is much better. They pick up an average of 24.0 PPG (15th) and 375.6 YPG (8th), but the defense is amongst the worst.
Tampa ranks last in the NFL in points allowed (30.6 PPG), but that because of a couple big blowouts. In fact, the Falcons blew out the Buccaneers (56-14) at the Georgia Dome way back in week 3.
Since that blowout win the Falcons haven't won a game. Tampa Bay has been terrible on offense. They average 18.8 PPG (26th) and 303.9 YPG (31st), but they should have success against Atlanta.
TB is 0-4 at home, but they've been close in three of those games. This team plays better at home and if they can get the run game going to keep the Falcons offense off the field they could win this SU.