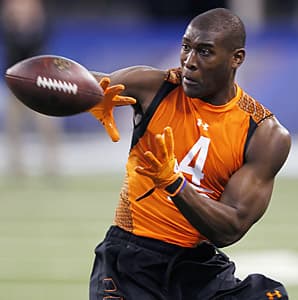 This week we go with four teams in a seven-point teaser, which at Bovada pays us at a price of +200.
The first part of our teaser may be a surprise to you, but it's the Jacksonville Jaguars. Are you shocked? Well, let's consider the circumstances.
They are playing the San Diego Chargers this week. And as you know, the Chargers are coming off a Monday night game with a rather high profile, because it was against the Indianapolis Colts and the new "golden boy," Andrew Luck. They play a near-perfect game, getting terrific pressure on Luck and creating an almost unreal balance in their offense so that they could sustain drives.
But if they were the type of team that could do that on a consistent basis, there wouldn't have been a need to unseat Norv Turner as head coach and replace him with Mike McCoy during the off-season. And let's face it – this is a pretty similar cast of characters left over from last year's team. For the Jags' part, they have actually started to put some points on the board in the last couple of games. And they have a wide receiver who is absolutely on fire.
In the two games since coming back from his suspension, Justin Blackmon has caught 19 passes for 326 yards. Those are Calvin Johnson-type numbers. He has made quite a difference in this offense and maybe they can open things up for Maurice Jones-Drew a little more. Don't be surprised if this is competitive. With the Chargers listed as a 7.5-point favorite at Bovada, we're happy to tease this one up to 14.5 points and go with the Jags.
We have never been major fans of the Atlanta Falcons, but there are a few things that have to be acknowledged. One is that this team has still won 34 of 42 games in the Georgia Dome with Matt Ryan as the quarterback, despite two straight losses at the venue. Another is that they are coming off a bye after getting beaten by the Jets.
It is true that Julio Jones is out, and that is a big blow. But they are going against a Tampa Bay Buccaneers team that is going to have to be patient with a rookie quarterback. Mike Glennon has thrown four interceptions in two games, and here he is making his first road start. This is an ideal opportunity for the Falcons in this "winnable" game, and they are favored by seven points according to the NFL betting lines at Bovada. So this is a game we tease down to pick'em and we will be satisfied with a straight-up Atlanta victory.
The Pittsburgh Steelers are going to try to make it two wins in a row as they play host to their AFC North rivals, the Baltimore Ravens. Last week, as they captured their first victory of the season against the New York Jets, they posted only 16 first downs. Explosive they are not. And the running game is not there at this point. A defense that has long been something for opposing offensive coordinators to worry about has chalked up only two takeaways all season.
Could the Steelers even REACH double digits, much less inspire our confidence in laying that in a game against the defending Super Bowl champs? We think not. They are a 2.5-point favorite in the NFL odds, so we get 9.5 points with Baltimore as we tease that number upward.
On Monday night, the New York Giants, in pursuit of that elusive first victory, play host to the Minnesota Vikings, who have made the decision to go with Josh Freeman as the starting quarterback. Is this reflective of Freeman adapting nicely to a change in scenery? Or does this tell us how desperate the Vikes are at the quarterback spot?
We figure they would yank him if he got into too much trouble, and maybe that's a good thing. At least they have Adrian Peterson on hand, and if he wasn't affected enough by the death of his two-year-old son to sit out last week's game, he'll be even less affected here. Is THAT a good thing? Well, it bothers us a little, but I guess that's beside the point.
Yeah, Minnesota is shaky. Freeman is shaky. And Brandon Jacobs gave the Giants a dose of what they were looking for on the ground with 106 yards last week. But with the Giants listed as a 3.5-point favorite at Bovada, wouldn't you feel more confident taking double digits against a winless team that is minus-16 in the turnover column; with a quarterback (Eli Manning) who has thrown fifteen interceptions already? Granted, we admit that even if he loses, New York coach Tom Coughlin will still have more job security than his Minnesota counterpart, Leslie Frazier.
But we're still on the take here.
To summarize, here's our four parts:
Jacksonville +14.5
Atlanta pick'em
Baltimore +9.5
Minnesota +10.5
You can bet parlays, teasers and all other exotic wagers by opening up an account right now at Bovada.lv.