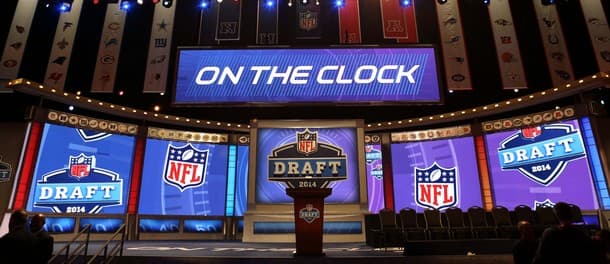 The NFL Draft is almost upon us, with teams desperate for an influx of young talent to improve their fortunes.
The Cleveland Browns hold the first-overall pick and will get the process started when it begins in Philadelphia next week.
They and the other sides selecting within the first 10 picks will dictate the terms of selection, with the other sides jostling for the best position below.
It's very hard to predict the outcome, but here is our attempt in our mock draft at predicting how events will transpire on April 27th.
1 – Cleveland (1-15) – DE Myles Garrett – The defensive end has been a standout player for the Texas A&M Aggies. He has the ability to become a dominant player in the NFL and bolster tepid pass-rush for the Browns that was limited to just 26 sacks in their 16 matches last season. Backing the Cleveland to select the 21-year-old with 32Red at 1.08Bet €100 to win €1082/25Bet £100 to win £108-1250Bet $100 to win $1080.08Bet HK$100 to win HK$108-12.50Bet Rp100 to win Rp1080.0800Bet RM100 to win RM108 would be a solid punt.
2- San Francisco (2-14) QB Mitchell Trubisky – The 49ers are in dire need of a quarterback given the putrid level of play that they gained from the position last season. Trubisky flashed his ability during the 2016 with the North Carolina Tar Heels and in Kyle Shahanan's system he could be fine player for the great franchise. The 22-year-old is backed at 1.87Bet €100 to win €18787/100Bet £100 to win £187-115Bet $100 to win $1870.87Bet HK$100 to win HK$187-1.15Bet Rp100 to win Rp1870.8700Bet RM100 to win RM187 with Coral to be the first quarterback selected in the process.
3- Chicago (3-13) DB Jamal Adams – The Bears have had problems in their secondary for a number of years. Adams was nothing short of sensational during his three years with the LSU Tigers and would help provide a great deal of security against the threat of Aaron Rodgers and the Green Bay Packers. Backing him at 2.50Bet €100 to win €2503/2Bet £100 to win £250+150Bet $100 to win $2501.50Bet HK$100 to win HK$2501.50Bet Rp100 to win Rp250-0.6667Bet RM100 to win RM250 with BetOnline to be the third overall pick would be a smart option.
4- Jacksonville (3-13) RB Leonard Fournette – The Jaguars need help on offense and Fournette is the man to provide it. He would alleviate the pressure on struggling Blake Bortles with the ability to power through the offensive line. He rushed for over 3,500 yards during his college career and would be a solid fit in the system. Fournette is backed at 1.17Bet €100 to win €11717/100Bet £100 to win £117-588Bet $100 to win $1170.17Bet HK$100 to win HK$117-5.88Bet Rp100 to win Rp1170.1700Bet RM100 to win RM117 to be the first back taken in the process.
5 –Tennessee – from Los Angeles Rams (4-12) CB Marshon Lattimore – The Titans cash in on one of the selections earned from the Rams in their trade deal by bolstering their secondary. They recently released veteran Jason McCourty and replace him with a top cornerback from Ohio State to pair up with free-agent signing Logan Ryan.
6 – New York Jets (5-11) DE Solomon Thomas – The Jets have lacked a dynamic pass-rusher to get after Tom Brady in the AFC East. Thomas notched 8.5 sacks for the Stanford Cardinals last term and would provide athleticism along a new impetus on their defensive line.
7 – Los Angeles Chargers (5-11) DB Malik Hooker – The Chargers lost Eric Weddle in the 2016 off-season and were made to pay for his absence. Adding Hooker to their secondary would offset his departure and get their new life in Los Angeles off to a solid start.
8 – Carolina (6-10) RB Dalvin Cook – Too much pressure was placed on Cam Newton to deliver last term for the club and it resulted in an injury to the quarterback. Adding a young running back; who can run through the tackles and catch passes out of the backfield would alleviate the strain along with providing a decent complement to veteran Jonathan Stewart.
9 – Cincinnati (6-9-1) WR Mike Williams – The Bengals lost Marvin Jones and Mohamed Sanu from their roster last year and were left exposed by injuries to Tyler Eifert and AJ Green. Drafting Williams would give Andy Dalton an intriguing target and allow space to open up for Green in the passing game. Backing him at 1.67Bet €100 to win €16767/100Bet £100 to win £167-149Bet $100 to win $1670.67Bet HK$100 to win HK$167-1.49Bet Rp100 to win Rp1670.6700Bet RM100 to win RM167 with Coral to be the first receiver selected in the process.
10 – Buffalo (7-9) DE Jonathan Allen – Kyle Williams is not getting any younger, while the Bills have lost talent from their defensive line in recent years. Allen could fall to them at a decent position, giving them impetus to get after Brady in the AFC East.
11 – New Orleans (7-9) – DE Taco Charlton – The Saints need a lot of help on defense, and although a player such as Christian McCaffrey appeal – they need to fix their issues. Charlton would provide a solid complement on the opposite side of the line from Cameron Jordan to get after the talented quarterbacks in their division.
12 – Cleveland – from Philadelphia (7-9) QB Deshaun Watson – Cleveland have been heavily linked with Trubisky and Patriots backup Jimmy Garoppolo. However, Watson presents decent value and comes into the side fresh off a victory for the Clemson Tigers in the CFB Championship game.
13 – Arizona (7-8-1) OT Cam Robinson – The Cardinals have endured struggles on their offensive line protecting quarterback Carson Palmer. Their last tackle selection DJ Humphries has not worked out, adding Robinson from Alabama could solve the issue on the right side of the line.
14 – Philadelphia – from Minnesota (8-8) WR John Ross – The Eagles were linked with a move for DeSean Jackson in free agency, but he moved to Tampa Bay. Doug Pederson's men help their second-year quarterback Carson Wentz by drafting the speedster out of the Washington Huskies. Taking the under at 1.71Bet €100 to win €17171/100Bet £100 to win £171-141Bet $100 to win $1710.71Bet HK$100 to win HK$171-1.41Bet Rp100 to win Rp1710.7100Bet RM100 to win RM171 for the wideout to be selected higher the 18.5 pick with BetOnline is a solid option.
15 – Indianapolis (8-8) ILB Reuben Foster – The Colts have lacked a physical presence in the middle of their defense. Adding the linebacker out of Alabama will provide their side with a tackling machine, which should help solve their problems against the run.
16 – Baltimore (8-8) OT Ryan Ramczyk – The Ravens used their last first-round pick on a tackle, but they need another solid selection this time around to offset the loss of Rick Wagner. Ramczyk played well during his time with Wisconsin and should be a day-one starter.
17 – Washington (8-7-1) WR Corey Davis – Jackson and Pierre Garcon left the club during the off-season, leaving them without a great deal of depth beyond Jamison Crowder and Josh Doctson. Davis gives them another quality young wideout to pair with Kirk Cousins to boost their offense. Taking the under at 1.67Bet €100 to win €16767/100Bet £100 to win £167-149Bet $100 to win $1670.67Bet HK$100 to win HK$167-1.49Bet Rp100 to win Rp1670.6700Bet RM100 to win RM167 for the wideout to be selected lower higher than the 18.5 pick with BetOnline would be a solid bet.
18 – Tennessee (9-7) LB Haason Reddick – The Titans use their second selection on a pass-rusher to aid their defense. A wideout could be in play, but at this stage adding a young playmaker will ease the strain on Brian Orakpo and Derrick Morgan.
19 – Tampa Bay (9-7) TE OJ Howard – Jameis Winston has been getting good production out of Cameron Brate at tight end. However, adding a much more talented player could make the Bucs offense potent to say the least.
20 – Denver (9-7) OG Forrest Lamp – The Broncos have made efforts to strengthen their offensive line with the signing of Ronald Leary. John Elway bolsters the protection around Trevor Siemian with a dominant guard.
21 – Detroit (9-7) CB Marlon Humphrey – The Lions use one of their early selections to bolster their secondary. Once again Rodgers loomed large in their division stopping them from securing a home playoff game. Adding Humphrey to play opposite Darius Slay would help quell the quarterback's threat.
22 – Miami (10-6) DE Derek Barnett – Cameron Wake discovered the fountain of youth to recover from his torn Achilles to enjoy a strong season in 2016. However, at the age of 35 he cannot go on forever. Drafting Barnett should pave the way for him to succeed the former All-Pro.
23 – New York Giants (11-5) LB Zach Cunningham – The Giants could replace DT Johnathan Hankins with his selection, but their linebacking corps is in dire need of an upgrade. Cunningham has the size and speed to thrive against the run as well as the pass, providing a strong force in the middle of their defense.
24 – Oakland (12-4) CB Adoree Jackson – The Raiders failed in their selection of DJ Hayden in the 2013 Draft, with the cornerback failing to live up to expectations. David Amerson and Sean Smith were solid enough, but the addition of Jackson should make Oakland's secondary a stoic unit to compete at the top of AFC.
25 – Houston (9-7) QB Patrick Mahomes – The Texans managed to rid themselves of Brock Osweiler and his horrendous contract. They offset his loss by keeping Mahomes in state from Texas Tech. He could provide the answer to their quarterback problems, with a number of eye-catching plays during his college career.
26 – Seattle (10-5-1) CB Chidobe Awuzie – Richard Sherman's future at the Seahawks is far from certain. As a result, Pete Carroll's men may be pressed into picking a cornerback in the first round. Awuzie meets the criteria the club usually look for in their players – with size and sound tackling fundamentals.
27 – Kansas City (12-4) DT Malik McDowell – The Chiefs lost defensive tackle Dontari Poe to the Atlanta Falcons. The club move to replace him by drafting the Michigan State standout to provide a stout presence against the run and pass.
28 – Dallas (13-3) CB Tre'Davious White – Dallas experienced an exodus on their defense with the departures of several key players. Morris Claibourne and Brandon Carr left voids in the secondary that could be replaced by the addition of White.
29 – Green Bay (10-6) Jabrill Peppers – Green Bay's defense was once again the reason to blame for their playoff defeat, being unable to hold up against Matt Ryan and the Atlanta Falcons in the NFC title game. Micah Hyde was a decent player for the Packers, but left to join the Bills. Green Bay offset his loss with a move for Michigan's Peppers to bolster their secondary. Taking him at the over at 1.80Bet €100 to win €1804/5Bet £100 to win £180-125Bet $100 to win $1800.80Bet HK$100 to win HK$180-1.25Bet Rp100 to win Rp1800.8000Bet RM100 to win RM180 to be selected after the 28.5 pick is a good punt.
30 – Pittsburgh (11-5) LB Tim Williams – James Harrison continues to marvel with his high level of play deep into his late thirties, but the Steelers cannot expect that to continue. Williams is a solid player and will provide a solid force off the edge alongside Harrison and Bud Dupree.
31 – Atlanta (11-5) TE David Njoku – The Falcons had the most potent offense in the NFL last season. Matt Ryan disseminated the ball to all of his weapons with ease to win the MVP award and drive his side to the Super Bowl. Adding an athletic tight end to the mix would give defenses nightmares and perhaps pave the way for another trip to the title game.
32 – New Orleans – from New England (14-2) CB Kevin King – The Patriots traded this selection away to acquire Brandin Cooks, but it could return to their hands if Malcolm Butler moves to the Saints. Should the situation remain though – New Orleans continue to rebuild their defense by drafting King. He has the size to match up with Julio Jones, Mike Evans and Kelvin Benjamin in the NFC South.
Tips Summary
Myles Garrett To Be First Player Selected
April 27th 2017
Odds: 1.08Bet €100 to win €1082/25Bet £100 to win £108-1250Bet $100 to win $1080.08Bet HK$100 to win HK$108-12.50Bet Rp100 to win Rp1080.0800Bet RM100 to win RM108
Mitchell Trubisky To Be First Quarterback Selected
April 27th 2017
Odds: 1.87Bet €100 to win €18787/100Bet £100 to win £187-115Bet $100 to win $1870.87Bet HK$100 to win HK$187-1.15Bet Rp100 to win Rp1870.8700Bet RM100 to win RM187
Jamal Adams To Be Third Overall Pick
April 27th 2017
Odds: 2.50Bet €100 to win €2503/2Bet £100 to win £250+150Bet $100 to win $2501.50Bet HK$100 to win HK$2501.50Bet Rp100 to win Rp250-0.6667Bet RM100 to win RM250
Leonard Fournette To Be First Running Back Selected
April 27th 2017
Odds: 1.17Bet €100 to win €11717/100Bet £100 to win £117-588Bet $100 to win $1170.17Bet HK$100 to win HK$117-5.88Bet Rp100 to win Rp1170.1700Bet RM100 to win RM117
Mike Williams To Be First Wide Receiver Selected
April 27th 2017
Odds: 1.67Bet €100 to win €16767/100Bet £100 to win £167-149Bet $100 to win $1670.67Bet HK$100 to win HK$167-1.49Bet Rp100 to win Rp1670.6700Bet RM100 to win RM167
John Ross To Be Selected Under 18.5 Pick
April 27th 2017
Odds: 1.71Bet €100 to win €17171/100Bet £100 to win £171-141Bet $100 to win $1710.71Bet HK$100 to win HK$171-1.41Bet Rp100 to win Rp1710.7100Bet RM100 to win RM171
Corey Davis To Be Selected Under 18.5 Pick
April 27th 2017
Odds: 1.67Bet €100 to win €16767/100Bet £100 to win £167-149Bet $100 to win $1670.67Bet HK$100 to win HK$167-1.49Bet Rp100 to win Rp1670.6700Bet RM100 to win RM167
Jabrill Peppers To Be Selected Over 28.5 Pick
April 27th 2017
Odds: 1.80Bet €100 to win €1804/5Bet £100 to win £180-125Bet $100 to win $1800.80Bet HK$100 to win HK$180-1.25Bet Rp100 to win Rp1800.8000Bet RM100 to win RM180
Cleveland Browns
Mitchell Trubisky
NFL
NFL Draft
San Francisco 49ers