The 2019 NFL Draft begins on Thursday as all 32 teams gather in Nashville, Tennessee to select the leading talent in the college game.
The Arizona Cardinals hold the first-overall pick in the Draft and can set the tone for the evening with their selection that could have huge ramifications down the line.
Five teams will not be participating in the first round after trading away their selections. The Cleveland Browns, Chicago Bears, Dallas Cowboys, Kansas City Chiefs and New Orleans Saints will not be picking on Thursday.
The New York Giants, Oakland Raiders and Seattle Seahawks hold multiple picks and could dominate the entire process with their decision making. We'll now break down how we think the first round will play out, including the use of betting odds for relevant selections.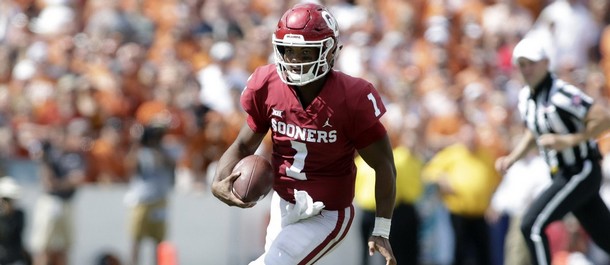 Arizona Cardinals (3-13) – QB Kyler Murray – The 21-year-old is the only player has the quality to be selected first overall in the process. He fits the need for the Cardinals as a franchise player for the future to guide the club towards contention for the Super Bowl. Back him at 1.29

Bet €100 to win €129

29/100

Bet £100 to win £129

-345

Bet $100 to win $129

0.29

Bet HK$100 to win HK$129

-3.45

Bet Rp100 to win Rp129

0.2900

Bet RM100 to win RM129

to be the top pick in the Draft at BetOnline.
San Francisco 49ers (4-12) – DE Nick Bosa – The 49ers already have a quarterback in place in Jimmy Garoppolo, although his injury last season forced them into a season of struggle. San Francisco can move to bolster their defense with an outstanding pass-rusher in the form of Bosa, who could be one of the most dominant players in the NFL. Take him to be the second player taken at odds of 1.36

Bet €100 to win €136

9/25

Bet £100 to win £136

-278

Bet $100 to win $136

0.36

Bet HK$100 to win HK$136

-2.78

Bet Rp100 to win Rp136

0.3600

Bet RM100 to win RM136

with BetOnline.
New York Jets (4-12) – OLB Josh Allen – The Jets also have their quarterback of the future in Sam Darnold. New head coach Adam Gase has the same problem as his predecessors with the presence of the New England Patriots in the AFC East. Picking Allen would give them a potent pass-rusher to hunt down Tom Brady that the Jets have sorely lacked. Back him to be selected third overall at odds of 3.50

Bet €100 to win €350

5/2

Bet £100 to win £350

+250

Bet $100 to win $350

2.50

Bet HK$100 to win HK$350

2.50

Bet Rp100 to win Rp350

-0.4000

Bet RM100 to win RM350

with BetOnline.
Oakland Raiders (4-12) – DT Quinnen Williams – The Raiders are in rebuild mode and have to take the best player available at the spot. Williams has the potential to be a force in the middle of the line. Back him at 2.75

Bet €100 to win €275

7/4

Bet £100 to win £275

+175

Bet $100 to win $275

1.75

Bet HK$100 to win HK$275

1.75

Bet Rp100 to win Rp275

-0.5714

Bet RM100 to win RM275

with 888Sport to be selected by Oakland.
Tampa Bay Buccaneers (5-11) – LB Devin White – Tampa Bay lost their sideline-to-sideline linebacker Kwon Alexander during free agency. They need a quality player next to Lavonte David to ease the pressure on the veteran. White was outstanding for the LSU Tigers and will bring immediate energy to the Buccaneers' defense.
New York Giants (5-11) – DT Ed Oliver – The Giants are in need of a quarterback, but have been reticent to take an heir apparent to Eli Manning. There are other quality players on the board at this stage and Oliver represents a prospect of a dominant player in the middle of the line. Back him to be selected by the Giants at 13.00

Bet €100 to win €1300

12/1

Bet £100 to win £1300

+1200

Bet $100 to win $1300

12.00

Bet HK$100 to win HK$1300

12.00

Bet Rp100 to win Rp1300

-0.0833

Bet RM100 to win RM1300

at 888Sport.
Jacksonville Jaguars (5-11) – OL Jonah Williams – Jacksonville made a significant move to add Nick Foles in free agency to cure their quarterback woes. Protecting their star now needs to be their priority. Williams was a standout player at Alabama and could play at either tackle or guard in the NFL. Back him at 2.75

Bet €100 to win €275

7/4

Bet £100 to win £275

+175

Bet $100 to win $275

1.75

Bet HK$100 to win HK$275

1.75

Bet Rp100 to win Rp275

-0.5714

Bet RM100 to win RM275

with 888Sport to be the first offensive lineman selected.
Detroit Lions (6-10) – TE TJ Hockenson – The Lions attempted to acquire Rob Gronkowski last year, but their attempts were rebuffed by the player. Matt Patricia and general manager Bob Quinn know the value of a dominant tight end due to their days in New England. Hockenson could be the heir apparent to Gronkowski's throne as the dominant tight end in the league.
Buffalo Bills (6-10) – OT Jawaan Taylor – Buffalo are a team that are in transition with second-year quarterback Josh Allen expected to take the next step in his development. He has a cannon of an arm, but needs time to throw downfield. Adding Taylor to protect his blindside would suit his style of play, handing the Bills another key piece to their offense.
Denver Broncos (6-10) – LB Devin Bush – The Broncos added Joe Flacco to quell their need for a quarterback, but don't take them out of the running to add a signal-caller. They do have a few holes on their roster. New head coach Vic Fangio loves playmaking linebackers having thrived with Patrick Willis, NaVorro Bowman and Roquan Smith in his previous roles. Bush fits the bill, providing Denver with a tackling machine at the second level.
Cincinnati Bengals (6-10) – QB Dwayne Haskins – For the first time since 2003 there's a new head coach in Cincinnati. Zac Taylor leads the new era at the club after replacing Marvin Lewis. He may want a new quarterback for his style of offense, ousting the underachieving Andy Dalton. Take Haskins to be the second quarterback off the board at 2.10

Bet €100 to win €210

11/10

Bet £100 to win £210

+110

Bet $100 to win $210

1.10

Bet HK$100 to win HK$210

1.10

Bet Rp100 to win Rp210

-0.9091

Bet RM100 to win RM210

with 888Sport.
Green Bay Packers (6-9-1) – DE Rashan Gary – The Packers have bolstered their defense in free agency, signing both Preston Smith and Za'Darius Smith along with Adrian Amos in the secondary. With two first-round picks they can fill needs on both sides of the ball. Rashan Gary has a few injury concerns that will drop him out of the top 10, but Green Bay will stop his slide.
Miami Dolphins (7-9) – QB Daniel Jones – Miami cut ties with Ryan Tannehill, leaving them with a void at the quarterback position. Ryan Fitzpatrick has come into the fold as a stopgap, but the club are in need of a long-term answer. Jones has been a late riser and has been linked with a few teams later in the process. His traits seem to fit with a new style brought in by head coach Brian Flores.
Atlanta Falcons (7-9) – DE Montez Sweat – The Falcons have struggle to rush the passer due to the decline in form of Vic Beasley over the couple of years. Sweat was dominant off the edge at Mississippi State and should slot into the starting defense from day one.
Washington Redskins (7-9) – OLB Brian Burns – Washington could be line for a quarterback here given Alex Smith's injury. However, there are not many quality options and they do have needs elsewhere. Preston Smith left for the Packers, leaving the club with Ryan Kerrigan as a sole pass-rusher. They can take Burns here for value following his impressive career at Florida State.
Carolina Panthers (7-9) – OT Andre Dillard – Cam Newton has taken a beating for long enough in the pocket. Carolina need to protect their quarterback from the great number of hits he has received during his NFL career. Dillard could also open holes for Christian McCaffrey in the running game.
New York Giants (5-11) from Cleveland Browns – QB Drew Lock – The Giants passed on taking a quarterback first time around, but now there's slightly more value with Lock remaining on the board. He has displayed potential at the Missouri Tigers and can develop behind Manning for a season or more. Back him to be selected by the Giants at 9.00

Bet €100 to win €900

8/1

Bet £100 to win £900

+800

Bet $100 to win $900

8.00

Bet HK$100 to win HK$900

8.00

Bet Rp100 to win Rp900

-0.1250

Bet RM100 to win RM900

with 888Sport.
Minnesota Vikings (8-7-1) – OG Cody Ford – The Vikings have had issues with the inside of their offensive line. Pat Elflein has been solid at center, while resources have been spent on both tackle spots. Ford should help remedy some of the problems in the middle to protect Kirk Cousins and open up running room for Dalvin Cook.
Tennessee Titans (9-7) – DT Christian Wilkins – The home crowd in Nashville will be delighted to see a talented player fall right into their laps at number 19. Wilkins was dominant during his time with the Clemson Tigers. Alongside Jurrell Casey, the Titans could boast one of the best defensive lines in the NFL.
Pittsburgh Steelers (9-7) – CB Greedy Williams – Pittsburgh missed out on the playoffs last season and have since lost two of their best playmakers. They cannot go chasing talent that isn't there at number 20 in the Draft, especially given their needs elsewhere. Williams is a talented player and would the club a starter alongside Joe Haden at cornerback. Take Williams to be the first defensive back off the board at 2.30

Bet €100 to win €230

13/10

Bet £100 to win £230

+130

Bet $100 to win $230

1.30

Bet HK$100 to win HK$230

1.30

Bet Rp100 to win Rp230

-0.7692

Bet RM100 to win RM230

with 888Sport.
Seattle Seahawks (10-6) – DE Clellin Ferrell – Seattle traded away Frank Clark to the Kansas City Chiefs on the eve of the Draft. Therefore their need for a pass-rusher has increased overnight. Ferrell was outstanding during his career with Clemson and fits their system to be stout against the run along with having enough speed to trouble opposing quarterbacks.
Baltimore Ravens (10-6) – DT Jeffrey Simmons – Baltimore may have to move up to acquire the edge players they need after allowing Terrell Suggs and Za'Darius Smith to leave. However, they also have needs on their defensive line. Simmons has the talent they crave from their defensive lineman.
Houston Texans (11-5) OT Dalton Risner – The Texans have struggled to protect Deshaun Watson in his two years at the club. He tore his ACL in his first season and it affected his mobility on his return to action last season. Watson took far too many hits in the pocket, and although this spot could be high for Risner, Houston have a need to fill.
Oakland Raiders (4-12) from Chicago Bears – RB Josh Jacobs – Oakland have a lack of talent on their offense. Marshawn Lynch will not be returning, leaving a void in the backfield. Jacobs was a standout player in his time at Alabama, using his power and pace to churn up yards on the ground. He will ease the pressure on Derek Carr. Back him to be the first running back taken at 1.20

Bet €100 to win €120

1/5

Bet £100 to win £120

-500

Bet $100 to win $120

0.20

Bet HK$100 to win HK$120

-5.00

Bet Rp100 to win Rp120

0.2000

Bet RM100 to win RM120

with BetOnline.
Philadelphia Eagles (9-7) – OG Garrett Bradbury – The Eagles are a pragmatic team and will take the best player available despite needs elsewhere. Jason Kelce has been their key man at center, but at the age of 31, he was playing with serious injuries last season. He cannot be expected to hold up forever. Bradbury could slot in alongside Kelce and Brandon Brooks in his rookie season.
Indianapolis Colts (9-7) – CB Byron Murphy – Indianapolis could address their defensive line or their wide receiver corps, but they need talent at the cornerback position. Murphy presents good value and could develop into the club's number one cornerback during his career.
Oakland Raiders (4-12) from Dallas Cowboys – TE Noah Fant– The Raiders lost Jared Cook in the off-season and have not replaced him with a quality option. Fant has the ability to become the reliable target that Cook was and more for Carr down the field. He has the pace and power to be a dominant force in the NFL.
Los Angeles Chargers (12-4) – CB Rock Ya-Sin – Los Angeles crave depth in their secondary behind starters Desmond King and Casey Hayward. King was given a rough time by Julian Edelman in the Chargers' defeat to the Patriots in the Divisional Round. Ya-Sin would add further talent to Los Angeles' defense, allowing to combat Patrick Mahomes in the AFC West.
Seattle Seahawks (10-6) from Kansas City Chiefs – WR DK Metcalf – Doug Baldwin has started to succumb to injuries that reduced Russell Wilson's ability to throw downfield. Tyler Lockett enjoyed a breakout season to step up for his team, but Seattle need more talent in their receiving corps. Metcalf gives Wilson a big body downfield and in the endzone. Take Metcalf to be the first wideout off the board at odds of 1.67

Bet €100 to win €167

67/100

Bet £100 to win £167

-149

Bet $100 to win $167

0.67

Bet HK$100 to win HK$167

-1.49

Bet Rp100 to win Rp167

0.6700

Bet RM100 to win RM167

with BetOnline.
Green Bay Packers (6-9-1) from New Orleans Saints – TE Irv Smith Jr – Jimmy Graham was supposed to offer a threat for Rodgers downfield and in the endzone. However, he failed to rise to the occasion last season. Smith has the athleticism to provide Rodgers an option from the slot and in the endzone following a fine career in the college game with Alabama.
Los Angeles Rams (13-3) – DT Dexter Lawrence – Los Angeles loaded up last season and reached the Super Bowl, only to fall short against the Patriots. Their offense that had been so potent during the regular season mustered only three points in their crushing defeat. There have been departures from the club since then, including Ndamukong Suh although he could still return. Lawrence would give them a young player on the line to succeed Suh and offer a complement alongside Aaron Donald.
New England Patriots (11-5) – S Johnathan Abram – The Patriots have plenty of needs to fill on offense and they will most likely trade out of the spot to acquire further picks. If the Draft fall as predicted there are not of lot of options for them in their positions of need. However, given the age of Devin McCourty and Patrick Chung in the secondary, New England do need a succession plan. Abram is the best player remaining on the board and Bill Belichick does love value.
Tips Summary
Kyler Murray To Be First-Overall Pick
Thursday 25th April 2019 20:00 ET (Friday 26th April 2019 01:00 BST)
Odds: 1.29Bet €100 to win €12929/100Bet £100 to win £129-345Bet $100 to win $1290.29Bet HK$100 to win HK$129-3.45Bet Rp100 to win Rp1290.2900Bet RM100 to win RM129
Nick Bosa To Be Second-Overall Pick
Thursday 25th April 2019 20:00 ET (Friday 26th April 2019 01:00 BST)
Odds: 1.36Bet €100 to win €1369/25Bet £100 to win £136-278Bet $100 to win $1360.36Bet HK$100 to win HK$136-2.78Bet Rp100 to win Rp1360.3600Bet RM100 to win RM136
Josh Allen To Be Third-Overall Pick
Thursday 25th April 2019 20:00 ET (Friday 26th April 2019 01:00 BST)
Odds: 3.50Bet €100 to win €3505/2Bet £100 to win £350+250Bet $100 to win $3502.50Bet HK$100 to win HK$3502.50Bet Rp100 to win Rp350-0.4000Bet RM100 to win RM350
Quinnen Williams To Be Selected By Oakland Raiders
Thursday 25th April 2019 20:00 ET (Friday 26th April 2019 01:00 BST)
Odds: 2.75Bet €100 to win €2757/4Bet £100 to win £275+175Bet $100 to win $2751.75Bet HK$100 to win HK$2751.75Bet Rp100 to win Rp275-0.5714Bet RM100 to win RM275
Ed Oliver To Be Selected By New York Giants
Thursday 25th April 2019 20:00 ET (Friday 26th April 2019 01:00 BST)
Odds: 13.00Bet €100 to win €130012/1Bet £100 to win £1300+1200Bet $100 to win $130012.00Bet HK$100 to win HK$130012.00Bet Rp100 to win Rp1300-0.0833Bet RM100 to win RM1300
Jonah Williams To Be First Offensive Lineman Selected
Thursday 25th April 2019 20:00 ET (Friday 26th April 2019 01:00 BST)
Odds: 2.75Bet €100 to win €2757/4Bet £100 to win £275+175Bet $100 to win $2751.75Bet HK$100 to win HK$2751.75Bet Rp100 to win Rp275-0.5714Bet RM100 to win RM275
Dwayne Haskins To Be Second Quarterback Selected
Thursday 25th April 2019 20:00 ET (Friday 26th April 2019 01:00 BST)
Odds: 2.10Bet €100 to win €21011/10Bet £100 to win £210+110Bet $100 to win $2101.10Bet HK$100 to win HK$2101.10Bet Rp100 to win Rp210-0.9091Bet RM100 to win RM210
Drew Lock To Be Selected By New York Giants
Thursday 25th April 2019 20:00 ET (Friday 26th April 2019 01:00 BST)
Odds: 9.00Bet €100 to win €9008/1Bet £100 to win £900+800Bet $100 to win $9008.00Bet HK$100 to win HK$9008.00Bet Rp100 to win Rp900-0.1250Bet RM100 to win RM900
Greedy Williams To Be First Defensive Back Selected
Thursday 25th April 2019 20:00 ET (Friday 26th April 2019 01:00 BST)
Odds: 2.30Bet €100 to win €23013/10Bet £100 to win £230+130Bet $100 to win $2301.30Bet HK$100 to win HK$2301.30Bet Rp100 to win Rp230-0.7692Bet RM100 to win RM230
Josh Jacobs To Be First Running Back Selected
Thursday 25th April 2019 20:00 ET (Friday 26th April 2019 01:00 BST)
Odds: 1.20Bet €100 to win €1201/5Bet £100 to win £120-500Bet $100 to win $1200.20Bet HK$100 to win HK$120-5.00Bet Rp100 to win Rp1200.2000Bet RM100 to win RM120
DK Metcalf To Be First Wide Receiver Selected
Thursday 25th April 2019 20:00 ET (Friday 26th April 2019 01:00 BST)
Odds: 1.67Bet €100 to win €16767/100Bet £100 to win £167-149Bet $100 to win $1670.67Bet HK$100 to win HK$167-1.49Bet Rp100 to win Rp1670.6700Bet RM100 to win RM167
Arizona Cardinals
Kyler Murray
NFL
NFL Draft