NFL Divisional Playoffs – Jan. 11th, 2014
Bet on all of these games at www.betonline.ag the top US sportsbook.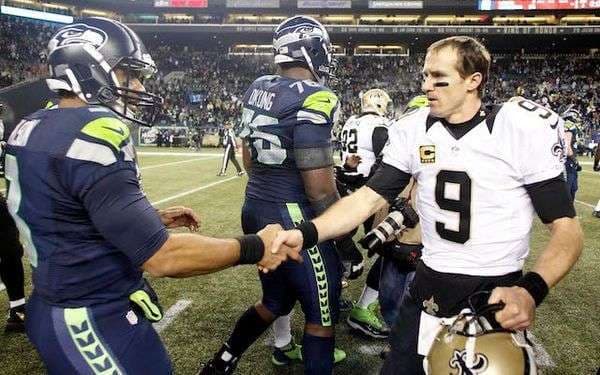 The first of this weekends divisional playoffs sees the Saints travel to Seattle to face the Seahawks.
New Orleans Saints at Seattle Seahawks -8 Total: 46.5
Fresh off their victory against Philadelphia, New Orleans heads to Seattle to take on one of the toughest home teams in the league. The conditions will not be as cold as they were last week for the Saints, but still won't be the comfort of a dome. The kickoff on Saturday should be around 41 degrees, but has a near-certain chance of rain.
Let's not forget these two teams faced each other six weeks ago in Week 16 matchup at Seattle. The Seahawks decimated New Orleans in the game winning 34-7, holding the Saints to their lowest offensive output of the season.
New Orleans won a game at Philadelphia last week to advance past the Wild Card round. It was an uncharacteristic win for New Orleans, which amassed 193 rushing yards, despite playing without injured first-string running back Pierre Thomas. Quarterback Drew Brees had a subpar day by his standards, throwing for just 250 yards, a touchdown and two interceptions.
As we take a look at New Orleans' season, a few things stand out. Though their offense was one of the top units in the league, as per usual, their defense was the big surprise this season. Rob Ryan's unit was ranked fifth in the NFL in total defense. While they have struggled against the run on occasion, they held the dynamic regular season NFL-rushing leader LeSean McCoy to just 80 yards in last week's meeting.
One can't help to look at New Orleans' struggles on the road as a reason to be concerned with their play in this game. They have scored just around 17 points on the road versus over 30 at home, and all of their five losses have also come on the road. Then again, they did just win at Philadelphia last week.
On the injury front, it looks as if running back Pierre Thomas may still be out this week. His status is questionable as of mid-week. Cornerback Keenan Lewis who hurt his head in last week's win against the Eagles is expected to suit up. The worst news comes in the form of linebacker Parys Haralson who was a key cog in their 3-4 defense. He tore a pectoral muscle in his chest and has now been placed on injured reserve.
Seattle is the top seed in the NFC and is the current favorite to win the Super Bowl out of their conference for excellent reason. They are extremely strong defensively and have a powerful running game on offense, and a potentially elite signal caller in Russell Wilson, who is just in his second year.
After two weeks of rest, most of the injury issues Seattle has faced are behind them. Everyone seems to be close to 100 percent for this point in the year, and the Seahawks should get wide receiver Percy Harvin back provided he does not have a setback. Harvin is game-changing talent who will be an x-factor in this game if he suits up.
The Line
While this game opened up at Seattle -9.5 at some shops, many sportsbooks opened at a line closer to the current number of -7.5 or -8. Due to weather reports, the line moved from a 48.5 opening number down two points to 46.5 or 46 at many shops.
The Play
This is a game I am weary of from a point spread perspective. While I think the Seahawks have an excellent chance to win by double digits, and though I think they will win the game, it may be too close for comfort. New Orleans has been in just about every game this year, save for their blowout loss against this same team. This game just seems like too much of a coin flip for me to consider laying 7-8 points. Seattle could blow them out like they did in their matchup, but I do not think it is likely. This one may very well come down to the final possession.
For me, this game is all about the total. It has come down a few points since the opening number of 48.5 but is still a great bet for the under. The rainstorm will no doubt be helpful in keeping this one low scoring, but even without the poor weather forecast, I think this game will be much lower scoring than most think.
Seattle defense at home is the best in the league, and while the Saints have had their hiccups this season, especially against potent rushing attacks such as the Seahawks' potent rushing attack, but I think they put up a solid performance on Saturday. The Eagles offense is quite similar, with a slight larger focus on the running game, but they did a more than admirable job defensively last week, despite Drew Brees' two interceptions.
I love the under 46.5 in this one and would take it immediately before the total goes down even further.
Pick: Under 46.5 – bet now at www.betonline.ag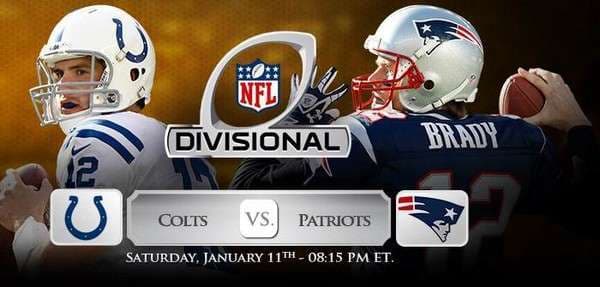 The Colts face a tough task as they head to New England to face off vs a strong Patriots team
Indianapolis Colts at New England Patriots -7 Total: 53
Quarterback Andrew Luck led the Colts back from the dead last week in one of the best comebacks in NFL playoff history. He will now face an even tougher test this week as he heads to New England to take on Tom Brady and the Patriots.
Indianapolis trailed by 28 points last weekend as they hosted the Chiefs on Wild Card Saturday, before rallying in a thriller to win 45-44 at home. Luck had an up and down game, throwing three interceptions, but ultimately was the catalyst for their comeback victory. He threw for 443 yards in the win.
Indy can hang their hat on Luck and their offense, but the situation is not as fluid as many think. While Luck's aerial attack has been strong, their rushing offense has been pitiful. Donald Brown has clearly been the better back compared to Trent Richardson. Both fumbled in last week's win against Kansas City. Indy's offense was a bottom-five team in rushing yards per game during the regular season.
It has been an up and down season for the Colts' defense. While they boasted a strong secondary for much of the year, they have been wildly inconsistent as of late. Last week's 44 points given up is nothing to build on as a unit, either. One gaping hole is the Colts run defense, which has been awful since the opening kickoff this year.
Other than safety LaRon Landry, who is expected to play this week, the Colts have not had many significant injuries to their defense. Cornerback Greg Toler has been put on injured reserve after getting hurt in last week's game after a previous nine-week absence. This loss should not hurt their secondary much. Toler was burnt several times last week by Dwayne Bowe and Alex Smith.
New England has received two weeks rest since finishing up their regular season 34-20 against Buffalo. Tom Brady threw for just one touchdown in the win, but the Pats amassed over 200 rushing yards on the back of LeGarrette Blount who rushed for 189 yards.
While the Patriots started off slow this season offensively, they have truly come on in the season's final weeks, even with key injuries to the likes of tight end Rob Gronkowski and Danny Amendola. Brady's favorite target this year has been slot receiver Julian Edelman. Edelman has had a career year, catching 105 balls for over 1000 yards receiving.
Their secondary has been strong, led by cornerback Aqib Talib and Logan Ryan, making one of the best corner tandems in the league. However, their weakness has been run defense, an area where they are worse off this week with the season-ending injury to linebacker Brandon Spikes. Since they lost All-Pro nose tackle Vince Wilfork for the season earlier in the year due to injury, their rush defense has been considerably worse.
Other than the injured reserve move for Spikes, New England has little other injury problems. Wide receiver Aaron Dobson is unlikely to play in the game, so Kenbrell Thompkins will receive increased snaps in his role.
The Line
While the Pats opened at -7.5 favorite at every book across the board, nearly every shop has moved the game to -7. It is the most consistent number so far in these four playoff games. The public has taken a liking to the over in this game, and the game has moved from a 52.5 opener to 53 at the vast majority of books.
The Play
Saturday's games are a tough slate, and this is another game I am not in love with on either side. While the Patriots have a significant edge and the Colts just had a high-octane game last weekend, it is hard to imagine this game not being close in the final minutes. Then again, Belichick is a mastermind who schemes to take away his opponents' top weapon. For Indianapolis, this is undoubtedly wide receiver T.Y. Hilton.
Luck targeted him 18 times in last week's win, and he caught 13 of those balls for over 200 yards receiving and two touchdowns. With no true threat or second option behind him at wide out, if Belichick covers Hilton with Talib and shadows a safety on him – Luck could be in trouble. He seems to get rattled easily at times, hence his three first half interceptions last week.
The Colts got the win, but their defense was terrible in the process. Their rush defense has been criminally negligent in recent weeks, and the Patriots have relied on their running game more and more as the season has come to a close. This is a mouth-watering matchup for Steven Ridley, Shane Vereen and LeGarrette Blunt.
The secondary has not been much better, and Brady will not be turning the ball over and giving the Colts a short field. Their short to intermediate passing attack is a scaled up version of the Chiefs' offense, and we saw how Kansas City's offense looked last week against this same unit.
I would not be shocked to see New England win this game by double-digits at Gillette.
Pick: Patriots -7 – Place your bets at www.betonline.ag