NFL Divisional Playoffs – Jan. 12th, 2014
Bet on football, NBA basketball and any other major sport at www.betonline.ag the biggest US friendly sportsbook.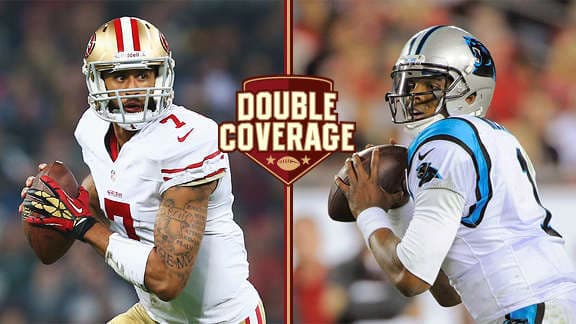 Sunday's playoff game between the 49ers and Panthers sees 2 of the best dual-threat qbs go head to head
San Francisco 49ers at Carolina Panthers +1 Total: 42
Fresh off a 23-20 win last week against Green Bay, the 49ers will head to North Carolina to take on the Carolina Panthers in the Divisional Round. The matchup features two of the games top dual-threat quarterbacks. The Panthers' Cam Newton will also make his playoff debut on Sunday.
These two teams met once this year at San Francisco on Nov. 10 in Week 10. The game was one of the lowest scoring outputs for the season for both teams. Carolina won the game 10-9 and kept the Niners out of the end zone. San Francisco quarterback Colin Kaepernick threw for season-low 91 yards in the loss and was sacked a career-high six times. It is worth noting that the team had neither Vernon Davis (mid-game concussion) nor Michael Crabtree healthy for this contest. They will both be available Sunday.
While Kaepernick has turned it on in recent weeks through the air, and rushing the football himself, it is crucial to note he has been one of the worst statistical QBs this season. "Kaep" ranks near the bottom in the league in completion percentage and has not been the dynamic player we saw last postseason for much of the year. However, they have been better since getting Crabtree back into the fold offensively, and have a nice core of skill players surrounding their young signal caller.
As I mentioned in previous articles, the 49ers defense has dropped off considerably from last season where they were the NFL's top ranked unit in the league. They held Aaron Rodgers to just 177 yards passing last week, but their secondary has been spotty this year. Their run defense, per usual, has been stout.
Injury wise, San Francisco is relatively healthy, especially offensively. On the defensive side, they were without starting left cornerback Carlos Rogers last week. Rogers is not a shutdown corner but is an every down player for this defense. His status for this Sunday is uncertain.
The Panthers will look to win their first playoff games since 2006 and are coming off a 12-4 season and a banner year from their quarterback, Cam Newton. Newton has set a career high in touchdown passes, completion percentage and passer ratings this season and rushed for nearly 600 yards and six touchdowns, as well.
The formula for Carolina's success this season offensively is simple, control the time of possession by running the ball. Newton and running backs Jonathan Stewart, DeAngelo Williams and Mike Tolbert all get their fair share of carries in this run-heavy offense. They will face a tough test this week against San Francisco's strong rush defense.
Defensively, the Panthers also boast one of the best units in the league, including the NFL's top rush defense. Their pass rush is also one of the best in the league, but over the past five or so weeks their secondary has dropped off a bit. They have regularly allowed 280 yards or more to opposing passers in the latter third of the season. Still, the unit is one of the best in the red zone at not allowing touchdowns, making it difficult for opponents to put up six points with limited opportunities.
Wide receiver Steve Smith, who has sat out a number of weeks with a knee injury, is now expected to suit in this game after being limited in practice this week.
The Line
This game opened anywhere from pk to San Francisco -1 or -2. Right now, the game seems to be at SF -1 across the board. The total opened at 43 and has come down to 42 and 41.5.
The Play
This game is an intriguing one, and I think the public has influenced this line quite heavily. It is not that I do not respect San Francisco's talent, but Carolina has beat them once this year, has had two weeks of rest and is at home. It seems totally ridiculous for them to be underdogs in their home stadium, especially against a team they already beat once this season.
To be fair though, the 49ers are a different team with a healthy Crabtree and looked impressive in last week's win at Green Bay. However, I still find it difficult to trust Kaepernick against a strong defense like Carolina's. He has had a terrible year statistically, and the Packers defense was a cupcake matchup for San Francisco.
The makeup of these two teams is extremely similar, but Carolina's defense is just a bit better in most areas. Also, Cam Newton's maturation has come quickly. He has grown leaps and bounds this year as a player, and I trust that he will put his team in a position to win this Sunday and will not turn the ball over. I can't say the same for Kaepernick.
Pick: Panthers +1 – bet now at www.betonline.ag
San Diego Chargers at Denver Broncos -9.5 Total: 55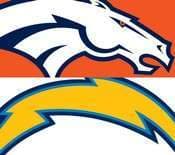 The Chargers head to Mile High Stadium looking to knock off Denver for the second time this season, but this time the stakes are much higher.
San Diego and Denver are divisional opponents, so they have faced each other twice this season. The Chargers won a Week 15 meeting on December 12th at Denver, 27-20. Their first meeting in southern California was also a close game but was a Denver win, 28-20.
The Chargers reached the playoffs by a near-miracle fashion in Week 17, with everything falling into place for them to get the AFC's last Wild Card. However, they proved last week that they deserved their spot. San Diego handed the Bengals a beating at Paul Brown Stadium 27-10. They forced Bengals QB Andy Dalton into several turnovers, including two interceptions and a fumble.
Phillip Rivers is having one of the best seasons of his career, but it has been the rushing attack of the Bolts that has powered them in recent weeks. Ryan Mathews finally had that breakout season everyone has been waiting for, and second string back Danny Woodhead has been a pleasant surprise this year, as well. San Diego's gameplan will be to pound the rock early against Denver's injured defensive front.
The Chargers have shuffled around their defense a bit this season, and it looks like their late-season moves have had a solid affect. They were ranked 22nd in total defense for the year, but were nearly a top five team in the final five weeks of the year, which included their late regular season win against the Broncos.
There are two key injuries the Chargers face heading into Sunday. Ryan Mathews has a banged up ankle but is expected to play in Sunday's contest. Also, center Nick Hardwick was taken out of last week's game with a concussion. He is currently on the NFL's concussion protocol, and his status for Sunday is uncertain.
I can talk at length about the Broncos weapons and their historic season offensively, but none of that matters anymore. It all comes down to Sunday night. Peyton Manning has "struggled" in the playoffs compared to the regular season, where he has been elite. Despite their success this season, Denver has a lot to prove. They were in this same situation last season (No.1 seed in AFC) and were knocked off by the eventual champion Baltimore Ravens.
On defense, Denver has been pretty poor since losing linebacker Von Miller for the season. Their rush defense has not been strong for much of the year, and his loss made it even worse. The secondary has been spotty as well, but Antonio Rodgers-Cromartie has been the bright spot. He will likely be tasked to Keenan Allen, the Chargers top receiving threat.
Other than some season long injuries, the Broncos are fairly healthy. They will be getting wide receiver Wes Welker back this week, who is now medically cleared from a concussion he suffered in Week 14. This will be his first game back.
The Line
This line opened at Denver -10 at many sportsbooks, but is now at -9 or -9.5 The total opened at 54.5 and has move up slightly at some shops to 55. The action on both the point spread and the total has been close to 50/50.
The Play
I want to preface before I give you my opinion on this contest that I think San Diego is an excellent team. However, I find the Broncos to be on a whole different level.
Despite the Chargers taking one of two games from Denver in the regular season, I think this one shapes up into a blowout. That is not say that Denver is not ripe for the picking defensively, I simply think Peyton Manning out does his counterpart Phillip Rivers in a big way in this game and puts up gargantuan numbers.
One of the main reasons I love the Broncos so much is due to their two-headed rushing attack of Knowshon Moreno and Montee Ball. San Diego has struggled heavily against pass catching running backs, and they are facing two of the best this Sunday. It is one thing to gameplan for Manning's short and intermediate passing game, but when he is throwing into the flats to these guys in space – these games get broken open.
Denver is the team that is going to be making the adjustments coming into this game. San Diego will stick with their gameplan that got them the win in their last meeting, but John Fox and Peyton will scheme up something to keep the Chargers' defense on their heels. I think Denver wins by double-digits at Mile High and moves on to the Conference Championship.
Pick: Denver -9.5 – bet on the rest of this season's NFL at www.betonline.ag