Indianapolis Colts at Houston Texans +2.5 Total: 44
Sunday, November 3rd, 2013 TV: NBC 8:30 EDT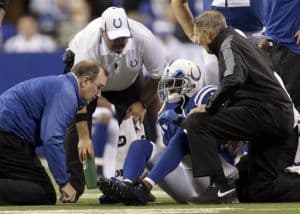 The AFC South takes center stage on Sunday Night as the Colts look to pad their lead in the division. At the beginning of the season, most thought these two teams would be battling for the divisional crown, but the Texans have not been up to the challenge so far. While this is a crucial game for both teams, a loss would put Houston in an almost impossible position going forward.
Indianapolis returns from a bye in Week 8 to what will be their third consecutive primetime game. After putting up just nine points against at San Diego in Week 6, they went to Mile High and knocked off the then undefeated Denver Broncos, exploding for 39 points in the victory.
Offensively, they have been about average but have been prone to inconsistency. Case in point their performance at San Diego several weeks ago. Another problem Andrew Luck is facing is the lack of a running game. Trent Richardson has done almost nothing since coming over from the Browns. To be frank, Richardson hasn't done much his entire career. The running back has not averaged more than 4.0 yards a carry in any game and lacks explosiveness.
The defense is keeping the Colts in most of their ballgames, despite a lackluster performance from Peyton Manning. Better in the secondary than against the run, the Colts need to shore up their rush defense to become a complete defense. The defense ranks 13th overall against the pass and 29th in the league against the run.
Even thought they scored a massive win against the Broncos go to reach a 5-2 record, it came with a huge loss. All-Pro wide receiver Reggie Wayne tore his ACL and is now lost for the season. Darius-Heyward Bay and T.Y. Hilton expect to see more looks now that Wayne is sidelined. Tight end Colby Fleener is also expected to see more targets.
Left cornerback Greg Toler will not play Sunday night due to a sore groin. The Colts will still have top cornerback Vontae Davis who will matchup with the Texans Andrew Johnson.
Houston's 2-5 record is obviously not where this franchise expected itself to be at this point in the season. Fueled by injuries and endless amounts of turnovers, the Texans have benched Matt Schaub in favor of rookie Case Keenum.
Keenum was impressive in his first start throwing for 271 yards on 15 of 25 with a touchdown and a turnover in a close, 17-16 loss at Kansas City. He is almost assuredly a better player than Schaub at this point but has a tough matchup in this one.
Houston's scoring defense is 27th in the league, but that is a bloated stat due to offensive turnovers and special teams' miscues, which are responsible for seven touchdowns. In fact, Houston has the number one ranked defense in yardage at just less than 268 yards.
The bad news is that Keenum's rushing attack, the Texans' bread and butter on offense will be hampered with multiple injuries. Arian Foster will be a game time decision and Ben Tate is expected to play, but with four cracked ribs.
The Line
This line seems to be all over the place after opening at Houston -1 at some shops. The game has gone the other way with most sportsbooks currently at +2.5 and some at +3. I would expect this one to get close to +3 everywhere before kickoff; the public loves the Colts this week. The opening number of 45 has come down slightly to 44 at most shops.
The Play
This matchup is intriguing, because both of these teams quite different than they were even a week ago. The Colts are without Reggie Wayne and the Texans finally got sick of Matt Schaub's turnovers and have handed over the keys to rookie Case Keenum, at least for the time being. Not to mention all the injuries woes the Texans are facing in their backfield.
Who knows how Luck will respond without his favorite target, especially with an unfavorable matchup to being with against the Texans. Likewise for Houston, who is injured and starting a rookie quarterback on offense. Both of these teams should run a lot, but it is not something they have been especially skilled at in recent weeks. The pace of this game will be slow with both teams trying to avoid making a mistake early, along with a heavy dose of three and outs.
My play on this game is the Under 44, but I also have to give a slight edge to the Texans. I'm curious to see how this team can perform without Matt Schaub hocking up interceptions and killing every drive. Keenum is not only better out the pocket than Schaub, but he gives the Texans a downfield passing game because he isn't afraid to throw deep.
Take the Under 44 and Texans +2.5 with Bovada.lv.