This is another week with plenty of byes. The Arizona Cardinals, Denver Broncos, Detroit Lions, Jacksonville Jaguars, New York Giants and San Francisco 49ers get a break.

Tennessee Titans at St. Louis Rams +3 Total: 39.5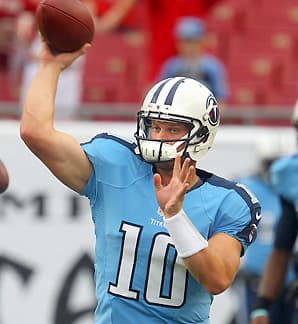 The Titans head to the Edward Jones Dome on a three-game losing streak. They were on a bye in Week 8, and their last game was a 31-17 loss at San Francisco in Week 7. Quarterback Jake Locker returned from injury that week and threw for over 300 yards and two scores against a tough Niners defense.
Locker is now fully healthy after resting up during the bye. The Titans have an underrated set of skill players on the offensive side of the ball, including Kendall Wright and Nate Washington. According to head coach Mike Munchak, running backs Chris Johnson and Shonn Greene will share touches this week, a move that is curious considering Greene's value around the league is generally considered poor.
Defensively, the Titans are strong against the pass mostly due to top secondary contributors Alterraun Verner and Jason McCourty. However, against the run they have had issues. They ranked 24th in the league against the run and are giving up over four yards per rush to opposing running backs.
Injury wise, the Titans seem to be good to go for the most part. The bye helped everyone get back some strength. One player that will be sitting out is linebacker Moises Fokou who will miss his second straight with a knee injury.
There is not much good to say about the Rams, who are hanging onto their season by a thread. At 3-5, they have essentially imploded after the loss of franchise quarterback Sam Bradford. Backup Kellen Clemens might be the worst quarterback in the league and looked inept in a Monday Night Football loss to Seattle, 14-9. Despite gaining over 200 yards rushing against Seattle, the Rams lost the game due to multiple turnovers and failed to score on the one yard line at the end of the game.
From a defensive perspective, they are similar to the Titans. They boast a strong secondary but a poor rush defense that is ranked 21st in the NFL. Opposing running back have had a lot of success against them this season, and they have given up three straight 100 yard games to opposing rushers.
Rookie Zac Stacy who ran for 134 yards in the loss against Seattle was limited this week in practice due to a sprained ankle but is fully expected to play this week. His backup Daryl Richardson was limited in practice but is also expected to play.
The Line
This game opened at Rams +2.5 or +3 which is where it stands at most shops currently. The total has come down a lot from its opening number of 43. The consensus line at most sportsbooks is now 39.5.
The Play
While the matchup looks decent on paper for both teams to a certain extent, (both teams have poor rush defenses and run first offenses) I think the Titans will handle their business here fairly easy. The Rams crowd was actually into the game on Monday Night, but they will be dejected for this game after such a tough loss. It would have been easier on them if they had just been blown out, but instead they had many chances to win the game but blew each offensive opportunity.
I expect the Titans to win this one without much trouble by controlling the clock and time of possession and forcing Clemens to throw. Overall, Tennessee is simply a much better team, and they will show it Sunday.
Take the Titans -3 on the road with Bovada.lv.
San Diego Chargers at Washington Redskins +1 Total: 51
San Diego comes into this game fresh off a bye week at 4-3, winning back to back games before the break. Their last win came in Week 7, against the lowly Jaguars, 24-6. Quarterback Phillips Rivers has been the biggest reason for the Chargers success on offense.
Rivers ranks first in the league in completion percentage at 73.9 and second with a 111.1 quarterback rating. He has thrown 15 touchdowns to go with just three picks. San Diego's run game, led by Danny Woodhead and Ryan Mathews has been surprisingly effective, as well.
Lately, the Chargers defense has been much better. They have allowed just 15 points in the past two games but are still graded as poor by most advanced metrics. Against the pass, they have been suspect, allowing 300 or more yards passing in four of their games.
The injury front is rather bare for the Chargers other than wide out Eddie Royal. He has missed practice all week and will likely be a game time decision against the Redskins.
Sitting at 2-5, the Redskins are desperate for a win but still in the fight for the NFC East title as the division has not been accomplished this year. Inconsistency has plagued Washington on offense, but they have done a admirable job overall. They are 10th in the league in scoring and rank 10th overall in passing yards.
A big part of Washington's success is how well Robert Griffin III is playing. He has been hit or miss this season after coming back from injury. Last week he was terrible in a 45-21 loss at Denver, throwing for just 132 yards on 15 of 30 before leaving the game with an injury late. He threw one touchdown to go with two interceptions in the loss.
On the other hand, the Redskins defense has been consistent. Constantly, rubbish that is. There may not be a worse defense in the NFL from the games I have watched. They are bottom five against the pass and the run and have missed more tackles than any other team. They will get safety Brandon Merriweather back this week, and though it is a small upgrade in the secondary, Merriweather hasn't been anything but average this year.
The Line
The game opened at pk, a line that is still available. Markets are split on this game with many offering pk and Washington +1. The total is the largest of the week. The number opened at 51 which is still available at most books as we head to the weekend.
The Play
All the signs point to San Diego coming out with a vengeance against the Skins, but I think Washington gets this one at home. Still in the fight for the division, this game is absolutely critical for the Redskins.
In my opinion, the Chargers defense is extremely overrated, even though no one regards them as even average. RG3 should bounce back from his poor week last week and be able to move the ball at will against the Chargers defense. Washington will have their home crowd behind them in this game, and they should roll.
I like the Redskins +1 at home, placing my bet with Bovada.lv.
Atlanta Falcons at Carolina Panthers -7.5 Total: 44
The Falcons head into Bank of America Stadium with their season on the line. At 2-5, Atlanta has lost four of out their last five games and have dealt with tons of injuries all year long. Last weekend, they lost with a poor performance at Arizona, 27-13. Quarterback Matt Ryan threw for a career high 61 times but threw four picks in the loss.
While the Falcons have normally been able to put up decent numbers on offense, the same can't be said for their defense. They have allowed at least 23 points per game this year and have almost no pass rush. The defense has been even worse on the road, and Atlanta has yet to win a road game this season.
Injury-wise, Roddy White is still sidelined in what could be a lost season for the wide out. Steven Jackson was not listed on the injury report this week and appears to be 100 percent. This is shocking considering how poor he looked last week.
In contrast to Atlanta, the Panthers have surged in recent weeks, reeling off three straight wins. Their time of possession has kept opponents off the field, and Cam Newton has been playing like the best quarterback in the league in recent weeks. Newton has thrown for 667 yards, six touchdowns and no interceptions during the three game win streak.
As dominant as Carolina's offense has been it has been their defense that has shut down opponents almost entirely. They are second in scoring defense and second against the rush, and despite injuries to their secondary; they have still done a formidable job. Part of the reason is their pass rush which ranks 9th in the NFL with just over 3 sacks per game.
Jonathan Stewart looks to be on track to make his season debut this week against the Chargers after missing half the season with a knee injury. His backfield mate running back DeAngelo Williams is questionable to play this week.
The Line
The game opened at Carolina -7.5 and still stands at that number at most books. The total started off at 43 but has moved to 44 across the board.
The Play
The Panthers have looked unstoppable in recent weeks but let's remember who they have faced the past three weeks. The Vikings, Rams and Buccaneers have a combined 4-18 record and have been even worse over the last few weeks. I don't doubt Carolina is a better team than Atlanta, but I think this game will be a lost closer than most think.
The Panthers may run out to an early lead, but Matt Ryan has proven he can move this offense even with a decimated receiving corps. I could easily see this game decided by a touchdown or less, though I still think Carolina pulls out a win. This one will not be a blowout like we've seen in previous weeks. I think Atlanta will make them work in this one.
Take the points with the Falcons +7.5 on the road, with the best odds found at TopBet.eu
Minnesota Vikings at Dallas Cowboys -10 Total: 47.5
Minnesota heads to AT&T Stadium this week to take on the Cowboys as their revolving door of starting quarterbacks seems to be continuing. It looks like it will be Christian Ponder who will start for the Vikings in this weekend, but Josh Freeman may get the nod depending on his health. Ponder started last week's game, a loss, at home against Green bay, 44-31, falling to 1-6 on the year. Their offense has struggled to score points this year with the lone bright spot being running back Adrian Peterson.
On defense, it doesn't get much better with Minnesota ranking as a bottom five defense in the league. They rank second to last in points allowed and have given up at least 23 points in every game this season.
There has been no announcement on who will start Sunday's game, but it looks like it will be Ponder who has taken the most reps with the first team during the week. Even against Dallas' terrible defense, it is hard to feel confident with Freeman or Ponder under center.
Dallas is coming off a tough loss against Detroit in the final minutes last week, which saw them lose 31-30. At 4-4, they are winning the NFC East, which is an indictment on the division's play and not the excellent play of Dallas. Much of the media reported on Dez Bryant's outburst on the sideline and acted if the team was suddenly in turmoil, but I don't honestly see it that way. Their offense has been one of the best in the league. The real concern is their defense.
Despite generating many turnovers, Dallas' defense stands right next to Minnesota in many categories. They are dead last against the pass and 17th in points allowed.
DeMarco Murray looks to return after being sidelined two weeks with a sprained MCL. He will be a massive upgrade to a running game that has sputtered in his absence. Defensive lineman DeMarcus Ware, the Cowboys best pass rusher, will also be a game time decision Sunday.
The Line
The game opened with Dallas -10, a line that has still being offered at most books currently. The total opened at 47 and has gone up a bit, hitting 47.5 at most spots but is trending toward 48.
The Play
As much as the Cowboys have disappointed in recent weeks, I think they are more than justified as 10 points favorites against the Vikings. This isn't a trap game by any stretch of the imagination. In fact, I think it is the exact opposite. Dallas is angry about their last minute loss to the Lions last week and is looking to blow out Minnesota.
The Vikings have no continuity on offense and aside from Peterson, who I still think looks a little injured despite it not being on any reports – they have remarkably little ways to move the ball. Ponder's and Freeman's reads have been awful, and I have no faith that they can move the ball against even a porous defense like Dallas'. This one is going to be ugly.
Lay the points with the Cowboys -10 at home bwtting with TopBet.eu.
New Orleans Saints at New York Jets +6.5 Total: 45.5
The Saints come into MetLife Stadium with a 6-1 record after demolishing the Buffalo Bills last week 35-17 in New Orleans. The return of Sean Payton has been a godsend for the Saints as they look like the most dominant team in the NFC after eight weeks. Quarterback Drew Brees has been outstanding, throwing for six touchdowns in the win against Buffalo and continues to spread the ball around each week.
Once known for being pushovers on defense, the Saints have improved drastically this year under new defensive coordinator Rob Ryan with much of the same personnel of last season. Still, their past defense doesn't hold up well when we look at advanced stats. They are giving up 4.8 per rush this year, the worst in the NFL. The issue being that teams are often behind against the Saints and are forced to throw for much of the second half.
The defense is relatively healthy for the Saints, but the offense has many injury questions coming into this game. Most notably, tight end Jimmy Graham who is a top target of Brees and is dealing with a plantar tear. He is expected to play but in a limited capacity. Receivers Marques Colston and Kenny Stills were both limited with knee injuries, but are expected to play, as well. Running back Mark Ingram will also return this week.
The Jets have shown flashes of brilliance all year long, and have quite a streak going of winning a game and then losing the next. It is a wonder for bettors which New York team will show up each week. Rookie QB Geno Smith has looked unbelievable in many big games but fails to show up in others. Until he can be relied on every week, it is hard to know what to expect from the Jets offensively.
The defense has been the strong area for New York. Their front seven is one of the best in the NFL and they are number one against the rush, allowing just over 3 yards per attempt. However, they did have their worst game of the season against the Andy Dalton led Bengals last week, losing 49-9.
Santonio Holmes remained sidelined which means more snaps for Jeremy Kerley and Stephen Hill. Tight end Jeff Cumberland was not expected to play in this game due to a concussion but looks to be cleared in time for the game.
The Line
This game opened at Jets +5 and has moved closer and closer to +7. Most books have this game at +6.5, but I think it has a decent chance to get to +7 mostly everywhere by game time. The opened at 45 and has moved upward slightly. It's at 45.5 and 46 at most shops.
The Play
New Orleans has dominated most teams they have played against, other than their late game loss to the Patriots in Week 7. But, the Jets present the toughest defensive matchup for the Saints so far. Let's not forget, the Saints are injured offensively, and though Brees is one of the game's best, it may be hard for them to put up points against a tough defense like the Jets possess. The Jets defense will come to play in this game.
Geno Smith's play will ultimately decide this one. I think will have a decent game, especially when it comes to running the football. If the Jets can establish a run game early, the secondary will have to respect the play action which will free up Jets receivers downfield for Geno. I think he may end up having a bigger day than most expect.
The Saints will likely still come away with a victory in this game, but it is going to be close. I'm happy to take the points with the Jets in this one. Although, it may be best to wait closer to game time to bet to see if you can get +7.
Take the Jets +6.5. I got on this at Bovada.lv
Tampa Bay Buccaneers at Seattle Seahawks -16 Total: 40.5
Things never seem to get better for Tampa, who heads into CenturyLink Field this week still winless. The largest underdogs of the week at +16, Tampa's season is over for all intents and purposes.
Rookie quarterback Mike Glennon will get the start once again for a team that averages just over 14 points per contest, second least in the league. They will also continue to go with running back Mike James with Doug Martin sidelined.
The defense hasn't been much better than the offense, forcing an already poor offense to dig themselves out of holes early. Tampa's front has been decent against the run but has not been the stalwart's most people thought they would be when they acquired Darrelle Revis in the offseason.
The Bucs lost wide receiver Mike Williams for the season after he tore his right hamstring in last week's loss. This is a big blow to their passing game. As I mentioned above, Doug Martin remains sidelined with no timetable for his return. Defensive back DaShon Golden is also questionable to play.
Seattle is 7-1 on the year after winning an ugly game on Monday Night against the Rams. Despite gaining less than 150 yards of total offense, they won the game 14-9. Seattle's offense ranks in the middle of the pack overall but has one of the best rushing attacks in the NFL. Marshawn Lynch was quiet last week against the Rams but should bounce back big in this one.
On defense, it is the same old, same old for the Seahawks. They are allowing just over 11 points per game at home this season and should be in line for a big game against this Buccaneers offense.
One notable loss for Seattle was receiver Sidney Rice. He tore his ACL in Monday's win against the Rams and will miss the rest of the season. Percy Harvin will not make his season debut this week but is expected to start Week 10. Marshawn Lynch was limited in practice but is in no danger of missing Sunday's game.
The Line
The game opened with Seattle as -16.5 favorites and has moved down to 16 at most shops now with some as low as 15.5. The total has not moved from the opening number 40.5.
The Play
These games are tough to pick, and while I would normally go with a team getting 16 points, it is hard to fathom the Buccaneers being in this game with all their recent injury issues. Glennon has showed promise but has only been able to get the ball to Vincent Jackson consistently; who I'm sure will be blanketed in coverage by Seattle. Also, this is by far his toughest matchup. I can't imagine the Buccaneers being able to score more than two touchdowns in this game, and that is if they had a fantastic day.
Lay the points with Seattle -16 at home. TopBet.eu have the best price on this.
Philadelphia Eagles at Oakland Raiders -2.5 Total: 45
Philadelphia's quarterback situation has been tough this season, which has mostly been alternated between Nick Foles and Michael Vick. Foles gets the nod this week after an injury to Vick in last week's loss to the New York Giants, 15-7. It was a miserable game from the offensive side from the Eagles who managed just 200 total yards and coughed up three turnovers.
Defensively, the Eagles have been better as of late, but this unit is nothing special. Furthermore, they are on the field for large portions of the game due to Philly's quick hit offense. It's tough to have success when you are out on the field for so long.
As I mentioned above, Foles will start this week with Vick sidelined. DeSean Jackson has been limited in practice this week but will play Sunday.
At 3-4, the Raiders have actually exceeded expectations so far this season as many thought they would be one of the worst teams in the league. Terrelle Pryor has been a pleasant surprise for Raider Nation with his improved play. He ran for 106 yards in last week's 21-18 win over Pittsburgh, including a 93 yard runTD on the first play of scrimmage.
The Raiders defense still ranks near the middle of the pack, but it has been stronger than expected. They have not allowed a running back go over 80 yards in any game this year and have held big time offenses, like the Denver Broncos to just 24 points. Their secondary is their weak spot, but they do have an excellent pass rush and average over three sacks per game.
The Line
The Raiders actually opened as slight underdogs at +2 at most books, but heavy Eagles action pushed the game the other direction. The total opened at 45 and is still the active number at most sportsbooks.
The Play
The Chip Kelly hype is now long gone, and it is getting quite difficult to trust the Eagles in any matchup. The Giants defense is terrible, and they could barely muster a touchdown in that game. Oakland is nothing exceptional but are light years better on that side on the ball than the G-Men.
It is also nearly impossible to know what Foles is going to do in this start. With McCoy, Jackson and the rest of the offense struggling as well, Foles may have trouble moving the ball.
I'm not a massive fan of this game either way, but I would probably go with the Raiders in this game because I can't respect the Eagles as road favorites unless they are playing a bottom five team. They don't deserve this kind of respect yet. They're a 3-5 team playing their backup quarterback and also sport a terrible defense. Sure, they could end up winning big, but why risk betting on them in this spot.
Visit Bovada.lv and take the points with the home dog Raiders +2.5.
Pittsburgh Steelers at New England Patriots -7 Total: 43
The Steelers have been inconsistent as ever this season as they head into Foxboro with a 2-5 record on the year. They lost a tough game against the Raiders last week, missing a key field goal in a 21-18 loss. Offensively, it been a struggle for Pittsburgh for much of the year due to key injuries to their offensive line. They rank 27th in points scored per game, despite a number of talented skill players, including wide receivers Emmanuel Sanders and Antonio Brown.
Defensively, the Steelers have been strong against the pass but not so strong against the run. It is normally the opposite, but they can't seem to corral opposing rushers this year. Many advanced metrics put them in the bottom third of the league in rush defense.
Other than the season long offensive line injuries, the Steelers haven't been hurt too badly with injury woes. Rookie wide out Marcus Wheaton is expected to play this week after missing last week with a broken finger.
The Patriots are 6-2 on the year, but you would never know it. Alarm bells are going off each week in Boston as the Pats' offense; more specifically Tom Brady's passing game has been stagnant. However, the running game has picked up the slack, especially the past few games. New England's rushing attack is now 5th in the league.
Defensively, they have been tremendous against the pass but injuries to Vince Wilfork and Jerrod Mayo have made them quite vulnerable up the middle to opposing running backs.
The excellent news is that shutdown cornerback Aqib Talib will be back this week after missing the past two games due to injury. Although, Brady may be under increased pressure this week with the loss of right tackle Sebastian Vollmer to season ending injured reserve. His backup Marcus Cannon has been quite poor in filling in at tackle.
The Line
This game opened at NE -7 and hasn't moved much at all. The total opened at 44 and has moved down slightly at some books. The number can be found between 43-44 at most sportsbooks.
The Play
Despite New England's shortcomings in the passing game this year, they are primed to hand the Steelers a beating on Sunday afternoon. Pittsburgh's lack of a run defense is becoming a bigger issue week by week, and the Patriots have a talented backfield with multiple backs that can run the ball. I expect them to pound the Steelers in this one and keep control of the clock forcing Pittsburgh to come from behind.
Pittsburgh's run game may also have success, but I can't see it being enough. They have started notoriously slow in games this year and are facing a tough secondary. That is a bad recipe for a passing game that has struggled all year.
Go to TopBet.eu and take the Patriots -7 at home.
Baltimore Ravens at Cleveland Browns +3 Total: 41.5
The defending champion Ravens come off a bye after a rough start to the season with a 3-4 record. In Week 7, they lost to the Steelers before their bye and scored just over 30 points in their two games before the break.
Joe Flacco, fresh off his mammoth contract hasn't gotten the job done. He is 19th in ESPN's quarterback rating and has thrown for less than 250 yards in three games this year. To make matters worse for the Ravens, their rushing attack ranks near the bottom of the NFL.
On the other side of the ball, they have been much stronger. The defense is ranked 11th in points allowed and has a tremendous pass rush. Their secondary has been poor at times but overall the unit has performed especially well considering the losses they took in the offseason.
The Browns suffered a significant injury a few weeks ago to quarterback Brian Hoyer went down with a season ending injury. Since then, the offense hasn't been able to score more than 17 points. At 3-5, Cleveland desperately needs a win against their division rival.
Jason Campbell, the Browns now-starter after Brandon Weeden's benching threw for 293 yards and two touchdowns in a Week 7 loss at Kansas City, but the Browns still managed just 17 points. Wide receiver Josh Gordon has been a pleasant surprise for Browns fans this year, but he can't win games on his own.
On defense, the Browns have been excellent for most of the year but in recent weeks have faltered. They rank in the top third of the league in both rushing yards and pass defense.
The Line
Opened at Browns +3 and has stood there for the most part. Some shops are offering +2.5 with positive juice. The total has gone up slightly in this one from an opening number of 40.5 to 41.5.
The Play
I am not normally high on large public plays like the Ravens, but this may be an excellent spot to take the defending champs. Baltimore always seems to dominate the Browns in divisional play and coming off a bye they are even better rested. Ray Rice has said that he finally has his "burst" back, and that could be a problem for a Cleveland defense that is becoming more susceptible to the run each successive week.
Cleveland has done just enough to not mail in the season for their fanbase, but this group isn't going anywhere. I see the Ravens coming in and taking care of business.
Take the Ravens -3 with Bovada.lv.