Six teams have their bye in Week 8, including the Baltimore Ravens, Chicago Bears, Houston Texans, Indianapolis Colts, San Diego Chargers and Tennessee Titans.
Dallas Cowboys at Detroit Lions -3 Total: 51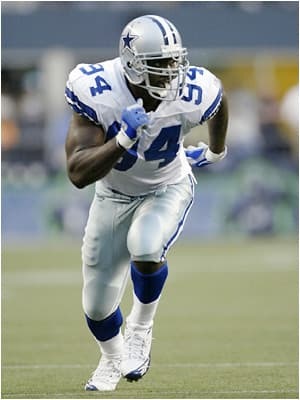 Dallas managed to win a sloppy game against the Philadelphia Eagles last week, 17-3, to move to 4-3 on the season. The Cowboys offense couldn't get much going in the victory with their only touchdown pass coming in the second half, a Tony Romo to Terrance Williams connection. The unit is ranked third overall in the NFL, scoring over 28 points per game.
Dallas' defense has been middle of the pack but has fared much better against the run, rather than the pass. They have not allowed a 100 yard rusher in a game this season and have gotten solid pressure on the quarterback.
One key component in this game is the status of defensive lineman and top pass rusher DeMarcus Ware. It is unlikely he will play in this contest after being hit with a quad injury in Week 6. Running back DeMarco Murray should return this week after sitting out last week due to injury. However, he is likely still limited.
The Lions also have a 4-3 record after a tough loss against the Cincinnati Bengals last week, 27-24. Wide receiver Calvin Johnson returned from injury and posted an impressive stat line of 155 yards and two touchdowns, but it was not enough.
Detroit's defense held their own early in the year but has been rather poor in recent weeks, giving up monster numbers through the air. But, they have played to their level of competition and had some tough matchups. Dallas' offense will be another this week.
Detroit released longtime tight end Tony Scheffler mostly due to the emergence of rookie tight end Joseph Fauria who gives Stafford another reliable target.
The Line
There has been almost no movement on this game throughout the week. The line opened at Dallas -3 and hasn't moved at the vast majority of books. The 51 total also has stood for the most part but has a slight upward trend toward 51.5 and 52.
The Play
This game should be close, but I'm partial to Detroit. I think they are highly underrated this year, despite their loss to the Bengals last week. Also, this matchup favors their style of play.
Dallas has been terrific against the run, but the Lions pass more than most teams in the league, and Reggie Bush and Joique Bell are huge threats in the short passing game. Dallas' strongest attribute defensively is their pass rush and the Lions have protected Stafford extremely well this year. In addition, DeMarcus Ware will likely not be playing in this game and won't be 100 percent even if he decides to take the field. This is an immense loss against an already strong offensive line of the Lions.
I have little doubt in Detroit's ability to score against Dallas, and things might not be as easy as many are expecting for the Cowboys in this game. Still injured on offense, Dallas didn't muster much against Philly's terrible defense last week, and they are facing a much better unit this week.
I like Detroit -3 at home with Bovada.lv.

Buffalo Bills at New Orleans Saints -12 Total: 48
The Bills have struggled with injuries on both sides of the ball this season but still post a respectable 3-4 record coming into Week 8, especially considering many experts thought they would be doormats in the AFC.
That Lewis makes his fourth straight start for injured quarterback E.J Manuel and helped lead the Bills to a 23-21 win against Miami last week. The Bills are the only team besides the Denver Broncos to score 20 points in all of their games, but most of that production comes from the run game. Buffalo is 5th in the league in rushing offense, led by a two-headed attack of C.J. Spiller and Fred Jackson.
Defensively, the Bills have given up 20 or more points in their last three games and have been a doormat for opposing offenses for much of the season. This is a plus matchup for their running attack as the Saints ranked 22nd against the run.
C.J. Spiller is doubtful to play in Week 8, forcing Fred Jackson to start. Jackson will be the featured back and get a full workload against a shaky New Orleans run defenses if Spiller can't go.
New Orleans is coming off a bye in Week 7 after losing a tough game at New England in Week 6. The Saints led nearly all game before Tom Brady threw a game winning touchdown to Kenbrell Tompkins in the final seconds to win the game. The Saints 5-1 record is in significant part due to their defense.
While their offense ranks sixth with almost 400 yards gained and 26.8 points scored per game, New Orleans has allowed just over 17 points per game after nearly giving up 30 per game last season.
The big injury question mark coming into this game is tight end Jimmy Graham. He has not practiced this week and is doubtful to play in Sunday's contest. This would be a huge blow to New Orleans offense, even with the good matchup.
The Line
Heavy betting on New Orleans has moved this game from -11 to -12 at most shops. The total has come down from the opening number of 50 and is now 48 and 48.5. This is likely due to bettor's concerns on the status of Graham.
The Play
While this may look like a New Orleans blowout to some, especially well rested after their bye week, I don't see it that way. Their red zone offense has not been accomplished this year, and even a hobbled Graham will make things tougher for Brees. The Bills continue to get healthier each week on defense and should be able to control the clock with the run game, at least somewhat.
I have no doubts in Fred Jackson in this game if Spiller can't go. He should be able to shred the poor run defense of the Saints and keep Brees off the field. Thad Lewis will have Stevie Johnson for the second straight week and should be able to put up a touchdown down or two. That may be enough to cover.
Overall, I like the under and the Bills in this game. I don't see the shootout most are expecting. This is somewhat dependent on Graham's health but even if it does play. I think both have some value.
Take the Under 48 and Bills +12. Best odds were found at Bovada.lv.
New York Giants at Philadelphia Eagles -5 Total: 51
The Giants finally got their first win last week, winning on Monday Night Football against the Minnesota Vikings, 23-7. It's been a long time coming for New York, who has had issues on both sides of the ball. The win marked the first game this season that starting quarterback Eli Manning has not thrown an interception.
Still, New York ranks 28th in scoring offense and 31st in rushing offense, along with having the worst turnover ratio in the NFL. The defense looks terrible on paper, but they have been on the field a lot this year and been put in disadvantageous situations due to turnovers.
The G-Men hope to get running back Brandon Jacobs back for this week's game but he is 50/50 to play Sunday. The defense figures to get an upgrade with top cornerback Corey Webster back in the lineup for the second straight week.
At 3-4, Philadelphia is still much alive in the NFC East, despite their ugly 16-6 loss last week at the hands of Dallas. Their high powered offense was slowed last week but still ranks number one in rushing yards and is a clear top 10 unit. Michael Vick is coming off an injury this week to regain the starter job from Nick Foles. Foles had a chance to put the Eagles into a full-blown quarterback controversy but did not play well in the loss at Dallas.
Defensively, Philadelphia has been downright horrible. Perhaps, it is their fast paced offense, but something is not working on this side of the ball. Their rush defense has been slightly better than their pass defense, which has been giving up monster lines to nearly every quarterback they have faced this season.
The Line
Opened at Eagles -7 but has come down to Eagles -5 at just about every sportsbook. The total has also moved downward from the opening number of 53 to 51 and 52 at most shops.
The Play
To me, this is a massive mismatch. The Giants beat the Vikings on Monday Night because they didn't match their futility, not because they are an even semi-average football team. Eli Manning missed open receivers, Hakeem Nicks and Victor Cruz dropped passes, and while the defense did limit Adrian Peterson, it was Josh Freeman's almost criminally inept inaccuracy that got them the win. Any team in the NFL would have beaten the Vikings on Monday Night.
The Eagles will get Vick back and have a much better squad, especially offensively. Even the Eagles sad excuse for a defense should be able to do a decent job of limiting the dysfunctional offense that the Giants possess. I think Philly wins this one in a rout.
Lay the points with the Eagles -5 at home betting with Bovada.lv.
San Francisco 49ers at Jacksonville Jaguars +17 Total: 41
In the NFL's second London game this year to be played at Wembley Stadium, the league showcases one of the best versus one of the worst as the San Francisco 49ers take on the Jacksonville Jaguars across the pond.
After starting the season off somewhat shaky, the 49ers have rattled off four straight wins and are a top ten team on both offense and defense. San Francisco punished the Titans last week in a 31-17 win and did much of their work on the ground. Quarterback Colin Kaepernick and running back Frank Gore combined for 138 yards rushing and three touchdowns in the win.
The defense has not been as dominant as it was a year ago and has given up some big games to opposing rushers, such as Marshawn Lynch and even Ahmad Bradshaw. It's also worth noting that defensive fatigue may be a factor. The 49ers are traveling to London from California after just one week of flying cross-country to play the Titans.
Jacksonville hopes to change their luck as they head outside the US, for their first game on foreign soil. Still winless heading into Week 8, there are a few bright spots for Jacksonville.
Justin Blackmon has emerged as a top wide out threat in this league and Chad Henne has produced decent numbers with his young wide receiver. Still, Maurice Jones-Drew has not looked strong all season and the Jaguars are dead last in rushing offense.
On defense, it is even worse. Jacksonville is second to last in total defense and are dead last in rushing defense. This matchup is especially rough for Jacksonville, considering the potent rushing attack the 49ers possess.
Wide receivers Cecil Shorts and Justin Blackmon have both been limited in practice this week with nagging injuries but are expected to play. Blain Gabbert is finally healthy, but he will not regain the starting QB role over Chad Henne.
The Line
This game opened at Jacksonville +13.5 and has moved dramatically and is at +17 at most shops. The total has stood strong at 41.
The Play
I don't think anyone will dispute this is a match made in heaven for the 49ers offense, but I'm not willing to reward them the cover so quickly. Yes, they will run through the Jaguars defensive fronts with their tough run game, but I think Jacksonville will find some success in this game.
Nearly every one of these games at Wembley has been shootouts, and I suspect this one will be, as well. Henne can move the ball and Blackmon has potential to be true top wide receiver in this league. While the Niners defense is above average, it is far the dominant defensive unit it was a year ago.
I think both of these teams put up big numbers, and this game easily goes over the projected total.
Take the Over 41 at Wembley with TopBet.eu.

Cleveland Browns at Kansas City Chiefs -7 Total:
The Browns head into a game against the undefeated Chiefs in the midst of a two game losing streak but are still much in the discussion in the AFC North at 3-4.
Cleveland will be making another change at quarterback in dumping incumbent starter Brandon Weeden for career journeyman Jason Campbell. Weeden was ineffective as usual in a 31-13 loss at Green Bay last week, and no one is shocked by the change. Campbell will face a tough test in his first start of the year against the Chiefs' ferocious pass rush.
The bright spot for Cleveland has been their defense. They are a top 10 team in both passing and rushing yards allowed and have been outstanding in keeping opponents out of the endzone inside their own 20.
The Chiefs, sitting at 7-0, have essentially been in control of every game all season long and haven't trailed much at all this season. Kansas City handled the Matt Schaub-less Houston Texans 17-16 last week, in a game where Houston lost running back Arian Foster and linebacker Brian Cushing.
It's been a perfect storm of sorts for the Chiefs who haven't suffered any significant injuries and to have an offense that perfectly complements their dominant defense. Quarterback Alex Smith has been admirable in his game manager role, but this offense flows through running back Jamal Charles. He leads all running backs in touchdowns and is projected to lead all players in touches by the end of the season.
The defense is first in sacks, first in points allowed and 3rd in pass yards allowed. The unit has not allowed a quarterback to throw for one touchdown and has limited all opposing rushers to fewer than 60 yards per contest, aside from a big game from LeSean McCoy. This defense has been a nightmare for opposing offenses all year long.
The Line
Opened at Kansas City -7, this game has moved to -7.5 at most books, an especially attractive number for Browns backers. The total has moved from the 40 point opening number to 39.
The Play
The Chiefs are still undefeated, but I can't help still question this team. A soft schedule along with some unbelievably easy quarterback matchups has me wondering how talented this team truly is.
Kansas City has yet to face a serious deficit this season and Alex Smith has never been forced to play from behind, something that will eventually happen. The Browns could stuff Charles in this game, and if they can manage to put some points on the board – as hard as that may seem – I think they can at least make things entertaining.
I think Campbell is a slight upgrade over Weeden and if he can find the Browns playmakers, like Jordan Cameron and Josh Gordon for a big play early on – I like their chances. On paper, the Browns defense matches up great against the Chiefs offense. Call me crazy but I think Cleveland takes down Kansas City this weekend.
Take the points with Cleveland +7.5 on the road betting with TopBet.eu.
New York Jets at Cincinnati Bengals -6.5 Total: 41.5
The Jets head to Cincinnati after pulling a monumental upset last week against New England at home. New York forced overtime against the AFC East leading Patriots and won a Nick Folk field goal, 30-27. Although, a win for the Jets this season has been followed up with a loss. A bad omen coming into this game against a tough opponent in Cincinnati.
Geno Smith has been one step forward, one step back QB this year, but when he plays like does against New England, it is hard not like this kid. Combined with a strong run game led by Chris Ivory and Bilal Powell, this offense has more than exceeded expectations this year.
The Jets also have one of the top defenses in the league. They are strong in all facets of the game. New York is second in sacks per game with just over 3 per contest, excellent against the run and top 10 defense against the pass.
Offensively, the Jets have several injuries. Wide receiver Santonio Holmes remains sidelined forcing the Stephen Hill into the number one wide out spot once again. Tight end Jeff Cumberland is also questionable to play.
Cincinnati has won three games in a row and stand at 5-2 on the year, atop the AFC North. Quarterback Andy Dalton had his best day of the year last week, throwing for over 300 yards and three touchdowns in the victory.
The defense has an excellent pass rush and is ranked in the top 10 against both the pass and the run. Most of all, they are consistent each week and match up well against a variety of opponents.
However, the Bengals took a massive loss last week when top cornerback Leon Hall went down with a torn ACL. Hall was by far their best cornerback, and this is notable loss to their secondary and defense.
The Line
This game opened at Cincy -7 but has moved to -6.5 or -6 at most sportsbooks. The total opened at 41 and has moved slightly upward to 41.5.
The Play
I think this Jets franchise has a bright future, but this is a tough spot for this team. Also, as much as I doubt the Bengals Super Bowl aspirations, a veteran defense like this may have a field day against Geno Smith.
Smith will be in trouble in this game, especially with many of his offensive weapons either banged up or questionable. I love the Jets defense, but I can't see them stopping the Bengals all together. Dalton's resurgence and his ability to target A.J. Green seems to get better every week, and that is terrible news for this Jets defense.
Lay the points at home with the Bengals -6.5 at Bovada.lv.
Pittsburgh Steelers at Oakland Raiders +3 Total: 40
Pittsburgh has won two in a row after starting the season 0-4. Sitting now at 2-4 after a big win against divisional rival Baltimore Ravens last week, the Steelers are now at least part of the conversation in the AFC North.
Still, the offense hasn't gelled all year long and still ranks 28th in the league despite their recent surge in the past two games. Continuity at running back and in the offense line has helped the Steelers who now seem to be on the cusp of being in every ball game.
On defense, Pittsburgh has a top 5 unit. Since they gave up some big plays to the Vikings a few weeks ago, they have wrecked havoc on opposing offenses. The defense has not allowed an opposing QB to throw for over 300 yards or more than one touchdown this season.
Oakland is coming off a bye with their last game coming in Week 6 where they were dismantled by Kansas City in a 24-7 loss. While quarterback Terrelle Pryor has had some terrific games this year, the Raiders are still struggling mightily offensively. Oakland ranks 29th in the league in total offense.
Defensively, it doesn't get much better. It seems like every quarterback that faces off against Oakland's defense comes back with a monster line in return and this week will likely be no different.
The Raiders offensive line is in terrible shape and full of undrafted players and reserves. Running back Darren McFadden will return this week, a guy who has been the lone bright spot in this offense.
The Line
Oakland opened as small underdogs, but heavy action on Pittsburgh pushed this one +3. The total opened at 40 and is still around that number at most books.
The Play
This game is a tremendous mismatch in my book. The Steelers have been getting better and better each week while the Raiders season is beginning to unravel. Terrelle Pryor faces another tough test after being sacked a whopping 9 times against Kansas City and the Steelers defense will also be unforgiving. Pryor's ability to make plays with his legs will be limited by a fast linebacker core and a secondary that can tackle better than most.
The Steelers also get their best offensive matchup of the season, and one that rookie running back Le'Von Bell should be able excel at. The Raiders are third to last in the league against the run and terrible against the pass, as well. Pittsburgh should roll in this game, and it shouldn't be close.
Lay the points with the Steelers on the road with with TopBet.eu.