Teams on a bye: Atlanta Falcons and Miami Dolphins. Odds and lines quoted are from Bovada and Topbet.
St. Louis Rams at Houston Texans -7.5 Total: 43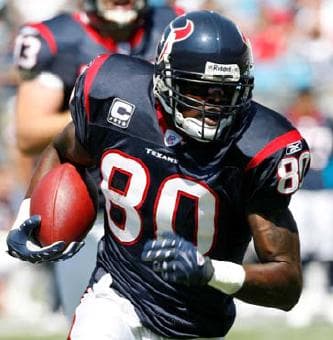 Both the Rams and Texans have to be displeased with the way their season has gone so far. While St. Louis was looking to show the league they were a potential playoff team, Houston has been looking to make at least a conference championship appearance. The team's window is closing with identical records of 2-3 this game is critical for both teams.
The Rams finally got a win last week after dropping three straight games despite starting the season off with a victory in Arizona. It's been a struggle for St. Louis to score and the team has only managed to score a combined 18 points in two losses against San Francisco and Dallas. They also rank in the bottom of the league in rushing offense, but have had some success as of late with rookie running back Zac Stacy.
The Rams hope to have cornerback Cortland Finnegan back to square off against Andre Johnson in this matchup; he is questionable to play this week.
The Texans are stuck in a three game slide, and things are not looking good at the quarterback position. Matt Schaub has been awful this year and has already set an NFL record for interception returns with one each in four consecutive games. However, the running game is the Texans focus and Arian Foster has gained yards in the past 200 weeks and looks to be coming into his own this season. His effectiveness should be strong against a weak St. Louis rush defense.
Tight end Owen Daniels, a favorite target of Matt Schaub will miss Sunday's game, as well. Wide receiver Andre Johnson is banged up but is expected to start Sunday.
The Line
This game opened at -7.5 but has moved around a bit and is listed at -9 in many spots with increased juice. Most of the action on this game heavily favors the Texans. The total opened at 43 and has come down slight from that number is at 42 and 41.5.
The Play
Schaub's ineffective as a starter is becoming alarming, and his confidence has clearly been shaken. T.J. Yates is waiting in the wings so things aren't going to get much better for Houston's passing game even without Schaub, but it's hard to imagine them not getting a little better with Yates who at least may be able to stop spewing turnovers.
I like the Rams in this game, but J.J. Watt is the best defensive lineman in the business, and he can disrupt any passing attack. Bradford also isn't especially calm under duress and has not seemed to be on the same page as his receivers as of late. It's a shame because he has a talented core of players around him and the Rams may have finally found their running back in rookie Isaiah Pead. This game should be closer than the oddsmakers think.
I like the Rams +7.5 on the road with Bovada.lv.

Cincinnati Bengals at Buffalo Bills +7 Total: 41.5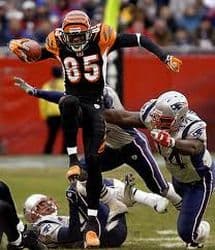 The Bengals head to Buffalo in a game that looks like a cupcake compared their last few weeks which have pitted them against New England and Green Bay. Cincinnati is 3-2 almost solely based on the play of their defense which has grabbed turnover after turnover and held opposing offenses to under 18 points per game. This defense snapped Tom Brady's 52-game span of throwing a touchdown every start.
Cornerback Leon Hall practiced and is expected to make his first start of the season and will be a massive upgrade to an already stingy Bengals defense.
The Bills are 2-3, and I think this team will be good in a few years, but will have to continue without starting rookie quarterback E.J. Manuel who is expected to miss 6-8 weeks with a sprained LCL. Thad Lewis, a third-year quarterback of out Duke will get the start after Jeff Tuel didn't look good in late game action against the Browns last week. This matchup is even tougher. The Bills will rely on an extremely heavy run approach with C.J. Spiller and Fred Jackson.
Not only that but Stevie Johnson, the Bills top wide out will likely miss this game giving Thad Lewis more inexperienced targets to throw to.
The Line
This game opened at +7 and has not moved much, but some sites are offering +6.5 most likely due to some sharp action on Buffalo. The total has come down slightly from an opening number of 42 and is listed at 41.5 at most sportsbooks.
The Play
While this looks like a terrible matchup on paper for the Bills, it might not be as tough as it seems. Lewis will be even less than a game manager in this one and it will be critical for Buffalo to pound the ball with a lead and keep the ball away from the Bengals offense despite how poor they have been so far this year.
Cincy's defensive line is known for their pass rush, and the two-headed attack of Spiller and Jackson may be able to find more running room than expected. Something tells me the Bills stay in this game and keep it close. Their defense sucks but the Bengals offense has also been terrible, if they can control the clock and garner support from their home fans – they have a shot in this one.
I like the Bills +7 at home betting with TopBet.eu.

Oakland Raiders at Kansas City Chiefs -9 Total: 41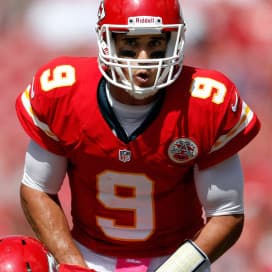 Many expected the Raiders to be firmly in the NFL's cellar, but they have already exceeded expectations in my eyes. Oakland has been in most games this year other than a Week 3 blowout at the hands of the Broncos. Last week they picked up their second win in a 27-17 home win against the San Diego Chargers.
Terrelle Pryor has gotten better each week and threw for over 200 yards and two touchdowns in last week's win. The defense has also finally gotten it going forcing three turnovers in the win, as well. The Raiders should get running back Darren McFadden back from injury this week but could be in trouble in the running game if he doesn't return. Full back Marcel Reese may also miss the game which will force Rashad Jennings in a starting role.
The Chiefs are still undefeated and look like the AFC's most impressive team other than, of course, the Denver Broncos. Kansas City got the go-ahead pulled ahead late against the Titans last week at Tennessee to win the game 26-17.
KC has a fair host of injuries; one of Smith's top targets, wide out Donnie Avery will likely miss this game with a bruised shoulder, along with tight end Anthony Fasano. Right tackle Eric Fisher will also likely miss the game due to a concussion.
The Line
This game opened at Chiefs -7, but that is no longer available. Most books have this game between 8 and 9 with varying attached prices. The total has stayed put on the opening number of 41.
The Play
The Chiefs have been quite impressive this season but let's remember that their schedule has been rather weak and that this is a divisional rivalry that always seems to produce close games. I'm buying them as a playoff team but not a legit contender in this conference.
Arrowhead is a tough place to play, but I think Oakland has an exceptionally strong chance of keeping this game close or pulling out an upset. Most of the country still doesn't seem to believe in Terrelle Pryor who has been surprisingly accurate this season and has proven that he can lead a football team.
Also, the injuries KC has are significant, and with Oakland's improved defense prowess over the last few weeks – this game could get interesting.
I'll take the points with the Raiders +9 on the road at Bovada.lv.

Detroit Lions at Cleveland Browns +2.5 Total: 44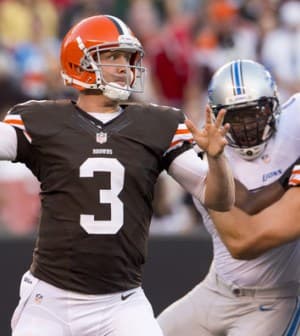 After losing last week to the Packers at Green Bay 22-9, the Lions will look forward to getting top target Calvin Johnson back after failing to score more than 21 points for the first time this season. Detroit's offense couldn't get much going without Johnson and quarterback Matthew Stafford was sacked a season high nine times. "Megatron" is expected to play Sunday but is a game time decision.
Tight end Tony Scheffler will miss this game as well, and the Lions may rely on the second year receiver Ryan Broyles heavily if Calvin Johnson can't go.
The Browns were the laughing stock of the league a few weeks ago after their trade of Trent Richardson but have since rattled off three straight wins and are in fourth place in the AFC North with a 3-2 record. However, starting quarterback Brian Hoyer went down with an injury last week which forcing Brandon Weeden into a starting role. Weeden was the starter at the beginning of the season, but struggled in limited action before getting injured and then losing his spot to Hoyer.
Weeden did look decent in limited action against the Bills last week, but to be fair, that was a rather easy matchup. The Browns have been excellent through the air in recent weeks, and most of that is due to wide receiver Josh Gordon. Since coming back from a drug suspension in Week 4, Gordon has 18 catches for 303 yards.
The Line
The line opened at +2.5 for the Browns which has seen some sharp action, but most bettors have taken the side of the Lions in this one. Some have this game listed at +1 to +3 with different prices attached to the point spread. The total opened at 45 and has moved slightly off that number with most shops having numbers between 44 and 45.
The Play
I am floored by the play of the Browns in recent weeks, and though this team may not be for real just yet, they will be a force in the years to come. It's hard to love either team in this game because of the status of the injury of Calvin Johnson. I don't necessarily know that the Browns have the better team even with Johnson sidelined, but they are at home and have been playing inspired football as of late.
I like Detroit but that is contingent on Calvin Johnson playing. Reggie Bush will bounce back in this game as well, and when those two are on the field the Lions has tons of space and makes it extremely difficult for even the best defense to handle. Johnson's status won't be known till close to game time so you may have to bet this one late. I'm not too keen on this game either way but the think Detroit has a slight edge.
Lay the points with Detroit -2.5 on the road. Find the best odds at TopBet.eu.

Green Bay Packers at Baltimore Ravens +3 Total: 48.5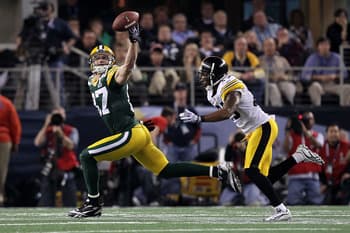 The Packers head to Baltimore in what will be one of the bigger NFC vs. AFC clashes this weekend. Still reeling from the loss of Clay Matthews from last week's win over the Lions by a score of 22-9, the Pack have lost a key cog in their already much maligned defense. Green Bay has a 2-2 record after serving their bye week in Week 3.
Eddie Lacy will be ready to roll again this week, but backup James Starks who has been effective in limited action this year will be sidelined. Safety Morgan Burnett will return to the secondary and should help in downfield coverage.
The Ravens notched their third win of the season last week with a 26-23 win over against Miami. The ground game finally got going for the Ravens as Bernard Pierce and Ray Rice combined for 133 yards rushing. Super Bowl MVP Joe Flacco has been poor by his standards so far this year but has found a reliable target in wide receiver Torrey Smith who leads the AFC in receiving yards with 556.
The Line
This game opened at +1 but has moved to +2.5 and +3 at most shops due to heavy Packer action. The total is not so shockingly quite high and has moved up from 47.5 and is listed at 48.5 almost across the board.
The Play
I'm not going to over think this one or look for a live underdog in the Ravens, despite how enticing a reigning Super Bowl Champion looks getting points at home. The Packers are the much better team and even the poor Packers defense should be able to force Joe Flacco into bad decisions. He already has eight picks on the year.
Furthermore, the Ravens offense is going to try and lean on the run which could end up in disaster. Baltimore needs to score against Rodgers or they will lose, and the only strong part of the Packers defense is their strong rushing defense.
The Ravens are tough at home and Terrell Suggs will be coming at Rodgers all day long, but I don't think it will be enough.
I will lay the points with the Pack -3 on the road betting with TopBet.eu.

Philadelphia Eagles at Tampa Bay Buccaneers +1.5 Total: 45.5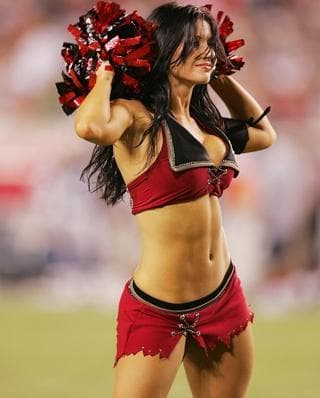 The Eagles started off the season in a convincing fashion winning their first game of the year and had the NFL in awe of their quick moving offense. They then proceeded to drop the next three games before finally getting a victory last week against the New York Giants, 36-21.
Starting quarterback Michael Vick got hurt late in the game and Nick Foles took over him relief. Once the starter last year, Foles looked excellent late and threw for 105 yards and two touchdowns to power Philly to victory. The Eagles have not announced a quarterback this week, but Vick is not expected to start due to injury.
After much hype in the preseason, Tampa Bay is still looking for their first win in Week 6. The defense has been better all around, especially against the pass due to the presence of Darrelle Revis but the offense has been abysmal. The Bucs cut former-franchise QB Josh Freeman last week and will continue to throw out rookie QB Mike Glennon.
Glennon was decent in his first NFL start, throwing for almost 200 yards, a touchdown and an interception in a 13-10 loss to Arizona. The Buccaneers need to desperately get running back Doug Martin back on track, the second year back filled up the stat sheet each week for the Buccaneers last season but scored his first touchdown of the season last week the loss against Arizona.
The Line
The line opened at pk, but most shops now have the game at Tampa Bay +1.5. The total in this game may be lower than some expected. It has stood around the opening number 45.5.
The Play
I think Philadelphia has a slight in edge in this game because I do believe Foles may be a more talented QB than Michael Vick, but Tampa Bay's defense is no joke. Also, though the Buccaneers don't have a win, they are playing for their young quarterback and are firmly behind him now that Josh Freeman has been released.
I still don't see many points being scored in this game from either side despite Chip Kelly's up-tempo offense. LeSean McCoy will have to do it on his own as DeSean Jackson will be facing off against Darrelle Revis for much of the afternoon. Glennon may find more room to work with against the Eagles' 31st ranked defense, but I'm not expecting much out of him either.
I like the under 47.5 when betting at Bovada.lv.