Pittsburgh Steelers at Minnesota Vikings +3 Total: 42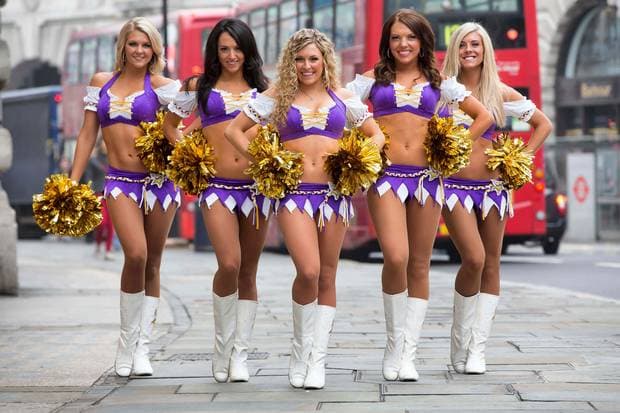 We kick off this week's article with a look at the NFL's annual London game. The Vikings and Steelers take a trip across the pond to face off at Wembley Stadium in London. Minnesota has been given the home team designation in this matchup.
Pittsburgh fell to 0-3 after last Sunday night's loss to the Chicago Bears, losing in a rout, 40-23 at Heinz Field. The poor start is unfamiliar territory for the Steelers, a team that is perhaps going through a transition. While the Steelers offense was at fault for their first two losses, the defense did not play well in the loss to the Bears but have some bad luck with five forced turnovers forced via the Bears defense.
Minnesota also sports a 0-3 record and a loss against the Bears. The Vikings failed to beat and cover their -6.5 number last week against the Browns at home, a result that no doubt ended with champagne bottles being popped across Vegas and Costa Rica. Minnesota's defense has been dreadful all season, and that didn't change against a shorthanded Cleveland team as the unit gave up over 400 yards in the, 31-27 loss.
The Line
Opened at Pittsburgh pk or -1 at most books and has moved quite a bit to +3 across the board. The total has moved upward from the opening number of 39 and is now at 41.5 or 42.
The Play
While both of these teams are winless, I see a discernible edge in this game in favor of Pittsburgh.
Firstly, this is a matchup nightmare for the Vikings offense and quarterback Christian Ponder who has been terrible so far this season and is battling a number of ailments. The Steelers excel against run stopping, and though Adrian Peterson is a formidable talent, he won't have many holes to run through against Pittsburgh forcing the game into the Vikings passing game. This is a recipe for disaster with the Steelers blitz packages and excellent secondary.
Despite their offensive struggles so far this season, Pittsburgh will have a tremendous time plus matchup against the Vikings secondary which not only ranks near the bottom of the league but is also injured. Tight end Heath Miller debuted last week in the loss to Chicago, but was on a limited snap count, this week he will be all systems go. Rookie running back LeVon Bell will also make his first start of his career after suffering an injury in training camp. Big Ben and company should have a field day against this defense.
I like the Steelers -3 at Wemble with Bovada.lv.

Seattle Seahawks at Houston Texans +3 Total: 42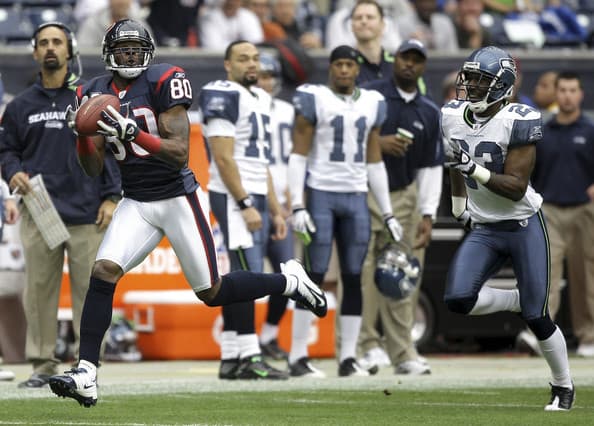 The undefeated Seahawks head to Reliant Stadium to face the Texans in what has become a crucial game for Houston.
On the flip side, the Seahawks have quickly become the NFL's most dominant team this year, coasting to a 3-0 record after a manhandling of the Jacksonville Jaguars this past Sunday, winning 45-17. Seattle QB Russell Wilson threw four touchdowns in just over three quarters of play before he was pulled in favor of backup Tavaris Jackson. The Seahawks sat most of their defense starters for much of the second half.
The Texans are 2-1 this season, but just by a nose. After winning by just three points in Week 1 against San Diego, they again faced defeat against the upstart Titans in Week 2 who they narrowly beat in overtime, 30-24. However, last week they were clearly dominated in Baltimore by the Ravens, losing 30-9. The defense has been a problem this year, giving up 30 points or more in each game.
The Line
This game hasn't moved much off the opener, but some books have moved to Houston +2.5 and +2. The total has also moved down from the 44 opening number with most books listing it at 42.
The Play
While the Seahawks have looked unstoppable in recent weeks, it's too early to anoint them world-beaters just yet. Two of their wins came off Jacksonville and Carolina, among the worst the NFC has to offer. The San Francisco victory in Week 2 was impressive, but the Niners have been battling injury and haven't looked themselves this year.
The Seahawks had road woes last season, and the Texans are an excellent home team. No one matches up with the Seahawks well from an offensive standpoint and these two teams are remarkably similar in makeup. I think it will come down to who makes the fewest mistakes in this game and I expect it to be a defensive, field position game. I give the Texans the slight edge, and I love the under.
Texans +3 and Under 42 with Topbet.eu.
New York Giants at Kansas City Chiefs -4 – Total: 44
Here's a tale of two teams headed in the wrong directions. The Giants still winless after three games head to Arrowhead to face the undefeated Chiefs.
Things continue to get worse for New York after another beating at the hands of the Carolina Panthers in Charlotte last week, 38-0. The G-men have given up the most points in the league by a large margin this season, but now their offense has started to sag, as well. New York had a whopping 150 yards of total offense in the loss and gave up over 400 to the Panthers.
The Andy Reid era has started off exceptionally for the Chiefs who dispatched the Philadelphia Eagles last Thursday night, winning 26-16 against Reid's former team. The defense has been excellent against some above-average offenses like Phily's and Dallas' and the ball control offense has worked perfectly so far. The Chiefs running game controlled much of the games against the Eagles with running back Jamal Charles rushing for 92 yards and a TD and catching 7 balls for 80 yards.
The Line
The Chiefs opened at -4.5 favorites, but most books have settled on a line of -4. The total has not moved much at all from the 44 opener.
The Play
It's impossible not to feel good for the Chiefs, but we can't give them too much credit just yet. Yes, they have been impressive and the Giants have looked miserable but urgency has set in for the G-Men, and their matchup in this game isn't as miserable as some might think.
New York's defense has been somewhat decent in pass defense but terrible against the run. If the Giants can stack the line and even limit Jamal Charles' damage against them, they will force Alex Smith to throw downfield. He hasn't had to do that so far this season and will bring him out of his comfort zone.
Of course, the best way to force Alex Smith into throwing downfield is scoring. The Giants haven't had trouble moving the ball offensively but have turned the ball over at an astounding rate. We have to just write off the Carolina game as a tough loss and perhaps poor game planning?
Regardless, the Giants are playing for their season here and have an excellent coach in Tom Coughlin, a two team Super Bowl winner in Eli Manning and they are healthy than they were last week. The Chiefs haven't truly been tested in a game that becomes a bit of a shootout, and I think that is exactly what happens here.
Take the over 44 and the Giants +4 with Topbet.eu.

Baltimore Ravens at Buffalo Bills +3 Total: 44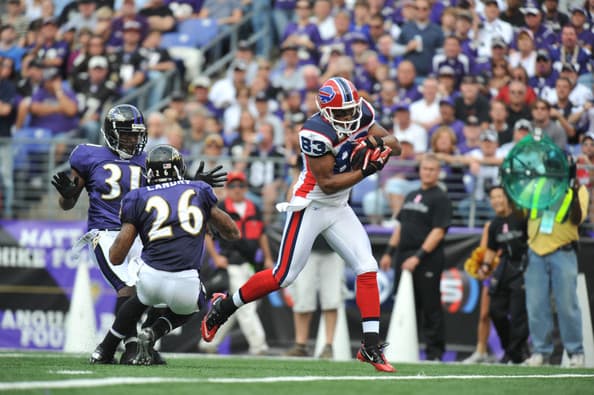 This game won't be circled on anyone's schedule but is still an interesting matchup that could have significant divisional implications, especially for the Ravens. Buffalo is a harder place to play than most may think and the reigning champions will need to be prepared.
After opening the season with a loss at Denver, Baltimore has won two straight games including a 30-9 victory against Houston last week at M&T Bank Stadium. While the offense hasn't looked great, the Ravens defense has looked especially impressive in the past two games, holding opponents to just 15 points. Running back Ray Rice is expected to play this week after missing last week's game due to injury.
Buffalo comes into the game with a 1-2 record and to be fair their season so far is probably inline with expectations, considering they are rebuilding and starting a rookie QB in E.J. Manuel. They have been in both games they've lost, losing by just a combined nine points. The Bills defense is heavily injured, missing top corner Stephen Gilmore who is out for the season and suffered another loss when left end Alex Carrington tore his quad in last week's loss, ending his season, as well. Defensive end Mario Williams and corner Leodis McKelvin are also questionable.
The Line
The game opened at Buffalo +3.5 and is now at +3 across the board. The total has stood firm for the most part on the oddsmakers' original number of 44.
The Play
While I don't have super strong feelings on this game either way, it's tough to see the Bills winning this one despite being at home and having a hungry young team. Their defense has been in shambles due to injury, and that is likely not going to change this week. Even Baltimore's more pedestrian offense should have a field day. The bookmakers may doubt the Ravens ability to put up points, which is rightfully so, but the Bills defense is among the worst in the league.
I doubt Buffalo can get much going offensively either. E.J. Manuel and the two headed rushing attack of C.J. Spiller and Fred Jackson will not find much space to run against the Ravens defense and Buffalo has not been able to throw downfield all season. I doubt that changes Sunday. Still, I'd be cautious as the Ravens haven't faced too many tough teams yet.
Lay the points with the Ravens -4 on the road at Topbet.eu.
Cincinnati Bengals at Cleveland Browns +4 Total: 42.5
The Battle of Ohio's first leg comes this Sunday as the Bengals head to Cleveland to take on the Browns.
After opening the season with a loss, Cincinnati has ripped off two straight victories including a 34-30 victory last week against Green Bay. No one can doubt the Bengals talent on the defensive side of the ball, but their offense has started a little slow. Cincy was fortunate to win this game; they were outgained by over 100 yards by the Packers and were fortunate to return a Green Bay fumble with four minutes left in the fourth quarter to take the lead.
After being dead and buried, even by their own fanbase, the Browns surprised everyone last week by getting their first win against Minnesota, winning 31-27. Cleveland will again start Brian Hoyer for the injured Brandon Weeden at quarterback, and it's likely he will keep his spot at starter even when Weeden returns. Wide receiver Josh Gordon exploded last week in his return from suspension and Jordan Cameron is turning into one of the NFL's most explosive tight ends. Cleveland is not a playoff team but could play spoiler all year long.
The Line
The Browns opened at +5 and have moved down a bit from some early week action to +4 and +4.5. Perhaps bettors like what they saw last week and think this Browns team is better than the media thinks. The total opened at 41.5 and is at 42.5 pretty much everywhere.
The Play
It was a feel-good performance for the Browns last week, but it is hard to see them continuing to play well. Cincinnati's front seven is scary to even the best quarterbacks in the NFL, and while Brian Hoyer looked impressive last week against Minnesota, this one could get ugly. Hoyer put up points while still making fans and coaches uneasy and one could tell it was his second NFL start. He seemed to hold onto the ball much longer than needed and did throw three picks to go with his three touchdowns.
Andy Dalton will face a Brown's defense that is underrated but the Bengals seem to finally be finding their groove offensively. Giovani Bernard is the clear starter in the backfield, and he looked especially electric against Green Bay last week. I'm not writing off the Browns defense, but they do have the potential to get torched if Dalton has time to sit in the pocket.
However, I still do not love either side in this game, and like many AFC North divisional games, it could be close.
Lay the points with Cincinnati -4 on the road using Bovada.lv.
Arizona Cardinals at Tampa Bay Buccaneers -2.5 Total: 40.5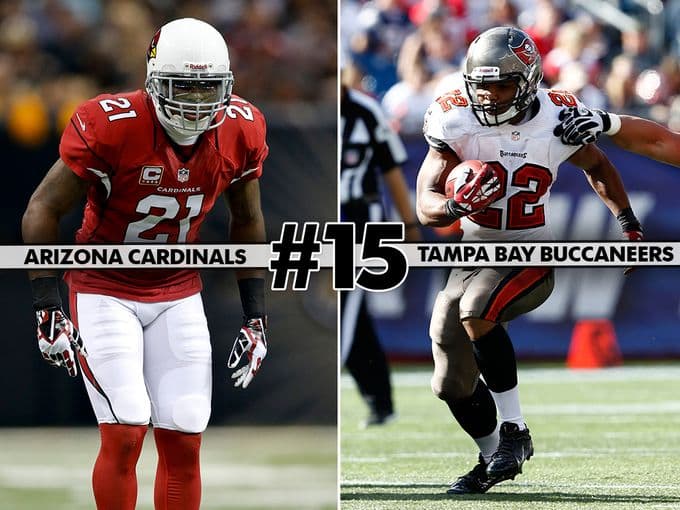 The Cardinals head to Tampa Bay in an all-NFC affair, where both teams are in desperate need of a win.
Arizona's hype surrounding new head coach Bruce Arians has dwindled after a 1-2 start and Cardinals' fans are still waiting for a respectable replacement for Kurt Warner especially after watching Carson Palmer last week. Arizona received their second loss last week in a 31-7 rout against New Orleans and barely could muster any offense after an opening touchdown drive.
Tampa Bay is winless on the year, and the locker room has been the subject of many media reports on the quarterback situation. Head coach Greg Schiano announced Wednesday that Josh Freeman would be benched in favor of quarterback rookie third-round pick Mike Glennon. The NC State QB is raw, but at this point, I have to agree that he gives the Buccaneers the best chance to win compared to Freeman. Freeman was useless again last week in a 23-3 loss at New England, dropping the Bucs to 0-3 on the year.
The Line
Opened at Tampa -2.5 and that number is still the consensus line at most sportsbooks. Likewise, the total's opening number of 40.5 hasn't moved much.
The Play
I was sort of pumped at the beginning of the season to see how Larry Fitzgerald would do with a semi-competent quarterback, but the novelty has worn off. Even though Fitz is banged up the moment, Carson Palmer isn't anything special and the Buccaneers are third in the NFL in sacks. They have a strong defensive unit and Larry Fitz will be shadowed by All-Pro corner Darrelle Revis for much of the game.
Freeman caused some division in the locker room, and there is no doubt in my mind that Tampa's fans and locker room are firmly behind rookie QB Mike Glennon. It's hard to imagine him giving the Bucs a poorer performance than Freeman, and he has plenty of upside. Doug Martin will get a large workload against the subpar run defense of the Buccaneers and could win this game with a few breakaway runs.
I love the Bucs -2.5 at home betting with TopBet.eu.
Chicago Bears at Detroit Lions -3 Total: 47.5
In a game that will be critical in shaping the NFC North in the next few weeks, the Bears head to Ford Field to take on the Lions.
Despite a few close calls, Chicago's season could not be going any better under first year head coach Mark Trestman. After handing the Steelers a thumping at Heinz Field on Sunday Night, 40-23, the Bears notched win number three to go 3-0 on the year. Chicago's defense forced five turnovers in the win and won the game despite gaining 200 fewer yards of offense than Pittsburgh.
Detroit heads into Week 4 with a 2-1 record, fresh off a win against the Washington Redskins last Sunday by a score of 27-20. It was an impressive win for the Lions, despite the noted defensives woes of the Redskins. Detroit has struggled for years on the road, and it was a crucial win to right the ship after the previous week's loss at Arizona.
Detroit did lose receiver Nate Burleson for the foreseeable future with a broken arm forcing Ryan Broyles into a starting job. Reggie Bush will likely be back this week to take over the starting running back duties, but backup Joique Bell was excellent last week in his absence. However, his status is still up in the air for Sunday.
The Line
The game opened at Detroit -2.5 and quickly moved to -3 just about everyone. The sharps were on this one early, and the public mostly favors the Bears. The total opened at 47.5 and has not moved off that number.
The Play
This line is extremely fishy, and I can understand why the public is in love with the Bears, but I have to go the other way. Divisional games are always tough, especially when as the away team and the Lions are much better at home.
Chicago's defense has not been up to snuff so far this year, and despite the injury to Burleson and even if Bush doesn't play, the Lions have more than enough to make this a game. Pressure on Cutler and run stopping will be key but make no mistake the Lions can get to the quarterback and cause havoc in running lanes. If you can pressure Jay Cutler you can usually force him into mistakes. I see this happening Sunday and the Lions picking up a vital win.
Lay the points with Detroit -3 at home with TopBet.eu.

Indianapolis Colts at Jacksonville Jaguars +7.5 Total: 42
In what should seem like an easy game for Indy, the Colts head to Jacksonville to take on the winless Jaguars in an AFC South divisional matchup.
Indy's win over San Francisco was the talk of the league last week. It was a dominant victory from start to finish as the Colts went into Candlestick Park and shut down the 49ers, 27-7. Perhaps most impressive was the Colts defense, which has been subpar so far this year, holding SF to just 254 yards of total offense. Indianapolis rushed for 184 yards in the victory, as well, gashing a 49ers defense full of All-Pro's.
Jacksonville may have also impressed NFL fans, but not with their success, but rather, their futility. I would be hard pressed to not call Jacksonville the worst team in the league right now based on their performance so far this season. Their 45-17 loss at Seattle last week was one of the most dominant victories I've seen in the NFL in years. Seattle had their starters pulled before the fourth quarter started.
The Line
The game opened at +9.5 for Jacksonville, but sharp action moved it down quite a bit to just over a touchdown at most books at +7.5. The total started at 42 and hasn't seen much movement, a few books have it at 41.5.
The Play
Despite the Colts win against the Niners, I am still skeptical of this team's long term success. Is it just that the defense finally decided to show up, or San Francisco isn't moving the ball like they did last year? I think it's a little bit of both.
Anyway, I'm not sure the Colts are truly that good, it's a high number, and the Jaguars are at home in a classic letdown spot. Indianapolis' defense is especially vulnerable to the run and will be without defensive end Ricky Jean-Francois who excels at run stopping. Keeping this game close will be much easier if Jags running back Maurice Jones-Drew can break through for some yardage and he's got just the matchup to do it.
Take the Points with Jacksonville +7.5 at Bovada.lv
New York Jets at Tennessee Titans -3.5 Total: 42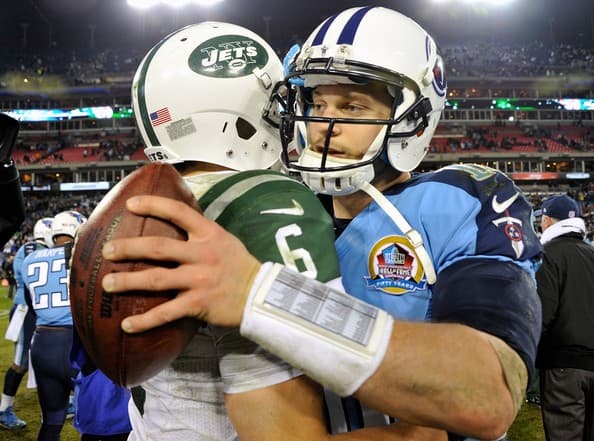 Many bettors might not be too interested in this matchup, but I think it is one of the most intriguing games this week. These are two of the most exciting young teams in football right now.
Don't look now but the Jets are heading into Week 4 with a 2-1 record on the back of quarterback Geno Smith. The rookie QB threw for 331 yards in a 27-20 win against Buffalo last week and hit a variety of receivers. Running back Bilal Powell rushed for a career high in yards, gaining 149 on the ground against the Bills.
Jake Locker and the Titans are also turning heads. Tennessee opened their season with a win at Pittsburgh and after losing a close game at Houston in Week 2, they won in the final seconds at home against the Chargers last week, 20-17. Locker threw a game winning touchdown pass to Kendall Wright in the final seconds.
The Line
The line opened at -4.5 for the Titans but was moved quickly likely due to sharp action on the Jets earlier in the week. Most books are offering +3.5 with extra juice for the Jets and -3 with extra juice on the Titans. The total opened at 41.5 and is listed at 42 or the original number.
The Play
I love the Jets in this spot, and feel that quarterback Jake Locker will not be able to handle the defensive pressure that New York will unleash on him Sunday. While he has been playing some mistake free football so far this season, he hasn't faced a defense even close to as accomplished as the Jets. Currently, they are ranked no. 3 in total defense, third in sacks and seventh against the pass.
There is zero doubt the Titans defense has improved, but we shouldn't overrate them based on just three games. The Jets offensive line is massively underrated and is especially stout run blocking. Bilal Powel should have more than enough space and rookie Geno Smith proved last week that he can hit open receivers and more importantly throw downfield. I love the Jets in this spot, even on the road.
Take the Jets +3.5 with Bovada.lv.
Dallas Cowboys at San Diego Chargers +1 Total: 46.5
The Cowboys head to sunny San Diego to take on the Chargers as the AFC meets the NFC and two veteran quarterbacks battle it out in a rare matchup.
Dallas is 2-1 after destroying the St. Louis Rams last week at Cowboys Stadium. St. Louis offered little resistance, and as we saw on Thursday Night against San Francisco, this is becoming a recurring theme for the Rams. The Cowboys won 31-7; Tony Romo threw three touchdowns in the win and running back DeMarco Murray rushed for 175 yards and a touchdown.
San Diego has a 1-2 record so far, but I think it is fair to say this team has exceeded expectations despite their losing record. Many wrote the Chargers off altogether this year, but every game they have been in has come down to the wire. They have won or lost each game by three points. They almost pulled off the upset in Tennessee last week but gave up a game winning touchdown in the final seconds, losing 20-17.
The Line
This game opened at pk but is listed at books anywhere from San Diego +1 to +2. The total opened at 45 and has moved upward to 46.5 and 47 at some shops.
The Play
Dallas played a complete game against St. Louis, but I think it's too early to anoint this team as a contender just yet. Their two victories came against the Giants and Rams. New York is winless and St. Louis is 1-3. They failed to put up more than 16 points against a decent but not necessarily complete Chiefs defensive squad and lost the game 17-16.
San Diego's defense has not been able, but they have put up points in every game and are normally solid at home. This is a much bigger game than most think and the Chargers can keep pace. Neither side is attractive in this game, but I see a lot of points being scored.
Take the Over 47 with Bovada.lv.

Washington Redskins at Oakland Raiders +3.5 Total: 43.5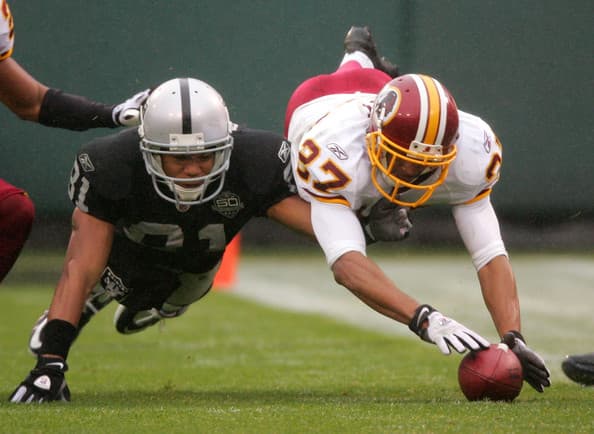 It's shocking that the Redskins will head into Oakland without a win under their belt, but that is exactly what is happening. The Raiders will be looking for their second win on the year as they host Washington.
The Redskins are off to their worst start in 12 years, and Robert Griffin III does not look the same as he did last year. Though he looked a little spryer in last week's game against the Lions, Washington still fell to Detroit, 27-20. The focus is on RG3, but it should be on the defense, it has been historically awful and has given up 98 points in three games.
Oakland hasn't been much better and may be without starting quarterback Terrelle Pryor this week due to a concussion sustained in last week's loss to Broncos. Matt Flynn will get the start and try his luck behind the Raiders porous offensive line. The defense hasn't been accomplished either and is dealing with injuries to starting safety Tyvon Branch and cornerback Tracey Porter.
The Line
Game is at +3 or +3.5 with varying juice. The total opened at 47 and has come down a lot, likely due to concerns about Pryor's status.
The Play
While I normally try to stay clear of the massive public plays and this one is this week's biggest, it's impossible to lay off the Skins in this spot. Yes, their defense is criminally incompetent, and they do not yet look fluid on offense. However, I still think they are leaps and bounds better than the Raiders.
RG3 and Alfred Morris should have no trouble barreling through this defense. Also, despite the Redskins miscues on defense, they actually have a lot of sacks. Oakland's o-line is woeful, and Flynn is about as immobile as they get. He could be in trouble.
Lay the points with Washington -3.5.

Philadelphia Eagles at Denver Broncos -11 Total: 57.5
In what will likely be one of the most watched games aside from primetime matchups, the Eagles head to Denver and Mile High Stadium in a game that should be a shootout as the highest scoring teams from both conference face off against one another.
Even with all the hype, Philly finds themselves in familiar territory for the last few years – with a losing record after three weeks. After opening up with a win against the Redskins, the Eagles have lost their past two games including a turnover laden effort against Kansas City last Thursday.
Denver is 3-0 and has put up some staggering numbers on offense. The Broncos defense is likely better than it looks because defenses are constantly throwing to keep up with Peyton Manning's offense. They gashed the Raiders for 536 yards of total offense on Monday Night cruising to a 37-21 victory in a game that was pretty much over at halftime.
The Line
The game opened at Denver -10.5 but most books are currently offering -11. The total is the largest of the week and has stayed around 57, but at some books it is listed at 58.
The Play
I lean slightly towards the Eagles in this game, and while I think they will put up points against Denver, there are still plenty of question marks that need to be answered. Vick's poor decision making seems to still be a problem and the real explosiveness and heart and soul of this offense is LeSean McCoy. If he can get going, this game will be a lot closer.
Some might see this large total and go under, but I think it is too low. There will an avalanche of points in this game, and I would wager up to 60 on the over. Buckle up your seatbelts this one should be fun to watch.
Take the over 57.5.