All of odds are provided by Bovada.lv

Green Bay Packers at Cincinnati Bengals +2.5 Total: 48.5
https://www.sbo.net/wp-content/uploads/2013/09/Detroit-Lions-at-Washington-Redskins-Betting-Odds.jpg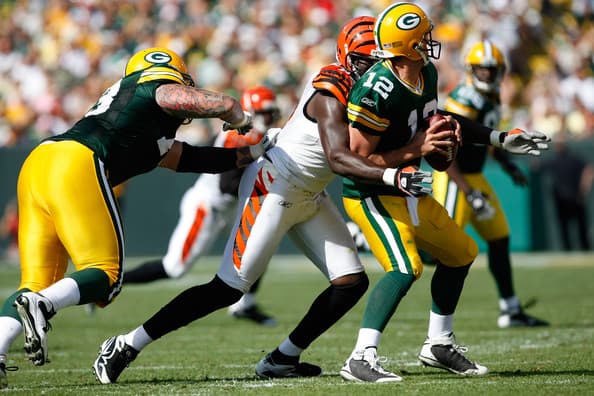 The Packers head to Cincy to face the Bengals in a clash of two 1-1 teams from different conferences. This will be a crucial game for both teams as falling to 1-2 would be a tough start to the season.
After losing in Week 1 to the 49ers, the Packers were in Washington last week and handed the Redskins a heck of a beating. Green Bay recorded 580 yards of offense, including 420 yards of passing by Aaron Rodgers who also threw four touchdowns. The Redskins didn't muster much offense till the game was already out of reach. The Packers won the game 38-20.
After a Week 1 loss to Chicago, the Bengals faced off against Pittsburgh at Paul Brown Stadium on Sunday Night Football. The divisional rivalry was hard a fought low-scoring affair which ended in a 20-10 Cincinnati victory.
On the injury front, the Bengals lost defensive end Robert Gathers for the season due to an elbow injury. Green Bay will likely be without starting rookie running back Eddie Lacy till Week 5, he suffered a concussion in the win over Washington.
The Line
This game opened at pk but quickly moved in favor of the Bengals after heavy betting on the Packers. It is listed at +2.5 at most books, but some have the game at +3. The total opened at 46.5 and has moved a full two points to 48.5
The Play
Most of the public and sharps alike are likely on Green Bay in this one, and it is hard to disagree. The Bengals offense did not exactly look impressive against Pittsburgh, even though they got the win. Their offense sputtered all night, just as it did against the Bears for much of Week 1's contest. While Pittsburgh and Chicago have solid defenses, the Packers aren't exactly slouches, and though Cincinnati's front seven is one of the best in the league, I still can't see anyone stopping Aaron Rodgers.
The Packers put up 30 against San Francisco's vaunted defense in Week 1, and I don't see them having any trouble putting up solid numbers against Cincy. Andy Dalton, on the other hand, looked shaky against Pittsburgh and Chicago and was extremely inaccurate.
I'm taking the Pack -2.5 on the road with Bovada.lv
St. Louis Rams at Dallas Cowboys -4 Total: 47
Both of these teams started off the season 1-0 but couldn't repeat their Week 1 performance in Week 2. This should be an excellent game and one that we will be able to find out a lot more about each squad.
The Rams fought hard against the Atlanta Falcons last week, but they were not able to overcome a 24-3 first half deficit, ultimately losing the game 31-24. Defensively, they struggled to stop Falcons quarterback Matt Ryan who threw for 374 yards and two touchdowns. St. Louis QB Sam Bradford made a valiant comeback attempt throwing for 352 yards and three touchdowns.
Dallas played one of the lowest scoring games last week, losing to the Kansas City Chiefs at Arrowhead, 17-16. The game was a field position slugfest with KC ultimately making more plays when it mattered. Wide receiver Dez Bryant seemed to show no lingering injury problems and caught his first pass of the season.
The Line
Opened at -3.5 in favor of Dallas across the board, and has moved to -4 at most spots. The total is rather high and has not moved much off the opening number of 47.
The Play
This one is tough to call from a point spread perspective as both of these teams seem extremely closely matched. Dallas does have more guys coming off recent injuries, and no one knows how severe Cowboys' quarterback Tony Romo's injuries truly are. He is expected to get a pain killer injection before Sunday's game. I'm going to stay away from this one on the point spread, but I would lean slightly towards St. Louis.
However, I do see some value in the total, which is listed as high as 47.5 at some books. This is the third highest total of the week which to me is much too high. While both teams are somewhat pass-happy, these offenses are definitely not explosive. The Cowboys are coming off several injuries, and the Rams offense is still finding themselves as they introduce players into new roles.
While Dallas' defense doesn't seem to get much respect, I think they are better than most people think nationally. Despite being undersized in the front seven, they have a solid secondary and are a ball-hawking crew that generates turnovers. Likewise, I feel St. Louis has faced two tough opponents offensively and is more than capable of giving the Cowboys trouble.
The Under 47 looks like a solid bet TopBet.eu.

Tampa Bay Buccaneers at New England Patriots -7 Total: 44
The bottom of the NFC South meets the top of the AFC East as the Bucs travel to New England to take on the Patriots.
Tampa Bay needed a strong start to the season after a flurry of offseason moves to improve their defense. Well, the good news is the defense has played much better in 2013 so far, but on the flip side, the offense has been among the league's worst. Now at 0-2, the Buccaneers desperately need to right the ship, pardon the pun. They lost their home opener against New Orleans last week in the final minute, 16-14.
New England is 2-0 but haven't looked nearly as dominant as they have in recent years. They barely hung on to beat the New York Jets 13-10 on Thursday Night Football last week. The defense has looked impressive in these first two games but also has faced two rookie QBs.
The Patriots are riddled with injuries offensively. Wide receiver Danny Amendola will miss several more weeks with a groin injury and Rob Gronkowski is still not expected back for another week.
The Line
This game opened -7 or -7.5 at some sportsbooks and has had steady action on New England since opening. The total has dropped from a 45 opening number to 44, and 43.5 depending on where you look.
The Play
Last week was a devastating loss for Tampa Bay, and though many teams rally under this type of pressure, I think the Buccaneers are headed in the wrong direction. Josh Freeman has reportedly requested a trade and continues to play poorly, and there are rumors of a rift with head coach Greg Schiano. The Bucs are still pros and will come out and play hard, but this team already looks defeated.
The Patriots didn't look their best against the Jets, but Tom Brady was essentially playing with a entirely new core of skill players on offense. With 12 days of rest between last Thursday and Sunday, there is no doubt they have gotten better in practice. Even with Tampa's improved defense, I don't see them stopping the Patriots offense.
Freeman will likely again struggle to move the ball as he has since midway through the year last season. The Pats should win big, and this one may get ugly.
Take New England -7 at home with Bovada.lv.
Cleveland Browns at Minnesota Vikings -6.5 Total: 40.5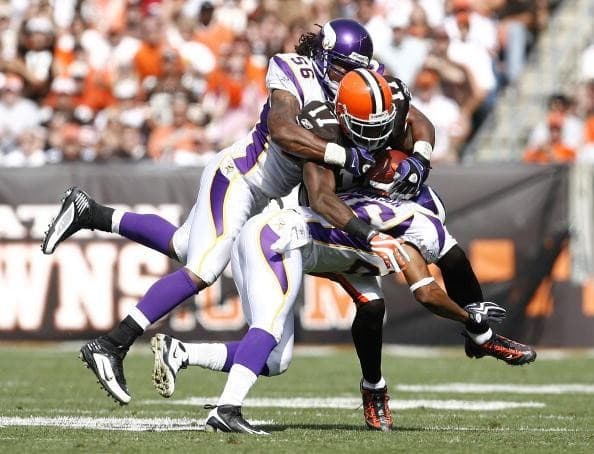 Cleveland heads to Vikings Stadium to take on Minnesota in an inter-conference battle between two 0-2 teams. These two teams are desperate for a win on Sunday, though the Browns may have seemingly punted away their season this week via trade.
Yes, Cleveland traded away their franchise running back and former 3rd overall pick to the Indianapolis Colts for a first round draft pick in the 2014 NFL Draft. The move drew criticism around the NFL and throughout the fan base with fans lamenting that the Browns have given up on the season. Even if Cleveland is in a full rebuild, the season goes on, and they have to gut it out for 14 more games.
The Browns lost to the Ravens in Baltimore in one of the lowering scoring games of last week, 14-6. Again, Cleveland could not move the ball offensively and to make matters worse starting quarterback Brandon Weeden was hurt in the loss. Former Arizona quarterback Brian Hoyer and likely soon to be NFL journeyman will make the start for the Browns this Sunday.
The Vikings, also starting out with a 0-2 record seem to have an advantage in this one after facing tougher divisional opponents in the first two weeks, losing both to the Detroit Lions and Chicago Bears. Last week's loss to the Bears came in the final seconds even as Jay Cutler connected on a touchdown pass to Marcellus Bennett, giving the Bears the 31-30 win after the extra point.
The Line
This line has moved drastically from an opening number of Minnesota -4. The books now have the Vikings at -6 or more, and it could be -7 by the end of the week. The overwhelming amount of action is on the Vikings. The total has not moved much from the 41 opener, staying around 40.5 and 41.
The Play
While the whole football universe seems to be laughing at Cleveland right now, who knows how this deal may look in a few years time. Trent Richardson was not exactly turning heads after averaging 3.4 yards a career in his short time with the Browns. It is not as if they were going anywhere with or without Trent Richardson.
With that said, this Browns team does have an excellent defense, and should be able to stay in most games. Hoyer can't do much worse than Brandon Weeden in his first two starts, and perhaps he has some upside.
Just the fact that the line has moved so drastically is a perfect buy-low opportunity of sorts. Minnesota is not a dominant team. Does the Browns loss of Trent Richardson and injury to Brandon Weeden make them a much worse team than they were a week ago? I do not think it does, especially because this team relies on its defense to win.
Take the points with the Browns +6.5 on the road TopBet.
Houston Texans at Baltimore Ravens +2.5 Total: 45
In what could be a future playoff matchup, Houston heads to Paul Brown Stadium to take on the reigning Super Bowl Champion Ravens.
The Texans have a 2-0 record, but it hasn't come easy. They rallied late in Week 1 to outlast the Chargers in a shootout and again had to force overtime against Tennessee, winning 30-24 after a Matt Schaub touchdown pass to rookie wide receiver DeAndre Hopkins.
After a season opening loss to the Denver, the defending Champions righted the ship last week against Cleveland, winning 14-6. The Ravens still didn't look great in the win with their offense still a gigantic question mark, but the defense did its job against a poor Browns offense.
Starting running back Ray Rice is doubtful to play Sunday. Backup Bernard Pierce will be more than capable filling in for the injured Rice.
The Line
There has been loads of action on Houston in this game from the sharps and public alike. The game opened with the Ravens being favorites at -2.5 and has moved all the way to +2.5 making them home dogs. The total hasn't moved much from the opening number of 45.
The Play
This is one game I'd probably prefer to stay away from, but I do lean slightly towards the Ravens. Houston has more talent but defensively they have been quite shoddy in their first two games of the season, giving up massive yardage totals to average offenses of the Titans and Chargers.
I'm sure the Texans are getting up for this game, but this game means much more to the Ravens. The prospect of falling to 1-2 in front of in front of your home fans after winning the Super Bowl will bring out the best in this team, despite the injury to Ray Rice. I don't doubt the ability of Baltimore to move the ball against the Texans' D.
Take the home dog Ravens +2.5 TopBet
Detroit Lions at Washington Redskins -2.5 Total: 49
The Lions head to the Nation's Capital to take on the Redskins in a game that both teams desperately need a win.
The Lions beat up on Minnesota in Week 1 in Detroit but in what has become a theme in Detroit over the past few seasons – the Lions lost their first game on the road to the Arizona Cardinals. It wasn't as if the game was a blowout, Arizona was set up with a one-yard touchdown after a pass interference call and won the game, 25-21.
Washington's season has been all bad news so far. They are winless in two games and have looked especially terrible in the process, as well. Though their opponents were Green Bay and Philadelphia, the Redskins defense easily looks like the worst in the league. Robert Griffin III looks slower and seems to lack the burst or running ability which is what made him so explosive last season.
The Line
This game opened as a pk and the public has loved Washington throughout the week pushing the line to -2.5. The total opened at 48 and has moved to 49 and 50 after most of the bets came in on the over.
The Play
I'm not sure why the public is so into Washington in this matchup. I realize they had a tough two games to start out the season, but their defense is absolutely terrible. It is not like they look much better on offense either. To me, RG3 is noticeably slower than he was last season and seems shaky on his surgically repaired knee.
Despite Detroit's loss last week I think this team is better than most think and is a real threat to win the division. They have so many talented players at skill positions, even if Reggie Bush can't go on Sunday. The Redskins still look like a team taking their first reps in the preseason. I see no reason to have faith in Washington until they show something.
Take the Lions +2.5 with Bovada.lv
New York Giants at Carolina Panthers -1 Total: 45.5
The Giants head down south to Charlotte to face the Panthers in a battle of two NFC teams desperate for a win. A third loss for either of these teams would make a mighty large hole to climb out of for both franchises.
After a loss to the Cowboys in Week 1, the Giants hosted the Broncos as Eli and Peyton Manning went head to head. This meeting was all Denver as big brother ripped through G-men defense defeating the Giants, 41-23.
Carolina also with a 0-2 record has little room for error in this matchup. The Panthers have not impressed in two games, a 12-7 loss against Seattle and last week's last minute defeat at Buffalo, 24-23. Poor offensive line play has caused quarterback Cam Newton to be rushed frequently (he was sacked 6 times in the loss) and has resulted in a poor running game.
The Line
Carolina opened as small -1.5 favorites and has stayed around that number with most shops having the game at -1 or -1.5, but some books may have the game listed as pk.
The Play
It's hard to go against the Giants in this spot because of how inept the Panthers have looked in their first two games, but I think it is the right play.
New York has been shellacked in their first two games, have no running game and a defense that fails to generate a pass rush. It also appears Eli Manning's "dead arm" problems have not left him, and his decision making is not where it should be right now. He has thrown 7 interceptions in just two games.
The Panthers can force the Giants to play one dimensional by eliminating the poor run game and forcing Eli to throw. Carolina has their home crowd behind them and Cam Newton should not have any issues moving the ball against New York.
I'm taking the Panthers -1 at home at TopBet.eu.
Arizona Cardinals at New Orleans Saints -7 Total: 48.5
This game might not have looked like a solid matchup at the beginning of the season but going into Week 3 – this looks like it should be a terrific game. The Cardinals travel to the Big Easy to take on the Saints as New Orleans looks to stay undefeated.
Arizona hosted Detroit last week and won the game in the final minutes, 25-21. This brought them to a 1-1 record on the season after losing to St. Louis in Week 1. It was new head coach Bruce Arians' first win of his career.
New Orleans was held down much of the afternoon last week against Tampa Bay. Finally, the offense broke through late in the fourth quarter beating the Buccaneers in their home opener, 16-14. It was a sloppy game for both teams with rain much of the afternoon. New Orleans relied on tight end Jimmy Graham for much of their offensive firepower. He had 10 receptions, 179 yards and a touchdown in the win.
The Line
Shockingly, at least in my opinion is the large amount of money that has come in on the Cardinals. This game opened at -9 and has been pushed to -7 at most books. The total opened at 48.5 and has stayed around that number for most of the week.
The Play
The Cardinals may just be contenders this year, but I'm not sure this is the week they prove that to America. They may even have their best team in years. However, that is rather low bar to get over in Arizona.
Also, this week is a bad one on the injury front. Wide receiver Larry Fitzgerald may end up sitting in this game, along with running back Rashard Mendenhall and tight end Rob Housler. Even if Fitz does suit up, his role will likely be limited.
The Saints should not have too many issues moving the ball against the Cardinals and will be ready to put on a show at home against a familiar punching bag. If Arizona was coming into this game fully healthy I might feel differently, but New Orleans can bury a team with their offense early on and their seemingly improved defense should make comebacks a lot more difficult this year.
New Orleans -7 is the play

San Diego Chargers at Tennessee Titans -3 Total: 43.5
Both the Chargers and Titans have had surprising starts to the season and are playing much better than most expected. Both come into this game with a 1-1 record, eager to prove the doubters that they are contenders.
San Diego has had no trouble lighting up the scoreboard the past two weeks. After losing to Houston in Week 1, the Chargers won a 33-30 thriller against Philadelphia last week. Phillip Rivers has been especially impressive this season, perhaps regaining his Pro Bowl form. In two games, Rivers has thrown for over 600 yards along with 7 touchdowns and just one interception.
The big improvement in Tennessee hasn't been on the offensive side, but instead with their revamped defense. After holding the Pittsburgh Steelers to just 9 points in Week 1, the Titans got into a bit of a shootout with Houston last week, only to lose in overtime, 30-24. Still, this team was projected to be a bottom feeder in the AFC and looks to exceed expectations this year.
The Line
Action is relatively split on this game, and there has been no movement off the Titans -3 number. The total also remains unchanged for the most part with most books offering 43.5 or 44.
The Play
This is another game I would probably prefer to shy away from, but if I had to give one team an edge it would be the Chargers.
Though their defense has been somewhat terrible in the first two games, I think this game lies in the hands of Phillip Rivers. Normally, I would be scared about this prospect, but Rivers is playing with the poise and confidence we were used to seeing during his All-Pro years. Even with a decimated receiving corps and a shaky running game, he is getting it done.
I also doubt the ability of the Titans to run a consistent offense. Running back Chris Johnson will get his in this game, but Locker is always a wild card with his accuracy and decision making. I also haven't seen enough out of Tennessee's receivers to make me trust this team yet.
I like San Diego -3 to win at home with TopBet.eu.
Atlanta Falcons at Miami Dolphins -1 Total: 44.5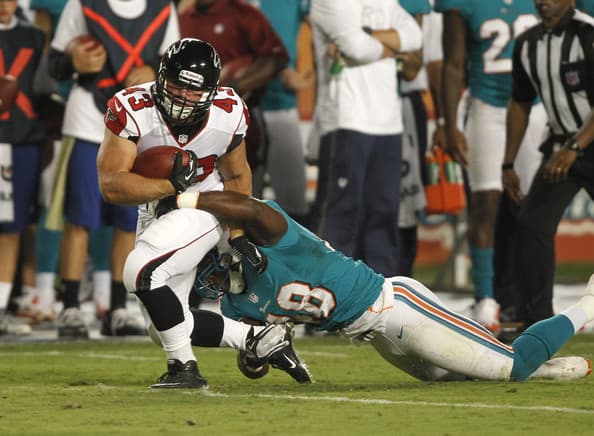 This game is flying under the radar due to some other prominent matchups, but both of these teams are excellent, and this game should be an enjoyable inter-conference battle between two talented teams.
The Falcons opened up a big lead on the Rams last week, leading 24-3 at halftime. The game got closer in the second half, but Atlanta was able to hold on, winning 31-24. Julio Jones had the biggest day out of any receiver last week, catching 11 balls for 182 yards and a touchdown in the win.
However, Atlanta suffered many injuries in the loss. Running back Steven Jackson is out for several weeks with a hip injury, forcing Jacquizz Rodgers into the starting role. Receivers Roddy White and Julio Jones are also both nursing injuries. The defense is also in shambles from a health perspective and will be missing several key members in the front seven and secondary.
The Dolphins are sporting a 2-0 record as they head into this game and it is well deserved. After beating up on the Cleveland Browns in Week 1, the Fins played another solid game against the Colts winning, 24-20 in Indy. With a strong offensive line, a ball hawking defense and a host of talented skill players this team looks much better than last year's squad.
The Line
This game opened at pk and has moved as far as -2.5 at some books but is listed at most shops at Miami -1. The total opened at 44.5 and has not moved at most sportsbooks.
The Play
I was on Miami last week against the Colts, and I love them against a Falcons team that I think will have trouble moving the ball. Atlanta runs more frequently than most think, but they won't be able to do that against the tough run stopping defense of Miami.
The Dolphins don't have the best pass defense, but the receiving core for the Falcons is already depleted. Also, they will be forced to become dimensional because they won't be able to move the ball on the ground against the Falcons.
Tannehill has me sold as his ability as a franchise quarterback. Miami's line is also excellent, and we finally saw the emergence of Lamar Miller last week against the Colts. No one knows how good this Miami team is yet, but I think they could emerge as one of the surprise playoff contenders in the AFC.
I love the Dolphins -1 at home with TopBet.eu.
Jacksonville Jaguars at Seattle Seahawks -19.5 Total: 40.5
To say this game has blowout potential would be the understatement of the year. Opening at Seattle -20, the largest NFL point spread in 15 years, the Jaguars now gain the moniker of one of the largest underdogs in NFL history.
It has been a miserable season for Jacksonville, a team that showed nothing in Week 1 against the Chiefs and was again dominated last week in Oakland, losing 19-9. There is not much positive to say about the Jags. Running back Maurice Jones-Drew will likely be out this week, making an already poor offense even worse. Chad Henne will again start at quarterback with Blaine Gabbert still injured.
Seattle looks like the most dominant team in the league after last week's annihilation of the 49ers and more importantly quarterback Colin Kaepernick. Kaepernick threw for just 127 yards in the loss with three interceptions. They were held to just 207 yards of total offense in the 29-3 loss. Seattle's defense is without a doubt the best in the league and should feast against Jacksonville this Sunday.
The Line
Opened at -20 for the Seahawks and has moved a little off that number with most books offering 19.5. The total opened at 39.5 and has moved slightly to 40.5.
The Play
I'll keep this one short and sweet because I don't even think the matchup is worth going into based on the number. An almost 20 point spread in the NFL is almost unheard of, and over the past decade double digit favorites have normally covered at a rate above 60 percent. A 20 point underdog is a must-play in my opinion. This is the NFL. The talent gap is almost never this massive between two teams. Even if the Seahawks beat them 40-0, I would bet on a team that is +20 without thinking.
Take Jacksonville +19.5 on the road at TopBet.eu.
Buffalo Bills at New York Jets -1 Total: 39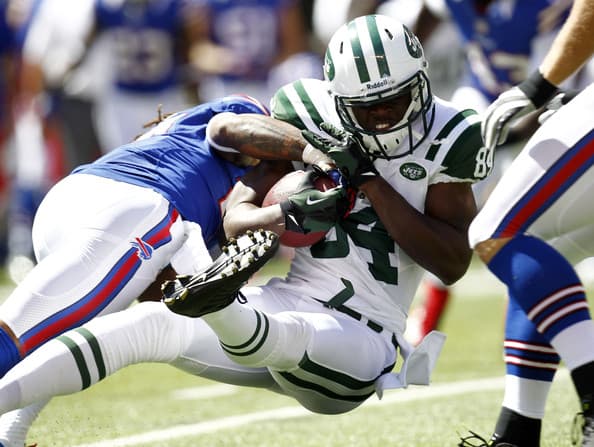 This AFC East matchup should be entertaining as two rookie QBs face off in a game that will push one of these franchises to a 1-2 record on this season. A win in this game is enormous as the Dolphins and Patriots are both 2-0 atop the division.
The Bills won in a great effort last week by rookie quarterback E.J. Manuel, who won the game in the final seconds finding a wide open Stevie Johnson in the corner of the end zone to beat the visiting Carolina Panthers, 24-23.
The Jets played hard in a Thursday Night loss to the Patriots, ultimately falling to New England, 13-10. Rookie quarterback Geno Smith didn't fare as well as Manuel did against Carolina, throwing three picks in the loss. However, the Jets defense has impressed so far this season, holding two opponents to just 26 points in two games.
The Line
This game opened at Jets -2 and has moved different ways depending on where you look. Some list the game at -1 while others have the game at -2.5. The total has not moved much off the opening number of 39.
The Play
While I absolutely think the Bills are the more talented team overall, this matchup suits the Jets a bit better than most may think. Also, let's remember the Bills are nursing a lot of injuries in their secondary and will likely be missing their two top cornerbacks again this week.
Cam Newton couldn't do much against this defense, but that is because Carolina has a terrible offensive line. The Jets line is about average and has looked worse because Geno Smith has held onto the ball too long in his first two starts. I think he will get time to throw this week and will be able to do some damage on the Bills' inferior secondary.
Defensively, New York has an excellent run defense, which is Buffalo's bread and butter on offense. If they can limit the E.J. Manuel, C.J. Spiller and Fred Jackson combination they should have no problems winning this game.
The crowd will be pumped and the Jets are well rested after 12 day layoff. Rex Ryan will have a solid gameplan in place to win this ballgame.
I'm laying the points with the Jets -1 at home with Bovada.lv.
Indianapolis Colts at San Francisco 49ers -10 Total: 46
As far as inter-conference games go, this should be one of the week's best. Both of these teams sport 1-1 records and are itching to exact revenge after losing last week.
The Colts suffered a rare home loss to the Dolphins last week, losing 24-20. Miami's defense played especially well and limited Andrew Luck to just one touchdown and an interception. The big news is that now former Browns running back Trent Richardson has come over via trade and will play this week against San Francisco.
The Colts lost at home last week, but the Niners were embarrassed on national television in a game against Seattle. Losing 29-3, Kaepernick had the worst game of his career in the loss, throwing three picks and for just 127 yards. There were not many positives to draw on in this performance from San Francisco.
The Line
This game has moved up from -9 to -10 at most shops. The total has not moved much off the opening number of 46.
The Play
I've been pretty down on the Colts this season and even after the Richardson trade, I don't think this team is anything noteworthy. Their defense is easily one of the worst in the league, and they have no pass rush whatsoever. SF's defense is much better than Miami's, and I think they will give Andrew Luck serious fits on Sunday.
Furthermore, San Francisco is more focused than ever after their dismantling at the hands of the Seahawks. I see them coming out with a vengeance and winning this game in a route. Luck is a talented young quarterback but this team doesn't have the pieces it needs to compete for a championship, let alone a playoff spot.
I'll lay the points with San Francisco -10 at home.