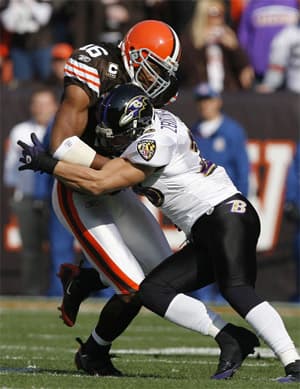 Week 1 was a terrible week for the public and an excellent one for the bookmakers. Let's try and get the man back this week and take it to the sportsbooks in Week 2. It is crucial to not read too much into Week 1 results when betting games this week. Remember, it has only been one week in a 17-week regular season. These results are just a blip on the radar.
All of our odds are provided by Bovada.lv
Cleveland Browns at Baltimore Ravens -7 Total: 43.5
The first divisional game of the year for the AFC North pits the Browns against the Ravens at M&T Bank Stadium. Both teams come into the game after suffering Week 1 losses.
Cleveland opened the season with some optimism around their team for the first time in several years after a strong finish to last season. That made Sunday's game especially hard to swallow for fans of the franchise. They got thoroughly beaten by the Miami Dolphins at home, 23-10 and their offense failed to do much of anything all afternoon.
Baltimore, the reigning Super Bowl Champions also took a shellacking on the opening season NFL Kickoff last Thursday against the Denver Broncos. The Ravens lost 49-27 in a game which Peyton Manning threw seven touchdown passes to tie an NFL record for a single game. Flacco and the offense put up some points, but much of that was in garbage time when the Broncos had a heavy lead.
The Line
The game opened at Baltimore -6.5 which is still available at some books, but most have moved the number to a touchdown at -7. The total moved up a full point from the opening number of 42.5 and is now listed at 43.5 mostly everywhere.
The Play
Both of these teams looked miserable in Week 1 action, but we can't lean on that too heavily when capping this game. I genuinely thought the Browns would win to Miami at home, but instead, they could not get much going at all, and their secondary was beaten several times.
Still, the Browns defense still played somewhat well in an effort where their offense just could not move the ball. The Ravens, on the other hand, looked like a team in disarray, especially defensively. Peyton Manning is astonishing, but when a team gets beaten like this defensively – they have serious problems.
Cleveland's defense is excellent, and I think their offense is a lot better than they showed in the loss to Miami this Sunday. This is a divisional game, and a sort of must-win for both teams, so I think it will be close.
I like the Browns +7 on the road.

Carolina Panthers at Buffalo Bills +3 Total: 44
The Bills and the Panthers both started off the season 0-1 and will look to grab their first win of the season in an inter-conference game at Ralph Wilson Stadium in Buffalo.
Carolina lost a tough opening game in Charlotte last week to the Seahawks in a matchup that was the NFL's lowest scoring of the weekend. Cam Newton and company couldn't muster much offense in the 12-7 loss. Unfortunately, they lost tackle Garry Williams for the season after he suffered a torn ACL and MCL in the loss.
Buffalo fought valiantly in a loss to the Patriots on Sunday and have nothing to be ashamed about in regards to their performance. After leading halftime 21-17, the Bills could not manage anymore points and lost 23-17 after two New England field goals. Rookie E.J. Manuel was an impressive 18 for 27 for 250 yards and two touchdowns, and best of all he didn't throw any interceptions.
The Line
Opened at +2.5 for Buffalo, which is still available at some books. However, most sportsbooks currently have it at +3. The total opened at 44.5 and has trended downward to 44 and 43.5.
The Play
While I thought Buffalo was extremely impressive last season against New England and E.J. Manuel looked fantastic, it is tough to like them against a Panthers team that is desperate for a win.
Also, do not forget Carolina held down a potent offense in Seattle to just 12 points and should not have a problem stifling Manuel. When New England blitzed him, he had a lot of trouble getting the ball out quickly, something I'm sure the Panthers defense is watching in film study this week.
Ron Rivera and Cam Newton need this win desperately to have some sort of chance to have a successful season. Their tough division will do them no favors this year and two losses this early would put them in deep trouble in an already tough division.
As much as I love a home dog, I have to take the Panthers -3 on the road with TopBet.eu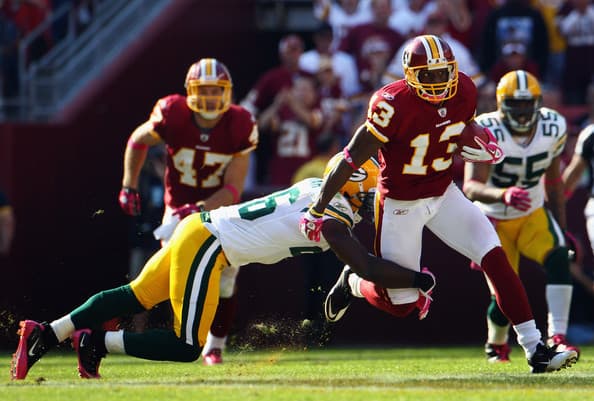 With both teams showing poor defence in their opening games, we look forward to an attacking game. We think Green Bay have enough fire-power to cover the spread.
Washington Redskins at Green Bay Packers -9 Total: 49.5
Both the Redskins and the Packers lost last week, making this matchup at Lambeau Field of extra importance to both teams.
This will be a slightly shorter week for Washington after their Monday Night loss to Philadelphia. The Redskins did not look impressive to say the least in their loss to Philly as their defense was gashed for 26 points in the first half, both via the run and pass. Robert Griffin III and the offense came on late, but they were out of the game at that point.
Green Bay also had their fair share of defensive issues in a loss to the reigning NFC Champion San Francisco 49ers in Week 1, losing the game, 34-28. The Packers could not seem to stop Kaepernick who threw for over 400 yards and three touchdowns. However, Rodgers was still impressive, throwing for 333 yards, three touchdowns and a pick.
The Line
This one opened at Packers -7 but immediately moved to -7.5. It's listed at -8.5 and -9 at most shops currently. The total has not moved off the opening number of 49.5.
The Play
Washington's defense played some of the worst defensive football I've ever seen in my life on Monday Night, and I've watched a lot of football over the years. Chip Kelly is known as an offensive genius for a reason, and it was obvious that he out schemed the Redskins on Monday Night, but the Washington lacked tackling ability and execution at nearly every position.
Furthermore, Robert Griffin III did not look too eager in his first game back in action. He seemed plenty rusty from a mechanics standpoint and looked like his knee was a little shaky. Green Bay has a better defense than Philadelphia, and I think RG3 could be in some trouble this weekend with this matchup.
I'm rolling with the Packer -9 at home priced at Bovada.lv.
Minnesota Vikings at Chicago Bears -6.5 Total: 42
The Bears will face their first divisional opponent of the season when the Vikings head to Soldier Field this Sunday. Already, this is critical matchup for both teams in a tough NFC North.
Minnesota played their typical gameplan last week, a heavy dose of Adrian Peterson, the star running back had 98 yards and two touchdowns, but per usual, they didn't get much help elsewhere. The Vikings lost 34-27 to the Detroit Lions at Ford Field after leading for most of the game. Quarterback Christian Ponder continues to be a weak spot for Minnesota, the third year QB threw for just over 230 yards, a touchdown and three picks in the loss.
Chicago was one of the most impressive teams on opening weekend. The Bears started off slow but played a strong defensive game all afternoon before finally taking the lead mid-way through the 4th quarter and giving new head coach Mark Trestman a win to start out his NFL coaching career. Quarterback Jay Cutler threw two touchdowns, one to wide out Brandon Marshall and Matt Forte added 50 yards and a TD, as well.
The Line
This game opened at Chicago -5 but has moved to -6.5 or -7 at most sportsbooks. The total has also moved considerably, moving from 40.5 to 42.
The Play
The Bears pulled off an impressive win against Cincy in Week 1, a team many predicted to be Super Bowl contenders this season. However, it is hard to say how good the Bengals are at this point and let's not forget the Bears offense was sputtering for much of the 1st half.
Christian Ponder looked terrible in limited action on Sunday and continues to do remarkably little to suggest he can be relied on as a starter in this league. But, the Vikings still have Adrian Peterson and a reasonable core of receivers around him. Also, something many are forgetting is that the Vikings defense is excellent, and their front seven is one of the best in the league.
Quarterback Jay Cutler faced remarkably little pressure against Cincy's dynamic front, but the Bears offensive line is not that good. Minnesota will blitz and keep Cutler under constant pressure and should be able to contain Forte in the run game.
I think Peterson can keep the Vikings in the game and this one will be a close divisional battle.
I'll take the points with the Vikings +6.5 via TopBet.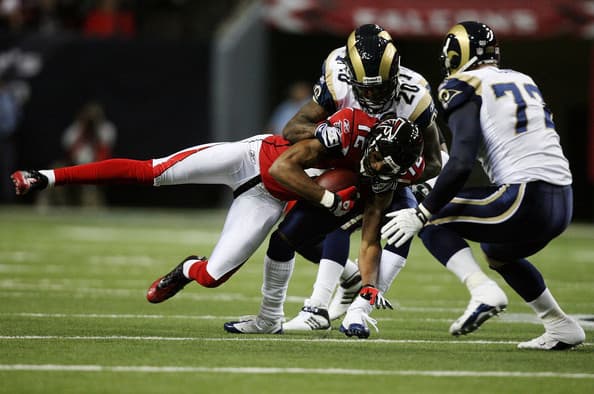 St. Louis Rams at Atlanta Falcons -7 Total: 47.5
Another all-NFC affair pits two teams against each other who are both looking to make an impact this season.
The Rams took care of the Cardinals at home in a high scoring matchup which came down to the final drive. Sam Bradford played well in the 27-24 win which was won with just 40 seconds left after a Greg Zuerlein field goal. Jared Cook had a breakout performance catching 7 balls for 141 yards and two touchdowns.
Atlanta started the year off with a tough loss at divisional rival New Orleans, losing 23-17. The Falcons just could not seem to convert in the redzone despite amassing over 365 yards of offense. Roddy White started in the game but was hobbled by an ankle injury that may again bother him this week. His should play Sunday but may be nothing more than a decoy, which is the role he played last week.
The Line
This game has not moved much on the opening number of Atlanta -7, but some books have moved to -7.5 after taking heavy action on the Falcons. The total opened at 47 but is listed at 47.5 and 48 currently.
The Play
Some might look for Atlanta to pound St. Louis in a rebound spot this week, but I don't see it that way. The Rams have been a different team under Jeff Fisher, and this Atlanta team has a number of nagging injuries to its offense. Roddy White may not be fully healthy for another three weeks, and Julio Jones should play but suffered a knee injury in the loss.
The Rams have one of the best corners in Cortland Finnegan, and he will be able to lessen the impact that Julio Jones has the passing game. Falcons running back Steven Jackson will be amped to face his former team, but I'm not sure it will be enough.
This game will be close, but I don't think the Rams are getting enough respect this year.
I'm taking the points with the Rams +7.

San Diego Chargers at Philadelphia Eagles -7.5 Total: 55
The Chargers head to Philly looking for their first win in an inter-conference affair. This is a critical game for San Diego who lost Week 1.
San Diego played in Game 2 of Monday Night's doubleheader at home against the Houston Texans. After building a large lead in the first half, the Chargers scored again on their first possession in the 3rd quarter to build a 28-7 lead. It was all downhill from there. Houston rallied back and scored 24 unanswered points to hand San Diego their first loss.
The Eagles blew the football world away in the first game of Monday Night Football. They moved quickly up and down field rushing out to 26-7 lead at halftime against the Redskins. Washington tried to rally late but fell short, losing 33-27.
The Line
Loads of money has come on the Eagles in this matchup moving the line from -7.5 to -9 and then back down to -7.5 after Charger backers hit the line at +9. The total opened at 52.5 and has moved 3 points at some shops. After seeing Chip Kelly's fast-moving offense on Monday, most books have the total between the 54.5 to 55.5 range.
The Play
I was watching Monday Night as the Eagles shredded the Redskin with ease. Chip Kelly's offense sure did look impressive in the first game of the season and Philly certainly turned some heads in the NFL universe.
Still, as good as they looked, this team on paper is probably worse than the ones that the Eagles fielded the past two seasons, both of which missed the playoffs. Yes, Andy Reid was the coach then, but can Chip Kelly truly turn this offense around and make Michael Vick into a solid decision maker at quarterback? We'll see, but I'm not buying it just yet.
Furthermore, the Redskins looked absolutely atrocious on defense, missing tackle after tackle and getting out schemed on every play. The Chargers may have collapsed late in last week's game, but they are talented enough to keep it close with Philly. I can't justify the Eagles as -7.5 or more favorites just because they destroyed a Redskins team that was one of the worst defenses last season.
I'll take the points with San Diego +7.5 on the road with GTBets.
Dallas Cowboys at Kansas City -3 Total: 46.5
Dallas heads to Arrowhead for an inter-conference battle of two teams that are both looking to prove Week 1 was no fluke and that they are the real deal in 2013.
Dallas heads to Kansas City after a Sunday Night Football win against the New York Giants in a game where they force five turnovers and scored two defensive touchdowns, winning the game 36-31. Tony Romo has bruised ribs but will play, and wide receiver Dez Bryant suffered a high ankle sprain but is not expected to miss time either.
Kansas City pummeled the Jaguars in Jacksonville beating them 28-2 and giving new head coach Andy Reid his first win on the Chiefs' sideline. Alex Smith was an efficient 21 of 24 for two touchdowns and threw no interceptions. Jacksonville only totaled 178 yards of total offense in the game.
The Line
This game opened at KC -1 but quickly moved to -3 as a flurry Chiefs action came in almost immediately. Some shops still may have -2.5. The total opened at 46.5 and is at the original number at 47.
The Play
I was impressed to see KC take of Jacksonville so easy on Sunday as well, but I'm still not ready to begin to take them too seriously after beating one of the worst teams in the league last year. The performance was so shoddy that quarterback Blaine Gabbert lost his starting job to backup Chad Henne this coming week.
I know that Tony Romo is banged up and that Dez Bryant also is not 100 percent, but it is too difficult to trust Alex Smith against a defense that forced five turnovers last week. They will be quickly to pounce on a mistake, and if Smith won't go downfield, and he becomes that "check down guy" that we are all used seeing – the Chiefs will get outscored heavily.
I think Dallas is much more talented than most people think this year and have a front 7 that will give the Chiefs' o-line fits.
I'm laying the points with the Cowboys -3 on the road betting with BetOnline.
Tennessee Titans at Houston Texans -9.5 Total: 41
The Titans head to Reliant Stadium to take on the Texans in an early season AFC South tilt, that will vault the winner into first place in the division.
The Titans won an ugly game in Pittsburgh, in a game which they started off giving up a safety on the opening kickoff to the opposing Steelers. The offense could not get much going, but the defense forced several turnovers and held the Pittsburgh offense to just one touchdown. Locker threw for just 125 yards in the 16-9 win.
The Texans are fresh off a win on Monday Night where they stormed back late after being down 28-7 to San Diego in the 3rd quarter. Matt Schaub was excellent in the comeback throwing for 346 yards, three touchdowns and one interception.
The Line
The game opened at -9 and has moved to -9.5 and at some shops -10 or 10.5. The total opened at 41 and has moved to 43 across the board.
The Play
I think this game is a tale of two teams being overrated and underrated by Week 1 games. The Titans did not look exceptionally convincing in their win against Pittsburgh, but remember the Steelers boasted the NFL's best defense last season. Jack Locker has plenty of weapons this year, and running back Chris Johnson is still flying under the radar.
Likewise, Houston's dominant defense was gashed in the first half by San Diego before clamping down late after the Chargers were forced to throw after giving up a lead. They still will likely be without strong safety Ed Reed this week and did not look like their normally dominant selves last week.
Bad defense is much harder to fix than bad offense from week to week, especially this early in the season. Both of these teams looked shaky in that regard, and though the Titans held the Steelers to just 9 points – Pittsburgh seemed to shoot themselves in the foot at every opportunity.
I think both the Titans and Texans will light up the scoreboard this Sunday.
Take the Over 43.

Miami Dolphins at Indianapolis Colts -3 Total: 43
After both teams won in Week 1 to open up the season, the Fins head to Indy take on the Colts at Lucas Oil Stadium.
The Dolphins weren't hyped too much coming into the season, but perhaps they should have been. Miami dominated the Cleveland Browns in Ohio putting up impressive performances on both sides of the ball, and winning the game handily 23-10.
The Colts looked less impressive in their opening season win against the Oakland Raiders, as well. Defensively, they looked a bit shaky, especially to a quarterback like Pryor who is not what I would call "skilled." Still, Andrew Luck and the rest of the offense did their thing and the Colts rallied late into the game to win, 21-17.
The Line
Opened at Colts -3 and has moved to -2.5 but is still mostly -3 at most sportsbooks. The total opened at 43 and has not moved much from that number, though it seems to be moving downward as some books have the line at 42.5.
The Play
Miami is a relatively unknown team to much of the National media, and I think that works in their favor in this matchup. It wasn't much of a story for the Colts last week because they gutted out the win against Oakland, but if they had lost, it would have the biggest upset of the week.
Pryor is inaccurate to say the least, perhaps second only to Tim Tebow. However, he did manage have a lead after three quarters against Indy, which says something about this team's defense. Also, Oakland's defense is not anything special either and seemed to hold the Colts down for much of the game. It is possible Oakland is a better team than most thought, but looking at their roster it is hard to see this team winning more than four games this season.
Miami looked excellent in their first game against the tough defense of Cleveland, and the Fins have a much better defense than the Raiders. Luck is a generational talent but the Colts may not be able to stop anybody this year. I think they are overmatched this coming week against Miami.
I like the Dolphins +3 on the road betting with TopBet.
Detroit Lions at Arizona Cardinals +1.5 Total: 48
The Lions head to Cardinal Stadium in Phoenix, Arizona to take on the Cardinals in a critical game, especially for Arizona as they look to compete in a much tougher NFC West this season.
Detroit threw the ball over the field in a win against Minnesota last Sunday. Stafford threw for over 350 yards and two touchdowns and one interception, and offseason free agent running back Reggie Bush had an impressive first game with his new team. Bush gashed the Vikings defense, rushing for 90 yards and catching 4 balls for 101 yards and a touchdown. The Lions won by a final score of 34-24.
Arizona fought valiantly to the final seconds but fell to the St. Louis Rams, even after outgaining them 390 to 366 in total yardage. Carson Palmer was efficient in his first start for Arizona, throwing for 327 yards, two touchdowns and one interception. The Cardinals held a 24-13 lead going into the fourth quarter but were held scoreless in the final period, ultimately losing 27-24. On the bright side, Larry Fitzgerald looked excellent reeling in 8 of 14 targets for 80 yards and two touchdowns.
The Line
Opened at pk, but has moved due to heavy Lions action to Arizona +1.5 and at some shops as high as +2.5. The total opened at 46.5 and has moved substantially to 47.5 up to 48.
The Play
I can't help but think the Cardinals will be a semi-decent team this year, just based on the connection that Carson Palmer and Larry Fitzgerald have already shown in their first game. "Fitz" is one of the NFL's best receivers and is in for a huge year. I think Arizona's defense is also much underrated and does actually matchup decently well against the Lions.
This is one of the harder games to pick on the board this week and I would probably stay away from it all together, but if I had to take a team it would be Arizona. The Lions may be in for a letdown despite how loaded they seem to be this season on both sides of the ball.
Grab the home-dog Arizona Cardinals +1.5 at BetOnline.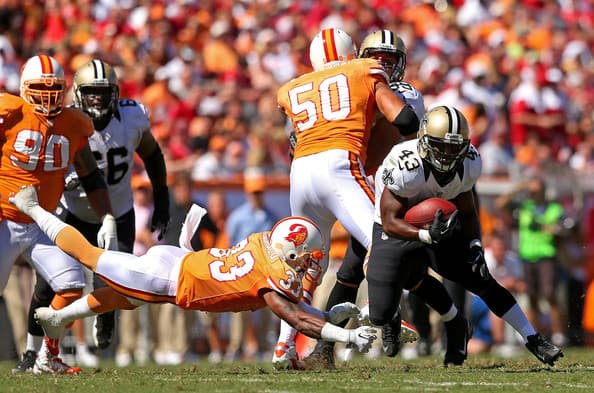 As a must win game for Tampa Bay Buccaneers, we are reluctantly backing The Saints -3.5. If you are very risk adverse, you should avoid.
New Orleans Saints at Tampa Bay Buccaneers +3.5 Total: 47
Here's another Week 2 game that could have significant playoff implications later in the season. This is almost a must-win game for Tampa Bay after losing last week as the Saints look to win their second game under newly re-signed coach Sean Payton.
The Saints celebrated Sean Payton's return with a bang, beating the Falcons in the first of two meetings with Atlanta. New Orleans trailed early at home 10-0, but dominated the second half of play outscoring the Falcons 14-3, winning by a final score of 23-17. Quarterback Drew Brees was his normal All-Pro self, throwing for 357 yards, two touchdowns and a pick.
Tampa Bay lost a game they certainly should have won, at least on paper. The Bucs fell to the New York Jets at the Meadowlands losing 18-17 on a last second field goal, after a poor late hit penalty which put the Jets in field goal range with only a few seconds left on the clock. Quarterback Josh Freeman struggled mightily in the loss completing less than 50 percent of his passes and throwing one touchdown to go with one interception.
It's still uncertain if Carl Nicks will be back at the guard spot this week for Tampa Bay. His replacement left guard Gabe Carimi struggled heavily last week, especially run blocking. This will be key for the Bucs as they go to running back Doug Martin often on the ground.
The Line
Line opened at +3.5 for Tampa, and it is still holding at that number at that number at most books despite heavy action on New Orleans. The total opened at 46.5 and is moving towards 47 and 47.5.
The Play
Ugh, this one feels like a trap, and I will personally be staying away from this game, but it is hard not to like the Saints in this matchup. Tampa Bay looked miserable in Week 1 and Josh Freeman has been poor throughout the preseason, as well. With that said, the Buccaneers do have loads of offensive talent and an improved defense from last year.
The Saints defense was certainly improved in the offseason too, but can they top one of the top offenses in the NFC last season? Their win over Atlanta was nice, but again it is just one week.
With reluctance, take the Saints -3.5 on the road with Bovada.lv
Denver Broncos at New York Giants +5 Total: 55
It's another brother vs. brother matchup as Eli's Giants head to Mile High Stadium to take on elder brother Peyton and his high flying Denver Broncos.
There's not much more to say (that has not already been said) about Peyton's offensive performance in the NFL's opening day kickoff last weekend. The 7 touchdown performance is a part of the history books and ties Peyton Manning for the most touchdowns thrown in a game. Denver dominated the game in all areas, cruising to a 49-27 victory over the former Super Bowl Champion Baltimore Ravens.
The Giants had a tougher time. New York turned the ball over six times in a loss to the Cowboys on Sunday Night Football, losing 36-31. The Giants almost rallied late in the 2nd half but dug themselves a large hole with the turnovers. Eli Manning did quiet his critiques who question his arm strength and accuracy, throwing for 450 yards and four touchdowns in the loss.
One key note for this game is that All-Pro cornerback Champ Bailey is expected to make his season debut this week. He missed the opener against Baltimore and is a substantial upgrade in the secondary for the Broncos.
The Line
This game opened at New York +2.5 but quickly moved after bettors reacted to the Giants beating Sunday Night at the hands of Dallas. Some sharper action has been said to hit Dallas at +5 and right now the line is between +4 and +5.
The Play
This is one of the tougher games to pick on the schedule because it is hard to tell how good or bad these teams actually are based on their Week 1 matchups.
Denver looked unbelievably polished in their win against the Ravens, but Baltimore's defensive personnel were heavily overhauled from last season. The Giants turned the ball over frequently but finally did break through and almost win the game against a Cowboy defense which projects to be above average.
This comes down to a desperate team at home needing a win, and that team is the Giants. The G-men's secondary isn't stellar, but hopefully they can generate a pass rush that we saw for much of the past few seasons. New York has plenty of question marks, but they are a live dog at home at +5 and still have a championship quarterback in Eli Manning and an excellent head coach in Tom Coughlin.
Take the live-dog Giants +5 at home.

Jacksonville Jaguars at Oakland Raiders -6 Total: 39
This is a battle that probably will not be of much interest to fans outside of Oakland and Jacksonville, except of course to bettors like us who wager on the game. The Jaguars head to Oakland to face the Raiders in a matchup of perhaps the NFL's worst two teams.
The Jaguars were thoroughly beaten at home at the hands of the Kansas City Chiefs, 28-2. Blaine Gabbert who has now been regulated to the bench was miserable going 16 for 35 for 121 yards and three interceptions. Jacksonville got nothing going through the air or on the ground all afternoon.
Oakland also lost their opening game but put up a admirable fight against a playoff team from last season, the Indianapolis Colts. The Colts managed to edge the Raiders in Indy, but had to rally late after being down 17-14 at the start of the fourth quarter. Terrelle Pryor was not especially accurate and threw two picks, but he did rush for 112 yards on 13 carries, gaining over 300 all-purpose yards in the game.
The Line
Opened at Oakland -5.5 and has moved to -6 just about everywhere with some books still offering -5.5. The total opened at 39, and this still seems to be the consensus line at most sportsbooks.
The Play
It's crucial to note that the Jaguars' coach Gus Bradley decided to bench quarterback Blaine Gabbert late in the game on Sunday, and then it was reported he would miss next week's game due to a laceration in his hand. One wonders if this move may be permanent if backup QB Chad Henne can run the offense and get a win this week against Oakland.
I think Henne is an upgrade at the position and has performed better than Gabbert in his spot starts over the past two seasons. Furthermore, it is insane that the Raiders are favorites over anyone in this league, even a team as terrible as Jacksonville.
I know the crowd will be into the game in Oakland, and the Jaguars have a long way to travel from Florida out to California, but in my opinion Henne gives them a better chance to win than Gabbert.
I'll take the points with Jacksonville +6 on the road.