New Orleans Saints at Carolina Panthers -3 Total: 47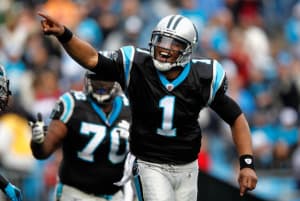 This game will be one of the biggest games with playoff implications this Sunday. Both the Panthers and the Saints have identical records at 10-4, and the NFC South is still more than up for grabs. This game will go a long way in determining the outcome of the division.
The Panthers bounced back from a defeat at the Superdome two weeks ago to handle the New York Jets last week, 30-20. The loss against New Orleans was their first since Week 5, and they will look to avenge that defeat this week in Charlotte.
New Orleans played a sloppy game last week against St. Louis losing 27-16 and opening the door for Carolina in the division. Offensively, the Saints have been a powerhouse for as long as we I can remember, but their defense is the unit that is turning heads this year. They rank fifth in the NFL in both points allowed and total yards.
The Line
Opened at Carolina -3 but is now moving to -3.5 at several books. The total opened at 45.5 but is now pushing 47 at many shops with the consensus line currently at 46.5.
The Play
Carolina is easily one of my favorite bets this week, regardless of the most recent line movement. The Saints defense has been much improved but over the past several weeks they have shown plenty of cracks and that is not a good sign when facing off against the best defense in the NFL in Carolina.
They are also a much better team inside their dome than on the road, and Carolina is a tough place to play. Cam Newton won't miss his second chance to take care of business this Sunday against his division rivals. This is the biggest game the Panthers franchise has had since they drafted Newton and they will be ready.
Pick: Panthers -3

Dallas Cowboys at Washington Redskins +3 Total: 54
Well, it is December again, and the Dallas Cowboys are in another hole and are blowing games. At 7-7, it is tough to imagine Dallas still in the playoff hunt, but they are alive and well, even after last week's disaster at Green Bay. The Cowboys blew a 23-point lead at the half to let the Packers win 37-36. This contest is a must-win game for Dallas, which will put them on a collision course with the Philadelphia Eagles in Week 17 to decide which team wins the division and makes the postseason.
Kirk Cousins will continue to play under center for Washington as the Redskins look forward to next season. They narrowly lost last week at Atlanta 27-26 after opting to go for two instead of send the game into overtime. At 3-11, Washington looks to have new life with Cousins at the helm but are a far cry from even being an average team in this league.
The Line
This game opened at Washington +2.5 which is still available at some books, but most have the line at -3 currently. The total has jumped a bunch from the opener of 52.5 to 53.5 and 54.
The Play
The whole "Tony Romo is a choker" and the Cowboys collapsing late in the season has become part of national folklore these days, but I do not think another collapse is on the horizon, at least not this week.
It was encouraging to see Cousins move the offense against the Falcons, but that is hardly an exclusive club. The Falcons, like the Cowboys are one of the worst defensive teams in the league. Dallas may get a bit healthy this week with the return of linebackers Sean Lee and Morris Claiborne. Lee's loss has been massive for Dallas, and his presence gives the unit as a whole an upgrade.
Cousins is still a backup quarterback who threw two interceptions last week against a terrible defense. I have no doubts that Tony Romo and company will shred the Redskins poor tackling unit, but I do not think this is the cakewalk matchup everyone thinks it will be for Cousins. I see Dallas winning this game in a rather high-scoring affair.
Pick: Cowboys -3
Miami Dolphins at Buffalo Bills +3 Total: 43
The Dolphins are back into the AFC's Wild-Card race after winning their fourth game in a row. They may be able to clinch a playoff spot this Sunday against the Bills with a win, depending how the games shape up on Sunday.
Miami improved to 8-6 on the season after a convincing 24-20 win over AFC East leader New England last Sunday. After opening the season 3-0, the Dolphins dropped four games in a row but have since won five out of their last seven games to put themselves in a great position for the last Wild-Card spot in the AFC.
For Buffalo, it has been a tough stretch as of late. They are again without starting quarterback E.J. Manuel as Thad Lewis gets the start this week. He will be tasked with spoiling the Dolphins playoff hopes. Lewis has a previous victory against Miami while filling in for Manuel, a 23-20 Oct. 20th win.
The Line
Miami is one of the bigger public bets this week. The line opened at Buffalo +2.5 but has moved to +3 across the board. The total has remained at the opening number of 43.
The Play
This is one public fade that I will be betting this week. The Bills are a much better team at home, but the key matchup in this game is Buffalo's pass rush versus Miami's depleted offensive line. Buffalo leads the NFL in sacks this season and should have a field day rushing Tannehill on Sunday afternoon.
Buffalo's offense is centered on their rushing attack, so the loss of Manuel is not as significant as it may seem. Also, his play before the injury had been quite poor anyway. Miami needs to win this game, but just because it is a "must-win" does not mean they are going to finish the job. I think the Bills will surprise a lot of people this Sunday.
Pick: Bills +3
Tampa Bay Buccaneers at St. Louis Rams -4.5 Total: 43
The Rams were dealt a tough blow earlier in the season with the loss of franchise quarterback Sam Bradford but have not given up. After a massive win over the New Orleans Saints last Sunday, 27-16, the Rams can creep closer to the .500 mark on the year with a 6-8 record.
Tampa Bay is another team that has not given up despite a rough start to the year, or should I say first half of the year. The Buccaneers were 0-8 before they got their first win, and are currently 4-10 after last week's loss to San Francisco 49ers, 33-14.
The Line
St. Louis opened at 5.5 point favorites in this game, but that number has moved to -4 and -4.5 across the board. The total opened at 42.5 and is now listed at 43.
The Play
This is an interesting game betting wise because it is mostly meaningless for both franchises, but I would give the slight edge to the Rams because of Jeff Fisher. This is a young team has a bright future and are going to play hard and try to win out for their coach. I am not sure the same can be said for Tampa Bay.
Coach Schiano may escape with his job after the mini-win streak he had this season and the excellent play from Mike Glennon and the offense. The coach has left a salty taste in many of the veterans on this team's mouths, and there may be a lack of motivation to finish this season out, especially after back-to-back losses.
From a matchup perspective, Glennon has been terrible under pressure, and the Rams have the best pass rusher in the league in defensive lineman Robert Quinn. This is a juicy matchup for their defense.
Pick: Rams -4.5
Cleveland Browns at New York Jets -2 Total: 41
Two of the league's worst offenses will face off this week when the Browns visit New York to take on the Jets. New York has been eliminated from playoff contention once again after a 30-20 loss at Carolina last week. The Jets have lost four out of their last five games and have been marred by inconsistent play calling offensively all-season long.
It is another lost season for Cleveland, as well. At 4-10, the Browns have gone through several quarterbacks, a franchise changing trade, along with seeing some of their younger players flourish. Wide receiver Josh Gordon has been the best receiver in the league not named Calvin Johnson, and it will be interesting to see how he will do next year with a full 16-game schedule. The team as a whole has preformed badly though, losing their last five games, including a 38-31 loss at Chicago last week.
The Line
The Jets opened as a pk in this game and the line has since moved to Jets -2 at most sportsbooks. The total opened at 40.5, which may be still available at some shops but most have the number at 41.
The Play
I am not a fan of this one from a sides perspective, but I think the over 41 is especially enticing.
Defensively, these teams are running on fumes and previous reputations. The Jets pass defense has been among the worst this season, and I have no doubt Josh Gordon will find plenty of holes come Sunday. Likewise for Cleveland, who may be without top cornerback Joe Haden this weekend. They have given up 27, 38 and 32 points during their last three games.
This game will be under the radar of most this weekend, but I think it could be the surprise shootout that no one is expecting.
Pick: Jets -2
Indianapolis Colts at Kansas City Chiefs -7 Total: 45
Both of these teams do not have playoff spots on the line as they face off Sunday because they both have already qualified for the postseason. However, what seed they grab is still up in the air.
The Chiefs improved to 11-3 last week with a strong win over the Oakland Raiders, winning 56-31. Kansas City's defense powered them for much of the first half of the year, but it has been their offense, and most notably, running back Jamaal Charles who has shouldered the load as of late. His scored five touchdowns in last week's win adding to his NFL-leading total of 18.
For the Colts, it has been an up-and-down year after their 4-1 start to the season. They are coming off a strong 25-3 win against Houston last week, but they have alternated their wins with their losses since their 4-1 run at the beginning of the year. The running game remains an issue with Trent Richardson and Donald Brown both providing inconsistent efforts each week.
The Line
The line opened at KC -7 and has not moved off the key number at most books. The total jumped a lot from a 42 point opening number and now sits at 45 or 45.5.
The Play
Indianapolis will not rest their starters in this game, although they do have little to play for in this contest. These two teams may be first round opponents however, so they will play each other hard in anticipation of a postseason matchup.
The Colts have not been a team to emulate this year and have limped into the postseason on the back of some terrible recent performances. Their offensive line is terrible, and the Chiefs defensive front seven are one of the best in the league. I see little reason to believe the Colts will be able to do much against the tough defense of Kansas City.
On the flip side, the Chiefs ball-control offense should have no problems ripping through the Colts less than stellar fronts and should keep Andrew Luck off the field. Indy has turned into one of those teams that cannot seem to come back from behind, and that will be a problem facing a team like Kansas City.
Pick: Chiefs -7
Minnesota Vikings at Cincinnati Bengals -8 Total: 48.5
Minnesota heads to Paul Brown Stadium to take on the still in first-place Cincinnati Bengals this Sunday as they try to spoil their playoff hopes after what has been a rough week for the franchise.
Cincinnati will look to bounce back from a 30-20 loss to Pittsburgh which dropped their record to 9-5 on the season. To make matters worse, Baltimore notched a victory at Detroit on Monday Night, putting them just one game behind the Bengals in the AFC North. Still, if the Bengals win out the rest of the way, they will punch their ticket to the postseason with the AFC North crown.
The Bengals have a few reasons to panic, but they are still generally playing at least average football on both sides of the ball. Their secondary has been suspect the last few weeks, allowing big games to opposing wideouts, including last week's 100 yard effort from Steelers' receiver Antonio Brown.
Minnesota's season has been lost for quite some time, but they have become a spoiler down the stretch teams looking to get into the postseason. Last week, they knocked off Philadelphia in a high scoring affair at home, winning 48-30.
The Vikings are a mess defensively and have been so since the beginning of the season, a fact that is not going to change anytime soon. On the other hand, Matt Cassel has brought life into their offense. His connection with wide receiver Greg Jennings has been excellent, and he threw for over 380 yards last week's win against Philly.
Both running backs Adrian Peterson and Toby Gerhart will likely return this week after missing the last game with an injury.
The Line
This game opened at Bengals -7.5 and has moved to -8 across the board. The total has moved up at most books from the opener of 47.5 to 48.5.
The Play
This is a tough one to value because I think the Bengals win this game, but this Vikings team has shown to be a scrappy bunch as of late. However, Cincinnati has been excellent at home, and while their defense has not been strong as of late, it is still much better the Eagles terrible unit.
Minnesota will not be able to throw the ball at will all over the Bengals defense like they did against Philly. But, they may be true for Cincy's offense. They should be able to rack up some serious points against the Vikings defense, and perhaps force a few turnovers and should able to win this one by double-digits if they limit their turnovers.
Pick: Bengals -8
Tennessee Titans at Jacksonville Jaguars +4.5 Total: 44
Jacksonville broke their eight-game losing streak against the Titans this year in an earlier meeting and will look to sweep the divisional matchup this Sunday in Jacksonville. Since then, they have gone 4-2, but could not get the victory against Buffalo last week, dropping the game 27-20 and falling to 4-10.
The Titans are just one game better than the Jaguars at 5-9 and come into this game after a rough overtime loss at Arizona last week. It was their third straight defeat and their fifth in a row in their home stadium. They rallied by 17-points down to force OT, but turned the ball over to set up the game-winning field goal for the Cardinals in the extra period.
The Line
Movement on this game has been relatively low. The game opened with the Jags at +5.5 home dogs and is now +5 and +4 at most sportsbooks. The total opened at 44 and still stands on that number.
The Play
Jacksonville's injury list for this game is a large one, including the season ending injury to wide receiver Cecil Shorts and running back Maurice Jones-Drew being doubtful in this game. I cannot help but think this team may revert to their old ways with these injuries, but I think the reverse may be true.
Running back Jordan Todman was excellent last week in relief of Jones-Drew and Ace Sanders looks like an impressive young wide out, as well. The Jaguars have played with more passion than most teams over the past few weeks, and I love them at home getting points. Tennessee is not a team that should be favored in a spot like this, especially with their porous defense in recent weeks. I like Jacksonville to keep this game close or get the outright win.
Pick: Jaguars +4.5
Oakland Raiders at San Diego Chargers -10 Total: 50.5
The Raiders face the Chargers in an AFC West matchup that has playoff implications for the Chargers. Oakland will do their best to play spoiler, something they did successfully all the way back on October 6th, beating San Diego 27-17.
With a 7-7 record, San Diego is on the fringe of the playoff picture and will absolutely need to win this week to have a chance of cashing their ticket in Week 16. Their 27-20 upset win over the Denver Broncos last Thursday night has put them back into the discussion.
Oakland continues to give up big games defensively, and that does not appear to be ending anytime soon. The Raiders were throttled last week 56-31 by the visiting Chiefs. The defense allowed 195 receiving yards to running back Jamaal Charles and five touchdowns.
The Line
The game opened at -11.5 but has come down to -10 pretty much across the board. The total opened at 50.5 and has stayed around that number at most sportsbooks.
The Play
This is Oakland's second blowout game defensively this year. The other was Nick Foles' epic seven-touchdown performance against them a month and a half ago. Each time, they have come back with a better performance the week later, and I think that is what happens here.
The Raiders also still have plenty of motivation to play well for next season. Both running back Darren McFadden and Rashad Jennings are impending free agents and rookie QB Matt McGloin is playing for a starting job next season. I think Oakland keeps this one close, with a chance at for the upset.
Pick: Raiders +10