Buffalo Bills at Jacksonville Jaguars +1 Total: 43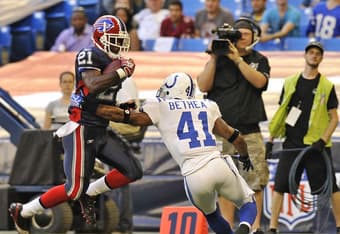 Few teams looked worse than the Bills in Week 14, but they may get a chance to redeem themselves against another struggling franchise this week. But not so fast, the Jaguars have reeled off their third win a row as they welcome Buffalo to town.
The Bills dropped to 4-9 after one of their worst defeats of the season, and certainly their worst offensive output of the year in a 27-6 loss on the road against Tampa Bay. Rookie QB E.J. Manuel threw four picks in the loss, and Buffalo rushed for a season-low 67 yards in the defeat.
Offensively, there have been few teams worse than the Bills over the past several weeks. They have one of the worst passing offenses in the league, and while their run game has been better, even that has stalled in recent weeks. Running backs, C.J. Spiller and Fred Jackson may have another tough day running the ball against Jaguars front seven that has been stout against the rush the past five weeks.

Jacksonville improved to 4-9 last week with a win over the Houston Texans, in a game that was one of their best performances of the year. Quarterback Chad Henne has thrown for multiple touchdowns in back-to-back games, including two last week to snap a seven-game home skid with a 27-20 win over the Texans.
The Jaguars are not an offensive powerhouse by any stretch but have scored 23 points over their last three games. The offense may be slightly shorthanded this week as wide receiver Cecil Shorts III and running back Maurice Jones-Drew are both likely to sit this week. Jones-Drew's loss is especially noteworthy. He has been a crucial part of this offense in recent weeks. Second string back Justin Forsett has hit the injured reserve, as well. This will leave Jordan Todman as the bell cow back in this offense.
The rush defense has improved for Jacksonville, along with their overall defense, but it has been marginal. The unit is still in the bottom ten in almost every defensive category but is much worse against the pass.
The Line
This line is a bit curious. I would have figured the Jaguars to be slight favorites at home but they are slight dogs at +1. There has been little movement on this game for the most part. It opened at Jags +2, which is still available at some sportsbooks, but the most popular line is +1. The total has moved down a full point from the opener of 44 to 43.
The Play
This game is unquestionably not one of my favorites this week. Both of these offenses have been so unpredictable in recent weeks. One would figure the Bills would be motivated to get the win after last week's debacle, but it so hard to trust E.J. Manuel and this offense.
I am going to go with Buffalo on the road in this one, mostly because the injury questions surrounding the Jaguars. However, it is not a game I love from either side. The under may have some value with both teams relying heavily on their run games.
Pick: Bills -1
New England Patriots at Miami Dolphins +1 Total: 45.5
Tom Brady and the Patriots offense will get their first taste of life without tight end Rob Gronkowski as they head to South Beach to take on divisional rival Miami. The Pats took the first meeting of these two teams back in late October. They rallied from a 17-3 deficit to score 24 unanswered points in the second half to win 27-17.
New England can clinch the AFC East with a win at Miami on Sunday, but will have to do without their best offensive player. Tighe end Rob Gronkowski torn his MCL and ACL in last week's 27-26 come from behind victory against the Browns. He will miss the rest of the season and likely the beginning of the 2014 season.
The Patriots recovered an onside kick to score 13 points in the final 61 seconds in the victory and have been a force offensively in recent weeks. Gronkowski's loss will no doubt have an effect on their output, but the re-emergence of running back Shane Vereen has been key. He has 12 receptions for 150 yards last week and has been become the go-to guy for Tom Brady in the short passing game.
Defensively, the Patriots have been a bit of a mess lately. They have given up lots of points through both the ground and the air, and top rushing offenses have had their way with the Pats since the season-ending injury to lineman Vince Wilfork and linebacker Jerrod Mayo. Top cornerback Aqib Talib has started the past two weeks, but his play is clearly suffering due to lingering injuries. He was beat several times last week by Josh Gordon and may have a tough time shadowing Dolphins wide out Mike Wallace.
Miami's back-to-back wins have suddenly given them hope for the playoffs in what has been an up and down season for the Fins. This is a must-win game for the Dolphins at 7-6 who are firmly in the wild-card picture after a come from behind win at Pittsburgh last week, 34-28.
Hit or miss on offense, the Dolphins have seen improved play from second year quarterback Ryan Tannehill, despite many issues with the offensive line. Running back Daniel Thomas also emerged as a threat in the run game last week, rushing for 100+ yards for the first time this season.
Miami's defense has not played out the way most thought it would leading into the season. Their pass defense has actually been better than their rush defense, but both have been subpar. They will also be without top cornerback Dimitri Patterson for the rest of the season, a huge loss to an already porous secondary.
The Line
The game opened at Miami +2.5 but has steadied at +1 at the majority of sportsbooks. The total has moved slightly at some spots from the opening number 45.5 to 46, but the former is still available at many sites.
The Play
This is the kind of game that New England seems to always win, a division clinching game with the pressure on, albeit this one is on the road. However, I don't see that happening this week. Miami was excellent in their Week 8 loss to the Pats, and just couldn't score/stop Brady in the second half which ultimately cost them the game.
New England has injuries on both sides of the ball, and their defense is extremely vulnerable. The Dolphins should be able to run on them with ease via the Daniel Thomas and Lamar Miller combination and should have success through the air, as well. Tom Brady did not fare well without all his weapons earlier in the season, and it make take a period of adjustment to get things going again without Gronkowski. The Pats are scoring nearly seven points fewer points a game without Gronk in their lineup.
Miami is a much more confident team in Week 15 than they were back in late October. I think they grab the win at home.
Pick: Dolphins +1

Houston Texans at Indianapolis Colts -6 Total: 45.5
This AFC South matchup once looked like an enticing divisional matchup at the beginning of the season, but now looks like a dud. The Texans have long been out of the playoff race at 2-11, and while the Colts have clinched the division at 8-5, they are far from playing their best football as they head towards the playoffs.
Head coach Gary Kubiak was fired after last week's 27-20 loss against the Jacksonville Jaguars, another low point in what has been a miserable season for Houston. The quarterback carousel continued in last week's defeat with Kubiak benching rookie Case Keenum for Matt Schaub in the second half. Keenum has been anointed the starter by interim head coach Wade Phillips.
Houston's offense has been about average over the past few weeks with Keenum at the helm. They look to have a solid matchup against a Colts secondary that been getting torched as of late. Andre Johnson had his best game of the season against the Colts in the Week 9, catching two touchdowns and notching 229 yards receiving. The Texans still lost the contest in Houston though, 27-24. Houston may be without one of their most reliable targets in recent weeks with tight end Garrett Graham possibly sidelined due to injury. He is questionable to play in this contest but has not practiced for two days, so it looks likely that he will not suit up.
Indianapolis won the division last week but has not been due to their strong play as of late. The Colts are limping into the playoffs after losing dropping three of their last five games. They were beaten soundly last week at Cincinnati, losing 42-28.
Defense was a strong suit for the Colts during the first half of the season, but the unit has dropped off considerably in the second half. They have given up 32.2 points over their past five games, compared to 19.4 during their first eight contests.
Andrew Luck finally got back on track in Sunday's loss, throwing for four touchdowns and 326 yards, but the Colts offense has had trouble scoring points since the loss of Reggie Wayne to a season ending injury. They have not found a competent wide receiver to complement T.Y. Hilton, but rookie Da'Rick Rogers may be the guy. He had two-touchdowns last week and 107 yards receiving.
The Line
The Colts are modest favorites in this game at -6, which is a bit surprising consider their recent play. The line opened at -5.5 and is listed at -6 pretty much everywhere. The total opened at 46 and has not seen much movement either. Bettors will find 45.5 or 46 at most sportsbooks.
The Play
This game is another one with a lot of unpredictable variables. Who knows how the Texans will perform after Kubiak's ouster, although it can't be much worse than what they were doing before. However, their Week 9 shootout may give a reliable indication of how this game shapes up.
Houston's defense has been highly rated this year based on yardage allowed but have been roughed up recent weeks by some terrible offenses. The Colts and Texans should both be able to put up points with superior matchups at receiver. Both Andre Johnson and T.Y. Hilton should be in line for big games. This one has the makings of a shootout, and the total is a bit low for my liking.
Pick: Over 45.5
Philadelphia Eagles at Minnesota Vikings +6 Total: 51.5
The Eagles head to Minneapolis to take on the Vikings in what should be one of this week's highest scoring games. Philadelphia leads the NFC East, but not by much, so every game is crucial from here on out. Minnesota has long been out of the playoff race and has several key injuries.
The Eagles improved to 8-5 last week after a snowstorm win at home against the Detroit Lions. After a slow start, Philly has rattled off five wins in a row and is scoring at a ridiculous rate over the past few weeks. They are second only to the Denver Broncos in points scored since Week 9 with an average of 31.6 points per game.
However, their wins have been overshadowed by weekly lapses on defense. The Eagles boast one of the worst defenses in the league and are especially terrible against the pass. They are giving up over 285 yards per game through the air to opposing signal callers and are ranked 30th in the league overall in total defense.
Minnesota can relate to the Eagles defensive woes and are also a bottom five team defensively. Their defensive unit collapsed late again last Sunday, giving up three touchdowns in a wild finish at Baltimore. The 29-26 loss kept the Vikings winless on the road this season and dropped their record 3-9-1 on the year.
Running back Adrian Peterson has been ruled out this week and will likely be sidelined the rest of the year. This is a massive blow to the Vikings who now are without their best player and generational talent. Toby Gerhart, Peterson's backup is also questionable to play this week.
The Line
The public is all over Philadelphia in this contest, and their action has pushed the line from Minnesota +4.5 to +6 at many sportsbooks. The total is the highest of the week, at 51.5.
The Play
While many think the Eagles are close to a lock to cover on Sunday, I do not see it as that simple. Their defense is pathetic, and while they should put up lofty numbers against the Vikings, I have little doubt Minnesota will be able to score, as well.
Cassel has been the best quarterback for the Vikings this year and is even better at home. He should have no issues carving up this defense, even without a strong running game. The over in this game is another heavy public play, but I think it one of the best of the week. I can't see either of these teams holding each other down, and this one should be a shootout. Minnesota may be a sneaky play as well, but the true value in this game lies with the total. The number may move up more as we get close to game time, so grab this one immediately.
Pick: Over 51.5

Washington Redskins at Atlanta Falcons -7 Total: 50.5
This afternoon all-NFC affair is a battle between two teams with broken dreams for 2013. The Redskins and the Falcons are both firmly out of the playoff picture as Washington visits the Georgia Dome.
At 3-10, Washington has long been out of the playoff race this year and has been looking forward to next season for quite some time. Mike Shanahan has decided to bench RG3 for health reasons for the final three games, but his poor play is more than likely the reason. The whole thing has caused quite the drama in DC. Regardless, Kirk Cousins will go for the Skins this Sunday against Tampa Bay.
Washington had little trouble scoring points early in the season, but have been miserable the past few weeks as the team as a whole has gone through a rough stretch. They were blown out last week in the first half against Kansas City. The Chiefs were up 31-0 with ten minutes left in the second quarter. Griffin threw for a career-low 59 yards in the loss. It also looks like tight end Jordan Reed will be ruled out as he has not recovered well from a concussion he suffered two weeks ago.
It has not been much better on the other side of the ball. Washington's defense has been a punching bag for just about everyone this season and leads the NFL in missed tackles. Their one lone bright spot might be their rush defense, but opponents rarely run on them until they have gotten a lead. Their secondary is among the worst in the league.
Atlanta can relate to the Redskins defensive troubles. The Falcons are giving up 28 points per game this season and have had issues against the pass and the run. However, their rush defense has been a leading issue over the past few weeks. Redskins' running back Alfred Morris will have his best matchup in a half-dozen weeks in this one.
Matt Ryan has led Atlanta's offense admirably, especially considering he lost his top weapon in Julio Jones for the year due to injury and Roddy White's season of injury trouble. He has been able to put up decent numbers each week considering what he has had to work with in this offense. Ryan's performance last week was not enough to beat Green Bay. The Falcons rushed out to 21-10 lead at the half, but failed to score the rest of the contest, ultimately losing 23-22.
The Line
The Falcons are another popular public play. The line has moved a lot since opening at Falcons -4.5, all the way to -7 at most sportsbooks. The total has moved downward since opening at 51 with numbers between 49.5 and 51, depending on the book.
The Play
Call me crazy, but I fail to understand how the Falcons can be favored by a touchdown against any team in this league, even the hapless Redskins. Washington is likely going to be better this week with Kirk Cousins as the starter, and the matchup for Alfred Morris is excellent. This game could easily be well in hand in the third quarter if Washington can control the clock and capitalize on their scoring drives.
Matt Ryan should put up some points as well, but the Falcons are the team laying the touchdown, not getting the points. Washington can't possibly be worse with Cousins under center, and I think they will surprise some people this Sunday.
Pick: Redskins +7
San Francisco 49ers at Tampa Bay Buccaneers +6 Total: 41
This game will be a little more appealing than it was weeks ago because of the Buccaneers' surge in the second half of the season. The Niners are also coming off a tremendous victory against Divisional rival Seattle.
The reigning NFC champions can secure a trip to the postseason with a win Sunday, but it will not be easy against a Tampa team that continues to play out the year with passion. San Francisco has won three games in a row after last week's debacle at home, including a massive 19-17 over division rival Seattle last week, moving them to 9-4 on the year.
Quarterback Colin Kaepernick threw for 175 yards and a touchdown in the win and running back Frank Gore finally had a solid game, rushing for 110 yards on 17 carries. Offensively, it has been hit or miss for the 49ers for much of the year, but the unit finally seems to be hitting their stride. The return of Michael Crabtree has helped. The star receiver will finally be without a snap count this week and looks to be close to 100 percent after missing most of the season due to injury.
On the other side of the ball, San Francisco has seemed to regain their championship level play from a year ago. Inconsistent for much of the year, the unit has held opponents to an average of just 12 points during their current three-game winning streak. They rank fourth overall in total defense and are trending upward.
After dropping their first eight games of the year, the Buccaneers have won four out of their last five contests. Their defense has been suspect at times this year but is coming off their best performance of the year last week. In a 27-6 rout of Buffalo, they gave up just 214 yards of offense and forced five turnovers, pushing their record to 4-9 on the season. However, it is worth nothing that they gave up over 400 yards in their previous games.
Mike Glennon has been a great story this year and has been, in my opinion, the best rookie quarterback this season by a large margin. He has completed more than 60 percent of his passes and has thrown for 15 touchdowns to go with seven interceptions. Still, the entire Tampa offense will likely have a tough time in this game against San Francisco's tough defense.
The Line
Action has been relatively split on this contest which has translated into little line movement. The Buccaneers opened as +6 underdogs, which is still the most popular line. The total is among the lowest this week at 41. It opened at 41.5, and most books are split between the two numbers.
The Play
I have been high on Tampa Bay all-year, and I think they are supremely underrated. However, this spot is not a great one for them. With the 49ers becoming healthier week-by-week, their offense and defense have both been looking much better. Kaepernick's struggles have been well documented this season, but with Crabtree back and Boldin getting open more often he looks a lot more confident out there.
Glennon's throwing ability has won them big games this year, but if Vincent Jackson is covered fairly well, it is tough for this passing game to get going. Running back Bobby Rainey could be a thorn in the side of the Niners, but once again, it is not an ideal matchup. It will be quite difficult for Tampa Bay to do much of anything in this game.
Pick: 49ers -6
Chicago Bears at Cleveland Browns +1.5 Total: 45.5
The Bears will welcome Jay Cutler back this week as Josh McCown goes back to his backup role as Chicago pushes away towards the playoffs. The Browns will continue to build towards next season, but the future seems bright, especially with one of the game's most explosive players in wide receiver Josh Gordon.
After leading the Bears to a 3-2 record during Cutler's absence, McCown will take a seat on the pine for incumbent starter Jay Cutler. McCown is sitting after one of the best performances of any Bears quarterback in history. He threw for 348 yards and four touchdowns and added a rush TD in Monday Night's 45-28 home win over Dallas. The game pushed Chicago's record to 7-6, pushing them into a tie with Detroit. But, since the Lions beat them twice this year, they win the tiebreaker.
Chicago's offense is one of the best in the league. They are second in the league in scoring with 28.3 points per game and have an offense full of impressive skill players. Alshon Jeffery's emergence gives them another potent threat to complement Brandon Marshall, and Matt Forte is one of the best dual-threat backs in the league.
On defense, it has been a totally different story. Saddled with injuries and poor play from their starters, this is not your dad's Chicago defense. The Bears are 27th in the league in total defense and are last against the run. They are giving up 157 yards per game on the ground, by far the worst in the league.
Cleveland continues to play passionately despite their 4-9 record, but always seem to collapse late in games. This happened again last week as the Browns blew a late lead to the Patriots, and gave up an onside kick which New England converted into a game-winning field goal. Cleveland led by 12 points before blowing the lead with just 2:39 left in regulation.
The Browns are ranked 28th in the league in rushing, which bodes well for the Bears poor rush defense. The focus point of the offense has been the air, where Josh Gordon has wrecked havoc since coming off his suspension back in Week 4. He is currently the best receiver in the game not named Calvin Johnson. Tight end Jordan Cameron exploded for nine catches for 124 yards a touchdown this week and is a valuable asset in this passing game.
The Line
Cleveland opened at -2.5 favorites but have been pushed to +1 underdogs due to heavy action on Chicago. The betting public absolutely loves the Bears this week. The total opened at 44.5 and has not moved off the number at most sportsbooks.
The Play
The public has this game all wrong. Cleveland is one of my favorite plays this week for a number of reasons. First of all, Cutler is due back from a long layoff. He will likely be rusty but even if he gels with his offense immediately – I still like the Browns' chances.
Their defense matches up well against Chicago, and any team can score on the Bears. Jason Campbell has been more than proficient as a QB for this team, and both Cameron and Gordon are matchup nightmares for Chicago's terrible secondary. Also, while the Browns are ranked 28th against the run, they should find running room against the Bears' front seven. Every team who has faced them the past several weeks has had tremendous success running the ball against them.
If the Bears show some rust early and the Browns manage to put a score or two up this could be a long day for Chicago. Cleveland can turn to the ground game and rely on their defense after that.
Pick: Browns +1
Seattle Seahawks at New York Giants +7 Total: 41.5
The NFC West-leading Seattle Seahawks will look to bounce back from just their second loss this season as they face off against the Giants at MetLife Stadium.
Seattle has already locked up a playoff spot and hopes to lock up the division with a win this Sunday. Last week, they had a chance to do just that with at San Francisco, but lost their first game in over two months, 19-17. The loss broke their seven-game win streak and put their record at 11-2 on the year. However, they still have the best record and football and are a favorite for the number one seed come January.
Seattle's offense has been excellent, especially when you consider the dominant play of their defense. However, their receiving corps has been decimated by injury. Percy Harvin will be sidelined once again, and Doug Baldwin has not practiced this week. This leaves Golden Tate as the lone starting wide receiver.
The Seahawks may do better to rely on Marshawn Lynch in this game against a Giants rush defense that has surrendered over 390 rushing yards over the past three contests. New York was knocked out of the playoffs late week after a terrible 37-14 loss at San Diego last week, which dropped them to 5-8 on the year.
They will face a much tougher test this week against Seattle and would be wise to cut down on their turnovers. The Giants lead the league with 34 giveaways this season, and quarterback Eli Manning has thrown 20 interceptions this season, the most in his career and most by any QB this season. Their best bet may be going with a heavy dose of the run with Andre Brown; the rush is one area Seattle has been vulnerable over the past half-dozen weeks.
The Line
For the most part, this game has not moved off the opening numbers. The Giants opened at +7 at home, which is where the line stands for the most part. It could move over the one touchdown mark as we get closer to game time though. The total opened at low 41.5 points and has not moved off that number at most shops.
The Play
I love Seattle in this spot. It has taken awhile for me to realize it, after betting the Giants a few times this year and thinking this team was a similar to their Super Bowl championships squad years ago, but the jig is up. This franchise is terrible.
They managed just 14 points against the Chargers inept pass rush last week, and one can only imagine how they will fare against Seattle. I realize the Seahawks are shorthanded, but they are such a vastly superior team it will not even matter. Marshawn Lynch should plow through the Giants front once they get a lead, especially if Jason Pierre-Paul sits. It is likely he will as New York has discussed resting him the rest of the year because there is no hope for the playoffs.
Pick: Seahawks -7

New York Jets at Carolina Panthers -11.5 Total: 41
The Jets visit the Panthers in hopes of keeping their playoff hopes alive in the AFC after a critical win over the Oakland Raiders last week.
The quarterback controversy has been averted, at least for now, for the New York Jets. After a 37-27 win at Oakland last week, the Jets improved to 6-7 on the season. Geno Smith finally had a decent game, throwing for 219 yards, a touchdown and an interception while running for 50 yards and a score, as well.
The Jets offensive woes have been well documented, however. They are last in the league scoring just over 17 points per game and are even worse on the road at 13.2. In addition, they have been a horrible road team this season, going just 1-5 away from MetLife Stadium.
On paper, the Jets are a decent unit defensively, but mostly because of their top rush defense. Though, they did not look too adept last week as Raiders' third-string running back Marcel Reece shredded them for 120+ yards and a score. Cam Newton is a matchup nightmare for any defense and should have a field day running back, despite the Jets high ranking against the run. Against the pass, they are a bottom five defense.
Unlike New York, Carolina's defense has little weaknesses and is the number one ranked team in total defense. They are holding opponents to just 14.5 points per game but are coming off their worst performance of the year defensively last Sunday night in a 31-13 loss at New Orleans. The loss dropped them to 9-4 on the season.
The Line
The line opened at Carolina -11 and has moved to at least -11.5 at most sportsbooks. It may be -12 across the board closer to game time. The total opened at 40.5 and is at that number or at 41.
The Play
There are few bets I like more than the Panthers this week for a number of reasons. First of all, they are out for blood after a massive loss last week to the Saints. Some might see this as a look-ahead spot with New Orleans on the schedule but this Carolina team will be ready to go against the Jets and will not take them lightly.
Cam Newton is also a QB that may not be easily contained by the Jets traditional pass rush, statuesque pocket-passers seem better suited for their pass rush and Cam's certainly non-traditional. He should have no issues escaping for big runs or finding Steve Smith or Greg Olson downfield. This game is going to be a blowout.
Pick: Carolina -11.5
Kansas City Chiefs at Oakland Raiders +6 Total: 42.5
The top of the AFC West faces the bottom of the division as the Chiefs head to Oakland to take on the Raiders. If KC wins this game, they will clinch a playoff berth. They won the first meeting between these two teams on Oct. 13th, 24-7.
At 10-3, Kansas City has been one of the league's most surprising teams this year after finishing with just two wins last season. Though they have lost three games since going into their bye at 9-0, no one can deny this team is talented, despite their relatively weak schedule. The Chiefs ended that losing streak last Sunday, dominating the Redskins from start to finish, 45-10.
Kansas City's offense has not been relied on to win many games this season, but part of that is because they have been so strong defensively. While they have struggled against stronger opponents, the Raiders sub .500 record makes me think that this one could get ugly fast.
Oakland has been better than most thought to start the year, even though they sit at 4-9. Many experts picked this team to be one of the worst in the league, but they have been surprisingly competitive this season.
The Raiders lost 37-27 to the New York Jets last week, a game that ended with quarterback Matt McGloin's benching for previous starter Terrelle Pryor. McGloin will get his job back this week, however. Overall, the offense has been better under McGloin but is still one of the league's worst.
Injuries to starting running back Darren McFadden haven't helped, but backups Rashad Jennings and last week's hero, Marcel Reece helped soften the blow. Reece may have to carry the load again this week, with McFadden ruled out and Jennings questionable. Wide receiver Denarius Moore is also questionable this week.
Defensively, they are a mess and have given up 287 yards rushing the past two weeks. This is not a good sign with All-Pro back Jamaal Charles coming to town. Worst of all, their top run stopper in the secondary, free-safety Tyvon Branch will likely be out.
The Line
This is one of the public's favorite plays this weekend, as well. The line opened at Raiders +4.5 and is at +5.5 or +6 pretty much everywhere. The total opened at 41, which I thought was a bit low. It has since moved to closer to 42.5.
The Play
Kansas City has undeniably been a little overrated this season, but as we saw last week against the Redskins, they can easily handle weaker teams in this league without much issue. This begs the question, how bad is Oakland?
Well, they are much better with McGloin at quarterback, and I think they may be able to put some points up against a Kansas City defense that has not been especially strong as of late. The Raiders would love to play spoiler as home dogs and stop the Chiefs from securing their spot to the postseason, even if it is for just one week. Divisional games are always tough, and we have to remember that Kansas City has had one of the easiest schedules in NFL history.
Pick: Raiders +6
Arizona Cardinals at Tennessee Titans +3 Total: 41.5
The Cardinals head to Tennessee to take on the Titans in what will likely become a must-win game for Arizona as they head into a key stretch to make the playoffs.
At 8-5, Arizona is on the fringe of the playoff picture and in one of the toughest divisions in football. With divisional matchups against San Francisco and Seattle coming up, they need every game they can get.
10-year veteran quarterback Carson Palmer has been a pleasant surprise this season for Arizona. He has been one of the best quarterbacks over the last month throwing for 326 yards per game and completing over 70 percent of his passes. During that stretch, he has thrown eight touchdowns and no interceptions. Last week, he continued his torrid run pace with 269 yards passing and a touchdown in a 30-10 rout of St. Louis.
Arizona's defense is one of the better units in the league but has been especially stout against the run this year. They own the league's third best rushing defense at 84.5 yards allowed per game. A statistic that will do no favors for Titans' running backs Chris Johnson and Shonn Greene.
The Titans strong start to the year is now a distant memory with the franchise sitting at 5-8. They have fallen off drastically going 2-7 in their last nine games. Tennessee has dropped four of five games since Jake Locker went down for the season with a foot injury. Last week, they ran into the buzz saw that is Peyton Manning and the Denver Broncos, losing 51-28 at Mile High Stadium.
The Titans have a top secondary unit despite last week's throttling from Manning. Their true weakness defensively is against the run, where they have been gashed in recent weeks. They have given up 29 points at home during their recent losing skid.
The Line
The Titans opened as +3 favorites, and that is where the line stands as we head towards game time. The total has moved just slightly from the opening number of 41.5 and is listed at 42 across the board.
The Play
I think we are all familiar with the Cardinals road struggles. This team is just 2-4 on the road this season and has almost seemed like a different team away from Phoenix. However, I think they buck that trend this week.
There are few matchups for opposing offenses better than the Titans defense as of late and the Cardinals should capitalize. Running back Andre Ellington has been cleared to play in this contest, and both he and Rashard Mendenhall should have a field day. Arizona just needs to grab an early lead in this one and ride their run game to victory.
The Titans do not have much of a downfield passing game and the Chris Johnson, and Shonn Greene combo at running back has been a disaster in recent weeks. This is not an offense that is built to comeback from large deficits.
Pick: Cardinals -3