Jacksonville Jaguars at Cleveland Browns -7 Total: 40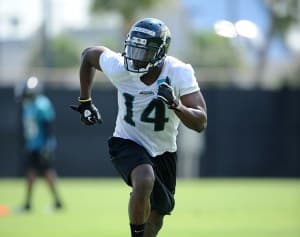 The Jacksonville Jaguars are suddenly red-shot. Jacksonville improved to 2-9 on the season after reeling off back-to-back wins the past two weeks, including last week's 13-7 win at Houston. Quarterback Chad Henne threw for 250 yards in the win but failed to throw a touchdown pass, something that has become a theme.
Offensively, Jacksonville has been one of the more subpar teams in the league and have done little to improve throughout the season. In fact, since losing Justin Blackmon to suspension in Week 13, the entire unit has suffered. The lone bright spot has been veteran running back Maurice Jones-Drew who had his best game of the year last week, a six catch 60 yard effort in the air and 84 yards and a touchdown on the ground. Jacksonville will also get second wide receiver Mike Brown back this week after he sat out last Sunday.
Jacksonville's defense has been a bottom five unit for much of the season against both the pass and the run but has played better in recent weeks. Still, they rank among the worst defenses in the league, so they are far from an imposing matchup.
The Browns will yet again be making a change at starting quarterback after Jason Campbell went down with an injury in last week's 27-11 loss at Pittsburgh. The losing effort dropped the Browns to 4-7 on the year. Weeden entered last week's loss in the third quarter against the Steelers and looked surprisingly decent in limited action. He threw for 209 yards, a touchdown and an interception has he team tried to rally against Pittsburgh.
Cleveland's offense is around the league average but has been much more successful via the pass rather than the run. Wide receiver Josh Gordon has been a game changer ever since he returned for a four game suspension to start the year. He had the best game of his career last week, notching 14 catches with 237 yards receiving and one touchdown.
The Browns defense has been one of the best in the league this season and has been absolutely dominant against the run. The pass defense, led by All-Pro cornerback Joe Haden has not been as good in recent weeks but is still leaps and bounds ahead the vast majority of defensive units. Cleveland's second cornerback, Buster Skrine is questionable with an injury this week.
The Line
There has been little movement in this game from the opening line and action has been split down the middle for the most part. Most books are still on the opening numbers of Browns -7 and the total of 40.
The Play
This game is such a tough one to predict based on the changes on the inconsistent play of both teams the past several weeks. Weeden suddenly taking the starting job adds another wild card to the mix. However, though I may run from this game from a point spread standpoint, the total is especially intriguing.
Though both defense has have been relatively strong this year, they have struggled in recent weeks, and both offenses – while still poor – have been able to move the ball effectively down the field for the most part. The key will be capitalizing in the red zone, but 40 points just seems way too low for this game. I think both teams get into the 20 point range, and this one goes over easily.
Take the Over 40 available at TopBet
Tennessee Titans at Indianapolis Colts -4 Total: 45.5
The Titans head to Indy in the second leg of their divisional series. This will be the second time in the past three weeks these teams have faced each other. On Nov 10th, the Colts rallied from 14 points down to win the game 30-27 in the final minutes.
At 5-6, the Titans are in a must win situation to keep themselves in the wild-card race and have any chance of taking down the AFC South. Quarterback Ryan Fitzpatrick has been extremely impressive since taking over for the injured Jake Locker. The journeyman quarterback is playing some of the best football of his career. He was instrumental in last week's win at Oakland, a 23-19 victory. Fitzpatrick led the Titans on a game winning drive in the final minutes, connecting with wide receiver Kendall Wright for a game winning touchdown.
Defensively, the Titans boast one of the best secondaries in the league but have struggled all year long against the run. That bodes well for them from a matchup perspective as the Colts have been miserable running the ball all season. It is worth nothing that their starting free safety Michael Griffin will be out this week serving a one game suspension for an illegal hit. His loss is significant, even for a talented core of defensive backs.
The Colts still boast a 7-4 but have been fading face the past several weeks. The offense has not been the same since the injury to Reggie Wayne, and they have struggled to score in many games since. Indianapolis was thoroughly dominated in last week's away loss at Arizona, losing 40-11. It was their worst defeat of the year with Andrew Luck totaling just 163 yards through the air, the second lowest passing output of his career.
The Colts do not have much of a run game. Mid-season acquisition Trent Richardson has been a massive bust with timeshare back Donald Brown performing much better. Brown had 14 touches for 80 yards and a touchdown in Indianapolis' win in Week 11. Wide receiver T.Y. Hilton has been quiet in the past few weeks but is still one of the league's premier deep threats. Still, he is hard to count on week-to-week like the rest of this Colts offense.
The Colts secondary has gotten much worse over the past few weeks. This once stout unit has been getting torched by opposing signal callers lately. They have given up several 300 yard games to opposing quarterbacks, and have allowed 100 yards on the ground the past five games. Titans' running back Chris Johnson rushed for 86 yards and two touchdowns in the Week 11 loss for Tennessee.
The Line
The game has not moved much off the opening number of Indianapolis -4. Most sportsbooks are still at this number with some at Indy -3.5. The total has come up from the opening number 44.5 to 45.5 at most sportsbooks.
The Play
The odds seem stacked against the Colts in this game, but not so fast. I have thought Indianapolis was overrated for much of the year, but this is a spot they should come out playing their best. This is a critical game for their divisional and playoff hopes, and they will be ready. Luck usually bounces back from terrible games with stronger performances, and I suspect that happens here. The Titans secondary has not been thoroughly dominant as of late. They allowed undrafted rookie quarterback Matt McGloin to throw for 260 yards and a score in their win against Oakland last week.
Luck should be able to pick this defense apart if he is given adequate time. I think Indianapolis gets back to their winning ways at home and takes care of a Titans team that is currently playing over their head.
Take the Colts -4 with a bet with TopBet.
Arizona Cardinals at Philadelphia Eagles -3 Total: 48.5
While they are not getting much national attention, the Arizona Cardinals have quietly put together one hell of a season. Dominant at home, the Cards demolished the Indianapolis Colts this week, winning 40-11 and moving their record to 7-4 on the year.
Carson Palmer had another outstanding game in the win and has now thrown for multiple touchdown passes in four straight games after starting the season off remarkably slow. Larry Fitzgerald has emerged as a no. 1 threat again and Michael Floyd has exploded onto the scene as a top option in this offense. The running game has been inconsistent via the running back by committee but lead back Rashard Mendenhall does have two touchdowns in his past two games. Change of pace back, Andre Ellington may sit this week with an injury.
Over the past few weeks, few teams have been better than the Cardinals defensively. Patrick Peterson regularly shuts down opponents' top receiving weapons and the run defense has held four consecutive running backs to under 60 yards per game. It will be a tough matchup for the entire Eagles offense.
The Eagles are fresh off a bye week in Week 12 with their last game being a Nov. 17th win against the Washington Redskins. Quarterback Nick Foles – who is now entrenched as the starter after a vote of confidence from Chip Kelly – threw for 298 yards in the 24-16 victory and rushed for 47 yards and a touchdown.
On defense, the Eagles have been one of the worst teams in the league and may be without defensive lineman Trent Cole, a key run stopper in the front seven. Few teams have trouble scoring on this secondary through the air and the Cardinals should not have issues putting up points. Their run defense has been significantly better than their pass defense but has been nothing remarkable.
The Line
The game opened at Philadelphia -3.5 at many books but quickly moved to -3 at most shops. The total has not moved much off the 48.5 opening number and is listed at 48.5 or 49 at most sportsbooks.
The Play
This is a true test for the Eagles and quarterback Nick Foles, one I don't think they will pass. It will likely be the Eagles toughest matchup of the year defensively, and while the Cardinals do play worse on the road – Philadelphia has not been dominant at home either. Nearly all the Eagles skill players will face tough matchups this week. This is not the case for the Cardinals who are playing excellent ball on both sides as of late.
Carson Palmer should have no issues putting up 20+ points in this one and they should be in this game until the final minutes at the bare minimum. After playing their past four weeks against sub .500 teams, Philadelphia will be overwhelmed with the Cardinals superior play.
Take the Cardinals +3 on the road.
Miami Dolphins at New York Jets -2.5 Total: 40
After dominating their matchup against Carolina last week for nearly three quarters, the Fins blew a late lead last to bring their record to 5-6 on the season. While they are almost surely out of the AFC East's divisional race, they still have an outside chance at the AFC's last wild card spot.
The problems with Miami's offense start out at the offensive line, where they have several starters down with injury or suspended. This has led to second year quarterback Ryan Tannehill running for his life for much of the season. He is getting sacked a whopping four times per contest. Their offensive line has led to problems rushing the ball as well, the Dolphins rank 26th in the league in rushing yards per game. Wide receiver Mike Wallace came alive last week against the Panthers, exploding for five catches, 127 yards and a touchdown – but the Dolphins passing attack – especially deep downfield has been miserable this year. Wallace will face a Jets defense which has been beaten deep regularly the past few weeks – so the matchup is in his favor –, but it is still a coin flip if Miami gets their deep threat going.
On the other side of the ball, Miami has quietly played excellent pace defense over the past few weeks and should make things tough on rookie Geno Smith. Surprisingly, their run defense has been the weak spot for them this season. This is normally an area where they perennially excel, but have done little to stop opposing rushers this season.
With an identical record of 5-6, the Jets alternated wins and losses in consecutive weeks all season long but that trend ended last week with an ugly 19-3 loss at Baltimore. Geno Smith had one of the worst days of his young career in the loss, throwing for just 127 yards and two interceptions. The Jets offense totaled just 220 yards of total offense, their lowest total of the season.
It has been a struggle for the Jets all year long offensively. They rank in the bottom five in passing offense and have struggled with a rookie QB and a beat-up and somewhat talentless receiving corps. Running back Chris Ivory and the running game have been one of the bright spots this season. Ivory is questionable to play with an ankle injury but should be ready to go come Sunday.
On defense, the Jets have been stout for much of the season but have seemed to lose a step in their secondary as of late. The run defense and pass rush are still excellent, but they have been prone to giving up big plays deep. Still, New York is an imposing matchup for all but the best NFL offenses.
The Line
The game opened at pk and has moved towards the Jets. This game is all over the place and should be line shopped no matter which side you decide to take. The most common line now is Jets -2 or -2.5 depending on juice. The opening total of 38.5 has been pushed up to 40 at most books.
The Play
This game has a chilly forecast with heavy rain and high winds. Both of these offenses have looked downright inept at times, and I think that is what we will see come Sunday. While many think Tannehill will be able to open it up against the Jets' poor secondary, I think that is merely wishful thinking. New York should have no trouble getting to him early and often, and he will be continually rushed and hurried inside the pocket. With that said, I think Geno Smith will struggle, as well. Miami has forced worse games out of many other better quarterbacks this year, so they have no trouble handling Smith, who is already in danger in losing his starting job.
I like Miami slightly more to cover this season, but I could see this one being decided by a fluke return touchdown or a fumble. It will be low scoring affair, grab the under.
Take the Under 40 with TopBet.
Denver Broncos at Kansas City Chiefs +4.5 Total: 49
The Broncos head to division rival Kansas City in a rematch of a Week 11 game that Denver won at Mile High 27-17. Both Denver and KC sport identical records at 9-2, but the Broncos currently hold the edge in the tiebreaker win the head-to-head win. This game will be critical in determining playoff seeding for both teams.
Denver's loss last week was a tough one for the franchise and its fans. They held a 24-0 point lead going into the fourth quarter and after blowing a lead late and then forcing overtime, they lost 34-31 via field goal to end the extra period giving New England the win. The Broncos went decidedly run-first against the Patriots as they dropped defensive backs into coverage for much of the afternoon. Running back Knowshon Moreno had over 200 all purpose yards and a touchdown while Peyton Manning had his worst game of the season.
Still, the Broncos put up 27 points of offensively and the unit is still gaining yards at a near record pace. Peyton Manning picked apart the Chiefs in Week 11 for 323 yards and a touchdown and should have no trouble doing so again this week. However, it is worth nothing that Moreno is questionable to play with an ankle injury. He is expected to suit up but will not 100 percent.
On defense, the Broncos have been marred by injuries which have made them vulnerable in recent weeks. They were picked apart by Brady last week but will have both Champ Bailey and Antonio Cromartie active this in the secondary. However, they both will be far from full health. Denver also lost a key pass rusher last week to season ending injury reserve, defensive lineman Kevin Vickerson.
Kansas City lost their past two games after starting the season 9-0. Last week's 41-38 home loss to San Diego was their worst defensive performance of the season, but also their highest offensive output. Alex Smith has looked good trying to rally late in games, despite him not having to do it much of this season. Though, it is still running back Jamaal Charles who is the workhorse of this unit. He totaled over 155 yards from scrimmage last week and scored two touchdowns in the victory.
The Chiefs defense, which is a top five unit in yards allowed, sacks, and points scored has struggled heavily the past two weeks. Their secondary, at this point, seems highly overrated, and their ball hawking, bend but don't break style may be finally catching up with them.
To make matters worse, their key pass rushers, Tamba Hali and Justin Houston will both likely be inactive this week with injuries. This is a massive blow to the unit and comes at a time when they truly need them most.
The Line
Kansas City opened at +3 home dogs but that line has swelled to +5.5 across the board after heavy action on Denver. The total opened at 49 and has had some different movement depending on the book. Some have it at the original number while others have the game at 48.5 or 49.5.
The Play
While the Chiefs seem appetizing as a 9-2 team getting +5.5 at home, I think we are finally seeing this team's true colors. Kansas City benefitted from one of the easiest schedules in football for the first 10 weeks of the year, but have lost two straight against the first real competition they have faced in the Broncos and Chargers in back-to-back weeks.
Phillip Rivers threw for 398 yards last week against Chiefs defense. One can only imagine how Manning will fare, especially with their recent injuries. This one is easy to over think, so don't. Denver's offense should easily be able to put up 30 points and will outscore the Chiefs. Defensively, Denver only has to contain Charles slightly and blanket Dwayne Bowe in coverage if the Chiefs get behind.
I think Denver dominates this game even more than the first meeting. As far as Peyton Manning's cold weather scares – that will not be an issue. The forecast for Sunday's game is in the mid-50s and sunny.
Chicago Bears at Minnesota Vikings pk Total: 50
The Bears got beat up last week by a subpar Rams team to move them to 6-5 on the season. They are now potentially in trouble in the NFC playoff picture if they lose to Minnesota, especially with Detroit's win on Thursday over Green Bay.
Jay Cutler is still sidelined, but his replacement in Josh McCown has been excellent. McCown totaled over 350 yards passing in last week's loss and threw two touchdowns. Much of McCown's success is likely to his supporting cast. There may not be better receiving combo in the league than Alson Jeffrey and Brandon Marshall, and running back Matt Forte is near the top of the league in yardage rushing and catching balls out of the backfield. They could all have monster games against a terrible Minnesota defense.
Speaking of shoddy defense, the Bears may take the cake for the season's second half. With injuries to both their secondary, defensive line and linebackers – the unit has been gashed in recent weeks, especially on the road. The Bears are dead last in rush defense over the past few weeks and have done little to hamper opposing offenses.
It has been a lost season for Minnesota who comes into this matchup with a 2-8-1 record. The tie came last week against the Green Bay Packers, a game that finished 26-26. Offensively, it flows through running back Adrian Peterson who had a monster game last week. He rushed for 146 yards and a touchdown in the tie. He has a premier matchup this week – perhaps his best of the season – against a terrible Bears front seven.
Minnesota's defense has been almost as pathetic as Chicago's, and they have been absolutely terrible against the pass this season. Their rush defense will also take a hit this week with middle linebacker Erin Henderson's DUI. He is expected to suit up in Sunday's game but will not start.
The Line
The Bears opened as -1 favorite's in this game, but almost all sportsbooks now have the game listed at pk. There are still a few at -1, but you may pay an extra hit with the juice. The total opened at 48 and has moved to 50 in a game that everyone thinks will be a high scoring affair.
The Play
This is another tougher game to predict, but I think the Vikings pull of a win in this divisional showdown. If Adrian Peterson can do his damage on the ground, which I think he will most certainly will, the Bears will be forced to throw all afternoon as they play catch-up. They will still be able to put up points, but their chances will be limited if Minnesota can control the clock with their run game.
Regardless, I think this game is close, but once again it all comes to Peterson's success. Every running back in the league has shredded the Bears on the ground this year and now they are facing the NFL's best talent at the position. I would not be shocked to see 200 yards plus from Peterson in a Vikings victory.
Take the Vikings pk at home with Bovada.lv.
Tampa Bay Buccaneers at Carolina Panthers -7.5 Total: 41.5
After a miserable start to the year, the Buccaneers have quietly been one of the better teams in the league over the past few weeks. They have now scored at least 22 points in their last four games and are riding a three-game win streak into Sunday's contest with Carolina.
For Tampa Bay, much of the improvement has come because of rookie quarterback Mike Glennon. The young signal caller has thrown five touchdowns to go with just one interception during their win streak. He threw for 247 yards and two touchdowns in last week's 24-21 win at Detroit. Running back Bobby Rainey had an enormous game two weeks at Atlanta but has been quiet since then. Offensively, the Buccaneers have plenty of talent but will face an uphill battle against Carolina's ferocious defense.
Tampa's defense has not been strong the past few weeks and has been especially terrible against the pass since Darrelle Revis' injury. Cam Newton threw for two touchdowns and rushed for one in a Week 8 victory at Tampa Bay this season and should have plenty of success even if Revis plays. If he is ruled out, it is a marvellous boost for Carolina's offense as a whole. Revis remains a game-time decision on Sunday and is listed questionable with a groin injury.
Cam Newton and company have quickly become the most talked about team in football over the last seven weeks. They host Tampa Bay with their seven-game win streak still intact and boast a powerful offense, led by Newton. He has already dominated this defense once this season and Tampa Bay will likely be without their top cornerback. Carolina's offense could be in for a huge day.
The defense will be without defensive end Charles Johnson, one of the key cogs on their defensive line but this unit should be just fine without him. Carolina is the top ranked defense in many different metrics and is second in the NFL in sacks. Rookie quarterback Mike Glennon will face his toughest test this season against this unit.
The Line
It opened at Carolina -10 but has come to -7.5 at most sportsbooks, but can be found at -7 at some spots. The total has not moved much off the opening number of 41.5.
The Play
It is tough to lay this many points in a divisional game, but I think the shoe finally falls off this week for Mike Glennon the Buccaneers offense. While I have waited each week for the rookie to drop the ball, he has been impressive and is easily the best rookie quarterback this season. With few reliable targets other than Vincent Jackson, he will need a running game to survive in this one, and I don't think he will get it. The Panthers should be able to get to him often and will bring pressure all afternoon.
If that was not enough, Carolina's offense should have no trouble scoring points against Tampa as I discussed above. Newton picked them apart in a win in Week 8, and they are a worse unit overall now with their injury concerns. I see Cam having a monumental day and the Panthers winning handily.
Lay the points with Carolina -7.5 at home.
St. Louis Rams at San Francisco 49ers -8.5 Total: 42
St. Louis has moved to 5-6 on the season after winning big last week against the Chicago Bears. They are on a two-game winning streak and averaging over 33 points per game over their last three games.
The Rams are a decidedly a run-first offense since Sam Bradford went down with injury, and it has served them well. Zach Stacy has been the best rookie runner this season as he continues plow through opposing fronts. He is questionable this week with a knee injury but is expected to play. His backup, Benny Cunningham, will get the start if he can't go and has looked excellent in recent action.
Defensively, the Rams haven't exactly been accomplished as of late, but they do boast perhaps the best pass rush in the league. The unit has also benefitted from some high scoring outputs offensively, so teams have been forced to throw in recent weeks, which has them playing the prevent defense late as they look to protect a big lead.
San Francisco snapped a two-game losing streak with a dominant victory against the Washington Redskins on Monday Night Football, 27-6. The best story to come out of Monday's game was the resurgence of Colin Kaepernick. "Kaep" threw for over 250 yards for only the third time this season and also added three passing touchdowns. Running back Frank Gore had a subpar game despite the great matchup. Gore has seemingly hit a wall the last few weeks and is losing touches late in games to Kaepernick's' rushing ability. His situation is one worth monitoring this week as he is also listed as questionable. Both he and Kaepernick should have plenty of running room against a Rams defense that struggles against the rush.
The 49ers defense has not been the dominant unit we saw a year ago but is still capable of punishing weak or average offenses. The Rams likely fall into the former latter category, despite their recent performances. Linebacker Aldon Smith is battling some injuries but is expected to play this week. Cornerback Tarell Brown will be out this week with a rib injury, forcing Carlos Rodgers back into a starting role.
The Line
This game opened at SF -10.5 but has moved to -8.5 almost exclusively. The total opened at 43 and is at 42 or 42.5 at most sportsbooks.
The Play
This number is a big one, but I think Vegas are right on the money with the big number. I'm laying a lot of chalk this week, but I can't see the Rams staying in this one for long. The injury to Stacy is a concern but even if he were fully healthy I wouldn't have much faith in the Rams chances of scoring in this game.
The 49ers are sturdy enough against the run to stop the rushing attack of the Rams which will then force them to rely on Kellen Clemens to make plays on third down through the air. Other than Tavon Austin – and even his touches have been limited – there has not any consistency in the Rams passing attack. They will almost certainly have to rely on Clemens because I think the Niners are going put up solid numbers offensively, which will be a recipe for disaster.
Lay the points with the 49ers -8.5 at Bovada.lv.
Atlanta Falcons at Buffalo Bills -3.5 Total: 46.5
The Falcons season has been a lost one for weeks now, and the franchise is already looking towards 2014. In a season for of injuries, Atlanta still has a healthy Matt Ryan, and he has quietly had a decent season. He threw for over 290 yards but did not throw a touchdown in a 17-13 loss at New Orleans last week.
The passing game has suffered without Julio Jones who was lost to injury about six weeks ago, and the run game has been even worse. Steven Jackson has been injured for most of the year and has been ineffective as a full-time starter. He gain 63 yards last week and notch a score against the Saints, but the lack of a running game is one of the biggest problems with this offense.
Defensively, Atlanta grades out poorly in mostly all areas and still have many DBs nursing injuries. The Bills will be in for a prime matchup against this defense, against both the pass and the run.
The Bills are coming off a bye week and at 4-7 are likely out of the playoff picture altogether unleash a miracle happens. The week off did do them some good though, because of their injury woes. Quarterback E.J. Manuel is finally fully healthy, and both his starting wide outs, Stevie Johnson and Robert Woods are scheduled to return. Running back C.J. Spiller also is near 100 percent after resting himself on the bye.
Buffalo has played some excellent defense over the past few weeks, something that has been glossed over by many in the national media. Their pass rush is one of the best in the league, led by Mario Williams. Matt Ryan has struggled heavily when blitzed this season, so this could strong game for the Bills' defense.
The Line
This game opened at Buffalo -3.5 and has moved little off the opening number. Some books may be offering the game at Bills -3, but there will be increased juice on that line. The total opened at 45.5 and has jumped up. Books have lines ranging from 46.5 to 47.5.
The Play
Everyone and their mother are on the Bills this week, and I can't argue with them. Atlanta gave all they had in a divisional game last week against the Saints and despite losing the game, stuck with New Orleans throughout the contest. That game had to have drained them emotionally, and now I think they will go back to the team that is just going through the motions as the season comes to a close.
Furthermore, the matchup absolutely sucks on paper for the Falcons. Atlanta's offensive line is terrible, and Matt Ryan will be harassed all day long. There is almost no aspect of this game that the Falcons even have a slight advantage. Couple that with the Bills being excellent at home and healthy after the bye week and it is easy to see why Buffalo is one of my favorite plays this weekend.
Lay the points with the Bills -3.5 at home at Bovada.lv.
Cincinnati Bengals at San Diego Chargers -1 Total: 48.5
The Bengals head to San Diego to take on the Chargers after their big win against AFC West rival Kansas City last week.
At 7-4, Cincinnati leads the AFC North at 7-4 but still needs to hold off Baltimore for the division title. They are coming off a bye week and should be well rested coming into this game. Offensively, the Bengals are a mixed bag and much of that has to with the play of Andy Dalton. He has been sacked 10 times during his last three games and has thrown eight picks versus five touchdowns. This week's matchup against the Chargers porous defense is one of his best this season.
Even with a large rash of injuries to the core of their defense, the Bengals have not lost their top ten defensive ranking. This is without Pro Bowl nose tackle Geno Atkins and cornerback Leon Hall, two players that were the best top five at their position before going down with injury. While no longer the elite defensive team they were at the beginning of the season, the Bengals are still a force on this side of the ball.
The Chargers are one of a half dozen teams looking to grab a hold of the AFC's last wild card spot, making every game a must-win for the rest of the year. They grabbed a humongous win last week at AFC West leading Kansas City 41-38. Quarterback Phillip Rivers threw for 389 yards in the win, his best performance all season.
They may need Rivers' arm once again this week as few teams are playing worse defensively than San Diego. They are giving up an AFC-worst 389.5 yards per game and have given up 29.0 points per game over the past few weeks.
The Line
The line opened at Chargers pk but has moved to -1 across the board. The total has moved just slightly from the opening total of 48 to 48.5, but the former number is still available at plenty of shops.
The Play
I think the Bengals win this one big and knock the Chargers back down to earth. Rivers had has trouble moving the ball against quality defenses this year, as well. Last week's game against KC was a mere aberration. Many think the Bengals defense has been substantially weakened with their injuries, but their depth on defense has served them well. I would not be shocked if San Diego had an extremely tough time moving the ball against them.
Their bye week rest cancels out the long travel time and with the rest of the division breathing down their neck. I think Cincinnati dominates this one from start to finish.
Take the Bengals +1 on the road betting at Bovada.lv.