Bye weeks: Dallas, St. Louis
Oakland Raiders at Houston Texans -7 Total: 42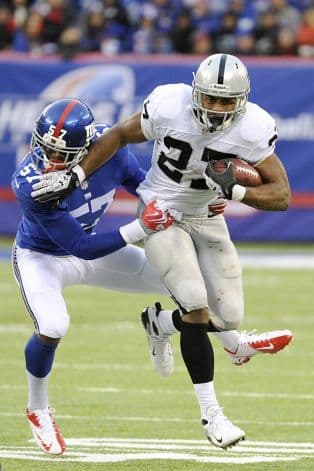 The Raiders come into the game with a 3-6 record after a tough loss to the Giants last week, 24-20. The offense did not do much in the win, but the defense did contribute two defensive touchdowns to keep the game close.
Offensively, Oakland is a run first team that throws the ball just a little over half the time. Quarterback Terrelle Pryor is questionable this week but often times he is the leading rusher in this run first offense. Darren McFadden will also be sidelined, but backup Rashad Jennings has been impressive in his absence. He will get a full load of carries in this one.
On defense, it is hard to get over the Raiders disaster a few weeks ago when they gave up seven touchdowns to Nick Foles and the Eagles. However, while their pass defense has been poor, they have been excellent against the run.
At 2-7, the Texans are far out of playoff contention and are looking towards next season. Case Keenum has taken Matt Schaub's starting job and has run with it. He has thrown seven touchdowns and no interceptions in his first three games, but all were Texan losses, including a 27-24 defeat last week at Arizona. Arian Foster is out for the year, and Ben Tate will get the lion's share of touches in the backfield.
Like the Raiders, the Texans defense is much stronger on the ground rather than the air. They are also going to be without Kareem Jackson in the secondary, their second cornerback. Houston has done a marvellous job against the run, especially against pass catching backs like Jennings.
The Line
This game opened at Houston -6.5 and has moved to -7 almost universally across the board. The public seems to like the Texans in this one. The total has come down a full point at least from the opening number of 43.
The Play
It is impossible not to like the Raiders in this game, facing a rookie quarterback on a 2-7 team while getting a touchdown. I know Houston has looked impressive lately, despite losing their past three games but I can't see Oakland not having a chance to cover this one in regulation. I think they have an excellent chance of winning outright, as well.
Keenum is going to have a putrid game one of these weeks, and this might be the one. His deep ball downfield has been excellent, but that can be a double-edged sword if defenses are ready for it. Oakland will be ready to pounce on the rookie in this game.
Take the points, Raiders +7 with Bovada
New York Jets at Buffalo Bills pk Total: 40.5
Sitting at 5-4, the Jets are coming off a bye week after a huge win against the New Orleans Saints in Week 10. Chris Ivory rushed for over 130 yards against his former team in scored a touchdown in the 26-20 victory.
While the Jets make their living on the ground, they seem to abandon the run if they fall behind. Their receiving options are not great either. Jeremy Kerley will be out this week, but Jeff Cumberland may return to start at tight end. The oft-injured Santonio Holmes is also practicing this week and is expected to start.
The Jets run defense has been unbelievable so far and is ranked number one in the league. Their pass defense has not been as opportune and is ranked in the bottom third of the league.
The Bill offense looked terrible last week as E.J. Manuel returned from injury against the Steelers. Pittsburgh manhandled the rookie QB in a 23-13 loss at Heinz Field. Things may get better this week, but Manuel is again without many of his weapons. Robert Woods has been ruled out, and receiver Stevie Johnson is doubtful.
The Bills defense ranks in the bottom third in nearly every category but has not given up massive numbers in recent weeks. Their rush defense has struggled against the Steelers and Chiefs in recent weeks, but they're not the punching bag defense that everyone would have you believe.
The Line
This game stands at pk at just about everywhere, but a select few books are offering the game at the opening number of -1. The total has not moved much off the opening number of 41 and is listed as the opener or at 40.5.
The Play
It seems like the deck is stacked against the Bills this Sunday, but I don't see it that way. E.J. Manuel had looked great before going down with an injury several weeks ago and another week of practice should get him back into the groove. The Bills have a potent rushing attack, and that should help take the pressure off Manuel, even against the Jets tough defensive front.
Also, a factor that many cappers are forgetting in regards to this game is the Bills almost inspired play at home. With Manuel at the helm in two home games, the Jets beat the Ravens and lost narrowly to the Bengals by three points. This team is better than most think, and I think they will catch the Jets by surprise.
Roll with the Bills pk, at home at Bovada.lv
Cleveland Browns at Cincinnati Bengals -6 Total: 42.5
The Browns come off their bye week to face Cincinnati after a massive win against the Baltimore Ravens to put them at 4-5 on the season. They are still much alive in the AFC North which is currently being led by their opponent in this one.
The Browns will continue to roll with previously third string quarterback Jason Campbell with Brandon Weeden healthy. Who can blame them? Weeden has been terrible, and Campbell has looked more than adequate in recent weeks. He has thrown for over 500 yards and five touchdowns the past two weeks with no interceptions.
Cleveland's defense has been strong all year long and has kept them in games when their offense has struggled. They are top 10 against both the rush and pass.
Cincinnati forced overtime last week against Baltimore on a fluke Hail Mary pass attempt at the end of regulation. The ball hit off a pile of defenders and right into A.J. Green's hands. However, they could not best the Super Bowl champions in OT, losing 20-17 and fell to 6-4 on the season. Jermaine Gresham is expected to return this week after missing last week's game. He is not much of a pass catcher but is an excellent run blocking tight end and should help in that area.
The Bengals have lost their top cornerback in Leon Hall and their top defensive lineman in Geno Atkins over the past few weeks. Though they looked decent against Baltimore's average offense, there are plenty of holes in this once feared unit.
The Browns won a Week 3 matchup against Cincinnati in Cleveland, 17-6.
The Line
There has been little movement on this game. The spread opened at Bengals -6 and has stood there for the most part. Some books have the game listed as -5.5. The total has moved just slightly off the opening number of 42 to 42.5 at the vast majority of books.
The Play
This is a tough one to predict due to the difference between these two teams since the last time they played. However, I think the key factor is still Andy Dalton. Dalton has his runs of "greatness" and then has the games where he looks abysmal. Right now, he looks terrible. He missed many open receivers last week against Baltimore, and their pass defense has been terrible in recent weeks.
Cleveland has a much better defense, and their offense has been playing well under Campbell. Josh Gordon is a matchup nightmare for the Bengals, and he could have a massive game. The Browns are in a must-win situation to keep their season alive, and I expect them to come out of the bye focused.
Take the points. Browns +6 on the road bettign at www.topbet.eu.
Baltimore Ravens at Chicago Bears -3 Total: 45
The Ravens defense of their championship has not gone quite how they planned as they sit with a 4-5 record, tied with the Cleveland Browns. They did manage to win 20-17 in overtime against division rival Cincinnati last week but all is not right in Baltimore.
Super Bowl MVP Joe Flacco hasn't been anything noteworthy in the passing attack, and Ray Rice has been a shell of his former self this season. In 18 touches last week, he totaled just 30 yards on the ground. He has not totaled more than 75 rushing yards all season long.
The Ravens defense has been impressive and if there is a weakness on their unit it has to be against the pass. Still, they haven't allowed an opponent to score more than 24 points since Week 3. It is tough to say how they will matchup against the Bears.
After reinjuring himself again in Week 11, Jay Cutler has been ruled out this week, and the Bears will once again go with backup, Josh McCown. Cutler looked a little rusty in last week's 21-19 loss to the Bears anyway.
The Bears defense has been horrible this season, and they have been especially bad against the run. Ray Rice has a terrific matchup in this one, but he hasn't done anything yet to signify he's worth worrying about. Charles Tillman will be out this week, which upgrades Baltimore's passing attack significantly. Linebacker Lance Briggs will also be sidelined.
The Line
Chicago opened as -3.5 favorites, but the game is now at -3 across the board. The total has come down two full points from the opening number of 47 to 45.
The Play
It is hard to have much faith in the Ravens anymore, and even though this a big-time plus matchup for their offense, it is quite hard for me to see them taking advantage. Their run game useless with Rice as the lead back and their downfield passing game is sporadic at best.
McCown has been just as good, if not better than Cutler in recent weeks while he has been out, and I don't expect a noticeable drop-off this week either. Forte may be a problem in coverage for the Ravens linebackers who have done poorly against pass catching backs, such as Giovanni Bernard who killed them in the passing game last week.
The Bears have the better team, and they are at home.
Lay the points with the Bears -3 with Topbet.
San Diego Chargers at Miami Dolphins +2.5 Total: 45.5
The Chargers fell just short of coming back against the Broncos last week losing 28-20 at Mile High Stadium. Offensively, it starts with Phillip Rivers and his resurgence this season. He has been brilliant for most of the year, and the two-headed attack of Ryan Mathews and Danny Woodhead has produced a strong rushing attack. On offense, the Chargers have been one of the best in the league.
San Diego's defense has had some standout games, but for the most part they have been relatively poor. They have allowed many monster games out of struggling quarterbacks or young QBs, and their rush defense has not been accomplished either.
The Dolphins look to regroup after an embarrassing Monday Night loss to the Chargers which saw them fall to 4-5 on the season. The Fins started off strong going 3-0 to start the year but have faltered since then. The offensive line is a mess and quarterback Ryan Tannehill is simply doing the best he can. Running back Lamar Miller has been a bright spot, but gained just 2 yards rushing last week in a 22-19 loss to Tampa Bay.
Miami has been poor defending against the pass all year long but used to have a solid run defense. That is no longer the case. The Dolphins have been giving up big yardage to opposing running backs for weeks now, including over 100 yards to Tampa's backfield tandem of backups Brian Leonard and Bobby Rainey.
The Line
This is one of the largest public bets of the week. Miami opened as the favorites at -2, but that line has moved drastically. Many sportsbooks are offering pk or +1 while the best line can be found for Miami at +2.5, currently.
The Play
I am going to contrarian route with this game and picking Miami. I'm not sure what happened to this team since their formidable start, but they do have plenty of talent and in my opinion more than San Diego.
Hopefully, the offensive line has worked together during practice this week and can just give Tannehill a little bit longer to throw the ball. Wallace and Hartline will be able to burn San Diego's corners; they just need a little extra time to do so. Miami still has an excellent pass rush that could give Rivers fits, and if they key-in on Keenan Allen defensively they will knock out Rivers' best threat downfield.
Take the points with Miami +2.5 at home betting at BetOnline.
Arizona Cardinals at Jacksonville Jaguars +9 Total: 41
The Cardinals are on a roll as of late, ripping off two consecutive victories with a 27-24 win against Houston last week. They head to Jacksonville to face the Jaguars after their first win of the season.
At 5-4, Arizona is still in the thick of the playoff hunt this year but have been more pedestrian offensively than most other teams. Larry Fitzgerald has had just an average season as he looks to break out in the last seven games. Andre Ellington has outplayed Mendenhall this year, but they are still splitting touches in a 50/50 timeshare.
Arizona's defense has been their strong point. They are strong against the pass and the rush. However, they have been prone to give up more big plays in recent weeks. The matchup is great in this one though. The Jaguars are one of the worst offensive teams in the league.
For Jacksonville, they are far out of playoff contention at 1-8 but have put out a decent effort each week of the year. They finally got their first win against the Titans last Sunday, winning 29-27 at Tennessee. Still, we can't forget how poor this team has been all year. They are in the bottom five of the league in total offense and defense.
To make matters worse for Jacksonville, their best defensive player, linebacker Paul Posluzny will likely not play this week.
The Line
The Jaguars opened as +7.5 underdogs, but that has moved to +9 at almost all spots. The total has moved from an opening number of 39.5 to 41.5.
The Play
I like Arizona to cover in this one, not because they are a talented team but just because Jacksonville is so bad. This is a letdown spot, I guess, for a team that is riding high after their first win last week, but the matchup is also terrible on paper.
Patrick Peterson should have no trouble locking down Cecil Shorts III, and the rest of the Jaguars offense is nothing imposing. I don't think Arizona will have trouble moving the ball, especially with Posluzny out.
Take the Cardinals -9 on the road with Topbet.
Atlanta Falcons at Tampa Bay Buccaneers +1 Total: 43
Both of these teams came into the season with high expectations only for them to be crushed as we reach Week 11. The Falcons and Buccaneers are both looking toward the 2014 season.
Still, there is football to be played this year and the Falcons have been playing a poor brand of it lately. Atlanta rolls into Tampa in the midst of a three game losing streak, having scored 33 points in their last three contests.
One of the main issues with Atlanta's offense is the lack of a running game. They have gained just 121 yards in their last their three contests on the ground and have been behind often so they rarely use the running game as a weapon. This makes it tougher to throw, and Matt Ryan has not benefitted from this ineptitude. Roddy White returned last week for the Falcons but just had one catch and is still not 100 percent.
Defensively, it has been a mess for Atlanta's pass defense which seems to give up big play after big play. They are among the worst in the league in total defense and a bottom five team in sacks. This defense is horrible.
The Buccaneers got their first win of the year last week against the Miami Dolphins on Monday Night Football, winning 22-19 at home. They ran the ball well in the contest, despite losing their top running back on the first drive, Mike James. Backups Chris Rainey and Brian Leonard filled in admirably though, and the Buccaneers ran for 140 yards.
Defensively, the Bucs have finally figured out how to use Darrelle Revis (it only took 10 weeks) and he has looked excellent in coverage the past two weeks. Still, they are prone to giving up big plays in the passing game even with one of the best corners in the league.
The Line
The game originally opened at Tampa Bay +1, which is still available along with a pk. The total opened at 43 and has moved just a half-point to 43.5.
The Play
The Falcons may still be the more talented team on paper, but they seem to have quit on their season. Their run game is nonexistent, and their wide receiving core is decimated. There is little reason to believe this team wants to endure this season any longer. Sure, they are professionals, but we can tell when a team is phoning it in, and the Falcons look like they are.
Also, though the Buccaneers are also suffering injuries to their running backs, their young QB has looked excellent, especially for a rookie. Mike Glennon has a terrific matchup against this secondary and should be able to pick it apart with no issues even if the running game doesn't get off the ground.
Take the Buccaneers +1 at home with BetOnline.
Oakland Raiders at Houston Texans -7 Total: 42
The Raiders head to Houston to take on the Texans in an important game for their already dwindling playoffs hopes. The Texans are already out of the playoffs and have changed quarterbacks.
Case Keenum continued his sensational start to his NFL career last week and has thrown seven touchdowns and no interceptions in his first three NFL games. It still has not been enough though as Houston has lost all three of his starts since taking over for Matt Schaub. Keenum threw two touchdowns in a 27-24 loss at Arizona in Week 10.
Houston's defense has been overrated in recent weeks but is still relatively stout against the run while their pass defense needs some work. Still, the Texans are a top ten the league in yards allowed to opposing offenses.
The Raiders aren't much better than the Texans from a record standpoint at 3-6 and have three out of their last four games, including a 24-20 loss at the New York Giants last week. Their defense scored two touchdowns on the day, including a pick six touchdown and fumbled kickoff return.
Quarterback Terrelle Pryor is still questionable for this game but does expect to play. His back Matt McGloin will start if he can't go. Running back Rashad Jennings will continue to fill in for Darren McFadden who went down with a knee injury last week.
The Line
Opened at Houston -6.5 and moved to -7 across the board. The total opened at 43 and has dropped to 42 and at most shops. The public loves the Texans this week.
The Play
Easily one of my favorite plays this week on the board. The Raiders are certainly not a talented football team, but the Texans are even more abysmal. Their defense continually has given up big plays late in games, and while Case Keenum has looked magnificent so far, it is only a matter of time before he has a blowup game.
The fact that a 2-7 team is a touchdown favorite, even at home is shocking. Houston is down to their second string running back and a rookie quarterback who has eyes from only one of his targets. The Raiders will be ready to play and show this young quarterback a lesson.
Take Oakland +7 on the road with Bovada.
Detroit Lions at Pittsburgh Steelers +2.5 Total: 46.5
Don't look now but the Lions have won two, and in a row and sport a 6-3 record as they head to Heinz Field this Sunday. They won a tough game last week against Chicago 22-19 and look to win their second straight in a row on the road.
The Lions offense has been excellent all year long, and the addition of Reggie Bush has been immense. He ran for over 100 yards against the Bears last week and faces a poor Steelers run defense this week. Calvin Johnson, the best receiver since Jerry Rice is also ready to go. He has five touchdowns catches in his last five games and hasn't had recorded less than 80 yards receiving in that span.
The Lions defense is nothing exciting and is especially poor against the run. The Lions have allowed several big games from opposing quarterbacks but are effective at limiting opposing teams' top wideouts.
The Steelers are 3-6 on the year and have been plagued by inconsistency and injuries. After beating the Super Bowl Champions several weeks ago, the Steelers followed up that win with losses at Oakland and New England but then beat Buffalo in a defensive affair at Heinz Field, 23-13 last week.
Offensively, they have struggled throughout the year, but their running game has just come around in the last few weeks with the emergence of Le'Veon Bell. While he has yet to rush for 100 yards, the rookie has scored several touchdowns and has become a passing game target.
The Steelers once feared "Steel Curtain" defense is no more. They rank 29th in the league in rush defense and have been getting gashed by opposing backs in recent weeks. Their pass defense is among the best in the league but has been leaky lately, especially in their loss to New England.
The Line
Opened at Detroit -3 but has gone to -2.5 or -1 just about everywhere. The Lions are one of the public's most bet sides this week. The total opened at 47 and has come down slightly to 46.5 at most sportsbooks.
The Play
The public loves the Lions in this game, and I am with them. Pittsburgh is so fickle week to week, and though they handled the Bills easily last week, it is almost impossible to trust this team. Their inconsistency is enough for me to shy away from them, at least from a betting perspective. I do think the Steelers will score points in this game, but they won't be able to match the Lions.
Pittsburgh's defense is old and isn't fast enough to cover Reggie Bush and Calvin Johnson. Stafford has been tremendous this year as well and should have no issues picking apart the Steelers' secondary.
Take the Lions -2.5 at Bovada.
Washington Redskins at Philadelphia Eagles -4.5 Total: 54
The NFC East is up for grabs in this high scoring affair that is a must-win game for Washington but is also critical for the Philadelphia. This is the second leg of their divisional affair after these two teams met in Week 1. The Skins won that game 33-27.
Washington's offense is potent, but the Redskins have shied away from the pass lately and stuck with the run with decent results. Alfred Morris has rushed for 100 yards in back to back games and is having a better season than his rookie year.
Washington's defense could be the worst in the league when it is all said and done. They have allowed a touchdown pass every week and have one of the worst red zone defenses in the league. The Redskins haven't stopped the run well either and rank in the bottom half of the league against the rush.
Philadelphia is 5-5 on the season and needs this game almost as bad as Washington. Last week, quarterback Nick Foles again led them to victory in a 27-13 win against the Packers. He has done all he can to assure himself the starting job, whether Michael Vick is healthy or not. The Eagles offense is potent and has a gauntlet of skill players who can take over a game.
However, like the Redskins, the Eagles defense has been abysmal. Their run defense has been around the league average but their pass defense is a bottom five. They face a tough matchup against the Redskins receivers this week.
The Line
The game opened at -3.5 but is now at -4 and -4.5 at most sportsbooks. The total has jumped up drastically from the opening number of 51 to 54.
The Play
These games have been traditionally high scoring, but I see more running in the game than usual. Both of these defenses have trouble stopping the run and Morris and McCoy have looked unbelievable in recent weeks. We might see a move conservative gameplan from both coaches in this game as they look to see who blinks first in this contest. Of course, it could turn into a shootout if one of them gets ahead early, but I think if it is remotely close there will be a lot of running in this one, and it should keep it under the total.
Play Under 54 with BetOnline.