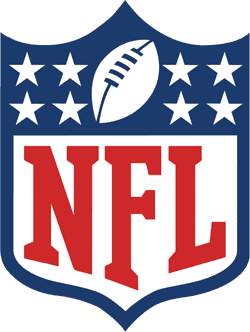 This start of the 2013 season is finally upon us. I'm back at Sports Betting Online to provide weekly betting breakdowns of each game on the schedule and hopefully a winning opinion. Check back with us all season long with betting picks of every game up until the Super Bowl. Good luck this season!
First off I feel I need to point you to or pre-season bets for the NFC Divisions and the AFC Divisions. Throughout this article we have listed the best prices available in each match but you may fancy making the bet with another sports book that has an NFL promotion or bonus.
Odds Provided by Bovada.lv
Cincinnati Bengals at Chicago Bears -3 Total: 41.5
Both of these teams are playing for the postseason or bust this year. Chicago looks to get back to playoff football, and Cincinnati hopes to build on last season's third straight playoff appearance by winning a playoff game, something the franchise has not done since 1999.
The Bengals are relatively healthy coming off the preseason, but will miss wide out Andrew Hawkins for a fair bit of season. Hawkins is on the injured reserve but can return to the team after Week 6. Left tackle Andrew Whitworth will likely be out this week after missing the preseason all together, his backup Anthony Collins faces a tough matchup in Julius Peppers.
The Bears come with new parts to their offensive line and hope to improve on a unit that has struggled for the past few years. After much talk of Brandon Marshall's health during the preseason the receiver will play in the opener but is not 100 percent.
The Line
Bears -4 were the opener in this one, but the game has gone to -3 just about everywhere. The total has moved much more drastically off the opening number. Moving down from 45 to 41.5 at most shops.
The Pick
The Bears always seem to start off the season well and seem to put up a admirable fight at home. Without Lovie Smith, the franchise feels different, but new head coach Marc Trestman brings some immediate confidence to Chicago.
The Bengals will not have a game tape to analyze Trestman's offense, and I think he can catch the Cincinnati's tough defense off guard a little bit. They are pros, but being extremely unfamiliar with another team's offense sets will be a problem.
Chicago should also be able to hold A.J. Green in check with their outstanding secondary. The loss of Whitworth for the week is also crucial. Bengals QB Andy Dalton is nothing special and without adequate protection, he becomes below average. The Bears should be able to pressure Dalton into some poor decisions and get some turnovers, something they were excellent at doing a year ago.
Lay the points with the Bears -4 in their home opener.

Miami Dolphins at Cleveland Browns pk Total: 41
This is an riveting all-AFC affair to start the season off for two young teams that looking to rebound after a number of poor seasons. Both boast second year quarterbacks and new head coaches. This Week 1 matchup is vital for both teams as they look to show their fans that things will be different this year.
Miami's squad is one of the healthiest coming into the season and is also one of the youngest. Their biggest offseason acquisition was receiver Mike Wallace from Pittsburgh, who is a perennial deep threat and Pro Bowler. Lamar Miller will take over the running back job after Reggie Bush left for Detroit.
With Josh Gordon suspended for the first two games of the year, the Browns will start Greg Little and Davone Bess at receiver. The main target for quarterback Brandon Weeden on Sunday will more than likely be tight end Jordan Cameron and bettors can also expect a heavy workload for Trent Richardson.
The Line
The oddsmakers haven't moved this game much at all. It opened as a pk and has stayed there for the most part with some sportsbooks offering Cleveland -1. The total opened at 41 and has moved at some places slightly to 41.5.
The Play
I find it strange that no one is talking about this Cleveland team. They have talented players on both sides of the ball and a strong group of skill players, like running back Trent Richardson, Cameron and Josh Gordon when he returns.
I haven't seen anything remarkable out of Miami, last year, or this preseason that makes me fear this team. I'm not sure Wallace will be a big hit in this offense, and Miami's offensive line has gotten worse in the offseason. Cleveland has an excellent corner in Joe Haden who should be able to neutralize Wallace and Brian Hartline should not be an issue either.
Cleveland's tough defense, strong running game and undervalued offensive unit should be able to grab their first victory of the season in the home opener.
Grab the Browns at home at pk with TopBet.eu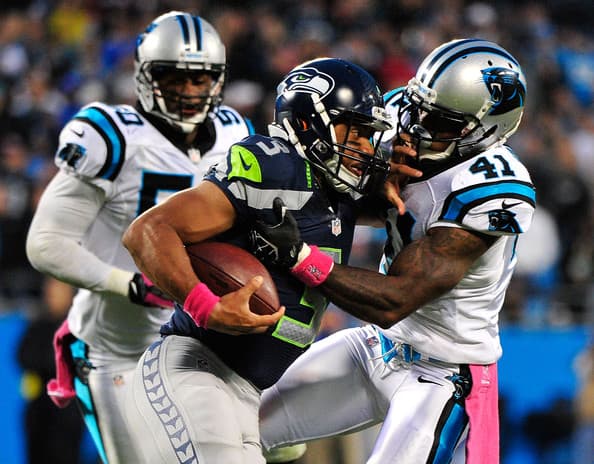 Carolina Panthers have not reached the playoffs since 2008 and will be eager to get an win under their belt.
Seattle Seahawks at Carolina Panthers +3.5 Total: 45
Seattle and Carolina both want to start off their season right for different reasons other than just getting win number one. The Seahawks are eager to prove their playoff appearance and win was not a fluke. The Panthers, on the other hand, have not reached the playoffs since 2008 and are eager to get back into the postseason.
Seattle has a few injuries coming into the game. The defensive line is reeling with Cliff Avril doubtful for Sunday and Chris Clemons still on the shelf. Receiver Sidney Rice will play in the game but has not played all preseason after a knee procedure. Offseason acquisition Percy Harvin will be out until about December after hip surgery.
The Panthers aren't dealing with too many injuries other the oft-injured Jonathan Stewart who is out until at least Week 8. DeAngelo Williams will get the bulk of the carries and will be spelled by Mike Tolbert.
The Line
The Panthers opened at +3.5 favorites at home, and the odds have not changed at most books. The total opened at 45 and is listed at 45 or 44.5.
The Pick
This is one of those games where the public thinks the bookies are "crazy." Yeah, Seattle was two games away from the Super Bowl last year and Carolina floundered, but this is a new year. Seattle doesn't have much depth at receiver, and their defense line is in shambles, and they will almost certainly be the better team by the end of the season, but this week they may not be.
Carolina's head coach Ron Rivera and quarterback Cam Newton are both motivated to prove something this season, and this is a perfect spot to do so. Getting a little more than a field goal in this matchup makes me feel like I've gotten value. It should be close down to the wire.
Take the home-dog Panthers +3.5 with TopBet.
Oakland Raiders at Indianapolis Colts -10 Total: 47
In a game that has one of the largest spreads in Week 1, the Raiders head to Indy to take on the Colts. These two AFC teams seem to be headed in different directions, but hey – it is a brand new season and anything can happen.
Oakland gives the nod to third year QB Terrelle Pryor over Matt Flynn after Pryor outplayed him in the preseason. Both QBs were sacked often and neither truly impressed, but I guess Pryor did more to earn the job. The Raiders are relatively healthy, except on the offensive line, which is also a giant weak spot for the team. They have sort of a makeshift o-line out there on Sunday.
All of quarterback Andrew Luck's targets are healthy as far as receivers go but tight ends Dwayne Allen and Coby Fleener have been hurt all week, but will both play Sunday. Running back Ahmad Bradshaw will not start, but looks to be close to 100 percent and will see plenty of touches.
The Line
After opening at Indianapolis -7.5 this game has moved several points after lots of money coming in on the Colts. The total came down slightly after Pryor was announced as the starter. It is now at 47 after opening at 48.5.
The Pick
This is one is hard to predict, despite how poor the Raiders look from an offensive standpoint. Both teams may run more than usual in this game, and I would expect the Raiders to lean heavily on the running game with McFadden and use Pryor's legs, as well. The number is a little high for an opening week game, and I would normally be interested, but Oakland just has so many question marks.
The under is especially enticing in this game because of the amount of running plays both teams will run and the Raiders inefficiency on offense. Luck is a star in the making, but don't forget he has had plenty of crummy games during his rookie season.
This one should be low scoring, take the under 47 best priced at GTBets.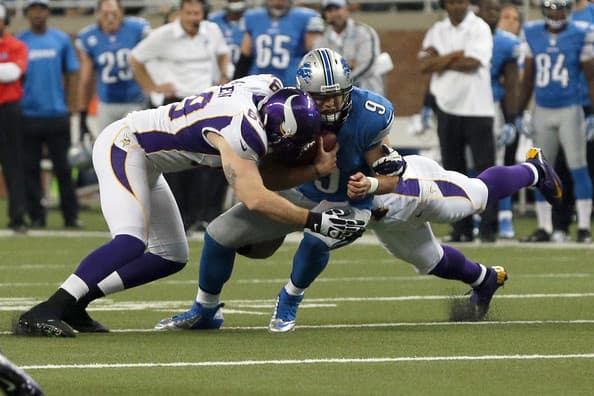 Have Detroit enough to take the Vikings despite a number of injury concerns?
Minnesota Vikings at Detroit Lions -5 Total: 46.5
The NFC North kickoffs divisional play when the Vikings head to Ford Field to take on the Lions. Both teams are eager to get off to a fast start in the division, so this game is one of the more crucial ones this Sunday.
The Vikings have two new receivers to work with the struggling Christian Ponder, who is playing for his job this season. Greg Jennings comes over from the Packers and rookie receiver Cordarrelle Patterson starts alongside him. Adrian Peterson is healthy, but his lead blocker Jerome Felton is out two games for substance abuse.
Detroit is mostly healthy and will now feature Reggie Bush at running back after he signed a free agent contract in the offseason. Defensive lineman Ezekial Ansah will likely miss Week 1 due to lingering concussion symptoms. Strong Safety Louis Delmas is also fully healthy for the first time in two seasons.
The Line
The Lions opened as field goal favorites at home, but the line moved quickly off -3. Some books even have this game at Detroit -6. There is no doubt a lot of money on the Lions in this one. The total opened at 47 and is now at 46.5 or 47 at most shops.
The Pick
While I think the Lions will have a nice season this year and that they are far more talented squad than the Vikings – this one should be close. Detroit's defensive line is one of their strengths, but right now they've had to move guys around and dealt with nagging injuries.
This plays right into Peterson's hands, who is fresher than ever. He played a grand total of two snaps in the preseason and carried the ball zero times, but this was all by design. Peterson, the best running back in the league doesn't need the work and will be 100 ready to go by Sunday.
I know Detroit's defense is improved, but Christian Ponder has new targets, as well, and the Vikings passing game in the preseason was better than their usual output. I think this divisional game comes down to the wire, and the Vikings will be in the game till the last second.
I'll take the points with Minnesota +5 with Bovada.lv

New England Patriots at Buffalo Bills +9.5 Total: 51
More divisional action, this time from the AFC East as the Pats head to Buffalo to take on the Bills in a game that has the highest number in Week 1.
Same-old, same-old for the Patriots, despite some new faces this year. Wes Welker left for Denver, but he has been replaced by talented wide out Danny Amendola. They have few injuries coming into the season other than Rob Gronkowski being unable to play until likely Week 3.
Buffalo will start rookie quarterback E.J. Manuel in Week 1 after an injury to Kevin Kolb that may be career threatening. Manuel may have started anyway, but an injury to Kolb cemented his starting job. Manuel has arthroscopic knee surgery in Week 2 of the preseason but is now fully healed. Still, expect a heavy dose of C.J. Spiller as Manuel looks to find his groove. It also looks like safety Jairus Byrd will miss the game with a severe case of plantar fasciitis.
The Line
The +7.5 opener for Buffalo did not last long. The line is up to +11 at some shops, so be sure to shop around if you want Buffalo. Heavy New England action forced this one to move quickly. The total is still quite high at 51, but the original number opened at 53.
The Play
The Patriots have unleashed some beatings on the Bills in recent years, but Buffalo always seems to show up, at least for a half. Still, I'm not sold on such a high number this early in the season. We know the Patriots are a talented team, but the Bills have plenty of talent, as well.
One number I thoroughly disagree with is the total of 50. I do not think this game has the makings of a shootout. That may have been the case in years past, but both teams will rely heavily on the run in this one and make it more of a field position battle.
Furthermore, both offenses are unproven. Brady is one of the best ever, but it doesn't always click immediately, even the great ones when they are surrounded by new faces.
I love the Under 50 available with TopBet

Tennessee Titans at Pittsburgh Steelers -7 Total: 42
The Steelers open up their season at Heinz Field facing the Tennessee Titans. Pittsburgh actually lost to Tennessee at home last year, despite that loss, they are still one touchdown favorites.
Matt Hasselbeck was the quarterback for that contest last season because then second-year QB Jake Locker was injured. Locker is now healthy and ready to prove himself as a franchise quarterback. The Titans have a revamped defense and are one of the few teams coming into the season with no notable injuries.
Pittsburgh limps into the regular season after losing all four preseason games and looking a little shaky so far. The Steelers have a few new faces around camp, and the offensive line has yet to learn to play together effectively. First round pick LeVon Bell was poised to take the starting running back job but was injured in the preseason. Issac Redman will be the bell-cow back since his injury. In a surprise move, the Steelers cut Jonathan Dwyer, their leading rusher from last season.
The Line
The spread has not moved from 7, but the total has come down since 43.5 and is now 42 at most places.
The Play
I think Pittsburgh will eventually be the better team, but it would be unfair to call them the superior squad just yet. Let's remember they did lose to the Titans last year and their defense is a year older, and they lost speedster wideout Mike Wallace to free agency. A 7 point favorite seems a little high to me.
The Titans have hired a few new coaches, made some offseason personnel moves and rewrote the playbook on both offense and defense. Locker has looked a lot more accurate in the preseason, and this team looks to be trending upward. Pittsburgh will still likely take this one at Heinz Field, a place where they play exceptionally well at, but it may come down to the wire.
I'll take the points and Tennessee +7 at Bovada.lv
Atlanta Falcons at New Orleans Saints -3 Total: 54
The NFC South's likely top-two contenders face off in the NFL's first week, in a game that should light up the scoreboards on both sides. This may be the weekend's most exciting and decisive game.
The Falcons bring pretty much everyone back from last season aside from running back Michael Turner who is now without a NFL job. Atlanta, and more importantly Mike Smith and Matt Ryan, also finally won a playoff game before losing to San Francisco in the NFC Championship. Steven Jackson has come over after an illustrious career in St. Louis and will be the feature back in an already loaded offense.
The Saints welcome back head coach Sean Payton who was suspended all of last season for his role in the bounty scandal we've all heard too much about at this point. Payton is refocused on turning the franchise back into a Super Bowl contender. He has a retooled defense, an offense loaded with weapons and one of the best QBs in football, Drew Brees.
The Line
Most sportsbooks opened this game at Saints -3, and that has not changed. The total of 54 has not moved at most books either, but some may have the game listed at 54.5 or 55.
The Play
As appetizing as a Drew Brees, Sean Payton reunion may seem. It still does not change the fact that the Saints were historically awful on defense last year. Payton is an offensive guru, and though he has changed the defensive coaching staff and scheme, much of the same roster remains.
On the flip side, Atlanta spent over $180 million in extension money to keep together their almost Super Bowl bound team from last season. They are younger and have improved at several positions.
I realize the crowd will be amped in the Big Easy, and it will be a tough place to play, but Atlanta has the better team and the poise to go in there and win.
Falcons on the road, plus the points with Bovada.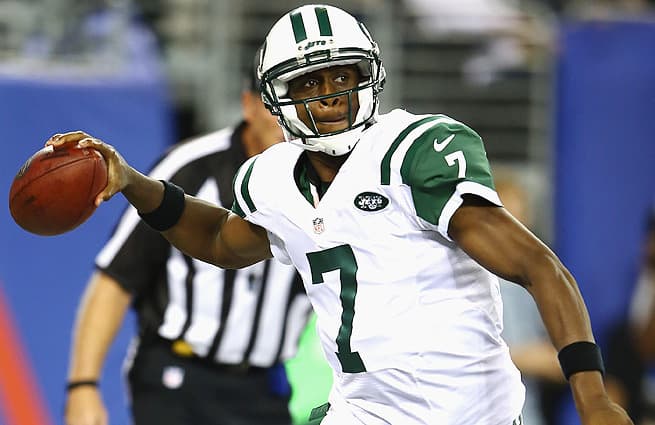 2nd choice Geno Smith starts at QB after Mark Sanchez got injured pre-season.
Tampa Bay Buccaneers at New York Jets +3.5 Total: 40.5
The Bucs head to the MetLife Stadium to take on the Jets, who have been mired in controversy throughout the preseason. Both teams have something to prove after disappointing finishes in 2013.
Tampa Bay started off strong last season but faltered down the stretch in the tough NFC South. One of their biggest issues was pass defense, and they addressed that need by trading for former-New York Jets corner Darrelle Revis. You can bet that Revis is ready to face his former team and will be motivated to play well.
The Jets will start first round pick Geno Smith at quarterback to start the season after Mark Sanchez injured himself late in the 4th quarter of a preseason game. New York signed Chris Ivory from the Saints this offseason to lead the rushing duties, but he is currently listed as the second RB behind Billal Powell. The Jets are thin at receiver, and it is still uncertain if wide receiver Santonio Holmes will play in Sunday's game.
The Line
Heavy Tampa Bay betting has pushed this one from Jets +1.5 to +3.5 or +4 at some books. The total is among the lowest of the week at 40.5.
The Play
While a home dog on opening weekend are normally bets I love making – I just can't see the Jets keeping this one even remotely close. Even with the question marks surrounding Josh Freeman, this one should be easy for Tampa Bay.
The Jets rush defense is no longer stout, and Doug Martin should have a field day down running against this front. The Bucs secondary is now much stronger than it was last year and no offence to Geno Smith, but he is the least accomplished quarterback in the league at this point, after all he is a rookie. This one will get ugly in a hurry.
Grab the Buccaneers on the road at -3.5 with GTBets
Kansas City Chiefs at Jacksonville Jaguars +4.5 Total: 41
Kansas City and Jacksonville are two AFC teams that would love to forget last season. Both have new head coaches and high hopes for a 2013 turnaround.
Kansas City fired Romeo Crennel and hired former Eagles head coach Andy Reid who was also let go at the end of last season. They acquired Alex Smith via trade from San Francisco after giving up on Matt Cassel and Brady Quinn. Dwayne Bowe is the most notable injury coming off the preseason, but his ankle looks to be strong enough that he will play this Sunday.
Jacksonville continues what seems an endless search for a franchise quarterback, but if the preseason is any indication – they may have one in Blaine Gabbert. Running back Maurice Jones-Drew is also back in the fold, after missing most of last season due to injury. Jones-Drew led the league in rushing just two seasons ago. Gabbert's status for this game is still up in the air as he is bothered by a sore thumb. Chad Henne will get the start if Gabbert can't go.
The Line
Jacksonville opened as small home dogs at +1.5, but that has swelled to +4 or +4.5. The uncertainty surrounding Gabbert starting is the main issue. The total has not moved much from the opening number of 41.
The Play
While the Chiefs look more explosive on paper than the Jags, it may just be smoke and mirrors. Kansas City was not impressive in the preseason, and Alex Smith still didn't seem to have a handle on the offense that Andy Reid wants him to run.
Jacksonville is much healthier this season and has overhauled both their offensive and defensive playbook. There is a real feeling of good fortune surrounding the franchise now, something that has not been there for a number of years. Regardless of who starts on Sunday, the Jags are a live dog if I've ever seen one. The Chiefs' acquisitions and coaching moves are just potential at this point – they have proven nothing.
Take the live dog – Jacksonville +4.5 with Bookmaker.eu
Arizona Cardinals at St. Louis Rams -4.5 Total: 41
The NFC West, one of the worst divisions in football the few years looking to be climbing out of the doldrums. The Cardinals were terrible last, but the Rams showed sign of promise. Both teams made a flurry of personnel moves in the offseason to improve in 2013.
The Cardinals started 6 different quarterbacks last season in a 5-11 losing effort which saw them win 1 of their last 11 games after starting the season off 4-0. This team needed a quarterback, and they got an established veteran this offseason in Carson Palmer. Palmer has plenty of weapons and one of the best receivers in football in Larry Fitzgerald. The Cards missed the injury bug that hit many teams during the preseason, but did lose tight end Jeff King for the entire year due to a knee injury.
St. Louis heads into the second year of head coaching under Jeff Fisher, and there's no doubt this team has some talent. They signed tackle Jake Long in the offseason to provide insurance for quarterback Sam Bradford, and he has looked excellent in preseason action. Bradford has plenty of weapons, excluding the explosive Chris Givens, newly signed tight end Jared Cook and exciting rookie receiver Tavon Austin. They also may be the healthiest team in the league right now and have no significant injuries to key players.
The Line
The game opened at St. Louis -6 and has moved to -4.5 just about everywhere. The total opened at 41 at most bookmakers and has not changed.
The Play
It is hard to find an edge in this game, but I do think it will be close. One thing that I am sure about is offensive improvement on both sides of the ball. Defense is another matter.
While the Rams have a fantastic corner in Cortland Finnegan, the rest of the secondary has plenty of question marks. Even so, Finnegan will not be able to cover Fitzgerald by himself which will leave others open. The same can be said for the Cardinals' defense, and again, the Rams offense looks potent. You can tell where this is going. There should be a lot of points scored in this one.
Bet the Over 41 at TopBet

Green Bay Packers at San Francisco 49ers -4.5 Total: 48.5
Green Bay and San Francisco face off against each other in a rematch of a divisional series playoff game. One that 49ers blew out the Packers in the second half, before defeating Atlanta in the NFC Championship game to make it to the Super Bowl.
Green Bay still has Super Bowl aspirations after their loss last season, but they will have to go for it without some familiar faces. Gone are longtime Packers Greg Jennings and Charles Woodson. Rodgers still has a lovely receiving core of Randall Cobb, Jordy Nelson and James Jones. First round draft pick Eddie Lacy grabs the starting running back job, perhaps giving the Packers a legitimate 1,000 yard rusher for the first time in years.
San Francisco looks to get back to the big game this season and have the roster to do it. Kaepernick's first full season won't be without hiccups, but the young QB did lead his team within a few points of a world championship last season. However, Kaep's favorite target Michael Crabtree may miss the entire regular season. San Francisco did bring in Anquan Boldin from Baltimore, so that softens the blow a little bit. SF has returned most of their starters from their elite defense last year and still have workhorse back Frank Gore chugging along.
The Line
San Francisco has gotten most of the action on this game, but the line has not moved too much off the -5 opener. The total has moved slightly from 49 to 48.5 across the board.
The Play
The key to the 49ers win over the Packers during last year's playoffs was the running game. Kaepernick and Gore rushed for over 250 yards plus and shredded the Green Bay defense all night long. Without the run game, the 49ers would not have done nearly as much damage.
Kaepernick doesn't have his favorite target Crabtree, a player he targeted vastly more than anyone else in that offense. Yes, he still has some reliable targets in Vernon Davis and Anquan Boldin, but if he can't find open guys downfield – it lets the Packers put more guys in the box.
Also, Green Bay stands a better chance this year with an improved and healthier defense than the one that faced San Francisco in January. Rodgers and McCarthy are out for revenge, and this one is personal.
Take the Pack and the Points +4.5 with Bovada.lv

Our Sunday Night Football picks for New York Giants at Dallas Cowboys can be found on this page.