NFC Conference Championship Game – Sunday, January 19, 6:30 PM, CenturyLink Field, Seattle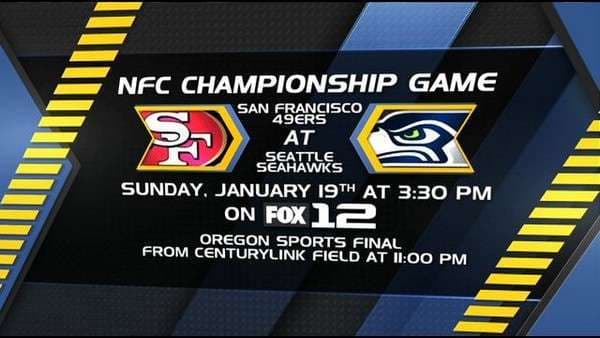 This Sunday's NFC Championship sees the 49ers head to Seattle with both teams vying for a Superbowl berth
San Francisco 49ers at Seattle Seahawks -3.5 Total: 39.5
Familiar foes will meet yet again in the battle for the NFC Title this Sunday evening. San Francisco heads across the country to Seattle to face the dreaded "12th Man" at CenturyLink Field.
These NFC West divisional foes are no strangers to each other in recent years. In divisional play this season, they split each of their meetings. Seattle won 29-3 at home in Week 2, back on October 15th on the back of running back Marshawn Lynch who scored three touchdowns. San Francisco took a Dec. 8th meeting at Candlestick by a narrow margin, winning 19-17.
The Seahawks won a defensive struggle last Saturday as they handled the New Orleans Saints 23-15 to move onto the NFC Championship. Marshawn Lynch ran for 140 yards, and two touchdowns in the win and the Saints were held to just eight points up until the final seconds.
The win was a typical Seattle victory, powered by their strong defense and running game. Russell Wilson had to do little in the victory, but it is worth noting that wide receiver Percy Harvin, who was finally cleared for game action, suffered a concussion. He has not passed concussion protocols and will likely not be available for Sunday's tilt.
After beating the Packers by three points in the Wild Card Round, the Niners have won their last eight games after demolishing the Carolina Panthers 23-10 last week. Defensively, they picked off Cam Newton twice and sacked him six times.
The 49ers consider themselves a different team as they head face Seattle this Sunday. Though Kaepernick struggled during the early part of the season, he ran in a touchdown last week against the Panthers and has entire game has improved since the return of wide receiver Michael Crabtree. He has been especially strong in enemy territory in the postseason over his young career. He is 4-1 in the postseason, posting a 92.7 passer rating and rushing for 377 yards and four touchdowns.
The Line
The point spread opened with Seattle -3, a number that was hit hard early on from 49ers backers. The line has since moved to -3.5, however, due to sharp action coming on the Seahawks. The total has moved more down at most books from the opening number of 40 to 39 and 39.5.
The Play
These playoffs have been tough to predict, and this is another game that is a bit of a head scratcher. No one can touch Seattle at home, but the Niners also have not lost a game in eight weeks.
After the way San Francisco has played recently, the only team in the NFC that seems to have a chance to beat them is Seattle. Despite their strong run to end the season, it will take a near flawless performance from San Francisco on Sunday to come out of Seattle with a win. Of course, they could lose by three points, which would suit Seahawks' backers just fine, but even getting that close may be tough.
No one has a more complete defense than Seattle, especially in the secondary. The way Frank Gore has looked in recent weeks is a bit disconcerting, with much of the rushing attack centered around Kaepernick. The air is the worst place to attack Seattle, but I think it may come to that for SF as they will not have much success on the ground.
Flipping it around, the same may be true for Seattle. San Francisco's rush defense is also one of the best in the league, and they gave no ground last week against the Panthers. Lynch has had success against them in the past, however. Russell Wilson will need to make crucial third down throws in this one, which may determine the outcome of the game.
He is a far more advanced quarterback than Kaepernick and throws almost no interceptions. The turnover battle in this matchup will be pivotal, and it is one Seattle will win. Wilson should also be able to find holes in the 49ers shaky secondary, despite his depleted receiving corps.
In addition to liking the Seahawks, I could also see making a play on the under 39.5. I doubt both of these teams break 20 points.
Put your money on the Seahawks -3.5 and Under 39.5 at www.bovada.lv, the home of all US sports bettors.