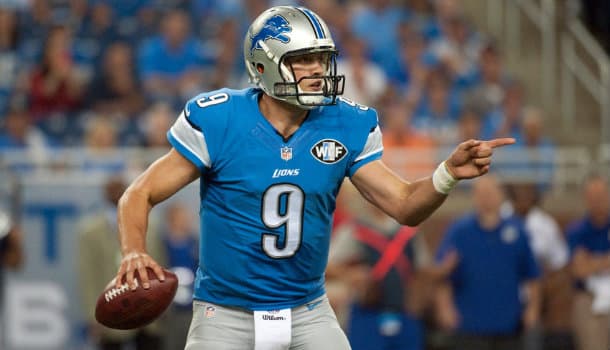 Last week the Vikings came through for me, but the Raiders lost on the road. I split my picks (1-1 / +0.70U). This week I've circled three games out this weekend that I've bet on. I'm betting on the Lions, Eagles and Vikings to win in their week 2 NFL match-ups on Sunday/Monday.
Detroit Lions vs. Carolina Panthers Picks
Bet on the Lions (+115) vs. Panthers – Best Odds: TopBet
The Detroit Lions (1-0) looked great at home in a win over the Giants (35-14). Calvin Johnson hauled in 7 catches for 164 yards and 2 TD's. The defense sacked Eli twice; intercepted two passes and allowed only 197 total yards. This is an underrated unit that has exceptional size and grit.
Carolina (1-0) beat up on the Buccaneers (20-14) with back-up Derek Anderson. Cam Newton is expected to start this week, but his ribs aren't 100% and you can bet the big Lions defensive line will be out for blood early in this one. The Panthers will struggle to run the football as well.
Last week Carolina gained 113 yards on the ground against TB, but the Lions fill up the running holes well. Fairley is a monster on the field and Suh is one of the best d-line men in the NFL. Rookie Kelvin Benjamin had 6 catches for 92 yards and 1 TD in his debut, but the Carolina WR's are still a question mark.
Bet on the Lions to win SU. Carolina starts slow and won't complete the comeback.
New England Patriots vs. Minnesota Vikings Picks
Bet on the Vikings +125 vs. Patriots – Best Odds: BetOnline
New England held an early lead in week 1, but they ended up getting blown out by Miami (33-20). Minnesota went on the road and won against a beat up Rams team (34-6), but the offense actually looked explosive. I was really happy to see the Vikings give Patterson the football.
Tom Brady uncharacteristically fumbled the football twice against Miami. Julian Edelman played great in the 1H, but the rest of the offense struggled including Gronkowski. Belichick has to run the football more often with Ridley, but he seems content using Vereen as the RB1.
No one is expecting the Pats to fall to 0-2 on the season, but I think there is a good possibility. NE isn't a strong road team and the Vikings are going to surprise some teams this season. Norv Turner isn't afraid to dial up big plays and I like Minnesota to get up early and hang on to this game.
Philadelphia Eagles vs. Indianapolis Colts Picks
Bet on the Eagles +145 vs. Colts – Best Odds: TopBet
Philadelphia was down 17-0 at HT against the Jags at home last week, but they won 34-17 after a strong 2H. Foles had 322 passing yards, 2 TD's and 1 INT. McCoy and Sproles both rushed for 70+ yards and combined for 145 total yards on the ground. Sproles also got in the endzone once on a long run.
Indianapolis was down 24-7 against Denver after the 1H, but they crawled back in the game and lost by a TD (31-24). I thought they were a bit shell shocked early on, but they played much better after the rust wore off. Both teams were rusty to start week 1, but this game will be competitive.
I feel like Chip Kelly and his play calling will win this game for the Eagles. The Colts like to play it safe compared to the Eagles and that'll hurt them in what's promising to be a shootout. These road underdogs are tough, but I do expect the Eagles offense to outplay Luck and the Colts.