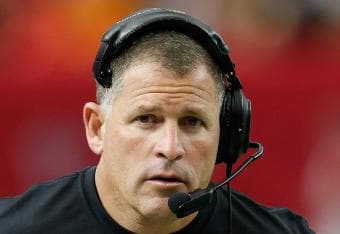 Should Greg Schiano be able to stick around and coach the Tampa Bay Buccaneers?
That's a good question, and maybe his players are answering it.
Perhaps they will offer the most emphatic answer yet this weekend as they go into Charlotte as an 8.5-point underdog to the streaking Carolina Panthers in the NFL betting odds at the various US sportsbooks. You see, these Bucs are on a streak of their own.
Schiano has been about as embattled an a head coach could possibly be this season; he has had to deal with the episode surrounding Josh Freeman, which not only brought doubt as to whether the quarterback could lead an NFL team, but Schiano as well. And some of that came from the players, who were not all that crazy about him.
Freeman was confused, disorganized, and generally disinterested, and Schiano sensed that, He also sensed that Freeman was none too happy that the Bucs drafted Mike Glennon in the third round, and Schiano made it clear that the rookie was there to compete for a starting job if that's what it came down to.
The truth is, when Schiano released Freeman and turned to Glennon, he may have been the only guy in the National Football League who considered him ready to be a starting quarterback in the league, with most regarding him as a "project."
What has transpired hasn't necessarily been phenomenal; it's not as if the second coming of Dan Marino has come in to take the league by storm as a first-year player. But Glennon has been really solid. No incoming quarterback ever to had launch more attempts than the 6'6″ N.C. State alum did in his first four games in the league. And since the running game has started to work again (ironically in the absence of last year's great rookie, Doug Martin), he's thrown it much less.
All NFL bettors need to do is take a look at the numbers; in his first four starts he had 181 attempts, with only 88 in the next four. And he has only had FOUR passes intercepted in 269 attempts, which is extraordinary, whichever way you look at it. Among those who have thrown 150 passes or more, only Nick Foles, Case Keenum and Alex Smith have thrown INT's at a lower rate, and that would seem to be just what one would want from their developing rookie. His passer rating for the year is 91.6, which is ninth best in the league. There are no other rookies near him.
Glennon (who has completed 62.5% of his passes) has three quarterback ratings of better than 120 in his last four games, and in general he is making more and more progress, which is exactly the way Schiano said it was going to go.
What we're trying to say is that in the most critical decision he has made in his two-year tenure as head coach – a decision that would have most certainly cost him his job if Glennon has flopped around like Geno Smith – he not only proved to be quite sage, but gave this franchise someone they could legitimately look upon as a "quarterback of the future," for whoever winds up coaching him in 2014 and beyond.
I do indeed hope that person is Schiano, and what's more, I think he deserves it.
When he came to Tampa after having built the program at Rutgers from ground zero to a frequent bowl participant, Schiano vowed that he was going to make this team more hard-nosed; that they were going to win the battle at the line of scrimmage. And they did; the Bucs became a very solid rushing team, averaging 4.4 yards a carry and sending rookie Martin to the Pro Bowl, but they were also the NFL's best at defending the run after being decidedly soft under previous coach Raheem Morris.
In other words, he wasn't just talking the talk.
After all the turbulence; after all the rumors about how he was ready lose the locker room; after eight straight losses, he now has his team coming in off three consecutive wins, defeating a beleaguered Miami team but then battering Atlanta every which way and then traveling to Detroit to beat the Lions on the road. And now they could be an interesting proposition as a +330 money line underdog at BetOnline, even against a Panther team that has won seven straight games.
Think about it; we are at that point in the season when you look around the league and see teams that have more or less packed it in. That Atlanta Falcons team the Bucs beat two weeks ago seems to have lost touch with its intensity as soon as it was out of the playoff race. Minnesota's efforts are sporadic. Houston has, for all intents and purposes, quit. It looks that way in Washington as well. The Bucs are a team that has had every reason to give up and just wait for the next regime to come in, but they are fighting harder than ever RIGHT NOW. As it is, four of their losses have been by a field goal or less, and now that they have tasted winning these guys are not going to be a pushover for anyone.
Whether they are doing that to save the coach's job or not is a matter for speculation. The fact is, they ARE doing it, and that has to be a reflection of coaching.
To answer the "Fire Schiano" billboards that have been seen all over the Tampa Bay area – to do such a thing might be a big mistake. This guy knows how to build a program. Let him do it.
Open an account at BetOnline and get access to the best in NFL betting lines and props, all at your fingertips! Sign up now!