Week nine of the NFL season throws up a series of important matches for sides in need of victories to salvage their campaigns.
The Denver Broncos are among the teams that are facing a pivotal moment in the term following their defeat at the hands of the Kansas City Chiefs. Trevor Siemian's poor performance has prompted a quarterback change to Brock Osweiler as Vance Joseph looks to keep his side in the playoff hunt.
The Tennessee Titans and Baltimore Ravens are facing a crucial showdown that could be a turning point in their respective seasons. Neither side can afford to lose, especially a Conference match-up.
We'll now break down the four teams that you should have in your teaser for this week's round of action.
Denver Broncos @ Philadelphia Eagles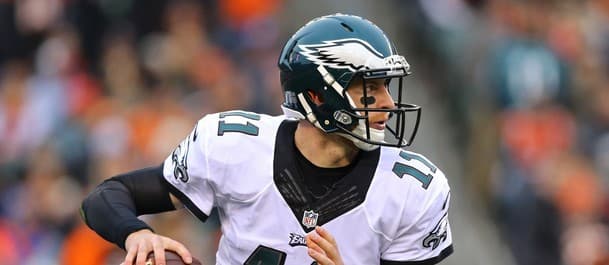 The Broncos are facing a crisis point in their season with their record at 3-4. They battled the Chiefs well in their clash on Monday Night Football on the road, only for a number of turnovers from Siemian along with errors from Jamaal Charles and Isaiah McKenzie to condemn them to the loss.
As a result of Siemian's mistakes, Joseph has replaced him with Osweiler at the quarterback position. Osweiler left the club after their Super Bowl win in 2015, but had an awful campaign following his move to the Houston Texans after signing a lucrative deal.
Now he finds himself back at square one, leading a timid offense against one of the hottest teams in the NFL. Osweiler had his moments in 2015 in relief of Peyton Manning, leading the club to a 5-2 record in his seven starts.
The 26-year-old will need to find his form against the Eagles, but their pass-rush will be hard to combat. Running back CJ Anderson found life against the Chiefs, but the Broncos will need a super outing to overcome Philadelphia.
On the opposite end of the spectrum, Carson Wentz continues to put forward his case to be MVP of the lead. The 24-year-old has been outstanding this term and his offense was boosted by the addition of Jay Ajayi in a trade with the Miami Dolphins.
A victory over the vaunted' Broncos defense will enhance his reputation further. He has the talent to do so, but will need to remain accurate in the pocket and pick his moments wisely. The Eagles should win this one quite comfortably, therefore take them at 1.27Bet €100 to win €12727/100Bet £100 to win £127-370Bet $100 to win $1270.27Bet HK$100 to win HK$127-3.70Bet Rp100 to win Rp1270.2700Bet RM100 to win RM127 with BetOnline and put them in your accumulator.
Los Angeles Rams @ New York Giants
The Rams come into this contest fresh off their bye week and have an opportunity to strike back at the Seattle Seahawks in the NFC West. Sean McVay's men continued their impressive campaign with a hammering of the Arizona Cardinals at Twickenham, shutting out their rivals in the process.
Todd Gurley has bounced back from his sophomore slump and has made a surge to be considered an outsider for the MVP award. The 22-year-old has rushed 627 yards this term along with another 293 through the air, notching eight touchdowns.
Los Angeles' offense flows through his performances and he will need another strong week to defeat the Giants on the road. Jared Goff has been steady for the club in the past two weeks, but he has lost the momentum he built up early in the season.
However, the Rams have continued to put up points with regularity, but will need to rise to the occasion against a solid unit. New York also come into the contest off the bye following their defeat to the Seahawks.
The Giants displayed fight to end their losing start to the campaign against the Broncos. However, their offense deficiencies were on full display against Seattle, with their injuries looming large.
They will be reliant on their defense to keep them in this game, but the Rams may just have too much for them to handle. Back McVay's men for the win on the road at odds of 1.57Bet €100 to win €15757/100Bet £100 to win £157-175Bet $100 to win $1570.57Bet HK$100 to win HK$157-1.75Bet Rp100 to win Rp1570.5700Bet RM100 to win RM157 with BetOnline and in your teaser.
Cincinnati Bengals @ Jacksonville Jaguars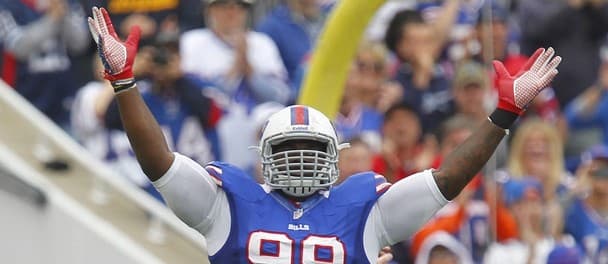 The Bengals kept their slim hopes in the AFC North alive with a narrow victory over the Indianapolis Colts last time out. The game was too close for comfort for the club, with a Carlos Dunlap pick-six, securing the victory for Marvin Lewis's men.
Cincinnati still had their issues on offense as their running game was held in check, while Jacoby Brissett had his moments against their defense. Quarterback Andy Dalton will have to be on his game against the Jaguars' defense. Their defensive line has been truly dominant this season, while their secondary has made passing downfield a difficult proposition.
Therefore the Bengals have to get their running game going on Sunday. Joe Mixon and Jeremy Hill have talent, but have not been able to break out this season. However, they have to rise to the occasion to ease the burden on Dalton.
Jacksonville can make ground in their bid to secure the AFC South crown. Doug Marrone's men shut out the Colts last time out and will be aiming to continue their dominance on defense. Calais Campbell has been a brilliant addition, while their line was further boosted with the trade for Marcell Dareus.
At this point the Jags arguably have the best defense in the NFL in terms of talent. As a result, they should be able to ease past the Bengals, with Leonard Fournette leading them to another win on the ground. Back them at odds of 1.45Bet €100 to win €1459/20Bet £100 to win £145-222Bet $100 to win $1450.45Bet HK$100 to win HK$145-2.22Bet Rp100 to win Rp1450.4500Bet RM100 to win RM145 with BetOnline.
Baltimore Ravens @ Tennessee Titans
The Ravens put forward a dominant performance over the Dolphins last time out, securing a 40-0 win on soil. The victory moved John Harbaugh's men back to .500 in a 4-4 record. Baltimore have not been brilliant this season, but they've done enough to keep themselves in contention.
Joe Flacco sustained a brutal from Kiko Alonso that knocked him out of the game. However, he has been passed fit to play against the Titans. He made decent throws to put his side ahead in the contest, while the running ability of Alex Collins has eased the pressure on his arm.
Baltimore's defense has been up and down, but when they're on form there are few better units in the league. As a result, Tennessee will have their work cut out, despite playing the match on home soil.
They barely edged past the Cleveland Browns last time out and are in need of consistency from Marcus Mariota. The 24-year-old has not been able to take his game to the next level this season, with four touchdowns to four interceptions.
DeMarco Murray and Derrick Henry have talent, but the Titans will need to trio to be at their best against the Ravens. Take them in your teaser at 1.60Bet €100 to win €1603/5Bet £100 to win £160-167Bet $100 to win $1600.60Bet HK$100 to win HK$160-1.67Bet Rp100 to win Rp1600.6000Bet RM100 to win RM160 with BetOnline to defeat the Ravens as they need to win to keep pace with the Jaguars.
Tips Summary
Philadelphia Eagles To Beat Denver Broncos
Sunday 5th November 2017 13:00 ET (18:00 GMT)
Odds: 1.27Bet €100 to win €12727/100Bet £100 to win £127-370Bet $100 to win $1270.27Bet HK$100 to win HK$127-3.70Bet Rp100 to win Rp1270.2700Bet RM100 to win RM127
Los Angeles Rams To Beat New York Giants
Sunday 5th November 2017 13:00 ET (18:00 GMT)
Odds: 1.57Bet €100 to win €15757/100Bet £100 to win £157-175Bet $100 to win $1570.57Bet HK$100 to win HK$157-1.75Bet Rp100 to win Rp1570.5700Bet RM100 to win RM157
Jacksonville Jaguars To Beat Cincinnati Bengals
Sunday 5th November 2017 13:00 ET (18:00 GMT)
Odds: 1.45Bet €100 to win €1459/20Bet £100 to win £145-222Bet $100 to win $1450.45Bet HK$100 to win HK$145-2.22Bet Rp100 to win Rp1450.4500Bet RM100 to win RM145
Tennessee Titans To Beat Baltimore Ravens
Sunday 5th November 2017 13:00 ET (18:00 GMT)
Odds: 1.60Bet €100 to win €1603/5Bet £100 to win £160-167Bet $100 to win $1600.60Bet HK$100 to win HK$160-1.67Bet Rp100 to win Rp1600.6000Bet RM100 to win RM160
Jacksonville Jaguars
Los Angeles Rams
NFL
Philadelphia Eagles
Tennessee Titans