The Philadelphia Eagles were outstanding in their surge to claim their first Super Bowl, defeating the New England Patriots to win the Vince Lombardi Trophy.
Doug Pederson's men overcame the loss of their starting quarterback Carson Wentz to charge through the playoffs. Nick Foles proved to be a more than capable deputy to Wentz, guiding his team past the Atlanta Falcons and Minnesota Vikings before defeating the Patriots at US Bank Stadium, putting 41 points on the board against Tom Brady and company.
Philadelphia have managed to more more-or-less intact from their triumph, returning the majority of their starters. Wentz is still working his way back from his ACL tear, but could be fit for the start of the season. Foles is on hand to take over once again, although he will be eyeing a starting berth elsewhere should he receive the opportunity.
The vaunted defensive line that secured the vital sack of Brady in the Super Bowl boasts further strength with the addition of Michael Bennett. Jordan Hicks will return from injury to add speed and power in the middle of the defense. Mike Wallace adds a reliable target downfield to whichever quarterback starts the term.
Pederson now must prepare his team to be the hunted team in the NFL. They denied the Patriots the chance to become repeat champions. The Eagles must be ready for the same tests throughout the campaign.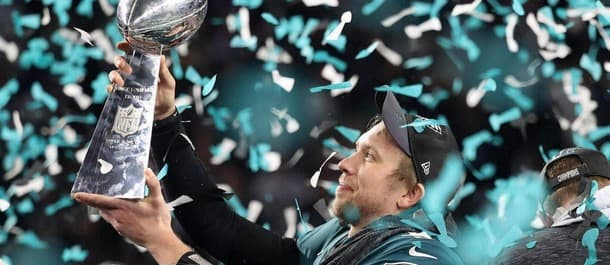 Offense
The Eagles were flying with Wentz as quarterback in the 2017 season before he suffered a torn ACL against the Los Angeles Rams. There were fears that their campaign would crumble in the playoffs without the 24-year-old with Foles struggling in his first two starts. However, after doing just enough to edge past the Falcons, Foles produced brilliant performances to defeat the Vikings and the Patriots. He was named Super Bowl MVP for his exploits in the triumph in Minnesota. Foles was linked with trade moves, but remains on the roster ahead of the campaign.
Wentz will be the starter when deemed fit enough to play, which could be the opener or in the early stages of the season. Wentz gives the Eagles a better quarterback with his passing range and ability to run. Whether his knee injury hinders him will determine the club's progress in the 2018 campaign. He was on the way to being considered MVP of the league and that sort of form will see the Eagles back into latter stages of the post-season.
Philadelphia did lose LeGarrette Blount in free agency, who has won three Super Bowls in four seasons – not a bad record. Jay Ajayi will take on more responsibility in the running game after sharing the carries with Blount last term. Josh Adams may have done enough in pre-season to earn Blount's old spot, while the third-down role will be split between Darren Sproles and Corey Clement.
Wallace could be an important signing as Alshon Jeffery has not emerged off the PUP list yet. Nelson Agholor came on leaps and bounds last season, while Markus Wheaton will share the slot role. Zach Ertz scored the decisive touchdown against New England. Given the demands on his role, the club used a second-round pick on Dallas Goedert to ease the burden on their superstar.
Defense
The Eagles' rotation on their pass-rush was one of the major factors in their success. Brandon Graham had the push late in the game to strip-sack Brady in the pocket to win the game for Pederson's men. Graham was extremely impressive throughout the term as were all of the Eagles' defensive line. Chris Long, Timmy Jernigan and Fletcher Cox, especially the latter were outstanding. Cox is an elite player and was almost unstoppable at times, although he did not have the best of time in the Super Bowl as the Patriots nullified his threat.
The Eagles managed to add one of the best defenders over the last five years to their line. Bennett was acquired from the Seahawks. He knows about success, having won Super Bowl XLVIII with Seattle. At the 32 he's not the player that he was, although Bennett still has the power and burst to be effective.
Hicks' loss was huge for the defense. It proved to be almost costly as Brady went up-and-down the field on the Eagles with ease before the sack in the Super Bowl. Hicks is dominant against the run and pass, and even though Nigel Bradham did well in relief, Pederson and defensive coordinator Jim Schwartz will be delighted to see the linebacker return to action.
The secondary was victimised by Brady in the Super Bowl to the tune of 505 passing yards. They cannot afford to be the weakness they were in Minnesota. Ronald Darby and Malcolm Jenkins are the standouts in the unit, but the support around them was lacking. Sidney Jones is an interesting player to watch. He was expected to be a high pick in the 2017 Draft before suffering an injury. Jones is back to fitness and could provide second cornerback option to complement Darby.
Betting Options
The Eagles are a team more than capable of winning the Super Bowl. However, no team has repeated since the 2005 Patriots, and last season's Patriots can attest to how difficult it is to claim back-to-back titles. They should remain the class of the NFC East, although the Cowboys could push them for the division. Back them at odds of 1.69Bet €100 to win €16969/100Bet £100 to win £169-145Bet $100 to win $1690.69Bet HK$100 to win HK$169-1.45Bet Rp100 to win Rp1690.6900Bet RM100 to win RM169 with TopBet and to be top of the division at 1.69Bet €100 to win €16969/100Bet £100 to win £169-145Bet $100 to win $1690.69Bet HK$100 to win HK$169-1.45Bet Rp100 to win Rp1690.6900Bet RM100 to win RM169 with BetOnline, along with reaching the playoffs at 1.32Bet €100 to win €1328/25Bet £100 to win £132-313Bet $100 to win $1320.32Bet HK$100 to win HK$132-3.13Bet Rp100 to win Rp1320.3200Bet RM100 to win RM132 and to win over 10 matches at 1.85Bet €100 to win €18517/20Bet £100 to win £185-118Bet $100 to win $1850.85Bet HK$100 to win HK$185-1.18Bet Rp100 to win Rp1850.8500Bet RM100 to win RM185 with 888Sport.
The challenge will come in the post-season. The NFC is extremely competitive and there will be a lot of teams vying for the spot in the Super Bowl. Odds of 7.00Bet €100 to win €7006/1Bet £100 to win £700+600Bet $100 to win $7006.00Bet HK$100 to win HK$7006.00Bet Rp100 to win Rp700-0.1667Bet RM100 to win RM700 with BetOnline are good value, although the Los Angeles Rams, Green Bay Packers and the Vikings will be pushing. The Super Bowl is so unpredictable, but the value of 11.00Bet €100 to win €110010/1Bet £100 to win £1100+1000Bet $100 to win $110010.00Bet HK$100 to win HK$110010.00Bet Rp100 to win Rp1100-0.1000Bet RM100 to win RM1100 with BetOnline is more than worth a punt.
Wentz's health will determine whether he can make a challenge for the MVP award. He was on course for the award last season before his torn ACL. Should he maintain that form and play in at least 15 games then he could be a solid bet at odds of 10.00Bet €100 to win €10009/1Bet £100 to win £1000+900Bet $100 to win $10009.00Bet HK$100 to win HK$10009.00Bet Rp100 to win Rp1000-0.1111Bet RM100 to win RM1000 with 888Sport. Wentz is at a slight disadvantage to lead the NFL in passing yards, but 45.00Bet €100 to win €450044/1Bet £100 to win £4500+4400Bet $100 to win $450044.00Bet HK$100 to win HK$450044.00Bet Rp100 to win Rp4500-0.0227Bet RM100 to win RM4500 with TopBet is good value.
Cox was a force on the line last season, and although the race will be competitive for defensive player of the year, back him at odds of 34.00Bet €100 to win €340033/1Bet £100 to win £3400+3300Bet $100 to win $340033.00Bet HK$100 to win HK$340033.00Bet Rp100 to win Rp3400-0.0303Bet RM100 to win RM3400 with BetOnline to win the award. The Eagles' pass-rush saw an equal split of sacks. Graham has not broken double digits in his career, but at odds of 51.00Bet €100 to win €510050/1Bet £100 to win £5100+5000Bet $100 to win $510050.00Bet HK$100 to win HK$510050.00Bet Rp100 to win Rp5100-0.0200Bet RM100 to win RM5100 he has good value to lead the NFL in quarterback takedowns at 888Sport.
Ajayi will be an interesting player to watch next season. He has an opportunity to be the lead back, but others may eat into his carries. Therefore take the under on 975 rushing yards at 1.77Bet €100 to win €17777/100Bet £100 to win £177-130Bet $100 to win $1770.77Bet HK$100 to win HK$177-1.30Bet Rp100 to win Rp1770.7700Bet RM100 to win RM177 , but over six touchdowns at 1.83Bet €100 to win €18383/100Bet £100 to win £183-120Bet $100 to win $1830.83Bet HK$100 to win HK$183-1.20Bet Rp100 to win Rp1830.8300Bet RM100 to win RM183 with BetOnline.
Tips Summary
Philadelphia Eagles To Win Super Bowl
Odds: 11.00Bet €100 to win €110010/1Bet £100 to win £1100+1000Bet $100 to win $110010.00Bet HK$100 to win HK$110010.00Bet Rp100 to win Rp1100-0.1000Bet RM100 to win RM1100
Philadelphia Eagles To Win NFC Championship
Odds: 7.00Bet €100 to win €7006/1Bet £100 to win £700+600Bet $100 to win $7006.00Bet HK$100 to win HK$7006.00Bet Rp100 to win Rp700-0.1667Bet RM100 to win RM700
Philadelphia Eagles To Win NFC East
Odds: 1.69Bet €100 to win €16969/100Bet £100 to win £169-145Bet $100 to win $1690.69Bet HK$100 to win HK$169-1.45Bet Rp100 to win Rp1690.6900Bet RM100 to win RM169
Philadelphia Eagles To Finish 1st NFC East
Odds: 1.69Bet €100 to win €16969/100Bet £100 to win £169-145Bet $100 to win $1690.69Bet HK$100 to win HK$169-1.45Bet Rp100 to win Rp1690.6900Bet RM100 to win RM169
Philadelphia Eagles To Reach Playoffs
Odds: 1.32Bet €100 to win €1328/25Bet £100 to win £132-313Bet $100 to win $1320.32Bet HK$100 to win HK$132-3.13Bet Rp100 to win Rp1320.3200Bet RM100 to win RM132
Philadelphia Eagles To Win Over 10 Matches
Odds: 1.85Bet €100 to win €18517/20Bet £100 to win £185-118Bet $100 to win $1850.85Bet HK$100 to win HK$185-1.18Bet Rp100 to win Rp1850.8500Bet RM100 to win RM185
Carson Wentz To Be Named NFL MVP
Odds: 10.00Bet €100 to win €10009/1Bet £100 to win £1000+900Bet $100 to win $10009.00Bet HK$100 to win HK$10009.00Bet Rp100 to win Rp1000-0.1111Bet RM100 to win RM1000
Carson Wentz To Lead NFL In Passing Yards
Odds: 45.00Bet €100 to win €450044/1Bet £100 to win £4500+4400Bet $100 to win $450044.00Bet HK$100 to win HK$450044.00Bet Rp100 to win Rp4500-0.0227Bet RM100 to win RM4500
Fletcher Cox To Win NFL Defensive Player Of The Year
Odds: 34.00Bet €100 to win €340033/1Bet £100 to win £3400+3300Bet $100 to win $340033.00Bet HK$100 to win HK$340033.00Bet Rp100 to win Rp3400-0.0303Bet RM100 to win RM3400
Brandon Graham To Lead NFL In Sacks
Odds: 51.00Bet €100 to win €510050/1Bet £100 to win £5100+5000Bet $100 to win $510050.00Bet HK$100 to win HK$510050.00Bet Rp100 to win Rp5100-0.0200Bet RM100 to win RM5100
Jay Ajayi To Rush For Under 975 Yards
Odds: 1.77Bet €100 to win €17777/100Bet £100 to win £177-130Bet $100 to win $1770.77Bet HK$100 to win HK$177-1.30Bet Rp100 to win Rp1770.7700Bet RM100 to win RM177
Jay Ajayi To Rush For Over Six Touchdowns
Odds: 1.83Bet €100 to win €18383/100Bet £100 to win £183-120Bet $100 to win $1830.83Bet HK$100 to win HK$183-1.20Bet Rp100 to win Rp1830.8300Bet RM100 to win RM183
Carson Wentz
Doug Pederson
Eagles
NFL
Philadelphia Eagles