The Philadelphia Eagles have battled adversity to reach the Super Bowl where they will face off against the New England Patriots in an attempt to win their first Vince Lombardi trophy.
Doug Pederson's men were outstanding during the regular season with Carson Wentz putting his tea on course for the number one seed. Wentz was playing at an MVP level, throwing 33 touchdowns to just seven interceptions.
However, the 25-year-old suffered a torn ACL during his side's impressive road win over the Los Angeles Rams. Nick Foles struggled in relief towards the end of the campaign, although Philadelphia edged their way towards securing home-field advantage in the NFC Conference.
They endured a defensive slog against the Atlanta Falcons in the Divisional Round, producing a stand on the goalline to hold Matt Ryan and company. Few predicted that they would be able to stand up to the challenge of the Minnesota Vikings in the NFC Championship.
Foles rose to the occasion to put on a clinic passing for 356 yards and three touchdowns to guide his side to a hammering of the Vikings at Lincoln Financial Field.
The quarterback faces a challenge to reproduce that level of form in the Super Bowl and will need his playmakers to help knock off the defending champions.
Alshon Jeffery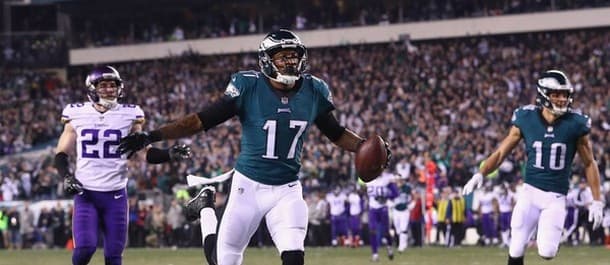 Jeffery has had a solid first season with the Eagles after moving from the Chicago Bears. He has not quite hit the heights of his time in Chicago, although he has notched nine touchdowns. The mark is the second-highest of his career, only behind his 2013 campaign when the 27-year-old secured a Pro Bowl berth.
Jeffery's height and physical presence have made him a mismatch for opposing cornerbacks. His speed downfield makes him a nightmare to cover, allowing the wideout to enjoy a great amount of success during his time in the league.
He provided a big target for Foles to connect with down the perimeter of the field. The duo combined to dominate the Vikings' defense, with Jeffery grabbing two of Foles' three touchdown passes. Jeffery will likely be facing off against his college team-mate Stephon Gilmore. The Patriots' cornerback has the size to match the 27-year-old and will know his tendencies. Jeffery has to win the match-up to aid his team's cause. They may have to go score-for-score with Brady, which will put the pressure on Foles and Jeffery to find the endzone with regularity once again.
The wideout has the talent and the Super Bowl may bring out the best in his abilities. Back him at 4.57Bet €100 to win €457357/100Bet £100 to win £457+357Bet $100 to win $4573.57Bet HK$100 to win HK$4573.57Bet Rp100 to win Rp457-0.2801Bet RM100 to win RM457 to notch over 101 receiving yards on Sunday with BetOnline. That may see Jeffery be the leading receiver in the match, which at odds of 6.00Bet €100 to win €6005/1Bet £100 to win £600+500Bet $100 to win $6005.00Bet HK$100 to win HK$6005.00Bet Rp100 to win Rp600-0.2000Bet RM100 to win RM600 is not bad value to take with Bovada.
Zach Ertz
The 27-year-old enjoyed the best season of his NFL career. Ertz recorded 74 receptions for 824 yards and eight touchdowns in his 14 matches. Only Rob Gronkowski and Travis Kelce boasted better statistics at the tight end position, highlighting his quality performances.
He made a number of big plays over the course of the season, threatening opposing defenses down the middle of the field. His size and unnatural speed for a 250-pound player presents a tough task for any defender tasked with covering him man-to-man.
As a result, Ertz flourished with Wentz and has provided a security blanket for Foles for safe throws into his large target area. The 27-year-old put a special display to edge his team past the Vikings. All-Pro Harrison Smith was assigned to cover the tight end, but could not limit his production as Ertz caught nine passes for 93 yards, including a 36-yard reception.
He holds the key for Philadelphia in the Super Bowl. Bill Belichick will make a priority of stopping at least one of Foles' targets. Due to the nature of the connection with the quarterback and tight end, expect Ertz to draw special attention.
If he wins his battle it could decide the match. Back him to score a touchdown anytime at odds of 2.50Bet €100 to win €2503/2Bet £100 to win £250+150Bet $100 to win $2501.50Bet HK$100 to win HK$2501.50Bet Rp100 to win Rp250-0.6667Bet RM100 to win RM250 with Bovada. Also take the over on 57.5 receiving yards at 1.74Bet €100 to win €17437/50Bet £100 to win £174-135Bet $100 to win $1740.74Bet HK$100 to win HK$174-1.35Bet Rp100 to win Rp1740.7400Bet RM100 to win RM174 . Ertz may be busy on Sunday therefore the value of 7.00Bet €100 to win €7006/1Bet £100 to win £700+600Bet $100 to win $7006.00Bet HK$100 to win HK$7006.00Bet Rp100 to win Rp700-0.1667Bet RM100 to win RM700 for two scores is intriguing at BetOnline.
Jay Ajayi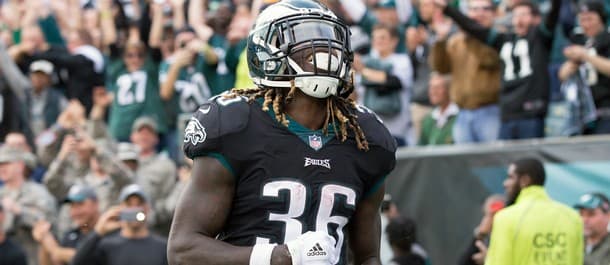 Ajayi started the 2017 campaign with the Miami Dolphins fresh off a breakout campaign in 2016 when he rushed for 1,272 yards. His outstanding campaign featured rushing for over 200 yards in three separate matches, including in back-to-back matches.
The London-born back was only the fourth player to accomplish the feat. He was expected to kick on with Adam Gase's men, with pressure on him to produce in the aftermath of Ryan Tannehill's season-ending injury. However, Ajayi underwhelmed, resulting in his trade to the Eagles in the middle of the campaign.
Pederson's side have seen the best of the 24-year-old, using their powerful offensive line to open up space for him to flourish. He has rushed for 408 yards at 5.8 yards a carry since his move. Ajayi has not been at his best in the playoffs, but could capitalise on the Eagles' advantage against New England's defensive line.
Teams have not had success running through the middle of the Patriots' defense. Leonard Fournette was largely held in check in the AFC title game. However, should Ajayi find space on the edge to attack New England's inexperienced defensive ends – he could have a successful evening.
As a result, back him to lead the Super Bowl in rushing yards at odds of 1.71Bet €100 to win €17171/100Bet £100 to win £171-141Bet $100 to win $1710.71Bet HK$100 to win HK$171-1.41Bet Rp100 to win Rp1710.7100Bet RM100 to win RM171 and take over for 67.5 rushing yards at 1.80Bet €100 to win €1804/5Bet £100 to win £180-125Bet $100 to win $1800.80Bet HK$100 to win HK$180-1.25Bet Rp100 to win Rp1800.8000Bet RM100 to win RM180 with Bovada. Take Ajayi to score at least one rushing touchdown at odds of 2.50Bet €100 to win €2503/2Bet £100 to win £250+150Bet $100 to win $2501.50Bet HK$100 to win HK$2501.50Bet Rp100 to win Rp250-0.6667Bet RM100 to win RM250 with BetOnline.
Tips Summary
Alshon Jeffery To Record Over 101 Receiving Yards
Sunday February 4th 2018 18:30 ET (23:30 GMT)
Odds: 4.57Bet €100 to win €457357/100Bet £100 to win £457+357Bet $100 to win $4573.57Bet HK$100 to win HK$4573.57Bet Rp100 to win Rp457-0.2801Bet RM100 to win RM457
Alshon Jeffery To Be Leading Receiver Super Bowl LII
Sunday February 4th 2018 18:30 ET (23:30 GMT)
Odds: 6.00Bet €100 to win €6005/1Bet £100 to win £600+500Bet $100 to win $6005.00Bet HK$100 to win HK$6005.00Bet Rp100 to win Rp600-0.2000Bet RM100 to win RM600
Zach Ertz To Score Touchdown Anytime Super Bowl LII
Sunday February 4th 2018 18:30 ET (23:30 GMT)
Odds: 2.50Bet €100 to win €2503/2Bet £100 to win £250+150Bet $100 to win $2501.50Bet HK$100 to win HK$2501.50Bet Rp100 to win Rp250-0.6667Bet RM100 to win RM250
Zach Ertz To Record Over 57.5 Receiving Yards
Sunday February 4th 2018 18:30 ET (23:30 GMT)
Odds: 1.74Bet €100 to win €17437/50Bet £100 to win £174-135Bet $100 to win $1740.74Bet HK$100 to win HK$174-1.35Bet Rp100 to win Rp1740.7400Bet RM100 to win RM174
Zach Ertz To Score Two Touchdowns
Sunday February 4th 2018 18:30 ET (23:30 GMT)
Odds: 7.00Bet €100 to win €7006/1Bet £100 to win £700+600Bet $100 to win $7006.00Bet HK$100 to win HK$7006.00Bet Rp100 to win Rp700-0.1667Bet RM100 to win RM700
Jay Ajayi To Leading Rusher In Super Bowl LII
Sunday February 4th 2018 18:30 ET (23:30 GMT)
Odds: 1.71Bet €100 to win €17171/100Bet £100 to win £171-141Bet $100 to win $1710.71Bet HK$100 to win HK$171-1.41Bet Rp100 to win Rp1710.7100Bet RM100 to win RM171
Jay Ajayi To Rush For Over 67.5 Yards
Sunday February 4th 2018 18:30 ET (23:30 GMT)
Odds: 1.80Bet €100 to win €1804/5Bet £100 to win £180-125Bet $100 to win $1800.80Bet HK$100 to win HK$180-1.25Bet Rp100 to win Rp1800.8000Bet RM100 to win RM180
Jay Ajayi To Score One Rushing Touchdown
Sunday February 4th 2018 18:30 ET (23:30 GMT)
Odds: 2.00Bet €100 to win €2001/1Bet £100 to win £200+100Bet $100 to win $2001.00Bet HK$100 to win HK$2001.00Bet Rp100 to win Rp2001.0000Bet RM100 to win RM200
Alshon Jeffery
Jay Ajayi
Philadelphia Eagles
Super Bowl
Zach Ertz