We're almost at the half-way stage of the 2018 NFL season as the majority of teams will have completed their opening eight games of the campaign.
The Houston Texans have continued to display signs of their resurgence by securing their fifth win in a row after defeating the Miami Dolphins.
It will be an important week for many teams across the NFL as they attempt to kick on or rebuild their respective campaigns. We'll now break down the five teams you should have in your teaser.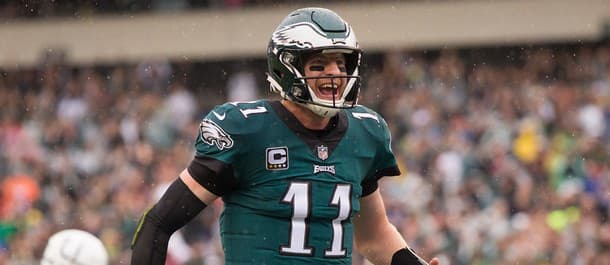 Philadelphia Eagles @ Jacksonville Jaguars (Wembley Stadium)
The Eagles are struggling at the moment, dropping back below .500 for the second time this season. They allowed the Carolina Panthers to rally from a 17-point deficit in the fourth quarter of their contest last week. Their defense failed to hold Cam Newton in check late in the game, allowing the Panthers quarterback to make the decisive throws to claim the win on the road. Carson Wentz had time to steal the victory for the Eagles, only to come up short on fourth down in the redzone. Philadelphia are not clicking offensively with Wentz as quarterback. He has put decent numbers, but is not producing enough points when in the redzone. The 25-year-old will have an opportunity to get back to form against a team that is having a worse time than Philadelphia.
Jacksonville looked to be on an upward trajectory after beating the New England Patriots in week two. However, since then they've crumbled losing four out of their last five games, including three in a row. Blake Bortles was benched last week in favour of Cody Kessler in a defeat to the Texans. Their offense is mess, while their defense is starting to crack under the pressure. The inquest began last week and doesn't appear to be close to resolving itself. Given that the Eagles appear to be the more settled team, take them to win at odds of 1.57Bet €100 to win €15757/100Bet £100 to win £157-175Bet $100 to win $1570.57Bet HK$100 to win HK$157-1.75Bet Rp100 to win Rp1570.5700Bet RM100 to win RM157 at TopBet.
Seattle Seahawks @ Detroit Lions
The Lions are rounding into form nicely under Matt Patricia. They've beaten Tom Brady and Aaron Rodgers already this season, and produced a fine performance on the road to defeat the Dolphins last week to move to 3-3 in their campaign. Other than their abject display against the New York Jets in the opener, Detroit have been a solid outfit. They've boosted their roster with a move for Damon Harrison from the New York Giants that will resolve their issues against the run.
Matt Stafford has been on song over the last few weeks, playing mistake-free football. Finally he has been given the support from the running game with rookie Kerryon Johnson, providing an outlet. He rushed for 158 yards last week in the win over Miami, which gave his team control of the game. If Detroit continue to play in that manner they will be a contender for the post-season.
Seattle come into the game fresh off their bye week. Pete Carroll's men eased past the Oakland Raiders in London last time out and will be looking at this game as a crux point in their season. A win for either side would see them move to 4-3. The Lions have beaten the Green Bay Packers and the New England Patriots at home this term, and although the Seahawks have been resolute, back Detroit for the win at odds of 1.69Bet €100 to win €16969/100Bet £100 to win £169-145Bet $100 to win $1690.69Bet HK$100 to win HK$169-1.45Bet Rp100 to win Rp1690.6900Bet RM100 to win RM169 with Bovada.
Tampa Bay Buccaneers @ Cincinnati Bengals
The Bengals were obliterated on the road by the Kansas City Chiefs last time out. It was a tough spot to play in primetime against Patrick Mahomes and company at Arrrowhead Stadium. However, Andy Dalton and his team-mates failed to rise to the occasion other than AJ Green, who put forward a stellar performance. After a bright start to the campaign Cincinnati have lost their way in recent weeks, allowing the Pittsburgh Steelers and the Baltimore Ravens to come into the frame in the AFC North. Marvin Lewis's men have a huge opportunity against the Buccaneers to get back to form.
Tampa Bay played out a thriller against the Cleveland Browns last week. Dirk Koetter's side allowed Cleveland back into the game, with Chandler Catanzaro missed a field goal in regulation. Catanzaro went from zero to hero for his team, kicking a 59-yarder in overtime to steal the win. Despite their win the Buccaneers have huge problems on their roster, which were not helped by Kwon Alexander's knee injury. They're not good enough to play on the road against a talented Bengals outfit and emerge with the win. Back Cincinnati for the victory at odds of 1.57Bet €100 to win €15757/100Bet £100 to win £157-175Bet $100 to win $1570.57Bet HK$100 to win HK$157-1.75Bet Rp100 to win Rp1570.5700Bet RM100 to win RM157 with BetOnline.
Baltimore Ravens @ Carolina Panthers
Not for the first time this season the Panthers proved their mettle in a tight game. Newton led his team back against the Eagles to secure Carolina's fourth win of the campaign. Ron Rivera's men were facing a 17-point deficit after an atrocious effort in the first half at Lincoln Financial Field. However, the offense fired in the second half, while the defense were resilient when called upon to keep Wentz and the Eagles out of the endzone. They will need all of that ability and more against the Ravens, who are almost a carbon-copy of the Panthers in the AFC Conference.
Baltimore lost in stunning circumstances to the Saints last time out. Justin Tucker would be the last player to think of when costing his team the game, but for the first time in his career, he failed to send an extra-point through the uprights. His look of shock epitomised the feeling of Ravens' players, coaches and supporters. Baltimore did go toe-to-toe with a quality team and John Harbaugh will have been satisfied with their effort, although they'll need an improvement on the road. It should be another thrilling contest that the home side might just edge at odds of 2.30Bet €100 to win €23013/10Bet £100 to win £230+130Bet $100 to win $2301.30Bet HK$100 to win HK$2301.30Bet Rp100 to win Rp230-0.7692Bet RM100 to win RM230 with BetOnline.
San Francisco 49ers @ Arizona Cardinals
Although the 49ers only have one win to their name this season, it's not for a lack of effort. Without starting quarterback Jimmy Garoppolo they've battled hard with CJ Beathard in the starting role. They were unfortunate to lose to the Green Bay Packers two weeks ago, while their clash with Los Angeles Chargers was also a tight-run affair. Beathard has his moments, but lacks the consistency in his play to be a starter in the NFL. He has made some quality throws downfield and it might be enough to expose the Cardinals, who were taken apart with ease by the Denver Broncos.
Steve Wilks will not be enjoying his first season as an NFL head coach. There is dissension in the ranks as defensive star Patrick Peterson reportedly asked for a trade, only to see his request rebuffed. Josh Rosen has struggled to adjust to life in the league after being thrust into the starting role due to Sam Bradford's issues at the position. As a result of Arizona's continuing problems, the 49ers will be able to sneak the win on the road at odds of 1.80Bet €100 to win €1804/5Bet £100 to win £180-125Bet $100 to win $1800.80Bet HK$100 to win HK$180-1.25Bet Rp100 to win Rp1800.8000Bet RM100 to win RM180 with Bovada.
Tips Summary
Philadelphia Eagles To Beat Jacksonville Jaguars
Sunday 28th October 2018 09:30 ET (13:30 GMT)
Odds: 1.57Bet €100 to win €15757/100Bet £100 to win £157-175Bet $100 to win $1570.57Bet HK$100 to win HK$157-1.75Bet Rp100 to win Rp1570.5700Bet RM100 to win RM157
Detroit Lions To Beat Seattle Seahawks
Sunday 28th October 2018 13:00 ET (17:00 GMT)
Odds: 1.69Bet €100 to win €16969/100Bet £100 to win £169-145Bet $100 to win $1690.69Bet HK$100 to win HK$169-1.45Bet Rp100 to win Rp1690.6900Bet RM100 to win RM169
Cincinnati Bengals To Beat Tampa Bay Buccaneers
Sunday 28th October 2018 13:00 ET (17:00 GMT)
Odds: 1.59Bet €100 to win €15959/100Bet £100 to win £159-169Bet $100 to win $1590.59Bet HK$100 to win HK$159-1.69Bet Rp100 to win Rp1590.5900Bet RM100 to win RM159
Carolina Panthers To Beat Baltimore Ravens
Sunday 28th October 2018 13:00 ET (17:00 GMT)
Odds: 2.30Bet €100 to win €23013/10Bet £100 to win £230+130Bet $100 to win $2301.30Bet HK$100 to win HK$2301.30Bet Rp100 to win Rp230-0.7692Bet RM100 to win RM230
San Francisco 49ers To Beat Arizona Cardinals
Sunday 28th October 2018 16:25 ET (20:25 GMT)
Odds: 1.80Bet €100 to win €1804/5Bet £100 to win £180-125Bet $100 to win $1800.80Bet HK$100 to win HK$180-1.25Bet Rp100 to win Rp1800.8000Bet RM100 to win RM180
Five Team Teaser with Bovada – 14.93Bet €100 to win €14931393/100Bet £100 to win £1493+1393Bet $100 to win $149313.93Bet HK$100 to win HK$149313.93Bet Rp100 to win Rp1493-0.0718Bet RM100 to win RM1493
Carolina Panthers
Cincinnati Bengals
Detroit Lions
NFL
Philadelphia Eagles
San Francisco 49ers