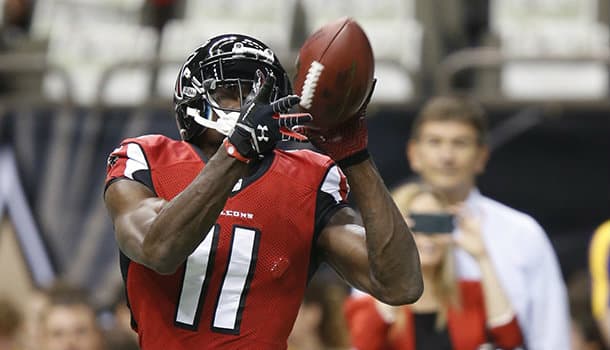 I had a bad feeling about last week and I ended up 0-2 for a loss of 2.1U (+2.9U Overall). The biggest surprise for me last week was the Saints losing to the Browns despite their road woes. San Francisco faltered with a big lead as well after turning the football over four times.
Time is running out to participate in the BetOnline NFL Kick-Off promotion. Bet on the NFL at BetOnline and earn a 50% bonus for up to $1000 on every deposit you make until the end of September. Each bonus you claim has a 10X rollover that has to be met (Bonus Code: NFL2014).
Week 3 NFL Teaser Picks
#1 – Atlanta Falcons –0.5 vs. Tampa Bay Buccaneers
Atlanta (1-1) is a totally different team at home, so you can't put too much weight on the loss to the Bengals (24-10) last week. Tampa Bay (0-2) has lost to the Panthers back-up QB and the Rams 3rd string QB. The Falcons can't afford to lose a divisional game at home against the Bucs.
The Buccaneers will be without Gerald McCoy who is their best player on defense. Matt Ryan has the #1 pass attack in the NFL through two weeks (328.5 PYPG) and TB won't be able to stop him in the Georgia Dome. This game is on TNF and I expect to see the Falcons from week 1 show up.
#2 – Cincinnati Bengals –0.5 vs. Tennessee Titans
Tennessee (1-1) looked great in W1 when they beat the Chiefs, but they followed that up with a home loss against the lowly Cowboys. Cincinnati (2-0) took care of the Falcons in W2 at home. The Bengals defense is only allowing 13 PPG (3rd), but they're allowing 270.5 PYPG (26th).
Jake Locker has looked good this season, but I don't like him on the road in this spot. Cincinnati went undefeated at home last season and they're incredibly tough to beat. This week Cincy will have success running on the Titans who are allowing 143.5 RYPG (24th) and they'll win at home.
#3 – Indianapolis Colts –1 vs. Jacksonville Jaguars
Indianapolis (0-2) is in desperation mode on the road this week against Jacksonville (0-2). The Colts lost on MNF to the Eagles after bad play calling at the end. The only good news is that despite a short week the Colts are going up against the Jaguars who have been terrible.
Jacksonville has allowed more points than any team (37.5 PPG) and the offense hasn't been much better (13.5 PPG –31st). The Colts defense has been lit up and they're allowing 30.5 PPG (30th), but they've played PHI and DEN. This is a must-win situation for the Colts and I love them to win SU.
#4 – Chicago Bears +8.5 vs. New York Jets
The Jets (1-1) host the Bears on MNF and this should be a hard-hitting close battle to the end. I'm surprised that the Jets are favored over the Bears in this match-up. Chicago showed great resiliency in their comeback win over SF last week on the road and they should build off that momentum.
Chicago's 9th ranked passing offense (255.5 PYPG) will be able to test the depleted Jets secondary that has allowed 221.5 PYPG (17th). Geno Smith isn't a great QB and he makes way too many mistakes. If the Jets pulled this one out at home it won't be by more than a FG.
I'm betting on two teasers this week again and both of them are 6-point teasers at BetOnline.
Teaser #1: Colts –1 & Falcons –0.5 (Bet 1.1U to Win 1U)
Teaser #2: Falcons –0.5, Bengals –0.5, Colts –1 & Bears +8.5 (Bet 1U to Win 2.6U)