The Indianapolis Colts have hope of a brighter 2018 season due to the return from injury of Andrew Luck.
The 28-year-old missed the entirety of the last campaign due to a shoulder injury, and as recently as the summer returned to full fitness.
Luck has displayed issues throwing the ball during pre-season, but with further time on the field, Indianapolis will be hopeful that their quarterback will be back to his best.
It has been an off-season of turmoil for the Colts. Josh McDaniels appeared to be set to become their new head coach, only to pull out at the 11th hour. Frank Reich was scrambled in as a replacement following success in his role as offensive coordinator of the Philadelphia Eagles.
Reich has to reverse the culture at the club, who had been overreliant on the form of Luck. Jacoby Brissett did a solid job in relief last season following his move from the New England Patriots, although Chuck Pagano's defense struggle to aid the second-year quarterback.
Pagano paid the price with his job. General manager Chris Ballard has turned over the roster, but deficiencies remain on defense such was the imbalance left by his predeccesor Ryan Grigson. It could be another term of strife for the Colts, although Luck's could inspire a return to at least mediocrity.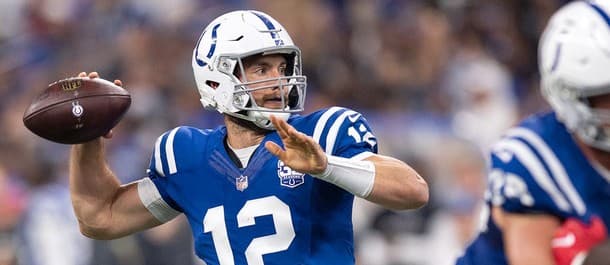 Offense
Luck's return will be a massive boost for the Colts to start the 2018 season. He has endured a number of injuries that have stymied his career. In 2014 Luck appeared to be on the ladder to becoming a truly elite quarterback after guiding the team to the AFC Championship Game. During the 2015 season injuries began to emerge, damaging his ribs which ruled him out of nine games. He played 15 matches in the 2016 term, but his shoulder limited his level of performance. Surgery was needed in that off-season, ruling him out of the last campaign.
There will be rust when he returns to competitive action for the first time. Luck has shown signs of a couple of issues in pre-season. However, he has the quality to overcome those problems, although may not be the talent in his receiving corps. Outside of TY Hilton there's not a great deal of ability. Eric Ebron had his moments in Detroit and could be a savvy signing, even though drops were common during his Lions' career. Ryan Grant is on course to be the starting wideout opposite Hilton, which does not inspire confidence. Luck cannot carry the offense on his own.
Indianapolis dropped back in the 2018 Draft to acquire picks. They attained a lot of capital in their trade with the New York Jets, moving back three spots. They selected Quenton Nelson, who arrives with glowing reports from his college days from Notre Dame. If Reich can model a new system to ease the pressure on Luck with a running game behind Nelson, there could be hope for the Colts in the future. Marlon Mack displayed potential in his rookie season, while Nyheim Hines was selected in the fourth round of the draft. Indianapolis need stars to emerge outside of Luck and Hilton on their offense.
Defense
Ballard used a lot of the capital acquired from the Jets to attempt the improve the Colts' defense. They were one of the worst units in the NFL last season, which played a role in Pagano's dismissal. The club have invested in their defensive line, adding ends Tyquan Lewis and Kemoko Turay to the mix, along with signing Chris McCain from the Los Angeles Chargers. Veterans John Simon and Jabaal Sheard remain on the team following solid campaigns. Hassan Ridgeway holds his place in the middle of the line, but the Colts still look vulnerable took the run, while lacking a fierce pass-rush.
Darius Leonard was selected in the second round of the 2018 Draft. He is in the mould of Deion Jones of being a smaller linebacker, utlised in coverage rather than being a thumper in the run game. Outside of the rookie, the Colts linebacking corps is a mess. There's a distinct lack of quality or depth across the entire group, while even experience is in short supply. Defensive coordinator Matt Eberflus will have a job on his hands, covering the holes in the unit.
The secondary is not a great deal better. Malik Hooker has the potential to be an elite player in the safety position. However, he suffered a torn ACL in his rookie term and will not be at his best as he continues to work his way back to full fitness. Quincy Wilson was selected in the second round of the 2017 Draft and earned playing time last term. Outside of Wilson at the cornerback positions there's Kenny Moore, who has flashed at times, but should not be a starter. Indianapolis could have the worst defense in the NFL. If Eberflus is able to make them a workable unit, he will have plenty of admirers.
Betting Options
Indianapolis are not winning the AFC South this term. It would be a stunning turn of events to see the Colts win the division. There are too many deficiencies on their roster to even make a semblance of a charge for the playoffs. Reich's men could be picking in the top-10 of the NFL Draft once again in 2019. Take the Colts to miss the playoffs at odds of 1.25Bet €100 to win €1251/4Bet £100 to win £125-400Bet $100 to win $1250.25Bet HK$100 to win HK$125-4.00Bet Rp100 to win Rp1250.2500Bet RM100 to win RM125 and to win under seven matches at 2.00Bet €100 to win €2001/1Bet £100 to win £200+100Bet $100 to win $2001.00Bet HK$100 to win HK$2001.00Bet Rp100 to win Rp2001.0000Bet RM100 to win RM200 with 888Sport. They could be an outside candidate to have the worst record in the NFL should Luck's injury problems emerge again at 15.00Bet €100 to win €150014/1Bet £100 to win £1500+1400Bet $100 to win $150014.00Bet HK$100 to win HK$150014.00Bet Rp100 to win Rp1500-0.0714Bet RM100 to win RM1500 with BetOnline. Back them to finish fourth in the AFC South at 2.00Bet €100 to win €2001/1Bet £100 to win £200+100Bet $100 to win $2001.00Bet HK$100 to win HK$2001.00Bet Rp100 to win Rp2001.0000Bet RM100 to win RM200 .
Luck's arm may not be able to take on the responsibility of throwing downfield on a consistent basis, therefore only take the bet for him to lead the NFL in passing at 34.58Bet €100 to win €34581679/50Bet £100 to win £3458+3358Bet $100 to win $345833.58Bet HK$100 to win HK$345833.58Bet Rp100 to win Rp3458-0.0298Bet RM100 to win RM3458 with Bookmaker. Hilton has been a machine in the receiving corps for the Colts during his career. Luck is not blessed with options and will have to rely on his main man. Back Hilton at 21.00Bet €100 to win €210020/1Bet £100 to win £2100+2000Bet $100 to win $210020.00Bet HK$100 to win HK$210020.00Bet Rp100 to win Rp2100-0.0500Bet RM100 to win RM2100 to lead the NFL in receiving yards at TopBet. Take the wideout to record over 1,051 yards at 1.63Bet €100 to win €16363/100Bet £100 to win £163-159Bet $100 to win $1630.63Bet HK$100 to win HK$163-1.59Bet Rp100 to win Rp1630.6300Bet RM100 to win RM163 and over seven touchdowns at 1.83Bet €100 to win €18383/100Bet £100 to win £183-120Bet $100 to win $1830.83Bet HK$100 to win HK$183-1.20Bet Rp100 to win Rp1830.8300Bet RM100 to win RM183 at BetOnline. The defense looks porous and could in line for a rough season, take the Colts to concede the most points over the course of the term at 6.00Bet €100 to win €6005/1Bet £100 to win £600+500Bet $100 to win $6005.00Bet HK$100 to win HK$6005.00Bet Rp100 to win Rp600-0.2000Bet RM100 to win RM600 with 888Sport.
Tips Summary
Indianapolis Colts To Miss The Playoffs
Odds: 1.25Bet €100 to win €1251/4Bet £100 to win £125-400Bet $100 to win $1250.25Bet HK$100 to win HK$125-4.00Bet Rp100 to win Rp1250.2500Bet RM100 to win RM125
Indianapolis Colts To Win Under Seven Matches
Odds: 2.00Bet €100 to win €2001/1Bet £100 to win £200+100Bet $100 to win $2001.00Bet HK$100 to win HK$2001.00Bet Rp100 to win Rp2001.0000Bet RM100 to win RM200
Indianapolis Colts To Have The Worst Record 2018 Season
Odds: 15.00Bet €100 to win €150014/1Bet £100 to win £1500+1400Bet $100 to win $150014.00Bet HK$100 to win HK$150014.00Bet Rp100 to win Rp1500-0.0714Bet RM100 to win RM1500
Indianapolis Colts To Finish Fourth AFC South
Odds: 2.00Bet €100 to win €2001/1Bet £100 to win £200+100Bet $100 to win $2001.00Bet HK$100 to win HK$2001.00Bet Rp100 to win Rp2001.0000Bet RM100 to win RM200
Indianapolis Colts To Concede Most Points 2018 Season
Odds: 6.00Bet €100 to win €6005/1Bet £100 to win £600+500Bet $100 to win $6005.00Bet HK$100 to win HK$6005.00Bet Rp100 to win Rp600-0.2000Bet RM100 to win RM600
Andrew Luck To Lead NFL In Passing Yards
Odds: 34.58Bet €100 to win €34581679/50Bet £100 to win £3458+3358Bet $100 to win $345833.58Bet HK$100 to win HK$345833.58Bet Rp100 to win Rp3458-0.0298Bet RM100 to win RM3458
TY Hilton To Lead NFL In Receiving Yards
Odds: 21.00Bet €100 to win €210020/1Bet £100 to win £2100+2000Bet $100 to win $210020.00Bet HK$100 to win HK$210020.00Bet Rp100 to win Rp2100-0.0500Bet RM100 to win RM2100
TY Hilton To Record Over 1,051 Receiving Yards
Odds: 1.63Bet €100 to win €16363/100Bet £100 to win £163-159Bet $100 to win $1630.63Bet HK$100 to win HK$163-1.59Bet Rp100 to win Rp1630.6300Bet RM100 to win RM163
TY Hilton To Record Over Seven Touchdowns
Odds: 1.83Bet €100 to win €18383/100Bet £100 to win £183-120Bet $100 to win $1830.83Bet HK$100 to win HK$183-1.20Bet Rp100 to win Rp1830.8300Bet RM100 to win RM183
Andrew Luck
Colts
Frank Reich
Indianapolis Colts
NFL