The Kansas City Chiefs face a test of their playoff mettle against the Indianapolis Colts to reach their first AFC Championship Game since the 1993 season.
Andy Reid's men finished the regular campaign with a 12-4 record, edging out the Los Angeles Chargers on a tie-breaker due to their stronger performance in the AFC West. The Chiefs have impressed throughout the term due to the brilliance of their offense led by MVP candidate Patrick Mahomes.
Mahomes threw 50 touchdown passes in his first full season as the club's starting quarterback. The 23-year-old is now presented with guiding his team into Championship weekend by seeing off the Colts. However, winning games in the post-season has been a major issue for Kansas City under Reid during his tenure. The club are 1-4 under Reid, including their defeat to the Colts in a remarkable contest in the Wildcard Round in 2013.
Andrew Luck produced a brilliant comeback in that contest to defeat the Chiefs at Lucas Oil Stadium. He will be desperate for a repeat performance to continue Indianapolis' momentum. Frank Reich's side were outstanding last week in their victory over the Houston Texans in the Wildcard Round.
Since starting the season 1-5, the Colts have won 10 matches, losing only once in the last three months. They are playing fine complementary football and with Luck at quarterback, they are more than capable of matching Kansas City score-for-score. The contest promises to be a thriller at Arrowhead Stadium.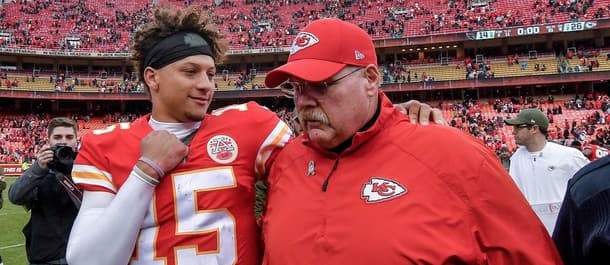 Kansas City Chiefs
The Chiefs are wading into familiar territory in the post-season. Under Reid they have been perennial contenders, reaching the playoffs in five of his six years at the club. However, the Chiefs have not been able to advance to the AFC Championship Game for the first time since 1993. They've suffered crushing defeats in the early rounds of the post-season. The Colts produced a stunning comeback in 2013, while the Pittsburgh Steelers and the Titans have been able to beat them on home soil. It has been an issue that has plagued Reid as a coach throughout his career.
During his time with the Philadelphia Eagles, the NFC East side endured a number of disappointments in the playoffs. The one year they got over the hump to reach the Super Bowl, they were beaten by the New England Patriots in the 2004 campaign. Reid has had problems managing game situations, which will be a fascinating aspect of the contest to see whether the issue comes to the fore.
Mahomes could be his saving grace. Reid has never had a quarterback as talented as the 23-year-old entering a post-season stretch. He has been outstanding this term and should win the MVP award, although Drew Brees will also be in consideration. He joined Brady and Manning as the only quarterbacks to have thrown 50 touchdowns in a season. Mahomes' numbers did regress slightly towards the end of the campaign. He along with Tyreek Hill and Travis Kelce cannot afford to be off colour as their defense may struggle to hold up against Luck and company. The game is huge for Kansas City in the context of the franchise, coach and quarterback.
Indianapolis Colts
The Colts are perhaps the hottest team in the NFL at the moment. They're riding the crest of a wave into Arrowhead Stadium after beating the Texans on the road last week. Indianapolis used the momentum built from their win over the Tennessee Titans to surge into an early lead in Houston. Luck was on point early in the contest to hand his team control before the defense put the clamps on Deshaun Watson. The Colts advanced with a strong performance to defeat their rivals 21-7 at NRG Stadium and will be feeling extremely confident heading into Kansas City.
Luck is playing as well as any quarterback in the NFL. It seems a long time ago when there were fears that his career at the top of the game could be in jeopardy due to a shoulder injury. Luck has been on point in his throws downfield and has the ability to shred the Chiefs' defense. He has an excellent temperament and will not be overawed by the occasion. One concern has been his propensity to throw interceptions, which in a close game could be costly. Luck has to limit his mistakes to go score-for-score with Mahomes and company.
Indianapolis' defense has been a pleasant surprise this term under the charge of Matt Eberflus. He has performed brilliantly in his role and has his unit working like a well-oiled machine. Without any star names, the Colts are playing with speed and a physical edge. They're going to have to be flawless to make the one stop against the best quarterback in the NFL this term.
Head to Head
Games Played: 25 Kansas City Chiefs: 9 Indianapolis Colts: 16
The Colts hold the edge in the head-to-head battle between the teams. Worryingly for the Chiefs, Indianapolis have won all four of the meetings in the post-season. This includes their infamous matchup in the 2013 season when Luck squared off against Reid's men. Kansas City with Alex Smith as signal-caller dominated for the opening 33 minutes, holding a 38-10 lead in the third quarter.
Luck inspired the comeback which began with two Donald Brown scores before Coby Fleener and the quarterback connected to bring the Colts within 10 points. Fortune was on the side of Indianapolis when a fumble on the goalline from Brown landed at Luck's feet and he dove over the line for a touchdown, reducing the deficit to three points. The Chiefs scored a field goal, but Luck and TY Hilton brought out a dagger with a 64-yard touchdown to send Indianapolis into the Divisional Round. It holds a place as the second-largest comeback in post-season history.
Match Betting Options
The Chiefs are a strong unit at home, losing only to the Los Angeles Chargers at Arrowhead this term. Indianapolis have been impressive of late, but whether they have the quality to match the Chiefs' offense is another matter. Kansas City have their faults, especially on defense which could be their Achilles' heel.
However, Mahomes and company will have the ability to outscore Indianapolis to secure the victory at odds of 1.45Bet €100 to win €1459/20Bet £100 to win £145-222Bet $100 to win $1450.45Bet HK$100 to win HK$145-2.22Bet Rp100 to win Rp1450.4500Bet RM100 to win RM145 with Bovada. It should be a close high-scoring contest therefore take the Colts on the +3.5 handicap at odds of 2.20Bet €100 to win €2206/5Bet £100 to win £220+120Bet $100 to win $2201.20Bet HK$100 to win HK$2201.20Bet Rp100 to win Rp220-0.8333Bet RM100 to win RM220 with 888Sport. Take the over on 57 total points to be scored at 1.91Bet €100 to win €19191/100Bet £100 to win £191-110Bet $100 to win $1910.91Bet HK$100 to win HK$191-1.10Bet Rp100 to win Rp1910.9100Bet RM100 to win RM191 with TopBet as there should be touchdowns aplenty, while the 2.80Bet €100 to win €2809/5Bet £100 to win £280+180Bet $100 to win $2801.80Bet HK$100 to win HK$2801.80Bet Rp100 to win Rp280-0.5556Bet RM100 to win RM280 for a defensive or special teams score should also be considered.
Player Betting Options
Hill has been one of the leading wideouts in the NFL this term. His speed over the top of Indianapolis' defense will be crucial in the Divisional Round.Back him and Mahomes to connect for a touchdown anytime at odds of 1.67Bet €100 to win €16767/100Bet £100 to win £167-149Bet $100 to win $1670.67Bet HK$100 to win HK$167-1.49Bet Rp100 to win Rp1670.6700Bet RM100 to win RM167 with Bet365, and also to lead the Divisional Round in receiving yards at 6.00Bet €100 to win €6005/1Bet £100 to win £600+500Bet $100 to win $6005.00Bet HK$100 to win HK$6005.00Bet Rp100 to win Rp600-0.2000Bet RM100 to win RM600 with BetOnline.
Eric Ebron has been money for the Colts this term, especially in the endzone with 14 scores to his name. Take him to score anytime at odds of 2.10Bet €100 to win €21011/10Bet £100 to win £210+110Bet $100 to win $2101.10Bet HK$100 to win HK$2101.10Bet Rp100 to win Rp210-0.9091Bet RM100 to win RM210 with Bet365, while Hilton will be active downfield with odds of 6.00Bet €100 to win €6005/1Bet £100 to win £600+500Bet $100 to win $6005.00Bet HK$100 to win HK$6005.00Bet Rp100 to win Rp600-0.2000Bet RM100 to win RM600 to lead the round in receiving yards at BetOnline.
The battle between Luck and Mahomes will decide the contest. Back Mahomes to out throw his counterpart in terms of yardage at odds of 1.77Bet €100 to win €17777/100Bet £100 to win £177-130Bet $100 to win $1770.77Bet HK$100 to win HK$177-1.30Bet Rp100 to win Rp1770.7700Bet RM100 to win RM177 with BetOnline and also to throw for most yards in the Divisional Round at 4.00Bet €100 to win €4003/1Bet £100 to win £400+300Bet $100 to win $4003.00Bet HK$100 to win HK$4003.00Bet Rp100 to win Rp400-0.3333Bet RM100 to win RM400 .
Tips Summary
Kansas City Chiefs To Beat Indianapolis Colts
Saturday 12th January 2019 16:35 ET (21:25 GMT)
Odds: 1.45Bet €100 to win €1459/20Bet £100 to win £145-222Bet $100 to win $1450.45Bet HK$100 to win HK$145-2.22Bet Rp100 to win Rp1450.4500Bet RM100 to win RM145
Indianapolis Colts -3.5 Handicap
Saturday 12th January 2019 16:35 ET (21:25 GMT)
Odds: 2.20Bet €100 to win €2206/5Bet £100 to win £220+120Bet $100 to win $2201.20Bet HK$100 to win HK$2201.20Bet Rp100 to win Rp220-0.8333Bet RM100 to win RM220
Over 57 Total Points To Be Scored
Saturday 12th January 2019 16:35 ET (21:25 GMT)
Odds: 1.91Bet €100 to win €19191/100Bet £100 to win £191-110Bet $100 to win $1910.91Bet HK$100 to win HK$191-1.10Bet Rp100 to win Rp1910.9100Bet RM100 to win RM191
Defensive Or Special Teams Touchdown To Be Scored
Saturday 12th January 2019 16:35 ET (21:25 GMT)
Odds: 2.80Bet €100 to win €2809/5Bet £100 to win £280+180Bet $100 to win $2801.80Bet HK$100 to win HK$2801.80Bet Rp100 to win Rp280-0.5556Bet RM100 to win RM280
Tyreek Hill To Score Touchdown Anytime
Saturday 12th January 2019 16:35 ET (21:25 GMT)
Odds: 1.67Bet €100 to win €16767/100Bet £100 to win £167-149Bet $100 to win $1670.67Bet HK$100 to win HK$167-1.49Bet Rp100 to win Rp1670.6700Bet RM100 to win RM167
Tyreek Hill To Lead NFL Division Round In Receiving Yards
Saturday 12th January 2019 16:35 ET (21:25 GMT)
Odds: 6.00Bet €100 to win €6005/1Bet £100 to win £600+500Bet $100 to win $6005.00Bet HK$100 to win HK$6005.00Bet Rp100 to win Rp600-0.2000Bet RM100 to win RM600
Eric Ebron To Score Touchdown Anytime
Saturday 12th January 2019 16:35 ET (21:25 GMT)
Odds: 2.10Bet €100 to win €21011/10Bet £100 to win £210+110Bet $100 to win $2101.10Bet HK$100 to win HK$2101.10Bet Rp100 to win Rp210-0.9091Bet RM100 to win RM210
TY Hilton To Lead NFL Division Round In Receiving Yards
Saturday 12th January 2019 16:35 ET (21:25 GMT)
Odds: 6.00Bet €100 to win €6005/1Bet £100 to win £600+500Bet $100 to win $6005.00Bet HK$100 to win HK$6005.00Bet Rp100 to win Rp600-0.2000Bet RM100 to win RM600
Patrick Mahomes To Throw More Passing Yards Than Andrew Luck
Saturday 12th January 2019 16:35 ET (21:25 GMT)
Odds: 1.77Bet €100 to win €17777/100Bet £100 to win £177-130Bet $100 to win $1770.77Bet HK$100 to win HK$177-1.30Bet Rp100 to win Rp1770.7700Bet RM100 to win RM177
Patrick Mahomes To Lead NFL Divisional Round In Passing Yards
Saturday 12th January 2019 16:35 ET (21:25 GMT)
Odds: 4.00Bet €100 to win €4003/1Bet £100 to win £400+300Bet $100 to win $4003.00Bet HK$100 to win HK$4003.00Bet Rp100 to win Rp400-0.3333Bet RM100 to win RM400
Andrew Luck
Indianapolis Colts
Kansas City Chiefs
NFL
Patrick Mahomes