The Los Angeles Rams' offense was one of the most explosive units in the NFL in the 2018 regular season and will spearhead their push to defeat the New England Patriots in Super Bowl LIII.
Sean McVay replaced Jeff Fisher as head coach in the 2017 season and revitalised the offense that was downright prehistoric under the charge of his predecessor.
McVay's offense brought out the best in quarterback Jared Goff and running back Todd Gurley. The latter was so impressive that he was touted to be named MVP, although the award eventually went to Patriots' quarterback Tom Brady.
Although the offense was impressive, it was stymied in the Rams' defeat to the Atlanta Falcons in the Wildcard Round last season. Work and new talent was required to take them to the next level.
Brandin Cooks was acquired for a first-round pick from New England to ease the burden on Robert Woods and Cooper Kupp. All of the Rams' key offensive skill players to a major step forward – perhaps the most vital being Goff, who looked every inch a franchise quarterback.
He threw for 32 touchdowns to 12 interceptions, although he was aided by the brilliance of Gurley along with his wideouts. Goff and company went toe-to-toe with the Kansas City Chiefs in week 10, putting an astounding 54 points on the board in their victory.
Los Angeles lost Kupp for the season, and although Josh Reynolds has filled the role, they've not been as explosive since, edging past the Dallas Cowboys and New Orleans Saints in the playoffs. Every player will have to be operating at their peak on Sunday.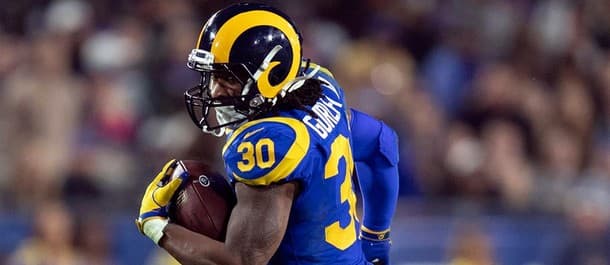 Todd Gurley
Gurley is the most important player in the Super Bowl. The 24-year-old has been struggling with a knee injury and a lack of form that saw him relegated to the bench in the NFC Championship Game. Gurley suffered an issues towards the back end of the campaign and has not been as explosive down the field since. It would be a huge blow for McVay to not have the running back at 100%. At his best, he has the ability to cut open the Patriots with ease.
New England have struggled against the run this term. His rushing ability also opens up the play-action game for Goff, forcing Bill Belichick's men to respect both the pass and the run. Gurley could also be a threat of the backfield, especially lined up against the Patriots' slow linebackers. However, he was off the boil against the Saints, costing his team an early interception as the ball deflected off his hands. The 24-year-old has not been operating at the peak of his powers, but his team need him more than ever to control the tempo of the game.
He rushed for over 100 yards against Dallas, although 38 of those yards came on one play. One explosive run is all that Gurley and the Rams may need to spark into life. Back him to rush for over 68.5 yards in the Super Bowl at 1.95Bet €100 to win €19519/20Bet £100 to win £195-105Bet $100 to win $1950.95Bet HK$100 to win HK$195-1.05Bet Rp100 to win Rp1950.9500Bet RM100 to win RM195 and over 14.5 attempts at 1.91Bet €100 to win €19191/100Bet £100 to win £191-110Bet $100 to win $1910.91Bet HK$100 to win HK$191-1.10Bet Rp100 to win Rp1910.9100Bet RM100 to win RM191 with TopBet. Gurley could be an outsider at odds of 17.00Bet €100 to win €170016/1Bet £100 to win £1700+1600Bet $100 to win $170016.00Bet HK$100 to win HK$170016.00Bet Rp100 to win Rp1700-0.0625Bet RM100 to win RM1700 at Bet365 to win Super Bowl MVP should he rediscover his best form on Sunday.
Brandin Cooks
Cooks was part of the Patriots' team that reached the Super Bowl last season. However, his game was ended abruptly when he received a blow to the head from Philadelphia Eagles safety Malcolm Jenkins that knocked him out of the contest. Without Cooks, the Patriots still put 33 points on the board, but succumbed to an eight-point defeat.
New England attempted to sign Cooks to a long-term deal although the plans were to break down and result in a trade deal with the Rams. The 25-year-old enjoyed the best season of his career in the Los Angeles, notching over 1,200 receiving yards and five touchdowns.
Cooks was impressive last time out against his former club the Saints, notching over 100 receiving yards, including a clutch grab down the sideline. He has the ability to expose another one of his former teams on Sunday. Cooks will likely be matched against rookie cornerback JC Jackson.
The 25-year-old has the raw pace to get behind the first year player to cause problems for Belichick's defense. They will know all of his strengths and weaknesses so he must be prepared for a physical game on Sunday. Take Cooks on the under for 4.5 receptions at 2.15Bet €100 to win €21523/20Bet £100 to win £215+115Bet $100 to win $2151.15Bet HK$100 to win HK$2151.15Bet Rp100 to win Rp215-0.8696Bet RM100 to win RM215 at TopBet and under 69.5 receiving yards at 2.05Bet €100 to win €20521/20Bet £100 to win £205+105Bet $100 to win $2051.05Bet HK$100 to win HK$2051.05Bet Rp100 to win Rp205-0.9524Bet RM100 to win RM205 with 888Sport – producing a similar effort to the Divisional Round against Dallas. Belichick will be locked in on Cooks and Robert Woods in the passing game.
Josh Reynolds
In the absence of Kupp, a lot will be expected of Reynolds to step up as the third wide receiver. He has been solid since replacing his team-mate in the line-up, but he will need to rise to the occasion against the Patriots. Woods will likely see a lot of Stephon Gilmore in their duel, while Cooks will face double teams at times down the field.
That will leave Reynolds matched up on New England's third cornerback – Jason McCourty – with the potential of making crucial plays during the game. The 23-year-old notched four receptions for 74 yards in the NFC Championship Game and a similar performance will be required against New England.
He has the size and catch radius to cause McCourty issues as he struggled with Los Angeles Chargers' wideout Mike Williams three weeks ago. Reynolds offers Goff a big target to throw the ball to across the field, but more importantly in the redzone. If Gurley has issues with his knee, throwing into the endzone will be vital.
Cooks doesn't have the size, while Woods will face a tough matchup. Reynolds notched five touchdowns over the course of the campaign and one score in the Super Bowl could be decisive. Back him to score anytime at odds of 2.50Bet €100 to win €2503/2Bet £100 to win £250+150Bet $100 to win $2501.50Bet HK$100 to win HK$2501.50Bet Rp100 to win Rp250-0.6667Bet RM100 to win RM250 with Betway, while back him to record over 3.5 receptions and over 48.5 receiving yards both at 1.87Bet €100 to win €18787/100Bet £100 to win £187-115Bet $100 to win $1870.87Bet HK$100 to win HK$187-1.15Bet Rp100 to win Rp1870.8700Bet RM100 to win RM187 with TopBet.
Tips Summary
Todd Gurley To Rush For Over 68.5 Yards Super Bowl LIII
Sunday 3rd February 2019 18:30 ET (23:30 GMT)
Odds: 1.95Bet €100 to win €19519/20Bet £100 to win £195-105Bet $100 to win $1950.95Bet HK$100 to win HK$195-1.05Bet Rp100 to win Rp1950.9500Bet RM100 to win RM195
Todd Gurley To Have 14.5 Rush Attempts Super Bowl LIII
Sunday 3rd February 2019 18:30 ET (23:30 GMT)
Odds: 1.91Bet €100 to win €19191/100Bet £100 to win £191-110Bet $100 to win $1910.91Bet HK$100 to win HK$191-1.10Bet Rp100 to win Rp1910.9100Bet RM100 to win RM191
Todd Gurley To Be Named Super Bowl LIII MVP
Sunday 3rd February 2019 18:30 ET (23:30 GMT)
Odds: 17.00Bet €100 to win €170016/1Bet £100 to win £1700+1600Bet $100 to win $170016.00Bet HK$100 to win HK$170016.00Bet Rp100 to win Rp1700-0.0625Bet RM100 to win RM1700
Brandin Cooks To Record Under 4.5 Receptions Super Bowl LIII
Sunday 3rd February 2019 18:30 ET (23:30 GMT)
Odds: 2.15Bet €100 to win €21523/20Bet £100 to win £215+115Bet $100 to win $2151.15Bet HK$100 to win HK$2151.15Bet Rp100 to win Rp215-0.8696Bet RM100 to win RM215
Brandin Cooks To Record Under 69.5 Receiving Yards Super Bowl LIII
Sunday 3rd February 2019 18:30 ET (23:30 GMT)
Odds: 2.05Bet €100 to win €20521/20Bet £100 to win £205+105Bet $100 to win $2051.05Bet HK$100 to win HK$2051.05Bet Rp100 to win Rp205-0.9524Bet RM100 to win RM205
Josh Reynolds To Record Over 48.5 Receiving Yards Super Bowl LIII
Sunday 3rd February 2019 18:30 ET (23:30 GMT)
Odds: 1.87Bet €100 to win €18787/100Bet £100 to win £187-115Bet $100 to win $1870.87Bet HK$100 to win HK$187-1.15Bet Rp100 to win Rp1870.8700Bet RM100 to win RM187
Josh Reynolds To Record Over 3.5 Receptions Super Bowl LIII
Sunday 3rd February 2019 18:30 ET (23:30 GMT)
Odds: 1.87Bet €100 to win €18787/100Bet £100 to win £187-115Bet $100 to win $1870.87Bet HK$100 to win HK$187-1.15Bet Rp100 to win Rp1870.8700Bet RM100 to win RM187
Josh Reynolds To Score Touchdown Anytime Super Bowl LIII
Sunday 3rd February 2019 18:30 ET (23:30 GMT)
Odds: 2.50Bet €100 to win €2503/2Bet £100 to win £250+150Bet $100 to win $2501.50Bet HK$100 to win HK$2501.50Bet Rp100 to win Rp250-0.6667Bet RM100 to win RM250
Brandin Cooks
Los Angeles Rams
Robert Woods
Super Bowl
Todd Gurley