The Los Angeles Chargers were made to rue a number of close defeats last season to miss out on a place in the post-season.
Anthony Lynn enjoyed a good first campaign as a head coach, guiding his team to a 9-7 season. However, it could have been better had the club been able to pull out a win before week five of the campaign.
Kicker Younghoe Koo cost his side in the opening two weeks of the term, missing two routine kicks that could have made the difference in the long run for the Chargers. Once they found their stride Los Angeles were one of the most formidable teams in the NFL.
Philip Rivers found a rhythm in the passing game, while Melvin Gordon had his moments out of the backfield. Keenan Allen returned from injury and was electric at wide receiver, earning the comeback player of the year award.
Defensively Joey Bosa emerged as a superstar at defensive end. He and Melvin Ingram combined to torment opposing offenses, creating pressure with ease off both sides of the defensive line.
Casey Hayward continued to prove that he is one of the elite cornerbacks in the game, providing security at the back end of the field. The Chargers have made improvements to their side in the off-season, but have also suffered injuries during training camp that could have lingering effects.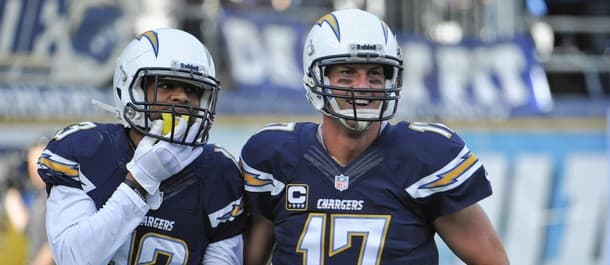 Offense
Rivers continues to be one of the most effective quarterbacks in the NFL. He is now slowing down with age, throwing 4,515 yards last term – finishing behind only Tom Brady. The 36-year-old notched 28 touchdowns to just 10 interceptions, highlighting his poise in the pocket. Support from the running game was not overwhelming. Gordon rushed for 1,000 yards, although he was not economical, averaging 3.9 yards per carry. That will have to change in the 2018 season for the Chargers to have a successful term. They cannot afford to leave every game on the shoulders of Rivers.
Antonio Gates' contract expired at the end of the 2017 season. Hunter Henry's season-ending ACL injury could prompt them to reach out to the tight end, although at the age of 37 he was not dynamic playmaker he was in the prime of his career. Henry's injury could be a huge setback for Los Angeles as he was beginning to blossom into the perfect replacement for Gates. There's not a great deal of depth at the position and Rivers could use a reliable target in the endzone even if the veteran cannot move like he used to.
The receiving corps is extremely talented, with Allen and Tyrell Williams leading the way. Allen bounced back from two injury-hit years to produce the best campaign of his career, recording 1,393 receiving yards and six touchdowns. Williams had a slight step back in form last term, but provides a deep threat over the top for Rivers with his speed. Mike Williams had a quiet rookie term, although he has the potential to be the best of the lot. Look for growth out of the former Clemson Tigers man in his second campaign in the NFL.
Defense
The Chargers' defense was a mystery in the 2017 season. They were dominant against the pass, allowing just 197.3 yards per game – the third best yardage in the NFL. However, they were woeful against the run, ranking next to last in the league. Defensive coordinator Gus Bradley has a task on his hand to reverse those fortunes.
Corey Liuget and Brandon Mebane need to improve in the middle of the line. The Chargers drafted Justin Jones in the third to provide pressure on the two veterans. Denzel Perryman has been effective in his time on the field, although like so many of Los Angeles' players those moments have been limited by injury. Jatavis Brown and Uchenna Nwosu need to provide support from the second level of the defense as well as covering tight ends and running backs down the field.
Bosa and Ingram tormented opposing tackles with their ability to break around the edges. They combined for 23 sacks between them last season, playing a huge role in limiting the passing game of opposing teams. Expect Bosa to continue to dominate on the line, enhancing his reputation as one of the best pass-rushers in the NFL.
The secondary has taken a blow with the loss of Jason Verrett for the season. The cornerback has missed the last 20 games due to a spate of injuries and his career appears to be in jeopardy. Hayward leads the unit, which has been bolstered by the selection of hard-hitting safety Derwin James. He will provide quality at the back end to match the efforts of Desmond King and Trevor Williams in front of him. There's good depth to the unit, which should match up well with the strength of the pass-rush.
Betting Options
Los Angeles are the ultimate tease in the betting markets. They have the quality to match the best teams in the NFL, but due to a number of reasons are never able to get over the line. Health is one, while their inability to close out games is another major factor. However, given the uncertainty in the AFC West they should win the division this term.
The Denver Broncos are out of the picture, while the reports of the Oakland Raiders under Jon Gruden sound underwhelming. The Kansas City Chiefs made the decision to make Patrick Mahomes their starting quarterback. As a result, there's an opportunity there for the Chargers to get over the line at odds of 2.50Bet €100 to win €2503/2Bet £100 to win £250+150Bet $100 to win $2501.50Bet HK$100 to win HK$2501.50Bet Rp100 to win Rp250-0.6667Bet RM100 to win RM250 with TopBet. However, they're too unreliable to be trusted with the AFC Conference and beyond.
Rivers finished second in passing yards last season, back him to lead the NFL in 2018 at 8.68Bet €100 to win €868192/25Bet £100 to win £868+768Bet $100 to win $8687.68Bet HK$100 to win HK$8687.68Bet Rp100 to win Rp868-0.1302Bet RM100 to win RM868 with Bookmaker. He has been in contention for MVP before and it could be the time for the veteran to make a run at the award. Take him at odds of 32.33Bet €100 to win €32333133/100Bet £100 to win £3233+3133Bet $100 to win $323331.33Bet HK$100 to win HK$323331.33Bet Rp100 to win Rp3233-0.0319Bet RM100 to win RM3233 with Bookmaker to clinch the prize. Also back him to throw for over 4,300 yards at 1.87Bet €100 to win €18787/100Bet £100 to win £187-115Bet $100 to win $1870.87Bet HK$100 to win HK$187-1.15Bet Rp100 to win Rp1870.8700Bet RM100 to win RM187 and 27 touchdowns and over at 1.87Bet €100 to win €18787/100Bet £100 to win £187-115Bet $100 to win $1870.87Bet HK$100 to win HK$187-1.15Bet Rp100 to win Rp1870.8700Bet RM100 to win RM187 with BetOnline.
Gordon will be an important figure, although his yardage may dip below 1,000. Take him on the under for 1,049 yards at 1.87Bet €100 to win €18787/100Bet £100 to win £187-115Bet $100 to win $1870.87Bet HK$100 to win HK$187-1.15Bet Rp100 to win Rp1870.8700Bet RM100 to win RM187 , but 11 touchdowns and over at odds of 1.95Bet €100 to win €19519/20Bet £100 to win £195-105Bet $100 to win $1950.95Bet HK$100 to win HK$195-1.05Bet Rp100 to win Rp1950.9500Bet RM100 to win RM195 . Allen was impressive last season, but both Williams' will take some of his yardage away. Back him on the under on 1,299 yards at odds of 1.80Bet €100 to win €1804/5Bet £100 to win £180-125Bet $100 to win $1800.80Bet HK$100 to win HK$180-1.25Bet Rp100 to win Rp1800.8000Bet RM100 to win RM180 , but seven touchdowns and over at 1.91Bet €100 to win €19191/100Bet £100 to win £191-110Bet $100 to win $1910.91Bet HK$100 to win HK$191-1.10Bet Rp100 to win Rp1910.9100Bet RM100 to win RM191 with BetOnline.
The Chargers are blessed with great defensive talent. Bosa will be targeting more than 15 sacks this term. It could be enough to win him defensive player of the year at odds of 8.00Bet €100 to win €8007/1Bet £100 to win £800+700Bet $100 to win $8007.00Bet HK$100 to win HK$8007.00Bet Rp100 to win Rp800-0.1429Bet RM100 to win RM800 with BetOnline. James comes in with an excellent reputation, take him for defensive rookie of the year at odds of 13.13Bet €100 to win €13131213/100Bet £100 to win £1313+1213Bet $100 to win $131312.13Bet HK$100 to win HK$131312.13Bet Rp100 to win Rp1313-0.0824Bet RM100 to win RM1313 with Bookmaker.
Tips Summary
Los Angeles Chargers To Win AFC West
Odds: 2.50Bet €100 to win €2503/2Bet £100 to win £250+150Bet $100 to win $2501.50Bet HK$100 to win HK$2501.50Bet Rp100 to win Rp250-0.6667Bet RM100 to win RM250
Philip Rivers To Lead NFL In Passing Yards
Odds: 8.68Bet €100 to win €868192/25Bet £100 to win £868+768Bet $100 to win $8687.68Bet HK$100 to win HK$8687.68Bet Rp100 to win Rp868-0.1302Bet RM100 to win RM868
Philip Rivers To Be NFL MVP
Odds: 32.33Bet €100 to win €32333133/100Bet £100 to win £3233+3133Bet $100 to win $323331.33Bet HK$100 to win HK$323331.33Bet Rp100 to win Rp3233-0.0319Bet RM100 to win RM3233
Philip Rivers To Throw For 4,300 Yards And Over
Odds: 1.87Bet €100 to win €18787/100Bet £100 to win £187-115Bet $100 to win $1870.87Bet HK$100 to win HK$187-1.15Bet Rp100 to win Rp1870.8700Bet RM100 to win RM187
Philip Rivers To Throw For Over 27 Touchdowns
Odds: 1.87Bet €100 to win €18787/100Bet £100 to win £187-115Bet $100 to win $1870.87Bet HK$100 to win HK$187-1.15Bet Rp100 to win Rp1870.8700Bet RM100 to win RM187
Melvin Gordon To Rush For Under 1,049 Yards
Odds: 1.87Bet €100 to win €18787/100Bet £100 to win £187-115Bet $100 to win $1870.87Bet HK$100 to win HK$187-1.15Bet Rp100 to win Rp1870.8700Bet RM100 to win RM187
Melvin Gordon To Record Over 11 Touchdowns
Odds: 1.95Bet €100 to win €19519/20Bet £100 to win £195-105Bet $100 to win $1950.95Bet HK$100 to win HK$195-1.05Bet Rp100 to win Rp1950.9500Bet RM100 to win RM195
Keenan Allen To Record Under 1,299 Receiving Yards
Odds: 1.80Bet €100 to win €1804/5Bet £100 to win £180-125Bet $100 to win $1800.80Bet HK$100 to win HK$180-1.25Bet Rp100 to win Rp1800.8000Bet RM100 to win RM180
Keenan Allen To Record Seven Touchdowns And Over
Odds: 1.91Bet €100 to win €19191/100Bet £100 to win £191-110Bet $100 to win $1910.91Bet HK$100 to win HK$191-1.10Bet Rp100 to win Rp1910.9100Bet RM100 to win RM191
Joey Bosa To Be NFL Defensive Player Of The Year
Odds: 8.00Bet €100 to win €8007/1Bet £100 to win £800+700Bet $100 to win $8007.00Bet HK$100 to win HK$8007.00Bet Rp100 to win Rp800-0.1429Bet RM100 to win RM800
Derwin James To Be NFL Defensive Rookie Of The Year
Odds: 13.13Bet €100 to win €13131213/100Bet £100 to win £1313+1213Bet $100 to win $131312.13Bet HK$100 to win HK$131312.13Bet Rp100 to win Rp1313-0.0824Bet RM100 to win RM1313
Anthony Lynn
Chargers
Los Angeles Chargers
NFL
Philip Rivers