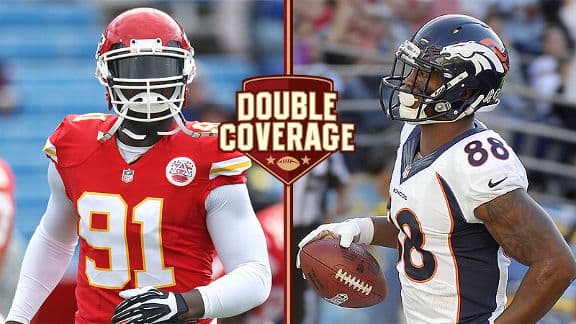 This weekends game sees the KC Chiefs look to silence their doubters as they look to show their title credentials when they take on Superbowl favourites the Denver Broncos
Denver quarterback Peyton Manning sprained his right ankle in last Sunday's game against the San Diego Chargers, and that ankle problem has kept him out of practice for the most part. However, Jack Del Rio, who is functioning as interim coach in the absence of John Fox, who's resting after his heart procedure, has indicated that Manning is getting some rest himself, and is a "go" to line up on Sunday night when the Broncos meet the team they are actually looking up to in the AFC West, the Kansas City Chiefs.
The Chiefs, who have been one of the biggest stories in the NFL this season under first-year coach Andy Reid, may be the team that is undefeated, but they are certainly not getting what one would expect to be a corresponding degree of consideration by NFL linemakers. In fact, the Broncos, playing at home, are an eight-point favorite in the game, as posted at Bovada.
Of course, such a thing shouldn't really be a big surprise, since a quick glance at Bovada's NFL futures odds shows that the Broncos are the favorites to win the Super Bowl right now, at +333 (10/3), while the Chiefs are priced at +1200 (12/1).
Now that we have gotten the question of Manning sorted out, let's take a look at some of the factors that have made Kansas City such an effective team this season, focusing primarily on the defense, and whether that could be something that will help them stay within this particular impost.
The website Football Outsiders compiles various statistics in a way that resembles the "sabermetric" studies that are performed in baseball. One of the things they use to gauge an offense's or defense's efficiency is a "Drive Chart," operating on the premise that getting off the field and limiting an opponent's drives (if you are looking at the defense) or being able to sustain drives (if you're looking at the offense) is a key to winning because of the fact that it not only has a direct effect on scoring, but also on field position.
According to the defensive drive stats, Kansas City has the most efficient defense in the league, almost across the board. The Chiefs have fewer yards (24.29) and points (0.96) per drive than any other team; they have allowed the opponent to keep the ball for the fewest number of plays per drive (5.12), which consequently results in the shortest period time per drive, on average (two minutes and ten seconds). They are able to prevent the other team from making a first down or touchdown on 40.5% of their drives.
To offer some perspective on that last statistic, the Minnesota Vikings are dead last in that category, as they prevent the opponent from achieving a first down or touchdown on only 23.9% of drives. Denver's defense is middle-of-the-road here, with a 32% success rate.
To give you an idea about what effect Kansas City's numbers have, consider that they are indeed best in terms of field position. The average line of scrimmage for an opponent upon gaining possession is 21.68 (short of the 22-yard line), and that is first in the NFL.
If you were to ask the average NFL fan or NFL bettor, they would probably be of the opinion that Denver's offense is the one that is most explosive in the drive charts. That is not the case. In fact, they are third in yards per drive, behind San Diego and Green Bay (at 38.36 per), but the Broncos do rank first when it comes to two other rather important categories in the offensive arena. They have posted the most points per drive (3.16, which is more than a half point higher than New Orleans, which is next) and they also have the best "Drive Success Rate," with a first down or touchdown on 79.2% of drives.
However, Kansas City has not been left out of the offensive picture. One of the things Reid wanted to straighten out when he became the head coach was the team's turnover situation. Last year the Chiefs tied for the most turnovers in the league, ironically with Reid's own Philadelphia Eagles, but this year they have accomplished a complete reversal. They are first in the NFL with regard to both interceptions and turnovers per drive (which means they had the fewest). And on offense, the Chiefs, again, have demonstrated that they are winning games with field position, as their average offensive drive starts just shy of the 33-yard line, another figure that is best in the league.
Of course, the drive stats do not adjust for level of opposition, and as Bovada customers know, one argument that is advanced by many pro football bettors is that the Chiefs have played against many inferior offenses and substitute quarterbacks. Well, when looking at the full list of Kansas City opponents, their average ranking in terms of offensive efficiency according to Football Outsiders is 22nd (22.2, to be precise), and they include low-ranking squads like Cleveland (24th), Buffalo (25th), the New York Giants (28th), Oakland (31st) and Jacksonville (32nd). What's more, and what has been well-documented, is that several of the opponents have used backup quarterbacks, like Tennessee (Ryan Fitzpatrick), Houston (Case Keenum), Cleveland (Jason Campbell) and Buffalo (Jeff Tuel).
Then again, the two teams they have played that are among the top dozen offenses as ranked by Football Outsiders (Dallas and Philadelphia) managed a total of 32 points against them. In fact, no one has scored more than 17 points against Kansas City.
Some would say – and not without justification, mind you – that they'll encounter a whole new ballgame on Sunday, as Denver is easily the #1 team in offensive efficiency. Manning is also the league's highest-rated passer, with 33 TD's and just six interceptions. But it's also likely that he will be less than 100% because of the ankle.
Sounds like a lot of things to figure out, doesn't it?
Yes it does. And that is why they call it handicapping.
If you fancy yourself a handicapper, open an account with the people from Bovada.lv and have access to the best tools the sportsbook business has to offer!