The Denver Broncos are facing another season of struggle in the NFL after failing to address their quarterback positon.
Denver have been on the decline since their Super Bowl triumph in the 2015 campaign. Peyton Manning led the club to the Vince Lombardi Trophy, albeit that he was carried over the line by the Broncos' elite defense in their win over the Carolina Panthers.
Since Manning's retirement, the team have not been able to find a long-term successor at the quarterback position. Trevor Siemian and Paxton Lynch failed to secure the starting berth, even though the latter was selected in the first round of the 2016 Draft.
The Broncos were one of a number of teams interested in Kirk Cousins. However, they failed to lure the 29-year-old to Denver, settling for Case Keenum. General manager John Elway opted to select pass-rusher Bradley Chubb in the first round with the fifth overall selection rather than pursuing another quarterback.
Head coach Vance Joseph is under huge pressure in his position after a 5-11 term in his first year. He cannot afford to take a step back otherwise his position will be in jeopardy. Without a potent offense it looks as though he will be fighting a losing battle.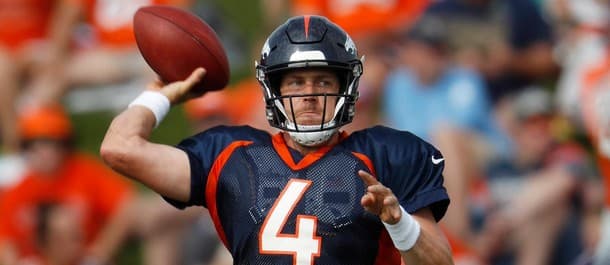 Offense
Keenum has a major challenge on his hands to get the Broncos' offense firing on all cylinders. Even getting the club to pose a threat with the ball in their possession. The 30-year-old enjoyed the best season of his career with the Minnesota Vikings last year. He took over the team from Sam Bradford, who suffered an injury in the first game of the term. Keenum guided his side all the way to the NFC Championship Game before the Philadelphia Eagles were able to torment him on the road.
Keenum threw for 3,587 yards along with 22 touchdowns to just seven interceptions. The Broncos would sign up for those statistics immediately. Unfortunately for Denver, those performances were an outlier and the other 31 teams will have 15 matches of film to use against Keenum. The Eagles were able to limit his production and expect that to be a theme of the 2018 season.
There's no proven commodity to take the pressure off Keenum in the running game. CJ Anderson left the club, leaving Devontae Booker, Royce Freeman and Philip Lindsay in the backfield. All three players lack experience and Denver cannot be expecting them to rush for over 1,000 yards. The Broncos have had huge issues with their offensive line, even in their Super Bowl winning season. Should any of the young backs find a semblance of form, they will not have huge spaces to run.
Denver's receiving corps has been consistent in the top two positions for a number of years. However, both Demaryius Thomas and Emmanuel Sanders are starting to decline. Both players have been excellent targets in the past, but their reliability has been on the wane, especially in key situations. Rookies Courtland Sutton and DaeSean Hamilton need to be viable options for Keenum in the passing game to give the Broncos a chance of competing on the field.
Defense
Denver will be pinning their hopes of their defense being the lockdown unit of the 2015 season. The talent is not too different from their Super Bowl win, although their young players will have to adapt quickly. Derek Wolfe leads the defensive line, although he has had issues with injuries over the past three years. At his best, Wolfe is a dominant end against the run and pass, but teams have been able to run away from him due to deficiencies elsewhere. DeMarcus Walker and Adam Gotsis were both selected in the second round of the draft over the past couple of years. Both players need to rise to the occasion to lock down opposing running games.
The strength of the team is in the linebacking corps. Von Miller is one of the best defenders in the NFL. At his best no offensive lineman can stop him one-on-one. Miller has the speed, size and strength to wreck any gameplan. His performances alone played a vital role in the club's Super Bowl triumph. The 29-year-old has maintained his levels of excellence, but he will need support around him. Shaquil Barrett and Shane Ray's injury problems placed too much of a burden on Miller. However, Denver were able to select Chubb fifth overall as the 22-year-old dropped right into their laps. Between Chubb and Miller, the Broncos could boast the most devastating tandem in the NFL. Expect big things from the unit, while players such as rookie Josey Jewell could also play their part.
The secondary lost Aqib Talib after his trade to the Los Angeles Rams. It will thrust Bradley Roby into the spotlight alongside Chris Harris. Both players have excelled in their roles and expect them to continue to operate at a high level. Justin Simmons is on a positive trajectory at safety. Sua Cravens was out of action last season but joined from the Washington Redskins, while Darian Stewart has been exposed at times. Outside of Harris and Roby there are question marks.
Betting Options
Denver won five matches last season to finish bottom of the AFC West. It looks as though the club will be on course for a similar campaign, perhaps even worse. Therefore take them to win under seven games at odds of 2.08Bet €100 to win €20827/25Bet £100 to win £208+108Bet $100 to win $2081.08Bet HK$100 to win HK$2081.08Bet Rp100 to win Rp208-0.9259Bet RM100 to win RM208 and not to reach the playoffs at 1.33Bet €100 to win €13333/100Bet £100 to win £133-303Bet $100 to win $1330.33Bet HK$100 to win HK$133-3.03Bet Rp100 to win Rp1330.3300Bet RM100 to win RM133 with 888Sport. Unless something strange happens count the Broncos out for the AFC West crown at 6.50Bet €100 to win €65011/2Bet £100 to win £650+550Bet $100 to win $6505.50Bet HK$100 to win HK$6505.50Bet Rp100 to win Rp650-0.1818Bet RM100 to win RM650 with BetOnline.
One player that should not be counted out is Chubb. Denver will be expecting big things from him this term. He could notch 10 sacks due to the attention that Miller will receive on the opposite flank. That sort of term will see him earn the defensive rookie of the year award at odds of 5.01Bet €100 to win €501401/100Bet £100 to win £501+401Bet $100 to win $5014.01Bet HK$100 to win HK$5014.01Bet Rp100 to win Rp501-0.2494Bet RM100 to win RM501 with Bookmaker. Miller should be reinvigorated by the presence Chubb alongside him. Take the linebacker to find his best form to win defensive player of the year at odds of 13.00Bet €100 to win €130012/1Bet £100 to win £1300+1200Bet $100 to win $130012.00Bet HK$100 to win HK$130012.00Bet Rp100 to win Rp1300-0.0833Bet RM100 to win RM1300 with BetOnline.
The offense will rely on Thomas and Sanders, but take them respectively to have under 1,049 yards and 925 yards at 1.95Bet €100 to win €19519/20Bet £100 to win £195-105Bet $100 to win $1950.95Bet HK$100 to win HK$195-1.05Bet Rp100 to win Rp1950.9500Bet RM100 to win RM195 and 1.87Bet €100 to win €18787/100Bet £100 to win £187-115Bet $100 to win $1870.87Bet HK$100 to win HK$187-1.15Bet Rp100 to win Rp1870.8700Bet RM100 to win RM187 , along with under six and four touchdowns at odds of 1.83Bet €100 to win €18383/100Bet £100 to win £183-120Bet $100 to win $1830.83Bet HK$100 to win HK$183-1.20Bet Rp100 to win Rp1830.8300Bet RM100 to win RM183 and 1.91Bet €100 to win €19191/100Bet £100 to win £191-110Bet $100 to win $1910.91Bet HK$100 to win HK$191-1.10Bet Rp100 to win Rp1910.9100Bet RM100 to win RM191 with BetOnline.
Joseph was walking a fine line after the club's five-win term last season. A repeat performance or an even worse campaign could see him axed. Take him to be the first coach to lose his job at odds of 7.00Bet €100 to win €7006/1Bet £100 to win £700+600Bet $100 to win $7006.00Bet HK$100 to win HK$7006.00Bet Rp100 to win Rp700-0.1667Bet RM100 to win RM700 with BetOnline.
Tips Summary
Denver Broncos To Win Under Seven Matches
Odds: 2.08Bet €100 to win €20827/25Bet £100 to win £208+108Bet $100 to win $2081.08Bet HK$100 to win HK$2081.08Bet Rp100 to win Rp208-0.9259Bet RM100 to win RM208
Denver Broncos To Not Reach Playoffs
Odds: 1.33Bet €100 to win €13333/100Bet £100 to win £133-303Bet $100 to win $1330.33Bet HK$100 to win HK$133-3.03Bet Rp100 to win Rp1330.3300Bet RM100 to win RM133
Bradley Chubb To Be Defensive Rookie Of The Year
Odds: 5.01Bet €100 to win €501401/100Bet £100 to win £501+401Bet $100 to win $5014.01Bet HK$100 to win HK$5014.01Bet Rp100 to win Rp501-0.2494Bet RM100 to win RM501
Von Miller To Be Defensive Player Of The Year
Odds: 13.00Bet €100 to win €130012/1Bet £100 to win £1300+1200Bet $100 to win $130012.00Bet HK$100 to win HK$130012.00Bet Rp100 to win Rp1300-0.0833Bet RM100 to win RM1300
Demaryius Thomas To Record Under 1,049 Receiving Yards
Odds: 1.95Bet €100 to win €19519/20Bet £100 to win £195-105Bet $100 to win $1950.95Bet HK$100 to win HK$195-1.05Bet Rp100 to win Rp1950.9500Bet RM100 to win RM195
Demaryius Thomas To Record Under Six Touchdowns
Odds: 1.83Bet €100 to win €18383/100Bet £100 to win £183-120Bet $100 to win $1830.83Bet HK$100 to win HK$183-1.20Bet Rp100 to win Rp1830.8300Bet RM100 to win RM183
Emmanuel Sanders To Record Under 925 Yards
Odds: 1.87Bet €100 to win €18787/100Bet £100 to win £187-115Bet $100 to win $1870.87Bet HK$100 to win HK$187-1.15Bet Rp100 to win Rp1870.8700Bet RM100 to win RM187
Emmanuel Sanders To Record Under Four Touchdowns
Odds: 1.91Bet €100 to win €19191/100Bet £100 to win £191-110Bet $100 to win $1910.91Bet HK$100 to win HK$191-1.10Bet Rp100 to win Rp1910.9100Bet RM100 to win RM191
Vance Joseph To Be First NFL Head Coach Fired 2018 Season
Odds: 7.00Bet €100 to win €7006/1Bet £100 to win £700+600Bet $100 to win $7006.00Bet HK$100 to win HK$7006.00Bet Rp100 to win Rp700-0.1667Bet RM100 to win RM700
Broncos
Case Keenum
Denver Broncos
NFL
Vance Joseph