Titans collide when the two best quarterbacks in the NFL, Tom Brady and Aaron Rodgers face off at Gillette Stadium on Sunday Night Football.
Brady and Rodgers lock horns for only the second time in their respective careers. Rodgers won the first match-up between the two great players in 2014 when the Green Bay Packers edged out the New England Patriots at Lambeau Field.
The Patriots went on to win the Super Bowl in that campaign where Rodgers and the Packers fell to the Seattle Seahawks in the NFC Championship. Brady and New England's win elevated the 41-year-old to a level where he is considered the greatest quarterback of all-time, which was further enhanced by his fifth championship two years ago.
Rodgers is striving to reach that level and has produced outstanding feats on the field, although the ultimate success has evaded him and the Packers since the 2010 campaign. Green Bay are 3-3-1 in their current season following their defeat at the hands of the Los Angeles Rams. Mike McCarthy's side are heading towards another underwhelming term unless they can turn their season around.
New England have coasted to five wins on the bounce to recover from their 1-2 start. The Patriots are making another charge for the Super Bowl and will be looking to prove another point by defeating Rodgers and the Packers at Foxborough.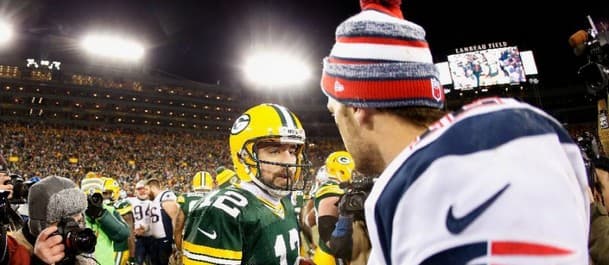 New England Patriots
After their 1-2 start to the season, alarm bells would have been ringing in New England with the possibility of a Super Bowl hangover. However, Bill Belichick has got his team on the right path again, winning five-straight matches to take control of the AFC East and breathing on the necks of the Kansas City Chiefs at the top of the conference. The Patriots' defense put the clamps on the Buffalo Bills in their clash on Monday.
Devin McCourty notched a pick-six of Derek Anderson to secure the victory on the road after Brady and the offense struggled to find the endzone for the majority of the game. New England's defense has been exposed this term, allowing over 24 points per game. They have come up with crucial turnovers and will need to make plays to deny Rodgers.
Patrick Mahomes had a big day for Kansas City against the Patriots, although he also committed two turnovers. Rodgers does not turn the ball over often, which will put Belichick's men under the spotlight as they desperately attempt to hold him in check.
The Patriots were able to defeat the Chiefs on home soil thanks to the brilliance of Brady. He was able to put the pressure on Mahomes that resulted in his two interceptions. Although the 41-year-old has remained at a high level, he has not been his flawless self. There's still plenty of room for improvement for New England's offense. James White has been their best player this term, while Julian Edelman attempts to establish himself once again after his ACL tear.
One huge concern has been the form of Rob Gronkowski, who has only notched one touchdown on the season. Gronkowski usually averages double digits in the touchdowns column, but he has been held at bay since week one. He has been limited by ankle injury and a lingering back issue. The 29-year-old is due a performance and you can only keep a good player down for so long.
Green Bay Packers
The Packers were to rue a costly mistake by Ty Montgomery in their defeat to the Rams. Rodgers and company had the chance to engineer a game-winning drive after their defense held Los Angeles to a field goal. Down two Rodgers would have had the opportunity to set up an opportunity for Mason Crosby to win the game. However, Montgomery fumbled the kick-off and allowed the Rams to see out the contest. It has been the story of the Packers' season thus far – two of their three wins have required heroics from Rodgers.
Other incidents have gone against the team, including dubious hits from Clay Matthews on opposing quarterbacks. In an attempt to address the culture, Green Bay traded away Montgomery following his error, while defensive back Ha Ha Clinton-Dix was also dispatched from the team. McCarthy is putting his faith in youth in the secondary and the running back corps, with more expected of Jaire Alexander, Josh Jones and Aaron Jones moving forward.
Green Bay played well against the Rams, with the defense holding their own against a formidable unit. Alexander rose to the occasion with a stellar performance against Brandin Cooks. He will have to be at his best once again as he may draw Edelman. Elsewhere there was pressure on Goff from Matthews and Mike Daniels, while Blake Martinez was also effective. Whether they can reach that high level once again on the road is another matter.
The game will rest on the shoulders of Rodgers. Rodgers is still not operating at the peak of his powers after suffering a knee injury on the opening day. The 34-year-old has thrown for 13 touchdowns to just one interception, although he has also lost three fumbles. He has not been in complete sync with his receiving corps outside of Davante Adams. Rodgers will need all of his weapons to be at their best to be ready to go score-for-score with Brady.
Betting Options
The Patriots are unbeaten on home soil this term, while the Packers have failed to win on the road. Brady and New England's offense are entering the game off a disappointing performance against the Bills last time out and will be desperate to put right their issues in the redzone, starting with Gronkowski's usage. Green Bay's defense played extremely well against the Rams, but whether they will be able to maintain that level of form against the Patriots is unlikely given their exertions.
With Rodgers and his offense not quite operating at the peak of the powers, take New England to win the game at odds of 1.44Bet €100 to win €14411/25Bet £100 to win £144-227Bet $100 to win $1440.44Bet HK$100 to win HK$144-2.27Bet Rp100 to win Rp1440.4400Bet RM100 to win RM144 with BetOnline. The Packers have the ability to keep the game close so take them at +3 on the spread with 888Sport at 2.25Bet €100 to win €2255/4Bet £100 to win £225+125Bet $100 to win $2251.25Bet HK$100 to win HK$2251.25Bet Rp100 to win Rp225-0.8000Bet RM100 to win RM225 . Given the quality of both offenses take the over on the total points' line of 56.5 at 1.94Bet €100 to win €19447/50Bet £100 to win £194-106Bet $100 to win $1940.94Bet HK$100 to win HK$194-1.06Bet Rp100 to win Rp1940.9400Bet RM100 to win RM194 with BetOnline.
Due to Gronkowski's drought his value is extremely enticing to find the endzone anytime. Back him to score on Sunday at odds of 2.30Bet €100 to win €23013/10Bet £100 to win £230+130Bet $100 to win $2301.30Bet HK$100 to win HK$2301.30Bet Rp100 to win Rp230-0.7692Bet RM100 to win RM230 , while for the Packers take tight end Jimmy Graham at 2.50Bet €100 to win €2503/2Bet £100 to win £250+150Bet $100 to win $2501.50Bet HK$100 to win HK$2501.50Bet Rp100 to win Rp250-0.6667Bet RM100 to win RM250 with 888Sport. The battle between the quarterbacks will be where the game is defined. Back Rodgers to throw for 300 yards and over at odds of 1.75Bet €100 to win €1753/4Bet £100 to win £175-133Bet $100 to win $1750.75Bet HK$100 to win HK$175-1.33Bet Rp100 to win Rp1750.7500Bet RM100 to win RM175 and Brady to surpass 303 at 1.85Bet €100 to win €18517/20Bet £100 to win £185-118Bet $100 to win $1850.85Bet HK$100 to win HK$185-1.18Bet Rp100 to win Rp1850.8500Bet RM100 to win RM185 with 888Sport.
Both quarterbacks should be over 2.5 touchdowns apiece on the game, back Brady at 2.10Bet €100 to win €21011/10Bet £100 to win £210+110Bet $100 to win $2101.10Bet HK$100 to win HK$2101.10Bet Rp100 to win Rp210-0.9091Bet RM100 to win RM210 and Rodgers at 2.20Bet €100 to win €2206/5Bet £100 to win £220+120Bet $100 to win $2201.20Bet HK$100 to win HK$2201.20Bet Rp100 to win Rp220-0.8333Bet RM100 to win RM220 to reach the mark. Take Brady to edge the showdown with more strikes than his rival at 2.25Bet €100 to win €2255/4Bet £100 to win £225+125Bet $100 to win $2251.25Bet HK$100 to win HK$2251.25Bet Rp100 to win Rp225-0.8000Bet RM100 to win RM225 with 888Sport. One stop or turnover could be crucial in the contest. Take Trey Flowers to notch at least one sack of Rodgers at odds of 2.10Bet €100 to win €21011/10Bet £100 to win £210+110Bet $100 to win $2101.10Bet HK$100 to win HK$2101.10Bet Rp100 to win Rp210-0.9091Bet RM100 to win RM210 .
Tips Summary
New England Patriots To Beat Green Bay Packers
Sunday 4th November 2018 20:20 ET (Monday 5th November 2018 01:20 GMT)
Odds: 1.44Bet €100 to win €14411/25Bet £100 to win £144-227Bet $100 to win $1440.44Bet HK$100 to win HK$144-2.27Bet Rp100 to win Rp1440.4400Bet RM100 to win RM144
Green Bay Packers +3 Spread
Sunday 4th November 2018 20:20 ET (Monday 5th November 2018 01:20 GMT)
Odds: 2.25Bet €100 to win €2255/4Bet £100 to win £225+125Bet $100 to win $2251.25Bet HK$100 to win HK$2251.25Bet Rp100 to win Rp225-0.8000Bet RM100 to win RM225
Over 56.5 Total Points To Be Scored
Sunday 4th November 2018 20:20 ET (Monday 5th November 2018 01:20 GMT)
Odds: 1.94Bet €100 to win €19447/50Bet £100 to win £194-106Bet $100 to win $1940.94Bet HK$100 to win HK$194-1.06Bet Rp100 to win Rp1940.9400Bet RM100 to win RM194
Rob Gronkowski To Score Touchdown Anytime
Sunday 4th November 2018 20:20 ET (Monday 5th November 2018 01:20 GMT)
Odds: 2.30Bet €100 to win €23013/10Bet £100 to win £230+130Bet $100 to win $2301.30Bet HK$100 to win HK$2301.30Bet Rp100 to win Rp230-0.7692Bet RM100 to win RM230
Jimmy Graham To Score Touchdown Anytime
Sunday 4th November 2018 20:20 ET (Monday 5th November 2018 01:20 GMT)
Odds: 2.50Bet €100 to win €2503/2Bet £100 to win £250+150Bet $100 to win $2501.50Bet HK$100 to win HK$2501.50Bet Rp100 to win Rp250-0.6667Bet RM100 to win RM250
Tom Brady To Throw Over 302.5 Passing Yards
Sunday 4th November 2018 20:20 ET (Monday 5th November 2018 01:20 GMT)
Odds: 1.85Bet €100 to win €18517/20Bet £100 to win £185-118Bet $100 to win $1850.85Bet HK$100 to win HK$185-1.18Bet Rp100 to win Rp1850.8500Bet RM100 to win RM185
Aaron Rodgers To Throw Over 299.5 Passing Yards
Sunday 4th November 2018 20:20 ET (Monday 5th November 2018 01:20 GMT)
Odds: 1.75Bet €100 to win €1753/4Bet £100 to win £175-133Bet $100 to win $1750.75Bet HK$100 to win HK$175-1.33Bet Rp100 to win Rp1750.7500Bet RM100 to win RM175
Tom Brady To Throw Over 2.5 Touchdowns
Sunday 4th November 2018 20:20 ET (Monday 5th November 2018 01:20 GMT)
Odds: 2.10Bet €100 to win €21011/10Bet £100 to win £210+110Bet $100 to win $2101.10Bet HK$100 to win HK$2101.10Bet Rp100 to win Rp210-0.9091Bet RM100 to win RM210
Aaron Rodgers To Throw Over 2.5 Touchdowns
Sunday 4th November 2018 20:20 ET (Monday 5th November 2018 01:20 GMT)
Odds: 2.20Bet €100 to win €2206/5Bet £100 to win £220+120Bet $100 to win $2201.20Bet HK$100 to win HK$2201.20Bet Rp100 to win Rp220-0.8333Bet RM100 to win RM220
Tom Brady To Throw More Touchdowns Than Aaron Rodgers
Sunday 4th November 2018 20:20 ET (Monday 5th November 2018 01:20 GMT)
Odds: 2.25Bet €100 to win €2255/4Bet £100 to win £225+125Bet $100 to win $2251.25Bet HK$100 to win HK$2251.25Bet Rp100 to win Rp225-0.8000Bet RM100 to win RM225
Trey Flowers To Record Over 0.5 Sacks
Sunday 4th November 2018 20:20 ET (Monday 5th November 2018 01:20 GMT)
Odds: 2.10Bet €100 to win €21011/10Bet £100 to win £210+110Bet $100 to win $2101.10Bet HK$100 to win HK$2101.10Bet Rp100 to win Rp210-0.9091Bet RM100 to win RM210
Aaron Rodgers
Green Bay Packers
New England Patriots
NFL
Tom Brady