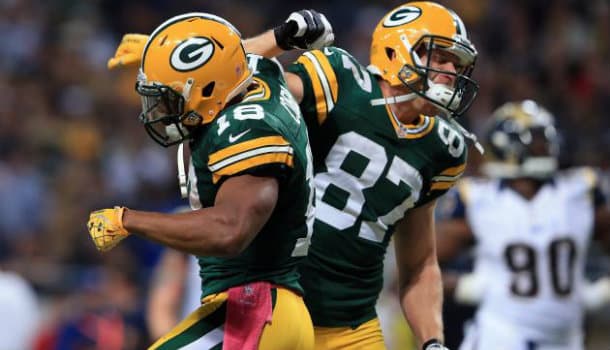 The Steelers ended up blowing the game late against the Buccaneers last week and that ended up costing me both of my teasers. I went 0-2 last week on teasers and now I'm +4.4U on teasers.
BetOnline offers a lifetime 25% bonus guarantee, but for the month of October new players that deposit for the first time will receive a 50% bonus for up to $1000 when using the bonus code "OCT50".
Let's take a look at the best teams to bet on 6-point teasers in week 5 NFL action.
2014 NFL Week 5 Teaser Selections
Green Bay Packers –1.5 vs. Minnesota Vikings
I've been having success on the TNF game all season and this week we have the Minnesota Vikings (2-2) traveling to Lambeau Field to take on the Green Bay Packers (2-2) in an NFC North rivalry game.
Bridgewater played great in a win over the Falcons (41-28), as he threw for 317 yards in W4. However, he is banged up this week. If he doesn't end up playing on Thursday than Ponder will get the start.
Regardless of who starts at QB this is a game where the Vikes will miss Peterson. Rodgers will be able to hit Nelson and Cobb regularly. There is no way the Packers don't win by a FG+ at Lambeau.
New Orleans Saints –4 vs. Tampa Bay Buccaneers
Mike Glennon threw for 302 yards in a win over the Steelers and he'll start again this week, but he has to still work on his accuracy issues. The run game for the Buccaneers has basically been non-existent.
The Saints are allowing 27.5 PPG (28th), but in their lone home game they only allowed the Vikings to put up 9 points. After last week's loss to the Cowboys (38-17) I expect the Saints to dominate at home.
Tampa Bay is scoring 18.0 PPG (29th) while allowing 29.8 PPG (31st). The Saints have not been playing like themselves, but this is still one of the best home teams in the NFL playing a poor TB team.
Detroit Lions –1 vs. Buffalo Bills
Detroit (3-1) has only one loss on the road against the Panthers back in W2. Buffalo (2-2) has now lost two in a row and the team has decided to bench E.J. Manuel and start Kyle Orton at QB this week.
This Bills teams has talent, but the QB position is holding them back. The Bills secondary is also weak and they're allowing 266.2 PYPG (25th), which isn't a good thing when playing against Stafford.
The Lions rank 7th in the NFL in passing yards (276.0 PYPG). They have had trouble scoring (21.2 PPG – 23rd), but Detroit is 2-0 at home with wins over the Giants and Packers. They'll beat Buffalo.
Seattle Seahawks –1.5 vs. Washington Redskins
The Seahawks (2-1) lost their first road game in W2 against the Chargers (30-21). They came out flat in the game and I'll put my money on the line that the Seahawks won't take Washington (1-3) lightly.
Pete Carroll will have his team ready despite winning a huge game over Denver last week at home. Right now the NFC West is tight and the Seahawks can't afford throwing away easy games like this.
Washington's defense has played well, but expect the Redskins offense to make a couple big mistakes that'll set-up the Seahawks with short fields to work with. Seattle will win by double digits.
NFL Week 5 Teaser Best Bets
Packers –1.5 & Seahawks –1.5 (Bet 1.1U to Win 1U)
Packers –1.5, Seahawks –1.5, Saints –4 & Lions –1 (Bet 1U to Win 2.6U)
I'm confident that the Packers and Seahawks to both win easily this week.