The AFC North stages a huge contest in the division between the Cincinnati Bengals and the Pittsburgh Steelers at Paul Brown Stadium.
The Bengals have enjoyed an excellent start to the season and currently sit atop of the AFC North, with four wins to their name.
Cincinnati displayed their character to rally from a two-touchdown deficit to see off the Miami Dolphins last week. Defensive scores from Michael Johnson and Sam Hubbard guided the Bengals back from the brink, keeping pace with the Kansas City Chiefs at the top of the AFC Conference.
The Bengals will look to strengthen their hold on the division by beating down their rivals. Pittsburgh were able to defeat the ailing Atlanta Falcons with relative ease. However, there is still a major concern for Mike Tomlin's men about the form of quarterback Ben Roethlisberger.
Their defense improved to hold the Falcons at bay at Heinz Field, but will once again be tested by a quality outfit in the form of the Bengals' offense. The Steelers are 2-2-1 in their season, two games back on their rivals. They cannot afford another loss before their bye next week.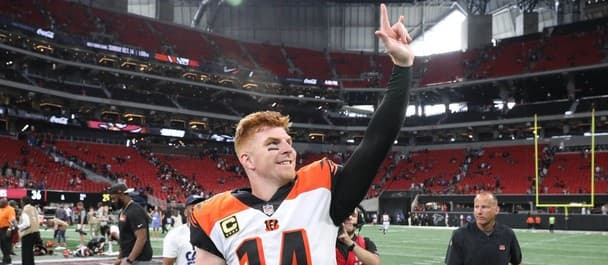 Cincinnati Bengals
The Bengals have been impressive this term, with their only defeat coming at the hands of the Carolina Panthers on the road. Even in that contest Marvin Lewis's men were competitive. Their performance against the Dolphins proved that they're a tough resilient outfit. Cincinnati did get themselves into trouble, trailing by 14 points at half-time at home. However, Andy Dalton along with their defense managed to drag the hosts back into the contest.
The 30-year-old quarterback was not exceptional, but once again he did enough with the ball in his hands. He made a great play to find Joe Mixon in the endzone, evading a sack and throwing between three players to his running back. Cincinnati's offense has talent even without the injured Tyler Eifert. AJ Green has continued to excel this term, producing another 100-yard performance against Miami. Tyler Boyd has emerged as the second option outside of Green. With Mixon operating in the running game, the Bengals have more than enough firepower to give the Steelers nightmares on Sunday. They will need to be at their best, although has shown that they are more than capable of taking control of games.
Cincinnati have a lot of talent on all three levels of their defense. Geno Atkins remains the standout on the defensive line, dominating against the run and the pass. Carlos Dunlap is outstanding off the edge, producing the sack and fumble that led to Hubbard's score. Vontaze Burfict returned from his suspension to bolster the linebacking unit, although Nick Vigil and Jordan Evans are emerging in the starting roles in the middle of the defense.
The secondary is the most exciting part of the defense, and they will have to be flawless against Roethlisberger, Antonio Browns and Juju Smith-Schuster. Darqueze Dennard and William Jackson III are excellent cornerbacks along with the solid veteran Dre Kirkpatrick. Rookie Jessie Bates is one to watch and will be key to keeping the Steelers' passing game in check.
Pittsburgh Steelers
The Steelers secured a much-needed triumph over the Falcons last time out, although Atlanta are struggling without the presence of their key defensive players. Pittsburgh couldn't afford to feel sorry for any team and duly capitalised as James Conner found his form once again in the running game, rushing for 110 yards and two touchdowns along with 75 receiving yards. Brown found a semblance of his best, while Smith-Schuster notched a touchdown. However, the passing game is still not clicking, which will be a huge concern to Roethlisberger and Tomlin.
The quarterback threw a poor interception before half-time, costing his side at least three points. Roethlisberger did have three touchdowns on the day, but will have to be so much better for the Steelers to have a hope of reaching the post-season. Le'Veon Bell has suggested that he may return in week eight after the club's bye, although Pittsburgh's problems appear to be more deep rooted.
Pittsburgh's defense showed a marked improvement from their previous performances this term to limit Atlanta to just 17 points. Ryan and company were unable to move the ball downfield to match the Steelers score-for-score. TJ Watt had a big day in the pass-rush, notching three sacks for a second time of the campaign. Watt joined his brother JJ as the NFL's sack leader, highlighting his value to the team, although he will need to improve his consistency.
Cameron Heyward and the defensive line were also on point, holding the run game in check early in the contest. Perhaps the most pleasing aspect for the Steelers was their secondary, who limited Julio Jones to only 62 yards. They will need a similar effort against Green and company to build off their success. The contest will be a real test of their mettle on the road.
Betting Options
The Bengals have been flying high this term and should be able to continue their form, using their potent offense to overcome the Steelers on home soil. Dalton has the targets downfield to expose Pittsburgh's secondary where Ryan and the Falcons' offense could not.
With Roethlisberger and his receivers not quite operating at the peak of their powers, Tomlin's men will not be able to keep pace with Cincinnati, allowing the home side to emerge with the win. Take the Bengals at odds of 1.83Bet €100 to win €18383/100Bet £100 to win £183-120Bet $100 to win $1830.83Bet HK$100 to win HK$183-1.20Bet Rp100 to win Rp1830.8300Bet RM100 to win RM183 at Bovada, while take the hosts in a display of confidence at -6 on the spread with 888Sport at odds of 2.55Bet €100 to win €25531/20Bet £100 to win £255+155Bet $100 to win $2551.55Bet HK$100 to win HK$2551.55Bet Rp100 to win Rp255-0.6452Bet RM100 to win RM255 for value. The over/under line has been set at 52 points for the contest, take the over at odds of 2.00Bet €100 to win €2001/1Bet £100 to win £200+100Bet $100 to win $2001.00Bet HK$100 to win HK$2001.00Bet Rp100 to win Rp2001.0000Bet RM100 to win RM200 with BetOnline.
Boyd has been an effective downfield presence for the Bengals early in the campaign. He has scored two touchdowns in his five matches, back him to find the endzone once again at odd of 2.40Bet €100 to win €2407/5Bet £100 to win £240+140Bet $100 to win $2401.40Bet HK$100 to win HK$2401.40Bet Rp100 to win Rp240-0.7143Bet RM100 to win RM240 anytime with 888Sport. Vance McDonald has emerged as a reliable target for Pittsburgh. He was quiet last week, back him to regain his touch at odds of 3.50Bet €100 to win €3505/2Bet £100 to win £350+250Bet $100 to win $3502.50Bet HK$100 to win HK$3502.50Bet Rp100 to win Rp350-0.4000Bet RM100 to win RM350 with 888Sport.
Expect big passing days for Dalton and Roethlisberger given the context of the game. Back them at 1.85Bet €100 to win €18517/20Bet £100 to win £185-118Bet $100 to win $1850.85Bet HK$100 to win HK$185-1.18Bet Rp100 to win Rp1850.8500Bet RM100 to win RM185 with 888Sport to throw over 276 and 301 yards respectively. Green and Browns are two of the elite receivers in the NFL. They should be active in the contest, therefore back them to record over 85 and 92 receiving yards respectively at odds of 1.85Bet €100 to win €18517/20Bet £100 to win £185-118Bet $100 to win $1850.85Bet HK$100 to win HK$185-1.18Bet Rp100 to win Rp1850.8500Bet RM100 to win RM185 with 888Sport.
Tips Summary
Cincinnati Bengals To Beat Pittsburgh Steelers
Sunday 14th October 2018 13:00 ET (18:00 BST)
Odds: 1.83Bet €100 to win €18383/100Bet £100 to win £183-120Bet $100 to win $1830.83Bet HK$100 to win HK$183-1.20Bet Rp100 to win Rp1830.8300Bet RM100 to win RM183
Cincinnati Bengals -6 Spread
Sunday 14th October 2018 13:00 ET (18:00 BST)
Odds: 2.55Bet €100 to win €25531/20Bet £100 to win £255+155Bet $100 to win $2551.55Bet HK$100 to win HK$2551.55Bet Rp100 to win Rp255-0.6452Bet RM100 to win RM255
Over 52 Points To Be Scored
Sunday 14th October 2018 13:00 ET (18:00 BST)
Odds: 2.00Bet €100 to win €2001/1Bet £100 to win £200+100Bet $100 to win $2001.00Bet HK$100 to win HK$2001.00Bet Rp100 to win Rp2001.0000Bet RM100 to win RM200
Tyler Boyd To Score Touchdown Anytime
Sunday 14th October 2018 13:00 ET (18:00 BST)
Odds: 2.40Bet €100 to win €2407/5Bet £100 to win £240+140Bet $100 to win $2401.40Bet HK$100 to win HK$2401.40Bet Rp100 to win Rp240-0.7143Bet RM100 to win RM240
Vance McDonald To Score Touchdown Anytime
Sunday 14th October 2018 13:00 ET (18:00 BST)
Odds: 3.50Bet €100 to win €3505/2Bet £100 to win £350+250Bet $100 to win $3502.50Bet HK$100 to win HK$3502.50Bet Rp100 to win Rp350-0.4000Bet RM100 to win RM350
Andy Dalton To Throw Over 276 Passing Yards
Sunday 14th October 2018 13:00 ET (18:00 BST)
Odds: 1.85Bet €100 to win €18517/20Bet £100 to win £185-118Bet $100 to win $1850.85Bet HK$100 to win HK$185-1.18Bet Rp100 to win Rp1850.8500Bet RM100 to win RM185
Ben Roethlisberger To Throw Over 301 Passing Yards
Sunday 14th October 2018 13:00 ET (18:00 BST)
Odds: 1.85Bet €100 to win €18517/20Bet £100 to win £185-118Bet $100 to win $1850.85Bet HK$100 to win HK$185-1.18Bet Rp100 to win Rp1850.8500Bet RM100 to win RM185
AJ Green To Record Over 85 Receiving Yards
Sunday 14th October 2018 13:00 ET (18:00 BST)
Odds: 1.85Bet €100 to win €18517/20Bet £100 to win £185-118Bet $100 to win $1850.85Bet HK$100 to win HK$185-1.18Bet Rp100 to win Rp1850.8500Bet RM100 to win RM185
Antonio Brown To Record Over 92 Receiving Yards
Sunday 14th October 2018 13:00 ET (18:00 BST)
Odds: 1.85Bet €100 to win €18517/20Bet £100 to win £185-118Bet $100 to win $1850.85Bet HK$100 to win HK$185-1.18Bet Rp100 to win Rp1850.8500Bet RM100 to win RM185
Andy Dalton
Ben Roethlisberger
Cincinnati Bengals
NFL
Pittsburgh Steelers