The Cleveland Browns have made one of the boldest moves of the NFL off-season, acquiring All-Pro wide receiver Odell Beckham Jr from the New York Giants.
Beckham was the second leading wideout in the league to be traded following in the footsteps of Antonio Brown. The 26-year-old was reportedly unhappy with matters at the Giants, although the club were reticent to allow their star player to leave MetLife Stadium.
General manager Dave Gettleman insisted that Beckham Jr would not be allowed to join another club after New York handed the wideout a lucrative five-year deal. However, the Browns swooped in with an offer of a first and third-round pick in the 2019 Draft along with safety Jabrill Peppers.
New York accepted the deal to send Beckham to the Browns, where he will link up with rising star Baker Mayfield and his former team-mate from his LSU Tigers' days Jarvis Landry.
Beckham's move highlighted a change in the winds in Cleveland. The Browns for so long had been the laughing stock of the league, but are now moving into position to be one of the leading contenders for the Super Bowl. New York on the other hand are trending in the wrong direction.
Cleveland Browns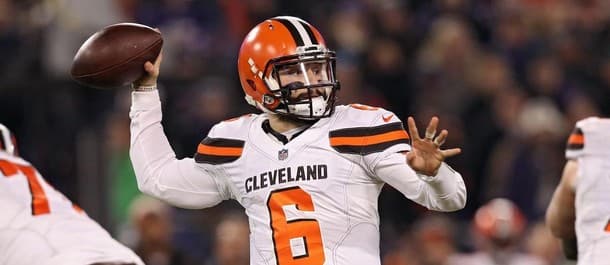 The Browns were the laughing stock of the NFL for two-straight seasons. Under Hue Jackson they went 1-31 between 2016 and 2017 – failing to win a single game in a 0-16 campaign in the latter. Cleveland did earn the first-overall pick in the 2017 and 2018 Drafts, which allowed them to select Myles Garrett and Mayfield.
The shoots of recovery were seen last season following the firing of Jackson after another underwhelming start to the term. Under Gregg Williams, the club made a dramatic improvement, although they handed the job on a permanent basis to Freddie Kitchens rather than the experienced defensive coordinator.
Mayfield thrived in his first term, which was largely responsible for Kitchens landing the head coaching position due to his performance as offensive coordinator. Mayfield got the best out of Landy, Antonio Calloway, David Njoku, Duke Johnson and Nick Chubb out of the backfield.
Beckham adds the superstar power to the lineout, handing him a weapon all over the field. The 26-year-old can take any play for a touchdown as proven in his years with the Giants. He is a precise route-runner and can make difficult catches look routine. Beckham will hand Mayfield a passing option on every play given that few cornerbacks can handle him in one-on-one matchups.
On paper the Browns offense looks unstoppable, with the addition of Kareem Hunt also added into the mix. It could be a similar situation to the Kansas City Chiefs where their offense exploded into life last term. Cleveland have not won the AFC North in the 17 years since the realignment of the divisions. However, back them to end the drought at odds of 2.30Bet €100 to win €23013/10Bet £100 to win £230+130Bet $100 to win $2301.30Bet HK$100 to win HK$2301.30Bet Rp100 to win Rp230-0.7692Bet RM100 to win RM230 with TopBet.
New York Giants
The Giants are trending in the direction where the Browns dwelt at the bottom of the NFL ladder. New York's reluctance to move on from quarterback Eli Manning has left them in purgatory. They've lost a lot of star power in the off-season, beginning with Beckham. However, Olivier Vernon and Landon Collins have also left the club.
Outside of outstanding running back Saquon Barkley, there is virtually nothing for Manning to work with on the offense. Evan Engram has shown talent during his time on the field, although injuries have limited his progress.
Sterling Shephard has had issues with his consistency, while the arrival of Golden Tate will come with expectations as he slots into Beckham's position. Even with Manning at the peak of his powers, it could be problematic, the issue for New York is that he is on the decline.
The Giants could select a quarterback in the 2019 Draft with the sixth-overall pick. Although another disappointing season could result in them landing in prime positon to take one of the slew of outstanding college quarterback emerging in 2020.
Beckham's departure leaves a hole on the offense and the market without a franchise player. All eyes will be on Barkley to step up to be the leading man on and off the field. Don't expect too much from the Giants next term after their 5-11 2018 season. Back them to win under six matches at odds of 1.67Bet €100 to win €16767/100Bet £100 to win £167-149Bet $100 to win $1670.67Bet HK$100 to win HK$167-1.49Bet Rp100 to win Rp1670.6700Bet RM100 to win RM167 with TopBet.
Odell Beckham Jr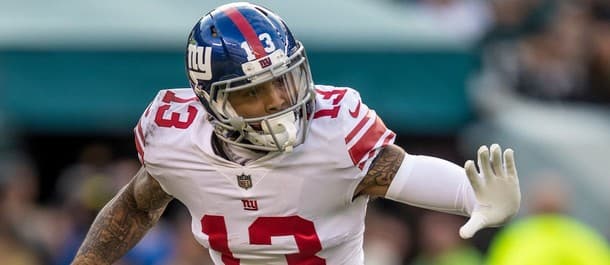 Beckham has been one of the most dominant receivers in the NFL since his arrival in the league in 2014. He has recorded four seasons of over 1,000 yards in five years, and the only time he failed to do so was the 2017 campaign when he played only six games due to injury.
Beckham was on form last term, despite Manning's problems throwing downfield. In 12 matches he recorded 77 receptions for 1,052 yards and six touchdowns. Depending on his fitness – as he did miss the final four matches of the term – expect those figures to approach 1,500 yards and 12 touchdowns next term.
Mayfield is on upward trajectory in the NFL whereas Manning is on the downturn. The 23-year-old threw for 3,725 yards and 27 touchdowns, and the expectation is that those figures will rise. Mayfield will have the ability to get Beckham into the endzone and down the field.
Back Beckham to record over 90 receptions at 1.87Bet €100 to win €18787/100Bet £100 to win £187-115Bet $100 to win $1870.87Bet HK$100 to win HK$187-1.15Bet Rp100 to win Rp1870.8700Bet RM100 to win RM187 , over 1,101 yards at 1.80Bet €100 to win €1804/5Bet £100 to win £180-125Bet $100 to win $1800.80Bet HK$100 to win HK$180-1.25Bet Rp100 to win Rp1800.8000Bet RM100 to win RM180 and over nine touchdowns at 1.87Bet €100 to win €18787/100Bet £100 to win £187-115Bet $100 to win $1870.87Bet HK$100 to win HK$187-1.15Bet Rp100 to win Rp1870.8700Bet RM100 to win RM187 with BetOnline. He's a solid option to lead the NFL in receiving yards 8.00Bet €100 to win €8007/1Bet £100 to win £800+700Bet $100 to win $8007.00Bet HK$100 to win HK$8007.00Bet Rp100 to win Rp800-0.1429Bet RM100 to win RM800 and receptions at 8.50Bet €100 to win €85015/2Bet £100 to win £850+750Bet $100 to win $8507.50Bet HK$100 to win HK$8507.50Bet Rp100 to win Rp850-0.1333Bet RM100 to win RM850 or even both at odds of 26.00Bet €100 to win €260025/1Bet £100 to win £2600+2500Bet $100 to win $260025.00Bet HK$100 to win HK$260025.00Bet Rp100 to win Rp2600-0.0400Bet RM100 to win RM2600 .
Tips Summary
Odell Beckham Jr To Record Over 1,101 Receiving Yards
Odds: 1.80Bet €100 to win €1804/5Bet £100 to win £180-125Bet $100 to win $1800.80Bet HK$100 to win HK$180-1.25Bet Rp100 to win Rp1800.8000Bet RM100 to win RM180
Odell Beckham Jr To Record Over Nine Touchdowns
Odds: 1.87Bet €100 to win €18787/100Bet £100 to win £187-115Bet $100 to win $1870.87Bet HK$100 to win HK$187-1.15Bet Rp100 to win Rp1870.8700Bet RM100 to win RM187
Odell Beckham Jr To Record Over 90 Receptions
Odds: 1.87Bet €100 to win €18787/100Bet £100 to win £187-115Bet $100 to win $1870.87Bet HK$100 to win HK$187-1.15Bet Rp100 to win Rp1870.8700Bet RM100 to win RM187
Odell Beckham Jr To Lead NFL In Receptions
Odds: 8.00Bet €100 to win €8007/1Bet £100 to win £800+700Bet $100 to win $8007.00Bet HK$100 to win HK$8007.00Bet Rp100 to win Rp800-0.1429Bet RM100 to win RM800
Odell Beckham Jr To Lead NFL In Receiving Yards
Odds: 8.50Bet €100 to win €85015/2Bet £100 to win £850+750Bet $100 to win $8507.50Bet HK$100 to win HK$8507.50Bet Rp100 to win Rp850-0.1333Bet RM100 to win RM850
Odell Beckham Jr To Lead NFL In Receptions and Receiving Yards
Odds: 26.00Bet €100 to win €260025/1Bet £100 to win £2600+2500Bet $100 to win $260025.00Bet HK$100 to win HK$260025.00Bet Rp100 to win Rp2600-0.0400Bet RM100 to win RM2600
Cleveland Browns To Win AFC North
Odds: 2.30Bet €100 to win €23013/10Bet £100 to win £230+130Bet $100 to win $2301.30Bet HK$100 to win HK$2301.30Bet Rp100 to win Rp230-0.7692Bet RM100 to win RM230
New York Giants To Win Under Six Matches
Odds: 1.67Bet €100 to win €16767/100Bet £100 to win £167-149Bet $100 to win $1670.67Bet HK$100 to win HK$167-1.49Bet Rp100 to win Rp1670.6700Bet RM100 to win RM167
Baker Mayfield
Cleveland Browns
New York Giants
NFL
Odell Beckham Jr