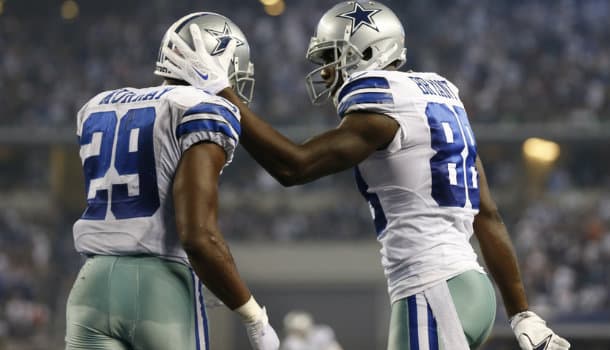 I'm excited to watch the Cowboys host the Lions on Sunday, but the game between the Cardinals and Panthers tomorrow afternoon is likely going to be extremely boring unless there are lots of turnovers.
Bet on both NFC Wild Card match-ups at BetOnline and receive up to $1000 in bonus money based on your first deposit. With spreads, totals, money lines and dozens of props there is plenty to bet on.
Arizona Cardinals vs. Carolina Panthers Picks
Point Spread: Panthers –6.5
Carolina (7-8-1) clinched the NFC South with a commanding W17 win over the Falcons. They're not only in the playoffs, but they're hosting the Arizona Cardinals (11-5) who finished 2nd in the NFC West.
The Panthers have to be happy they're playing at home because the Cardinals are 4-4 on the road and 7-1 at home. Arizona is really banged up, but if they were playing at home I'd likely bet on them.
Since they're not playing at home I'm avoiding the spread and betting on the under 37.5 points. This is going to be a close low scoring game that boasts a ton of defense and very limited offense.
Arizona is only allowing 18.7 PPG (5th) and they'll be able to shutdown Carolina's run game. Cam Newton will have to beat the Cardinals who rank 29th against the pass (259.5 PYPG) this season.
Ryan Lindley will be starting at QB for Arizona and he hasn't shown us anything. The Cardinals are also banged up at RB. They'll struggle to get going at all and I expect them to be held to single digits.
Carolina has won four in a row and they scored 41 points on NO and 34 points on ATL. Both of those division rivals have no defense, so expect Carolina to score around their average (21.2 PPG – 19th).
Detroit Lions vs. Dallas Cowboys Picks
Point Spread: Cowboys –6.5
Dallas (12-4) won the NFC East and had a great record, but they couldn't manage to earn a bye and will have to host the Detroit Lions (11-5). I hate the big point spread, but I'm all over the Cowboys.
The Lions are just 4-4 on the road this season and they always seem to underachieve in the big games that matter the most. Last week was proof, as they looked bad against the Packers on the road.
Losing the division to GB was big because now they're on the road. Matthew Stafford can sling it out and put up big numbers, but he makes a ton of mistakes and just isn't what you need in a leader.
On the season the Lions only average 88.9 RYPG (28th) and Dallas is only allowing 103.1 RYPG (8th), so I can't see Bell or Bush running the football effectively, which means Stafford will have to lead the way.
Detroit's defense is good, as they only allow 17.6 PPG (3rd) and 69.3 RYPG (1st), but they have looked terrible against the pass at times. The Lions have allowed 231.6 PYPG (13th) on average this year.
The Cowboys just have too many weapons. Murray and Bryant are both playing at an elite level right now and Romo is healthy. They'll find a way to put up points on an overrated Lions defense.
I'm definitely more excited about watching the AFC Wild Card games rather than the NFC, but the Lions vs. Cowboys game could end up being the best of the four when it's all said and done.