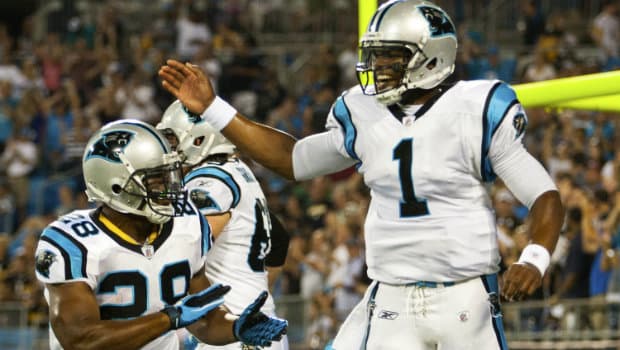 The Panthers and Cowboys both advanced with wins in the NFC wild card round. Dallas heads on the road to take on Green Bay while Carolina will have a tough match-up against Seattle on Saturday.
We have two completely different match-ups in the NFC. The Cowboys vs. Packers should have a lot of points whereas the Panthers vs. Seahawks will likely be a defensive battle where mistakes are huge.
To get the best lines and bonuses for NFL betting place your action with BetOnline.
Carolina Panthers vs. Seattle Seahawks Picks
Best Bet: Panthers +11 (-110)
This point spread seems way too big in my opinion. Seattle is giving up double digits on the spread in a playoff game. That seems nuts to me, especially when the Panthers are just as hot as the Seahawks.
These two teams are both on lengthy winning streaks, but one of them will come to an end. I expect the Seahawks to win at home with the huge home crowd advantage, but they're not going to cover.
I'm actually happy that the public has been betting the favorite in this match-up. Carolina is scoring 21.2 PPG (19th) and allows 23.4 PPG (21st), but both of those numbers have been improving as of late.
Seattle ranks in the T10 in scoring (24.6 PPG – 10th) and points against (15.9 PPG – 1st). Newton and Wilson have both been utilizing their feet lately and both will likely break off some big runs.
Another reason I like the points is because both teams will be looking to run the football. Carolina is worse against the run than the pass on defense, so I expect a heavy dose of power runs from Lynch.
Stewart has been great for Carolina lately at RB and he needs to have success this week. He just did good against the Arizona rush defense. If Carolina wins it'll be because of Stewart and Newton.
Dallas Cowboys vs. Green Bay Packers Picks
Best Bet: Packers -5 (-110)
This match-up is even tougher to bet on and I'll be taking it easy on this one although I'll have some money on the Packers at Lambeau. I wasn't impressed with the Cowboys win over the Lions last week.
Rodgers and the Packers offense is going to be a much bigger threat. The weather will also be cold and I could see Romo choking. Dez was a no show last week as well and could be again on the road.
I'd say it's save to expect points also, as the Packers average 30.4 PPG (1st) while the Cowboys put up 29.2 PPG (5th). However, you never know if points will be scored in the playoffs, so be cautious.
GB struggled stopping the run (119.9 RYPG – 23rd) this year and the Cowboys come in with the #2 run offense in the league (147.1 RYPG). Murray will receive 20+ touches and will put up big numbers.
However, if the Packers can build an early lead it'll be tough for the Cowboys to come back. Cobb and Nelson are going to be tough to stop and once GB is winning they'll pound the football with Lacy.
Dallas has been good against the run, but they rank 26th against the pass (251.9 PYPG). Rodgers has been deadly at home this season and with the spread being under a TD I can't pass on the Packers.
Both NFC games should be close and exciting albeit completing different styles. Good luck and I'll be back next week with my NFC Championship preview and predictions.