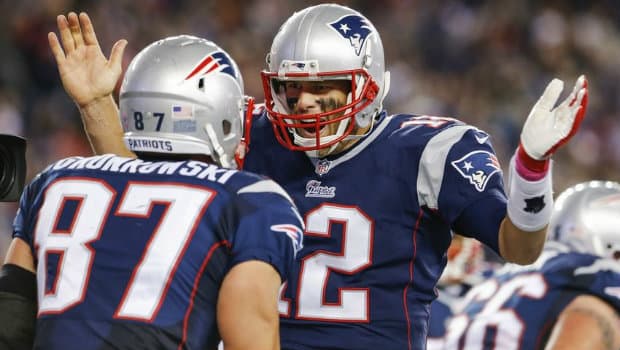 Baltimore beat the Steelers and the Colts beat the Bengals in the AFC wild card round. The Colts are now on the road against the Broncos and the Ravens travel to Gillette Stadium to play the Patriots.
Join the BetOnline Sportsbook for all of your NFL betting needs. When you join you'll be able to earn a 25% deposit bonus for up to $1000. Take advantage of this bonus during the NFL Playoffs.
Baltimore Ravens vs. New England Patriots Picks
Best Bet: Patriots -7 (-110)
This is a match-up that has the potential to be a classic. These two teams have played each other a lot in the playoffs over the years. Belichick and Harbaugh will both know what to expect on Saturday.
Both of these teams can put up points in a hurry. The Patriots average 29.2 PPG (4th) and the Ravens average 25.6 PPG (8th). Both teams also ranked in the T10 in points allowed during the regular season.
Baltimore gives up 18.9 PPG (6th) and New England allows 19.6 PPG (8th). I don't have a lean on the total, but I'll be betting on the Patriots to cover the point spread even though it's sitting at a TD.
This should come down to which team has more success through the air. Both teams are great against the run, but they give up a lot of passing yards. I'll take Brady over Flacco at QB every single time.
Edelman and LaFell are both expected to play, which means Gronkowski will have plenty of space to work with. It's expected to be below zero at Foxborough, which I believe gives NE another edge.
If the Ravens are going to win they'll need another strong game by Flacco. He played well against the Steelers, but he didn't complete many passes. He'll need to play even better to beat Brady.
Indianapolis Colts vs. Denver Broncos Picks
Best Bet: Colts +7 (-110)
The Colts had little problem beating the Bengals who simply couldn't mustard any offense. That was a bit surprising to me because the Colts have been giving up 229.3 PYPG (12th) and 113.4 RYPG (18th).
Denver comes in averaging 291.3 PYPG (4th) and 111.6 RYPG (15th) on offense. Manning is going to be a much tougher test than Dalton. It'll be interesting if Anderson can get going on this defense as well.
Anderson has been a surprise the past month for the Broncos at RB. You'd expect that Denver would have the best passing offense with Manning, but Luck and Colts averaged 305.9 PYPG (1st) this year.
Indy only averaged 100.8 RYPG (22nd), but last week Herron played great against the Bengals. He took over the game from the beginning and he was lethal on check down routes, but he fumbles too much.
Hilton is healthy and he was beating coverage often last week. He'll have a big game for the Broncos, but some of the other WR's and TE's on the team need to step up, as they weren't great last week.
This should be another game with a lot of airing it out by both teams. I'm sure they'll try to stay balanced initially, but neither team is going to run the football with these two QB's in the game.
I expect Denver to win at Mile High, but Luck has been playing too good this season to not take the points. Luck has experience beating the Broncos in the past and I expect this one to be close.