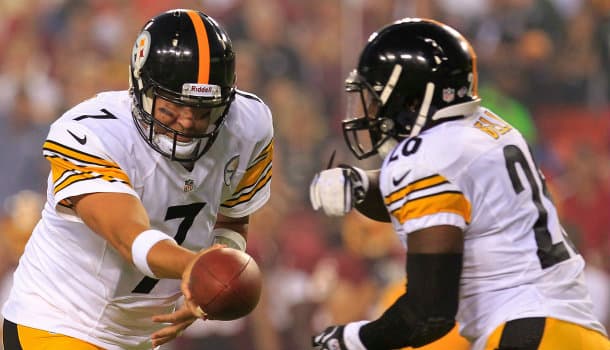 I'm new here at SBO, but will be providing weekly predictions during the NFL season, so come back each week to see who I'm on. I plan on providing predictions not found on many other handicapping sites such as teasers and weekly props to target. This article will look at my week 1 teaser predictions.
Best Games to Target on NFL Teasers in Week 1
The week 1 teaser odds below are courtesy of BetOnline, which is home to the lifetime bonus. During September BetOnline is running a special 50% bonus for up to $1000 ($50 Min). Use the code "NFL2014" when making your deposit to be credited with the bonus, which has a 10X rollover.
Pittsburgh Steelers –7 (-1 On Teaser) vs. Cleveland Browns
Pittsburgh has lost three consecutive season openers including a 16-9 loss at home to the Titans last year. The Steelers started 0-4 last season, but finished strong after their bye week (8-4). Will Roethlisberger lose at home against Hoyer and the Browns?
History tells us that's unlikely. Dating back to 2004 the Steelers are 18-2 (10-0 @ Heinz Field) against Cleveland. Pittsburgh's offense looked poor during the preseason, but I don't weigh preseason results heavily. Pittsburgh will win a low scoring game at home.
Denver Broncos –7.5 (-1.5 On Teaser) vs. Indianapolis Colts
Peyton Manning played the Colts for the first time since joining Denver last year and lost 39-33 on the road. Manning now has the chance to get revenge at Mile High. Both offenses are strong, but the Broncos defense is much better than the Colts.
Aqib Talib and T.J. Ward will help the secondary while DeMarcus Ware will help the front seven. Luck will struggle on the road and Manning will have a big game targeting Demaryius Thomas and Julius Thomas against a weak Colts secondary.
Minnesota Vikings +3.5 (+9.5 On Teaser) vs. St. Louis Rams
The Vikings head on the road in week 1, but that's a good thing, as they get to play in a dome where they play much better. It looks like Matt Cassel will start at QB and I'm interested to see how new OC Norv Turner utilizes Patterson and Rudolph this week.
St. Louis has to focus on Adrian Peterson, which will leave the TE and WR's with more space. The Rams lost Sam Bradford for the season again this preseason and will have to go with Shaun Hill. This will be a close game and I'll take the +9.5 points on a teaser.
Oakland Raiders +5 (+11 On Teaser) vs. New York Jets
Oakland is the only team not to name their week 1 starting QB, but it's between Matt Schaub and rookie Derek Carr. Oakland will be better on both sides of the football this season with the additions of MJD, James Jones, LaMarr Woodley and Justin Tuck.
Darren McFadden is also healthy right now, which gives the Raiders a potentially lethal run game. This game is likely to have little offense and the Raiders have a huge special teams edge. I like them to win SU, but getting them at +11 on a teaser is even better.
Philadelphia Eagles –10.5 (-4.5 On Teaser) vs. Jacksonville Jaguars
I can't wait to watch Blake Bortles, but this week Chad Henne will start for the Jaguars at QB. Newly signed Toby Gerhart is expected to be a workhorse, but he lacks speed as a RB1 and the Eagles have a strong d-line that will limit the production of the Jaguars.
Philly loses DeSean Jackson, but they signed Darren Sproles while drafting Jordan Matthews and Josh Huff. LeSean McCoy is healthy and should be the leading rusher again this season. I expect the Eagles to dominate in their home opener against a weak Jags team.
My Teaser Bets for NFL Week 1 Action
2-Team 6-Point Teaser: Steelers –1 & Broncos –1.5 (-110)
5-Team 6-Point Teaser: Steelers –1, Broncos –1.5, Eagles –4.5, Vikings +9.5 & Raiders +11 (+400)