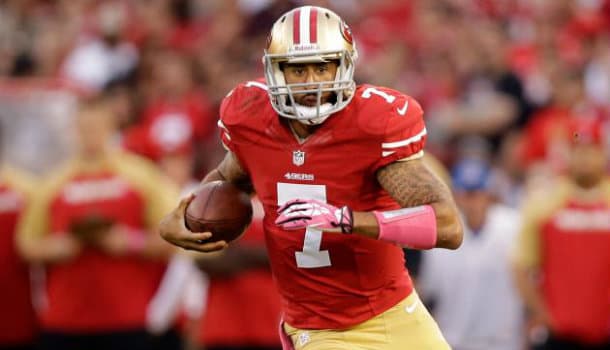 The Eagles opened up week 3 of the preseason with a win on Thursday night against the Steelers. The rest of the teams will play this weekend between Friday and Sunday. I've posted my best bets for this weekend below to get warmed up before the season.
Now that we're into the third week of preseason we should see the starters getting more playing time, especially for teams that are learning new systems or have a young QB. With that being said, it's still preseason and therefore bet accordingly.
Bet on the NFL preseason at the Bovada Sportsbook and claim a $250 bonus (USA Allowed).
San Diego Chargers vs. San Francisco 49ers Preview
Betting Lines: 49ers –6 (-110) – Over/Under 42 (-110)
Kick-Off Time: Sunday, August 24th 2014 (4:00PM ET)
San Francisco has been outscored 57-3 in losses to the Ravens (23-3) and Broncos (34-0). Jim Harbaugh has stressed that this is an important week. Colin Kaepernick has only played three drives this preseason, but should see more action this week.
I expect the 49ers offensive starters to play at least the 1H. Michael Crabtree is expected to play plus we should see plenty more of the two rookies (WR Bruce Ellington & RB Carlos Hyde) who have both been productive despite the 49ers offense not scoring.
San Diego beat Dallas (27-7) in week 1, but they followed that up with a 41-14 loss against the Seahawks. The Chargers have a lot of injuries on defense, especially on the defensive line. Last week they allowed Seattle to rush for 243 yards (6.6 YPC).
The Niners opened up with a loss in their first game at Levi's stadium, but I expect the real SF to show up this week. San Diego has too many injuries on defense and the 49ers should have plenty of success rushing the football. I'll bite on SF at under a TD.
St. Louis Rams vs. Cleveland Browns Preview
Betting Lines: Browns –2.5 (-110) – Over/Under 43 (-110)
Kick-Off Time: Saturday, August 23rd 2014 (8:00PM ET)
Cleveland and St. Louis are both winless through the first two weeks of the preseason. The Browns have been on the road and lost to the Lions (13-12) and Redskins (24-23). The Rams lost both of their games at home to the Saints (26-24) and Packers (21-7).
The Rams looked good against the Saints, but last week was another story. The offense only gained 216 yards while the defense gave up 386 yards against GB. The only bright side was Sam Bradford looked great in his debut (9 of 12 for 101 Yards and 1 TD).
Brian Hoyer has been named the Browns starter earlier in the week and I think that'll wake up both QB's. Hoyer and Johnny Manziel have both been unproductive in the preseason, but now that they're at home I expect a much stronger performance.
St. Louis has a lot of nagging injuries on defense and I don't expect Jeff Fisher to push his team too much this week. This should be a low scoring game where one or two plays will make the difference and I'm betting on the home team to cover by a FG.
2014 NFL Week 3 Preseason Teaser Bet
Selections: Packers –1 / Seahawks –1 / Broncos –1 (+160)
You can bet on this 3-team, 6-point teaser at the Bovada Sportsbook. In the preseason anything can happen, but since we're into the third week I'm going with this teaser. In week 3 the starters typically get more playing time than any other preseason game.
The Packers host the Raiders, the Seahawks host the Bears and the Broncos host the Texans. All three teams are home and I expect them all to win SU. Seattle enjoys winning preseason games and they'll be giving it a 100% in front of their home crowd.
Denver should build up an early lead on the Texans and not look back by the time Peyton Manning and the starters come out. GB looked good last week. Aaron Rodgers played well in his debut and he should get even more snaps this weekend.