Daily Fantasy Baseball Strategy
Major League Baseball has a long history in fantasy sports, and it was only a matter of time before it became a DFS obsession. But how does it work and what must you consider to profit from daily fantasy baseball? Read our expert guide to become a winning MLB DFS player.
What Is Fantasy Baseball?
It is probably the most popular sport besides the NFL in terms of daily fantasy sports, though the NBA is a close second.
On a day-to-day basis, baseball is easily the most volatile sport. There's a reason that the MLB season is a rather long 162-games – it's because the game is riddled with short-term luck. This is something you will no doubt experience if you decide to gear up for MLB daily fantasy.
Compared to other professional sports, baseball is a game of small edges. Even when the best pitcher in the league faces the worst, his team will still win only 70-80% of the time. It's not one-sided, and even the best hitters in the league fail to get a hit seven out of ten times.
Baseball is a statistical paradise, and the game has so many different ways to evaluate player performance for both hitters and pitchers. Knowing which of these stats to focus on is a key area of winning at baseball. In this article, I'll take you through what to look for both hitters and pitchers.
League Scoring and Roster Size
Before we get into building a lineup, it's crucial to read over the scoring rules for each site, along with having a plan for the roster size. These factors can be quite significant and should not be ignored.
The most common difference in scoring across the industry is penalizing batters for strikeouts or hitting into double plays. This is especially important when choosing your lineup, but I will go more into that later in the article.
Other scoring differences can include the points for extra base hits, walks, stolen bases etc. Every site is different and may have a unique angle for you to exploit. Knowing your site's scoring inside and out will help you win more contests because you will know which aspects to focus your lineup on, and which to avoid.
Roster size will also change depending on the site. Most sites use one or two pitcher spots, but some may offer three. Usually, at least one of those spots will have to be a starter and the others may be either a reliever or a starter. Some sites don't even offer relief pitchers, while others will have additional hitting spots available, such as an extra outfielder or utility player.
There's no such thing as a poor scoring system, as everyone plays by the same rules. However, some players will find one site more to their liking than another. There's no right or wrong site to choose for baseball, but it is a must that you understand the site's individual rules and that you take advantage of them when building your lineup.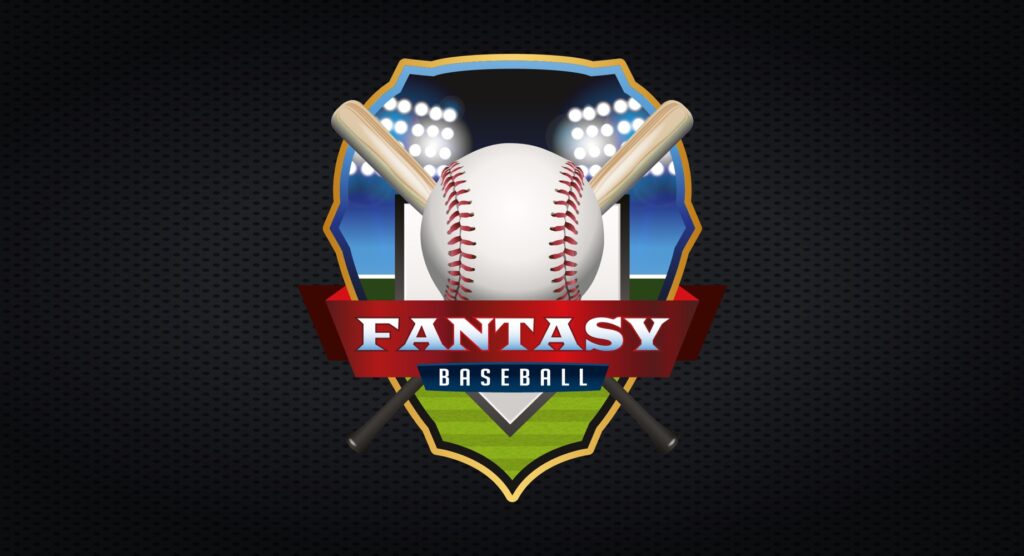 Vegas Lines
Las Vegas odds shouldn't be the backbone of your research, but they are a nice starting point when assembling your roster. The oddsmakers aren't always right, but they usually have a pretty decent idea of how a game will shape up.
Of course, a pitcher that is favored heavily by the oddsmakers is more likely to win, and that is one way of measuring a pitcher's chances. But totals are the real numbers to pay attention to when you're looking to target both hitters and starting pitchers in a game.
The average MLB total is seven runs. Games that have rather large totals, such as eight runs or higher, should be highly considered as potential roster targets. Likewise, you may want to take hitters from games with lower totals.
There are team total props for every game as well. These are another way to gauge a team's upcoming performance. 3.5 runs is usually the average, with four runs or more generally considered a higher team total.
The betting odds on each game is not the sole reason you should target players. If you like some hitters in a game with low totals, it doesn't mean you shouldn't play them. Likewise, if you like a pitcher that has a higher than above average number, they're not someone you have to absolutely avoid.
The odds are just another piece of the puzzle. They're usually the first thing I look at when building my lineup because they help me figure out which games I want to target. But nothing is set in stone, and you shouldn't base decisions simply on the bookmakers' opinions.
Choosing Your Hitters
Choosing your lineup of hitters is the most crucial aspect of becoming a winner at daily fantasy baseball.
If possible, you want to fill your lineup with a team of potential home run hitters. Since power numbers have sharply dropped since the steroid era, this extends to players who hit a lot of extra based hits. Home runs are game changers, and if a few of your guys blast a couple of bombs in a given day, it will be tough to lose.
Choosing players near the top of the batting order is almost always the way to go. They will get more at bats, run or RBI opportunities and will be surrounded by better players. One popular tactic is to "stack" a number of players from the same team.
Several years ago, sites allowed players to use a lineup of hitters all from the same team. This is no longer allowed at the vast majority of sites, and most force players to use three different teams to make up their lineup. Still, stacking two or three teams remains effective.
It can be a risky strategy, but has proven to be successful time and time again, even in cash games like head-to-heads and 50/50s. If a lineup is projected to score a lot of runs, grabbing the two, three, four hitters can be hugely beneficial. You will give yourself the chance to score multiple times when the runs are racked up by the top of the order. Stacking players from two to three teams is a sound strategy for any league type.
Walk rate is also vitally important, second only to power numbers. Simply getting on base produces runs, especially in games where the ball is flying out of the yard. Players who walk little and have light power aren't worth much in daily baseball. They're not unplayable, but should be used sparingly, and only when conditions are excellent.
Stolen bases are something to consider, however. A guy with a power and speed combination can be deadly in certain matchups. Pitchers with slow deliveries and poor defensive catchers are a base-stealer's dream come true. I wouldn't target players specifically for their stolen base potential, but it's worth considering if you already are thinking of playing them. SBs can be worth as much as a double on certain sites, so they can truly help your score.
Other things to consider are lefty-righty splits, ballpark factors, and weather. Splits are the most notable aspect to consider when picking a hitter, a factor I will go into more in the next section.
Ballpark factors and weather should be easy to understand. Hitters' parks, like Chase Field and Coors Field, will produce more runs than pitcher-friendly ballparks like Citi Field or Petco Park. When two players are close in your evaluations, the ballpark may be the deciding factor.
As far as weather goes, it's best to avoid games that may be rained out. That's especially so early in the season, when they are more likely to be postponed. You can be a little more liberal later in the season, when the league is desperate to get games in. But error on the side of caution with weather reports. Losing players to severe weather will be hard to overcome. The loss of a pitcher due to rain will devastate your chances of winning.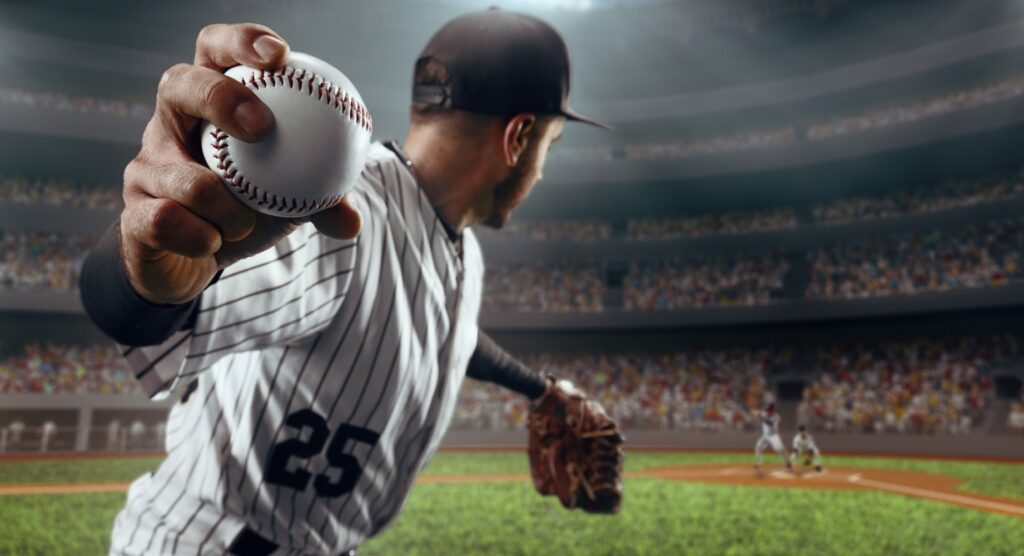 wOBA and Other Statistics
There is a nearly unlimited amount of baseball statistics, but the most notable for daily fantasy purposes is wOBA. The stat is best explained by FanGraphs.com, an excellent source for DFS baseball players. It's the largest baseball statistics archive online and is full of advanced stats. It's worth checking out.
Anyway, wOBA stands for Weighted On-Base Average. This is an advanced stat that uses a scale similar to On-Base Percentage, but that measures a hitter's walks, hit-by-pitch, singles, double, triples, and home runs. Essentially, it measures their ability to produce runs in all aspects of hitting.
This is a stat I use every day when making my lineups. Like I said, it is scaled like OBP, so it should be easier to grasp the value. Anything in the region of .350 wOBA is above average, while .370 or more is outstanding, and .400 or more is elite.
Few players will have outstanding or elite numbers from both sides of the plate, so it's best to filter their wOBA (vs. R or vs. L) against their opposing starter's side of delivery for the day to look for optimal value. Also, like many baseball statistics, sample size is crucial.
Analyze wOBA over the past several seasons rather than using current season numbers. These can be incorporated as the season moves along. This approach will give a much better picture of what the hitter has done over the past several years.
wOBA is one of the most predictive stats, which is why it is so heavily utilized by DFS baseball players. There are far too many baseball stats related to hitting to list here, but another one you should look closely at is BABIP.
Batting Average On Balls In Play (BABIP) sums up a player's luck with regard to balls hit into play. It measures luck, improved defense, and changes in talent level, and details are again available at Fangraphs.com.
The average BABIP is around .290 to .310. Spikes in BABIP can drastically inflate a player's batting average, and can make their hitting streak look more impressive than it should. Whole seasons can be improved by a high BABIP. Long term, though, it evens out.
Some players have an unusually high BABIP for their career, so looking at the numbers from past years is vital. This is more of an in-season statistic, though. If a player's BABIP is sky-high for the first month or two of the season, you can almost guarantee that he has benefited from some excellent luck, and regression is likely in the second half. Conversely, if a player's BABIP is extremely low (especially in comparison to his career BABIP), he may be due for a turnaround.
Batter vs. Pitcher
When I first started playing MLB DFS, I focused heavily on the batter vs. pitcher stat, but now I rarely use it. It's certainly worth looking at for just the sole reason that many others use it, and you can get an idea of who the field is playing. However, its overall value is highly suspect.
Anything under 50 at bats is probably too small a sample size to draw any conclusions from, but there's a variety of other factors, as well. The at-bats may be from years ago, or have come from many different situations, and which have little bearing on today's matchup. What if the batter was simply trying to move the runner over? There are too many questions, and it's too difficult to draw any clear conclusions as to future at-bats.
Of course, some numbers are undeniably strong (success over a large number of at bats) and should be given consideration, but not without incorporating other factors. If you're playing MLB DFS, and are relying heavily on BvP to build your lineups, you will not be playing for long.
Pitching
Pitching will be a strong source of points for your lineups. Expensive starters are usually the way go, especially if you're on a site that offers only one starting pitcher slot. Some sites will offer two spots and others will allow players to pick from a combination of starters and relievers.
Many sites don't offer relief pitchers at all. Personally, I'm rather a fan of this omission, as looking for relievers is such a crapshoot anyway. There is enough variance in DFS baseball already without also having to deal with picking closers who may or may not get a save opportunity.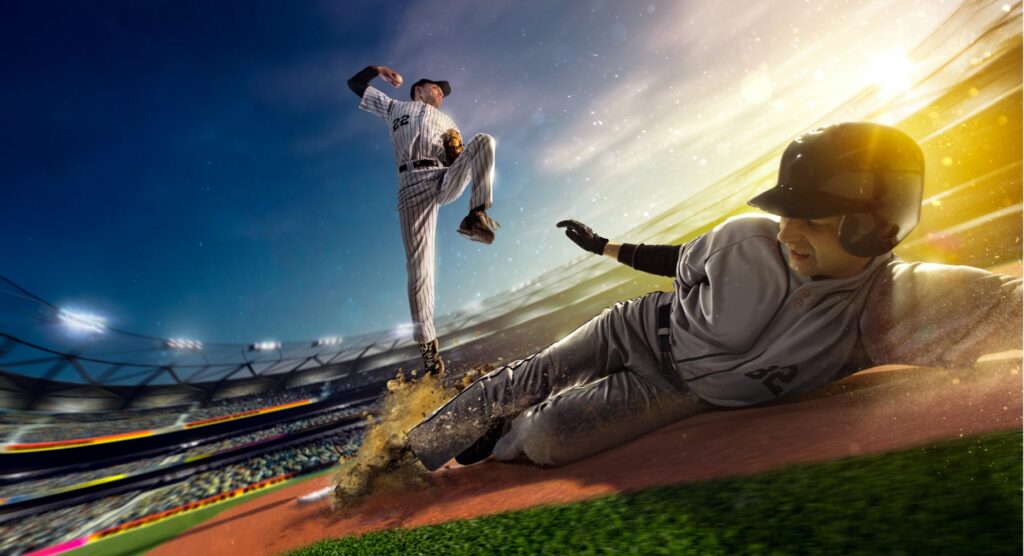 Paying Up For Pitching
One of the most distinct differences from choosing hitters versus selecting pitchers is a relatively higher floor, but still plenty of upside. If you shell out money for a big-time hitter, he could go 3-5 with a home run and a double, but he could just as easily go 0-5. That's simply the nature of baseball.
But this scenario is less likely for a highly priced pitcher. Sure, he could go out there and have the worst game of his career, but the upside that comes with these guys will more than make up for the bad outings.
Quite rightly, these players are highly valued by the sites. Expensive pitchers are unique because they provide a solid floor, along with upside. You're paying a premium price for sure, but the upside is there for a huge performance.
Strikeouts
When you pay for premium pitching talent, you're essentially paying for strikeouts. In fact, Ks are worth so much that they can often salvage a woeful outing, even if the pitcher has a less than quality start. For instance, on Draft Kings, strikeouts are worth 2 pts, while a win is worth 4 pts.
Looking to get a win with your starting pitcher is a smart move, but the amount of strikeouts he may get is a much bigger factor. Of course, these can go hand-in-hand, but that isn't always the case.
For evaluating the K-rates of pitchers, I once again send you over to FanGraphs. Generally, you don't want to be targeting pitchers with K-rates lower than average, and want to look for those with a 7.5 K/9 or above.
Even at a low price, there is little upside to be gained by playing pitchers who have low K-rates, even if they have a favorable matchup. This changes slightly in GPPs, but like I mentioned above, highly priced pitchers also have plenty of upside in addition to their expected point totals. Starting pitcher is the most consistent position available to players, but you're going to have to pay for it.
Many strikeout pitchers have higher walk rates as well, but this isn't as much of a concern as you might think. Walks will hurt a pitcher's overall numbers, but don't matter nearly as much as a lack of strikeouts.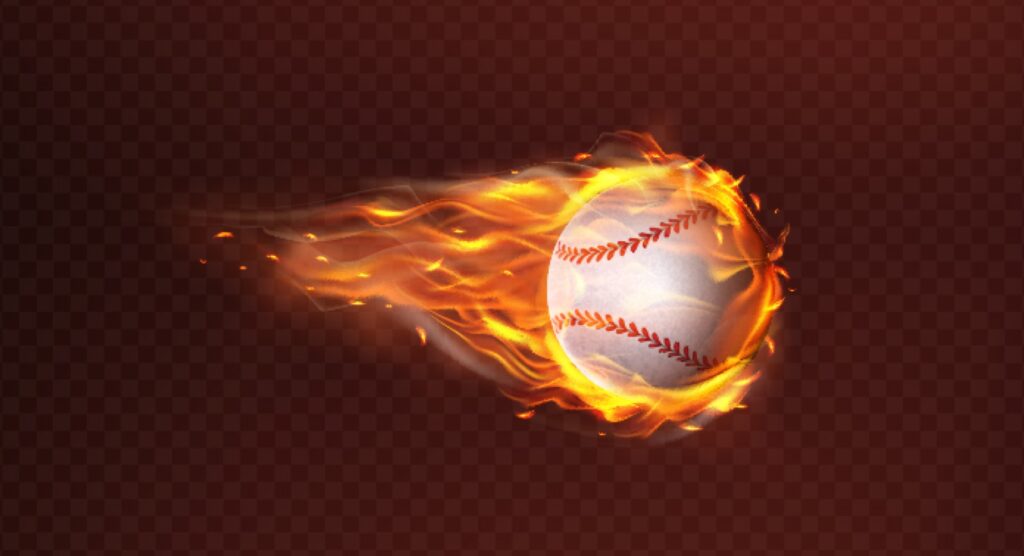 Ballpark and Opponent
Like I mentioned when choosing hitters, where the game is played may be the deciding factor when it comes to picking from two players who you value similarly. Certain parks can drastically help a pitcher's performance. The best two pitcher parks are Petco Park and Citi Field. All pitchers get a boost when playing in these spacious ballparks.
Evaluating your pitcher against a lineup can be difficult, but there are a number of things to look at when evaluating opponents. Lefty-righty splits and the pitcher's wOBA allowed to opponents can be quite telling. A team that can stack a bunch of above average-lefties against a right handed pitcher could be trouble. Likewise, one that struggles against lefty-starters may have issues getting on base.
Again, over at FanGraphs, there are a number of Sabermetric statistics that can help predict future performance. FIP (Fielding Independent Pitching) is just one of those stats.
FIP measures what a pitcher's ERA should look like if the performance of balls in play conforms to the league average. It focuses on those aspects that pitchers are most able to control. This includes strikeouts, walks, and home runs.
The scale is similar to ERA, so a 4.00 FIP would be around the league average and FIP of 3.25 or lower would be elite. This stat is excellent because it can predict future performance. However, sample size is crucial.
If a pitcher's ERA is much higher than his FIP, he is likely on the short end of some poor luck. However, the opposite is also true. If a pitcher has outperformed his FIP by a large margin in ERA, regression is likely.
Winning at Daily Fantasy Baseball
Beating MLB DFS is a grind to the absolute highest degree. The sheer number of games combined with a season that drags on for six months or more can wear on just about anyone – even the biggest baseball fan.
The best way to start learning daily fantasy baseball is to start playing. There's no need for a large bankroll to start. There are plenty of free and low priced contests to enjoy when you're just learning the ropes.