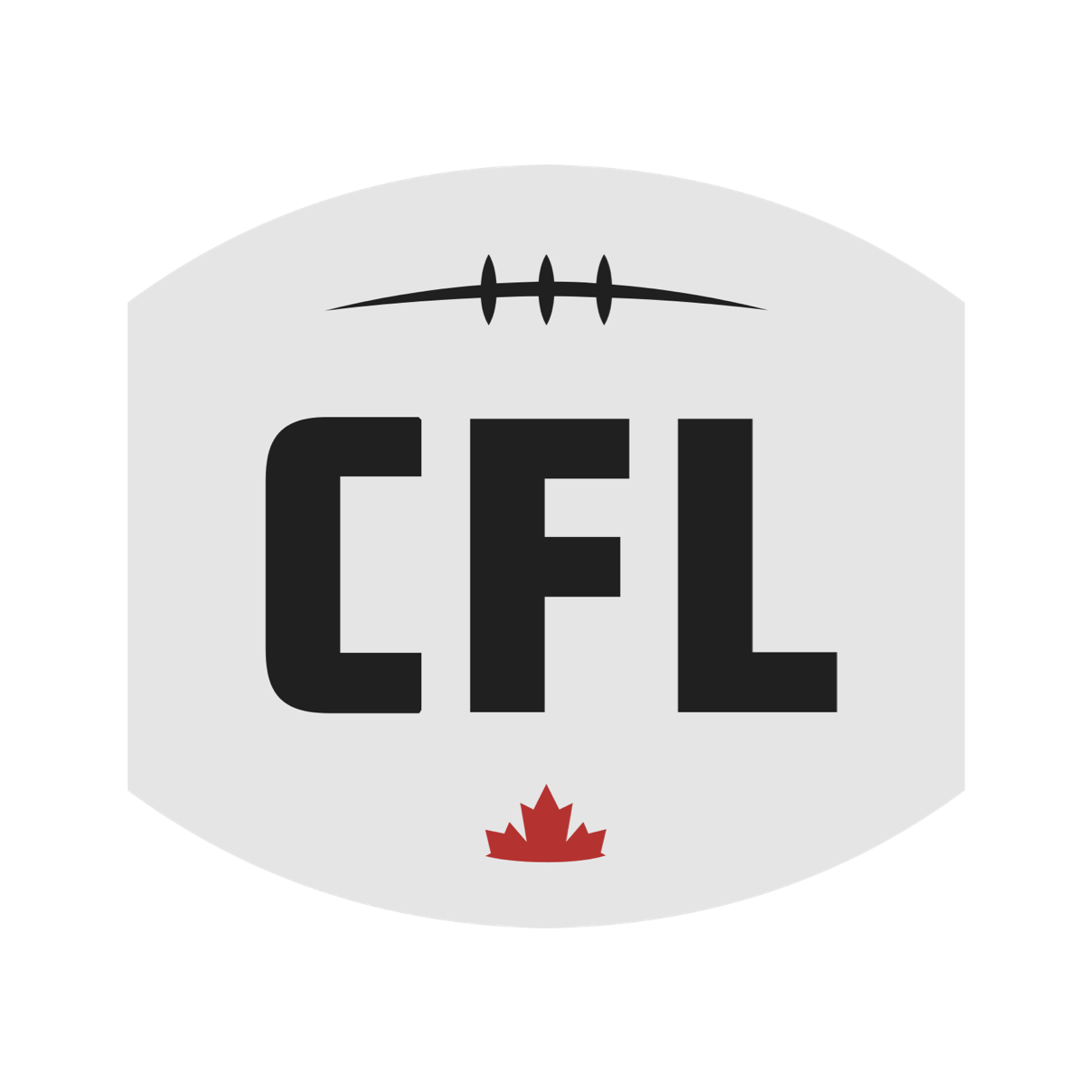 CFL Betting – Bet on the Canadian Football League
Searching for the best CFL betting sites? You're in the right place.
Our experts are here to explain everything you need to know about CFL betting, covering everything from the CFL schedule and popular bet types to where you can find the top CFL betting sites with the most competitive odds.
Our CFL betting guide covers the differences between the CFL and NFL, where to get the best odds, and much more.
Best CFL Sportsbooks – January 2023
MyBookie Sports
Show More Details
Show Less Details
Average Payout Speed
0 – 24 Hours
Generous bonuses and promotions
Great range of betting markets
Extensive racebook
Very good customer service
Only a few withdrawal options
Fees for withdrawing funds
BUSR Sports
Show More Details
Show Less Details
Average Payout Speed
0 – 24 Hours
Trusted by publications such as ESPN
Access a dedicated racing section
Crypto-friendly sportsbook
Adjust odds format and time zone
Support options include call back
Quite low sportsbook limits
BetOnline Sports
Show More Details
Show Less Details
Average Payout Speed
0 – 24 Hours
Accepts players from all over the world
Known for their live betting offers
Lots of secure banking options
Great bonuses and promotions
High fees for some deposit options
Support agents are often slow to reply
Bovada.lv Sports
Show More Details
Show Less Details
Average Payout Speed
0 – 24 Hours
Top-rated US online sportsbook
Mobile site for iOS and Android users
Diverse range of betting markets
Excellent customer support options
Lines come out very late in the day
Odds not as favorable as other books
BookMaker.eu Sports
Show More Details
Show Less Details
Average Payout Speed
0 – 24 Hours
Popular book that accepts large max bets
Huge focus on football and basketball
High-spec live in-play platform available
Downloadable client for Windows & Mac
Odds are not amazing on non-US sports
User interface could be improved
What Is the Canadian Football League?
The Canadian Football League, or CFL, is Canada's top division for football. It was officially formed in 1958 when the Interprovincial Rugby Football Union and Western Interprovincial Football Union merged, though its true history can be traced back to 1907 when the former first began.
The CFL league features nine teams, divided into two sectors: East and West. Here are the current teams in each division:
East Division
Hamilton Tiger-Cats
Montreal Alouettes
Ottawa Redblacks
Toronto Argonauts
West Division
BC Lions
Calgary Stampeders
Edmonton Football Team
Saskatchewan Roughriders
Winnipeg Blue Bombers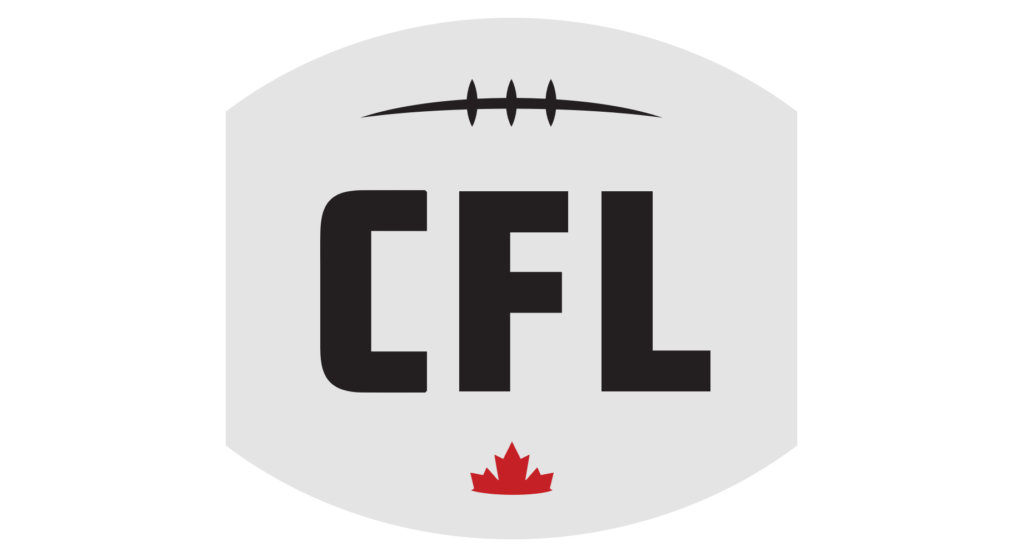 CFL Season Schedule
Football betting in Canada works a bit differently to some countries, as the league is divided into various phases. Whenever you look at CFL betting sites, remember that this unusual structure means certain matches are more important than others. You need a solid understanding of the CFL schedule if you want to avoid accidentally betting on matches where teams are not properly incentivised.
Here's what you need to know about the CFL season schedule:
CFL Draft
CFL Draft
The CFL Draft is where players are assigned to teams. It takes place once a year in May. In each of the eight rounds, Canadian players (or non-import players) are chosen by CFL teams, beginning with the team that ranked lowest in the league. The winners of the Grey Cup choose last.
This format helps balance the quality of teams, with the teams who are theoretically weaker getting the initial picks and, therefore, the best players available. It is similar to the National Football League (NFL) Draft.
Teams can also trade drafts as the process is taking place, which makes for some interesting twists and turns.
Regular Season
Regular Season
After a month of preseason training and exhibition matches, the regular season begins. It runs from June to November, and teams are split into two relatively small divisions, similar to the format of The Rock's XFL.
There are four teams in the East Division and five in the West Division. However, teams play home and away against each team from both leagues – plus two extra, divisional games.
Teams earn two points for a win and one for a tie. The top three teams in each division progress to the playoffs. The winners receive a bye to the finals, while second and third face off to play them.
Over the course of the season, watch out for highlights such as the Labour Day Classic, Banjo Bowl, Hall of Fame Game and Thanksgiving Day Classic.
Playoffs
Playoffs
The aim throughout the regular season is to rack up enough points to qualify for the playoffs.
To do this, CFL teams must finish in one of the top three positions. The team which finishes second in a division will face the team who came third. Whoever wins that semi-final faces the winner of the league, who receives a bye and therefore doesn't have to play a knockout game to qualify.
The winners of the two playoff games then meet each other to face off for the Grey Cup.
Grey Cup
Grey Cup
Even after finishing top of the league in the regular season or winning a game or two in the playoffs, there are still further betting opportunities with CFL Grey Cup odds! The Grey Cup is contested by the two playoff winners, and the victor lifts the coveted Grey Cup itself.
The Grey Cup is one of the most anticipated matches in the CFL season. Over the years, the Toronto Argonauts have proven their worth time and time again, racking up 17 Grey Cup trophies.
If you're new to CFL betting, make sure you tune in to this one, as a 2014 CBC survey found the Grey Cup was neck and neck with the Super Bowl for viewers in Canada.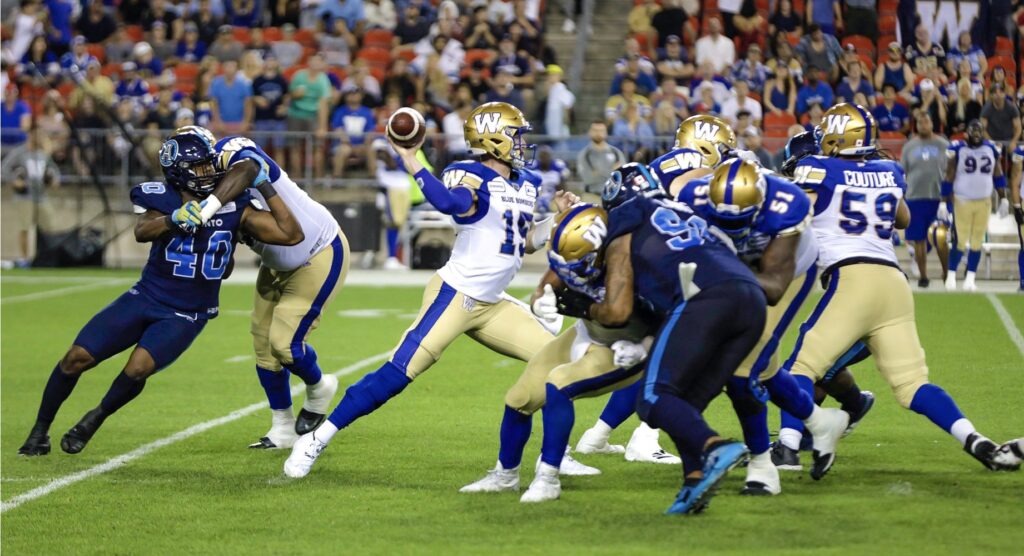 How to Bet on the CFL Online
Even if you've never tried CFL betting before, it's very simple. First off, read the 'CFL Season Schedule' section above for a quick overview of when you can bet. Then follow these steps to start betting on the CFL:
Step 1
Find a CFL Betting Site
Your first decision is important – you must choose a site which offers CFL betting. You can either research one yourself or choose from the list at the top of this page. It's an up-to-date selection of the top sites with great CFL football odds, each reviewed by our experts.
Step 2
Claim Your Welcome Bonus
When you join one of the top CFL betting sites, you'll be treated to a special bonus when you first sign up. This can be a great way to enjoy a free bet or get some extra credit at the bookies. Take note of any wagering conditions, which will always be pointed out in our reviews.
Step 3
Make Your First Deposit
Once you've chosen a CFL betting site, it's time to sign up and add some funds. You'll only need basic information to join like your name, email and physical address. Most bookies will give you a wide range of payment options including credit and debit cards, Interac, PayPal, and so on.
Step 4
Place Your Bets
With your account set up and funds added, you can go ahead and start betting on the CFL. If you're not sure where to start, have a read of our CFL betting tips below.
CFL Betting Odds & Lines Explained
With little gambling experience, CFL betting lines can seem daunting. If you log into a CFL betting site and see Calgary at -260 and Edmonton at +165, you'd rightly be very confused. What do these numbers mean? And how long does it take to learn about CFL betting odds?
It's actually very simple to understand, and we're about to explain exactly how it all works:
Moneyline
Moneyline
Also known as American odds, the moneyline is one of the most common formats you'll see when betting on CFL or indeed the NFL. If the team has a plus (+) sign before the number, they're the underdog. If they have a minus (-), they're the favourite.
The moneyline tells you how much you need to bet in order to win a certain amount.
For example, if Edmonton is +165, that means you need to bet $100 in order to make $165. For the favourites, this is reversed. If Calgary are -260, you need to bet $260 in order to make $100.
Point Spread
Point Spread
Have you ever backed an underdog to win and, even though they didn't quite manage it, they gave it a terrific shot and came close? If so, you may be interested in the point spread.
The point spread is a way for the bookies to balance the scales a little between a hot favourite and an underdog. By giving the underdog an imaginary points advantage, you can bet on them to win and make a profit, even if they don't win the match.
For example, if Calgary were three-point favourites over Edmonton, they would need to win by four points – otherwise, if you bet on Edmonton, you'd win.
Total Points
Total Points
As the name suggests, the total points bet involves you predicting how many points will be scored in a match. This comes in the form of an under/over bet. That means the bookie sets a specific score, based on their own research, and you can then bet on the total points being above or below that specific number.
One interesting aspect of the total points bet is that it doesn't matter which team scores the points. As long you bet on the correct over or under bet, you'll win. If you're new to CFL betting, this can be a straightforward way to explore the markets with a simple and easy-to-understand bet.
Prop Bets
Prop Bets
Proposition bets (or prop bets) are widely acknowledged as being some of the most entertaining markets around, as they can be on anything and everything. You can make prop bets on either players or teams, covering everything from which team reaches 10 points sooner to how many yards will be covered by a particular player.
Because prop bets aren't tied to the outcome of the game, many players enjoy them. You can win a prop bet long before the match ends, and even if your team is behind.
In bigger games, some truly absurd and hilarious prop bets pop up – like the colour of the coach's shirt, or how long the national anthem will last.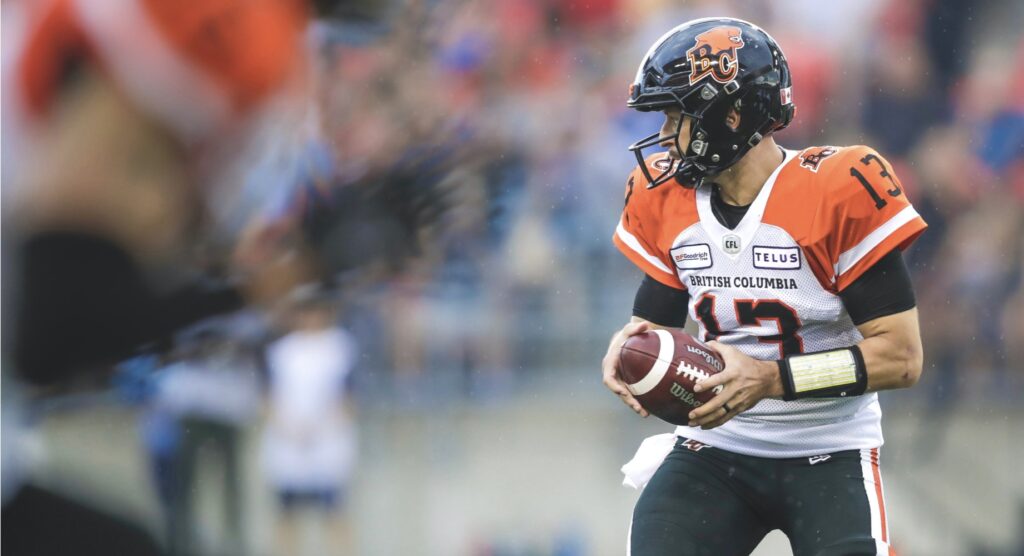 Differences Between the CFL and NFL
The NFL is one of the most popular leagues in the world, with the iconic Super Bowl regularly attracting 100 million viewers or more. If you've not too familiar with CFL betting, you might assume that the CFL is merely a smaller version of the NFL, located in Canada. But this isn't the case.
There are significant differences between the CFL and NFL, and you need to understand these differences before you start betting on the CFL.
Field Size
Field Size
The size of the field in a CFL game is bigger than that of an NFL game.
NFL fields measure 100 x 53.3 yards, while CFL fields measure 110 x 65 yards. And the end zone in CFL is twice as deep at 20 yards. These differences are significant enough to alter the general play, with CFL teams favouring passes more than their NFL equivalents, who mix it up with a more even blend of both passes and runs.
Number of Downs
Number of Downs
The CFL allows three downs to the NFL's four.
Fewer downs generally leads to a more exhilarating game, as action is faster and teams are forced into risky plays more frequently. If you're new to CFL betting, this faster action will probably be quite noticeable even after watching just a few games.
Number of Players
Number of Players
The NFL has 11 players on each team while the CFL has 12.
Despite the differing number of players on each side, both leagues require seven offensive players involved in the scrimmage line. This allows CFL teams to abandon the tight end position and compensate with a couple of slotbacks, totally changing the dynamic of the game.
Timer
Timer
CFL teams have 20 second to restart play, NFL teams have 40 seconds.
If you've ever heard complaints that the NFL is too stop-start or that games take too long, this is yet another way that the CFL tackles that. Not only is the play clock halved, but there are also far fewer timeouts permitted. In the CFL, you can take two timeouts per match. In the NFL, you're allowed three per half!
The Rouge
The Rouge
The CFL allows players to advance past the line of scrimmage and drop-kick the ball.
If a player progresses past the line of scrimmage in the CFL, they may attempt a drop-kick. If they knock it into the end zone while avoiding the uprights, they earn their team a point, or 'rouge'. Meanwhile, doing this in the NFL would result in a penalty.
Win More With Our CFL Betting Tips
If you want to get the most out of your CFL betting experience, take note of our experts' tips. Not only do we have decades of experience betting on CFL, but we also constantly analyse the latest CFL betting trends, looking for new and innovative ways to maximise your profit.
Here are four top tips for betting on the CFL:
Look for Top Passers
Look for Top Passers
If you already have knowledge of the NFL, you might be on the lookout for CFL teams who can make brilliant runs. While this is a worthwhile attribute, your search should focus on great passing teams. CFL fields are bigger than NFL fields, creating more space for accurate, long-range passes.
Research Rivalries
Research Rivalries
The adage that form goes out the window when great rivals meet is a cliché, but a cliché that's relevant. Matchups like the Saskatchewan Roughriders and Winnipeg Blue Bombers have gotten personal over the years, and this can often spillover onto the field, causing unexpected results.
Find the Best CFL Betting Odds
Find the Best CFL Betting Odds
It might sound obvious but researching the best CFL betting odds will be a vital part of your winning strategy. Slight differences in CFL odds can quickly add up. If you sign up to one of the best betting sites on this page, you'll gain access to consistently competitive odds for every fixture.
Check Roster Turnover
Check Roster Turnover
Things can change quickly in the CFL. At the end of 2017, a massive 209 free agents were listed by the CFL. When you consider there are only 414 vacancies in the league's top nine teams, that's a hugely significant number. Monitor upcoming draft picks and factor them into your thinking.
Bet on the Latest CFL Fixtures
Join our top-rated sportsbook below to compare the latest CFL betting odds and lines for every fixture in the Canadian Football League.
FAQs
Where can I bet on the CFL?
All the
best CFL betting sites
are listed in a table at the top of this page. Each of these expert-recommended sites covers all CFL games, offer consistently good odds, and will allow you to claim a generous welcome bonus when you sign up.
What are the best CFL bets?
There are many attractive betting markets on the CFL, ranging from outright winners to total points and a variety of prop bets. To decide which one is best for you, feel free to explore our CFL betting tips which can be found on this page.
Is it safe to bet on the CFL?
Yes, betting on the CFL is 100% safe. The fast-paced action of the CFL compared to the NFL makes it an exciting prospect for those of you looking to bet on top-level football games. If you're new to CFL betting, make sure you read the rest of our CFL betting guide before placing your first bet on the league.
Q.
Which site offers the best CFL Grey Cup odds?
A.
Whether you're looking for Grey Cup odds, CFL playoff odds, or just want to place a wager on the regular season, your best approach is to find a site which always offers top odds. Check out our CFL guide to discover the best CFL betting sites and bet on the Grey Cup.