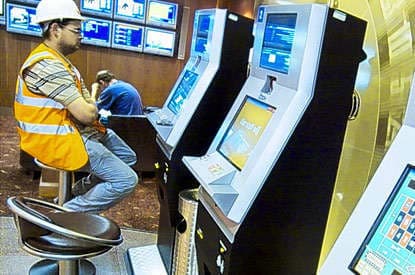 The British member of parliament who took on Rupert Murdoch, playing a key role in the News International phone-hacking scandal, has a fresh target in his sights: the fixed odds betting terminals that are a feature of British bookmakers.
Tom Watson, the member of parliament for West Bromwich East in the English midlands, has criticised Tony Blair's former Labour administration for licensing fixed odds betting terminals in the Gambling Act of 2005. Watson, who was a Labour minister from 2008 to 2009, is leading his support to the Stop The FOBTs campaign for fairer gambling, with the high-profile office holder saying that his side of politics dropped the ball when they approved the current legislation.
Fixed odds betting terminals are electronic gaming machines that one will find in high numbers in betting shops across the United Kingdom. On FOBTs one will find a wide range of casino games, including blackjack, roulette and poker, slot games and virtual racing because the one thing that British punters really need is more racing on which to have a punt.
The argument of Stop The FOBTs campaign supporters is that fixed odds betting terminals encourage problem gambling. As a seasoned sports punter, a pursuit that one considers to be an intellectual challenge, one finds it easy to sympathise with the views of the anti-FOBT brigade. The FOBT operators, which include major British bookmakers Coral, Ladbrokes and William Hill, like them because they are a licence to print money and they are allowed to have four per betting shops. Between 2002 and 2012, the number of FOBTs in the United Kingdom has risen to more than 34,000 generated more than 1.4 billion pounds in profit. Roulette is the most popular FOBT game and there is no intellectual challenge to it.
Labour leader Ed Miliband has said that he will press David Cameron's coalition government to take urgent action on the fixed odds betting terminals issue, with Miliband of the opinion that FOBTs are becoming an epidemic in some part of the United Kingdom. Miliband has pledged that a Labour government would tinker with the existing legislation, thereby enabling councils to limit FOBTs on their area.
Elsewhere:
Cantor Gaming is paving the way for a stock market launch, changing its corporate name to CG Technology ahead of a proposed initial public offering in the near future.
A mobile gaming and in-running betting solutions provider, CG Technology is a subsidiary of New York-based financial services giant Cantor Fitzgerald. CG Technology started in Las Vegas in 2009 and has doubled the size of its business over the last two years. CG Technology has more than 30 per cent of the Nevada sports betting market and it processes more than half of Nevada's technology-based bets as a result of its deals with a number of leading Las Vegas casinos, including The Palazzo, The Tropicana and The Venetian.
CG Technology has not put an official timeline on its plans for an initial public offering. CG Technology attempted to raise 100 million American dollars in an IPO in December 2011 through its parent company, Cantor Entertainment Technology, an offer that was withdrawn in May 2012.
—
Still on CG Technology and reports that it has reached a tentative settlement with Nevada gambling regulators over an 18-count complaint that alleges that it failed to supervise adequately its ex-sportsbook boss, who was involved in an illegal betting ring across the United States of America.
Former CG Technology employee Michael Colbert was arrested in 2012 and pleaded guilty to a felony charge of conspiracy. The Nevada Gaming Control Board said that CG Technology's lack of supervision over Colbert violated state gambling regulations and that the incident directly impacts the state's reputation in ensuring gaming is conducted honestly, competitively and free of criminal and corruptive elements.
For now at least, neither CG Technology nor the Nevada Gaming Control Board has disclosed the settlement terms. However, a CG Technology spokesperson said in a statement that the company had improved its internal checks and balances in the wake of Colbert's departure.