It has been a tough week for bookmakers whose bottom line is tied to the outcome of English football games, with many British bookmakers reporting one of their worst weekends ever and one even comparing to Dettori Day 18 years ago.
The 21st round of English Premier League matches featured a total of eight odds-on favourites and, remarkably, all eight of them collected three points. Chelsea got the ball rolling by beating Hull 2-0 at the KC Stadium and the Blues were followed by Everton (2-0 at home to Norwich), Southampton (1-0 at home to West Bromwich), Tottenham (2-0 at home to Crystal Palace), Manchester United (2-0 at home to Swansea), Manchester City (2-0 away to Newcastle), Liverpool (5-3 away to Stoke) and, finally, Arsenal (2-1 away to Aston Villa).
And to make matters worse for bookmakers, 11 of the general 12 odds-on favourites in the three divisions of the English Football League accrued three points as well. According to Ladbrokes, 26 of the 30 shortest priced teams on its British football coupon won over the weekend, while Coral reported that 15 of the 16 most popular picks with it were winners.

A Coral spokesperson estimated that the British bookmaking industry had lost 25 million pounds because of the hugely popular football results and remarked that it was Coral's biggest hit since horse racing's Dettori Day in 1996.
Dettori Day refers to the Ascot horse racing meeting at which one of the United Kingdom's most popular jockeys, Frankie Dettori, rode the winner of all seven races. The horses whom Dettori partnered to victory that day were, including their starting prices, Wall Street (3.00), Diffident (13.00), Mark Of Esteem (4.33), Decorated Hero (8.00), Fatefully (2.75), Lochangel (2.25) and Fujiyama Crest (3.25). Rails bookmakers, including Gary Wiltshire, stood Fujiyama Crest for millions in the final race of the day because it started at odds of 3.25 having been assessed as a double-digit chance before Dettori won the first race.
Wiltshire, a larger than life character who was well known in British horse racing circles long before losing not only his shirt but also his home, owed more than 800,000 British pounds after Fujiyama Crest crossed the line first but he settled every bet and swears that he would do the same again – lay Fujiyama Crest – because the odds were wrong.
———————————————
It is not just British bookmakers who have copped a bloody nose in recent times, either. The 263 largest casinos in Nevada suffered a combined net loss of 1.35 billion American dollars in the last financial year, according to the annual abstract report of the Nevada Gaming Control Board.
That makes it five financial years in a row that Nevada's big casinos have been in the red. However, many of those recent losses are tied to rising expenses, with total revenue climbing by 1.7 per cent on the previous 12 months.
———————————————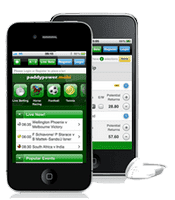 Paddy Power is rightly proud of its reputation for being at the cutting edge of betting innovation and it is chuffed to bits with its recently launched Messenger app for iOS.
According to Paddy Power's marketing department, its brand new Messenger app is the world's first fully personalised sports betting app that enables users to choose to follow their favourite football sides, football competitions, horses, jockeys and trainers, receives messages regarding their favourites and bet on their favourites quickly.
The key features of Paddy Power's Messenger app include the ability to bet on any sport in a matter of seconds, delivery of live text commentary on football games in almost real time and access to the most popular account functions.
Betting on any sport using simple instructions – for example, 50 double Man Utd, Arsenal – has the potential to revolutionise how one places bets on a smartphone. It will be interesting to see how Paddy Power's Messenger app is received over the coming weeks and months but, such is the track record of the Ireland-based bookmaker, one would bet on it having done its homework and got its product right.