England and the West Indies played out of the most exciting 50-over matches in living memory. Over 800 runs were scored in a thriller in Grenada, although the Three Lions were to hold their nerve to take a 2-1 lead into the final match of the series.
The Windies won the toss and elected to field. Jason Holder's decision did not look to be an inspired one as Jonny Bairstow and Alex Hales – in for the injured Jason Roy – got the tourists off to a fast start. However, the hosts were able to pin England back by removing Hales for 82 and Bairstow after he reached his half-century. Joe Root was removed without reaching double figures, leaving the Three Lions in need of a response from their middle order.
Eoin Morgan and Jos Buttler answered the call with a brilliant performance. They timed their innings' to perfection, building slowly before exploding into life. Buttler took the initiative, blasting his century from only 60 balls, while Morgan reached his 12th ODI ton shortly after. Their partnership of 200 allowed England to pass the 400-run mark setting the home side a daunting total.
If the Windies were going to be deterred no one told Chris Gayle. He bettered Buttler's knock, breaking his record for the fastest ton in the Caribbean, notching three figures from 55 deliveries. Gayle's onslaught appeared to have put the Windies ahead of the rate. However, Ben Stokes struck to remove the opener, and although Carlos Brathwaite and Ashley Nurse gave their side hope, Adil Rashid rose to the occasion to end their charge to hand England a 29-run win. Morgan's men can secure the series with a draw or a victory in the final match in St Lucia.
West Indies' Top Batsman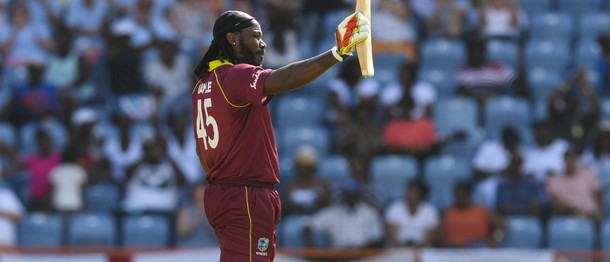 England have not had answer for Gayle during the series. The 39-year-old will retire from international cricket after the World Cup and he appears set on going out on a high note. Gayle has been outstanding thus far in the three matches that have been played. He scored a fine century in the first game of the series albeit that his slow start may have cost his team. Gayle notched a fifty before losing his wicket in the second contest, although those were crucial runs.
In Grenada, he was operating at the peak of his powers. Seemingly every shot was being dispatched over the rope. The 39-year-old broke the record for the fastest century scored in the West Indies that had only been set by Buttler earlier in the match. Only a good delivery from Stokes stopped him from mounting a charge towards a score of 200. He looks unstoppable in the middle so back him to lead the way in St Lucia for the hosts at odds of 3.50Bet €100 to win €3505/2Bet £100 to win £350+250Bet $100 to win $3502.50Bet HK$100 to win HK$3502.50Bet Rp100 to win Rp350-0.4000Bet RM100 to win RM350 with Bet365.
England's Top Batsman
The Three Lions needed brilliant knocks from Morgan and Buttler to get them to a competitive score of 418 that proved too much for the Windies to handle. In the modern-day game scoring over 350 is a must for every side batting first and the thrust provided by the middle order was necessary to put England in command of the series heading into the final match. Morgan has been in the form of his life over the past year. The England captain has past fifty seven times in his last nine innings, notching his first century since 2017 in the win in Grenada.
It has not been the fault of the 32-year-old that he has been unable to reach three figures on a more regular basis. His opportunities have been limited due to the prowess of England's top order. Morgan has been brilliant on the tour and it's clear to see that he is striking the ball cleanly down the ground. Back him to lead the way with another knock from number four in the order at odds of 5.50Bet €100 to win €5509/2Bet £100 to win £550+450Bet $100 to win $5504.50Bet HK$100 to win HK$5504.50Bet Rp100 to win Rp550-0.2222Bet RM100 to win RM550 with Bet365.
West Indies' Top Bowler
Sheldon Cottrell was the one West Indian bowler that managed to keep England in check during their onslaught. His figures of nine overs for 64 runs and a wicket were good in the context of the game given that almost every other bowler was going the distance. Cottrell built off his impressive performance in the second ODI when he claimed his maiden five-wicket haul. He has given England something to think about with his variations and his angle around the wicket.
Cottrell claimed the wicket of Morgan before giving his trademark salute, which was given back to him in turn by Buttler. The 29-year-old seems to have the character for the game and will not be deterred by England's striking ability. Holder needs his bowler to keep giving him control as his other options in the attack have not been consistent. Back Cottrell to lead the wicket column in St Lucia at odds of 4.50Bet €100 to win €4507/2Bet £100 to win £450+350Bet $100 to win $4503.50Bet HK$100 to win HK$4503.50Bet Rp100 to win Rp450-0.2857Bet RM100 to win RM450 with Bet365.
England's Top Bowler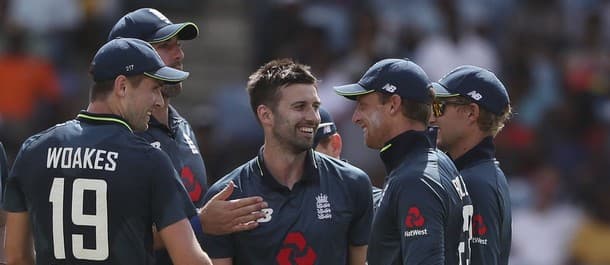 When the Three Lions needed a bowler to come to the fore Mark Wood delivered with an outstanding spell. His match figures of 4-60 do not leap of the page, but in the circumstances his performance may have won England the game.
He made early inroads to put the Windies on the back foot, dismissing Jason Campbell and Shai Hope. Morgan had to bring him back to break the partnership between Gayle and Darren Bravo, removing the latter before he was able to dislodge the dangerous Shimron Hetmyer after just two balls.
Wood has the extra pace and bounce that can trouble opposing batsmen. It was those attributes that led to the Windies' downfall before Rashid wrapped up the innings. Wood has been in and out of the side, but he has made a strong case to be named in England's World Cup opener against South Africa. Back him to produce another fine outing at odds of 4.50Bet €100 to win €4507/2Bet £100 to win £450+350Bet $100 to win $4503.50Bet HK$100 to win HK$4503.50Bet Rp100 to win Rp450-0.2857Bet RM100 to win RM450 with Bet365.
Winner
England secured an important win to leave the series in their hands heading into the final match. The Three Lions have been decisive and clinical in their recent run of form that has taken them to the top of the world rankings. Back them to secure a series win over the Windies in St Lucia, notching their third victory in five matches at odds of 1.44Bet €100 to win €14411/25Bet £100 to win £144-227Bet $100 to win $1440.44Bet HK$100 to win HK$144-2.27Bet Rp100 to win Rp1440.4400Bet RM100 to win RM144 with Bet365.
Tips Summary
England To Beat West Indies 5th ODI
Saturday 2nd March 2019 15:00 GMT
Odds: 1.44Bet €100 to win €14411/25Bet £100 to win £144-227Bet $100 to win $1440.44Bet HK$100 to win HK$144-2.27Bet Rp100 to win Rp1440.4400Bet RM100 to win RM144
Chris Gayle To Beat West Indies' Top Batsman
Saturday 2nd March 2019 15:00 GMT
Odds: 3.50Bet €100 to win €3505/2Bet £100 to win £350+250Bet $100 to win $3502.50Bet HK$100 to win HK$3502.50Bet Rp100 to win Rp350-0.4000Bet RM100 to win RM350
Sheldon Cottrell To Beat West Indies' Top Bowler
Saturday 2nd March 2019 15:00 GMT
Odds: 4.50Bet €100 to win €4507/2Bet £100 to win £450+350Bet $100 to win $4503.50Bet HK$100 to win HK$4503.50Bet Rp100 to win Rp450-0.2857Bet RM100 to win RM450
Eoin Morgan To Be England's Top Batsman
Saturday 2nd March 2019 15:00 GMT
Odds: 5.50Bet €100 to win €5509/2Bet £100 to win £550+450Bet $100 to win $5504.50Bet HK$100 to win HK$5504.50Bet Rp100 to win Rp550-0.2222Bet RM100 to win RM550
Mark Wood To Be England's Top Bowler
Saturday 2nd March 2019 15:00 GMT
Odds: 4.50Bet €100 to win €4507/2Bet £100 to win £450+350Bet $100 to win $4503.50Bet HK$100 to win HK$4503.50Bet Rp100 to win Rp450-0.2857Bet RM100 to win RM450
Chris Gayle
cricket
England
Eoin Morgan
west indies