England fought back to level the ODI series against India at Lord's, securing their victory by a comfortable margin to set up a decider in their contest at Headingley.
Joe Root has struggled for form in the summer, but he was back to his best in the middle, scoring a fine century to play the vital role for the Three Lions.
The 27-year-old had been exposed by Kuldeep Yadav in his previous appearances at the crease. However, he managed to see off the threat of the India leg-spinner to reach three figures, joining Marcus Trescothick for most centuries made by an England player in the 50-over format.
Root's innings allowed the Three Lions to pose a daunting total of 322 after being aided down the order by David Willey, who notched his maiden fifty in ODI cricket.
India failed to fire in their response as Rohit Sharma was out cheaply and Shikhar Dhawan's struggles at the crease continued. Virat Kohli and Suresh Raina offered brief hope, but after they were dismissed England took control of the contest.
Adil Rashid and Liam Plunkett were in the wickets once again for Eoin Morgan's men, who secured their win by 86 runs. The series hangs in the balance heading into the decider where England will be desperate to maintain their unbeaten record at home, lasting three years.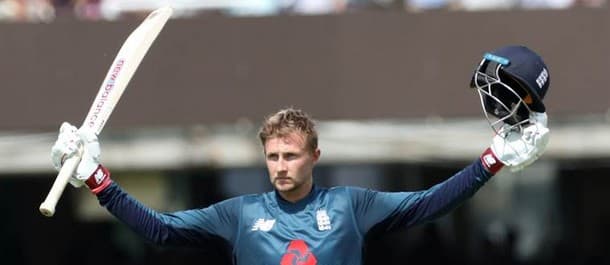 England's Top Batsman
Root and the England coaching staff will have breathed a huge sigh of relief about his return to form. The 27-year-old has not endured a long period of struggle in his international career. However, he was starting to show signs of frustration in the middle, although not all of his own doing. The form of England's top order in the 50-over format has resulted in fewer opportunities for Root.
He was left out of the T20 side for the final match of the series due to his inability to clear the rope with regularity. Root displayed his value to the team in ODIs with his innings at Lord's. He had the patience to knock the ball around the ground, while his picking his moments to find the boundary.
The Yorkshireman He made his century at good pace for his innings of 113, only being run out off the final ball of the innings. Yadav did get the better of him in their early exchanges, but he employed a better tactic against the leg-spinner this time around. Now that Root has found his form it would be pretty hard to bet against him to lead the way in the middle once again, especially ahead of the Test series. Back him to lead the way for his team at odds 4.50Bet €100 to win €4507/2Bet £100 to win £450+350Bet $100 to win $4503.50Bet HK$100 to win HK$4503.50Bet Rp100 to win Rp450-0.2857Bet RM100 to win RM450 with 888Sport.
India's Top Batsman
Although India have looked imperious with the bat on tour thus far, they have shown frailties at times. Kohli has yet to get going for his team to display the level dominance everyone who has watched him developed into one of the elite batsmen knows he can perform to. He played a curious innings at Lord's, failing to pass fifty as he was removed by Moeen Ali before he could pose a significant problem to the Three Lions. The 29-year-old only notched two boundaries in his innings, while he scored at a rate of 80 runs per 100 balls.
Kohli has had his issues in English conditions in the past, although those concerns have been magnified in Test matches rather than in the white ball. Still he will want to have at least one innings of significance before he faces James Anderson and Stuart Broad with the red ball. England's pace attack in the 50-over format is not the most formidable without Chris Woakes so there will be an opportunity to score. He needs a confidence boost and guiding his side to a series victory with a match-winning effort will do it, back him to top score at odds of 3.75Bet €100 to win €37511/4Bet £100 to win £375+275Bet $100 to win $3752.75Bet HK$100 to win HK$3752.75Bet Rp100 to win Rp375-0.3636Bet RM100 to win RM375 with 888Sport.
England's Top Bowler
Plunkett had an important return to the wickets for England. He was able to remove Lokesh Rahul early in his innings before removing the tail. More importantly for the Three Lions was the performances of Ali and Rashid with the ball as they were able to control the middle of the innings. Ali secured the key wicket of Kohli before Rashid bowled Raina before he could find his rhythm. India have made an attempt to get on top of the England spinners as they did in the Test series on home soil in the 2016/17 season.
It's vital for the Three Lions going forward that they are able to control an end along with the threat of taking wickets. Rashid claimed 2-38 in his 10 overs, while Ali notched 1-42. In 20 overs of bowling and only 80 runs conceded, England will take that every time. Ali has been threatening without enjoying huge success in the wicket column, back him to change that at Headingley at odds of 6.50Bet €100 to win €65011/2Bet £100 to win £650+550Bet $100 to win $6505.50Bet HK$100 to win HK$6505.50Bet Rp100 to win Rp650-0.1818Bet RM100 to win RM650 with 888Sport.
India's Top Bowler
Yadav remains India's primary threat with the ball and England appear to have realised that. Without Bhuvneshwar Kumar and Jasprit Bumrah, India's attack has struggled to pose a threat through their pacemen. The Three Lions were able to get off to a good start through Jonny Bairstow and Jason Roy before Yadav came into the attack to strike. He claimed three wickets, although he was slightly more expensive than usual.
Given that England are now aiming to attack him, it's more important than ever that the leg-spinner has the support of his team-mates. Yadav cannot do it all alone, placing pressure on Yuzvendra Chahal to rise to the occasion. Chahal has been economical in his spells, but has lacked the same threat with the ball in his hand. He needs to take more responsibility to put England under pressure. Back Chahal to seize his moment at odds of 3.75Bet €100 to win €37511/4Bet £100 to win £375+275Bet $100 to win $3752.75Bet HK$100 to win HK$3752.75Bet Rp100 to win Rp375-0.3636Bet RM100 to win RM375 with 888Sport.
Match Verdict
England have won their last four ODI matches at Headingley, including a win over India in 2014 at the venue thanks to a Root century. The Three Lions have not lost a series at home since 2015 at the hands of Australia and Morgan and company will be determined to keep their record alive. India displayed some vulnerabilities, although they will be keen to bounce back. It should be a close one that England might just be able to knick at odds of 1.91Bet €100 to win €19191/100Bet £100 to win £191-110Bet $100 to win $1910.91Bet HK$100 to win HK$191-1.10Bet Rp100 to win Rp1910.9100Bet RM100 to win RM191 with BetVictor.
Tips Summary
Joe Root To Be England's Top Batsman
Tuesday 17th July 2018 12:30 BST
Odds: 4.50Bet €100 to win €4507/2Bet £100 to win £450+350Bet $100 to win $4503.50Bet HK$100 to win HK$4503.50Bet Rp100 to win Rp450-0.2857Bet RM100 to win RM450
Virat Kohli To Be India's Top Batsman
Tuesday 17th July 2018 12:30 BST
Odds: 3.75Bet €100 to win €37511/4Bet £100 to win £375+275Bet $100 to win $3752.75Bet HK$100 to win HK$3752.75Bet Rp100 to win Rp375-0.3636Bet RM100 to win RM375
Moeen Ali To Be England's Top Bowler
Tuesday 17th July 2018 12:30 BST
Odds: 6.50Bet €100 to win €65011/2Bet £100 to win £650+550Bet $100 to win $6505.50Bet HK$100 to win HK$6505.50Bet Rp100 to win Rp650-0.1818Bet RM100 to win RM650
Yuzvendra Chahal To Be India's Top Bowler
Tuesday 17th July 2018 12:30 BST
Odds: 3.75Bet €100 to win €37511/4Bet £100 to win £375+275Bet $100 to win $3752.75Bet HK$100 to win HK$3752.75Bet Rp100 to win Rp375-0.3636Bet RM100 to win RM375
England To Beat India 3rd ODI
Tuesday 17th July 2018 12:30 BST
Odds: 1.91Bet €100 to win €19191/100Bet £100 to win £191-110Bet $100 to win $1910.91Bet HK$100 to win HK$191-1.10Bet Rp100 to win Rp1910.9100Bet RM100 to win RM191
cricket
England
india
ODI
Virat Kohli