England secured a fine win over Sri Lanka in their last Test series and will be aiming to match their standard of performance in the West Indies.
Joe Root's men whitewashed Sri Lanka to build on their impressive win over India at the end of the last summer. The Three Lions are trending in the right direction under the Yorkshireman, putting memories of their Ashes' defeat to bed.
With the series against Australia next on the agenda for England after the tour of the West Indies, Root and his team have to use the time to prepare and build further confidence in their bid to regain the urn from the Baggy Greens.
England have not made drastic changes to their squad from the winter tour, although paceman Olly Stone's back injury has ruled him out of action. Mark Wood has been brought into the fold, although the Three Lions will stick with their attack of James Anderson, Sam Curran and Stuart Broad.
The West Indies have fared well in their home series against England, remaining unbeaten since 2004. However, their form against the major nations has been poor in general, beating only Bangladesh and Zimbabwe in Test series in the last seven years.
Jason Holder and his team will be under pressure to provide resistance to the tourists to avoid the fate Sri Lanka endured last year, beginning in the opening match of the series in Barbados.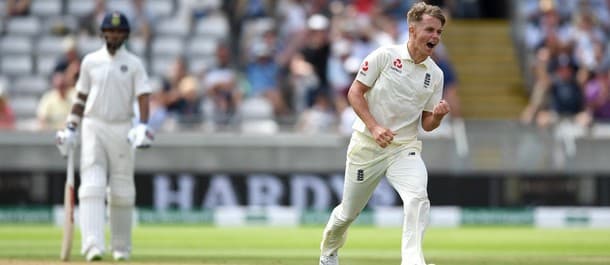 West Indies' Top Batsman
Shai Hope put forward a couple of fine performances against England in the West Indies' tour in 2017. He scored two centuries in a winning effort for his team at Headingley, including a brilliant knock of 118 in the second innings to guide his team over the line in a chase of 322 runs. Hope has the quality in the middle of the order to play a long innings, although he has not been able to build on his breakout display. In his 24 innings at the crease since leaving England in September 2017, the 25-year-old has scored fifty or more runs only twice.
Hope failed to adjust to spinning conditions in India and Bangladesh, highlighting a weakness in his game. On home soil he has been solid enough, averaging 39.05, with two half-centuries to his name. The West Indies need the 25-year-old at his best and he may prefer an attack that puts pace on the ball. In his three games at the Kensington Oval, Hope has not been brilliant. However, it could be the time for a special effort – back him at 4.00Bet €100 to win €4003/1Bet £100 to win £400+300Bet $100 to win $4003.00Bet HK$100 to win HK$4003.00Bet Rp100 to win Rp400-0.3333Bet RM100 to win RM400 with Bet365 to lead the run column in the first innings.
England's Top Batsman
The Three Lions spread the runs across their batting line-up in Sri Lanka, receiving contributions right down to the bottom of the team. England's primary issue over the last seven years has been at the top of the order where they've struggled to find consistency. Rory Burns was solid in his first series, scoring one half century in Sri Lanka, although the big knock evaded the Surrey man. Burns will have ambitions of opening the innings in the Ashes later in the year, but to do that he needs a big score sooner rather than later.
The 28-year-old has enough experience in the first-class game and should be prepared for the challenges of the West Indies' attack. The challenge of spin in the sub-continent was a tough task for Burns to prepare for and he should feel more at home against pace. His partnership with Keaton Jennings displayed signs of hope. Both players have similar styles of play, being left-handed and are not overly swashbuckling at the crease. A steady innings is required to get England off to a good start in Barbados. Back him at odds of 5.50Bet €100 to win €5509/2Bet £100 to win £550+450Bet $100 to win $5504.50Bet HK$100 to win HK$5504.50Bet Rp100 to win Rp550-0.2222Bet RM100 to win RM550 with Bet365 to lead the way in the first innings.
West Indies' Top Bowler
Gabriel has been a solid operator for the West Indies during his Test career. He has taken 120 wickets in his 40 matches, using his pace to trouble opposition batsmen. The West Indies are a long way from the potent attack of their glory days between the 1970s and 1990s. Gabriel does have an element of their pace, although not quite the accuracy and the fiery character. The 29-year-old has played five matches against England and has boasted an impressive record.
He has taken 17 wickets against the Three Lions at an average of 29.29. His tour of England was blighted by injury even though he did have his moments at Headingley, producing figures of 4-51. Gabriel has a formidable record at home, averaging 21.48 and claiming 70 wickets. Encouragingly for the West Indies, he has been dominant in Barbados and he could be the man to put England under pressure. Back him at odds of 4.00Bet €100 to win €4003/1Bet £100 to win £400+300Bet $100 to win $4003.00Bet HK$100 to win HK$4003.00Bet Rp100 to win Rp400-0.3333Bet RM100 to win RM400 with Bet365.
England's Top Bowler
England's spinners dominated in Sri Lanka, allowing the pace attack to take life easy. Anderson, Broad and Curran were allowed to take a backseat after doing much of the heavy lifting during the summer against India. Conditions should suit the seamers once again, although England are considering deploying two spinners. Jack Leach proved his worth, while Moeen Ali thrived in his role to lead the wicket column in the Sri Lanka series. Adil Rashid could be the odd man out, although his leg spin offers variety.
Curran is the man to watch in the England attack as he continues to impress. Root has hinted that he could take the new ball with Anderson, forcing Broad down the pecking order. The 20-year-old has been a revelation since arriving in the team with both bat and ball. He has scored important runs and has taken important wickets. Curran boasts an impressive average of 25.14 and will be determined to make an impact using reverse swing. Back him to lead the wicket column in the first innings at 5.00Bet €100 to win €5004/1Bet £100 to win £500+400Bet $100 to win $5004.00Bet HK$100 to win HK$5004.00Bet Rp100 to win Rp500-0.2500Bet RM100 to win RM500 with Bet365.
Winner
England have been resurgent under Root since last summer and their victory over India. The Three Lions were able to adapt their tactics to deliver a whitewash victory against Sri Lanka. Expect the same against the West Indies, who lack the quality across the side to match the tourists.
England lost on their last visit to Barbados four years ago, rueing a poor performance in their second innings. Root's men are a different team to that last squad to visit the West Indies. Back them to triumph in the opener at odds of 1.36Bet €100 to win €1369/25Bet £100 to win £136-278Bet $100 to win $1360.36Bet HK$100 to win HK$136-2.78Bet Rp100 to win Rp1360.3600Bet RM100 to win RM136 with 888Sport.
Tips Summary
England To Beat West Indies 1st Test
Wednesday 23rd January 2019 – Sunday 27th January 2019
Odds: 1.36Bet €100 to win €1369/25Bet £100 to win £136-278Bet $100 to win $1360.36Bet HK$100 to win HK$136-2.78Bet Rp100 to win Rp1360.3600Bet RM100 to win RM136
Shai Hope To Be West Indies' Top Batsman
Wednesday 23rd January 2019 – Sunday 27th January 2019
Odds: 4.00Bet €100 to win €4003/1Bet £100 to win £400+300Bet $100 to win $4003.00Bet HK$100 to win HK$4003.00Bet Rp100 to win Rp400-0.3333Bet RM100 to win RM400
Shannon Gabriel To Be West Indies' Top Bowler
Wednesday 23rd January 2019 – Sunday 27th January 2019
Odds: 4.00Bet €100 to win €4003/1Bet £100 to win £400+300Bet $100 to win $4003.00Bet HK$100 to win HK$4003.00Bet Rp100 to win Rp400-0.3333Bet RM100 to win RM400
Rory Burns To Be England's Top Batsman
Wednesday 23rd January 2019 – Sunday 27th January 2019
Odds: 5.50Bet €100 to win €5509/2Bet £100 to win £550+450Bet $100 to win $5504.50Bet HK$100 to win HK$5504.50Bet Rp100 to win Rp550-0.2222Bet RM100 to win RM550
Sam Curran To Be England's Top Bowler
Wednesday 23rd January 2019 – Sunday 27th January 2019
Odds: 5.00Bet €100 to win €5004/1Bet £100 to win £500+400Bet $100 to win $5004.00Bet HK$100 to win HK$5004.00Bet Rp100 to win Rp500-0.2500Bet RM100 to win RM500
cricket
England
Jason Holder
Joe Root
west indies